COG Armor


The results were smoother and cleaner than the originals(sorry to those who already built them)
Maj. Pain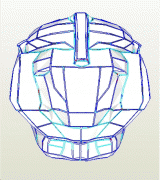 Fenix Armor:


molding: Epic studios
Unfold: Maj. Pain
http://hotfile.com/dl/8803841/e70ea7...VISED.rar.html
Longshot Sniper Rifle
Specs:
Length: 45-48 inches(I'll explain later)
Letter
Pages: 22
5mm margins
Threshold: 162 (for best results)
Font: 5pt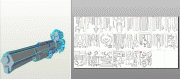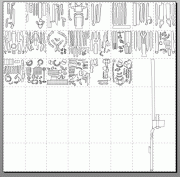 Free Image Hosting by ImageBam.com
http://hotfile.com/dl/9200762/cf639f...e_4ft.pdo.html
The second picture explains the length. Since the the model wasn't created along the X and Y axis but more at an angle, the dimensions in Pepakura Designer are off. I had to build the model in the 2d window along the length of the weapon(NOT AN EASY TASK)to see how big it would be built. Anyways, the paper is 11" long, it crosses 4 pages, and i left off a couple of pieces near the buttstock which i estimate are about 2 to 3 inches.
Maj. Pain
Maj. Pain also has updated the file including Carmine Armor, Gnasher, Lancer, Torque Bow, Boomshot, an Longshot
Link:
http://hotfile.com/dl/8158697/735826...CTION.rar.html
Thanks again SKG for the Sticky
-051