Welcome to a review of my unexpected cardboard armor build. First, thank you to the 405th for the invaluable reference during this build. This armor was built during August, September, and all 31 days of October 2008 to get it ready for a Halloween party. There are two unusual things about this armor build: I didn't plan on building the armor set when I started detailing a Halo 3 Legendary Edition helmet. I built it all at my deployed location in Southwest Asia.
I began my year-long deployment in July 2008, bringing along a couple of models, basic tools and paints, and a Legendary Edition helmet. While I initially just wanted to paint and weather the helmet to make a better display, it quickly morphed into a, "Let's make it wearable" project inspired by some pages on Instructables.com. Although I could reach 405th.com, access to all hosted photos sites and links were blocked by our military servers. This prevented me from accessing most useful info in the forums, but allowed access to the galleries. Recent access to commercial internet is the only reason I'm able to finally launch my work in review page.
While the process for hollowing out a Legendary Edition helmet is well-covered elsewhere, there are some interesting aspects to how I solved the visor and lighting issues. It turns out that the curvature of the medium or large sized over visors for our chemical defense masks are perfect for the LE helmet. These were remarkably easy to source as surplus/damaged items at my base. Try your local surplus store. In short, one was used for the basic visor and one for the octagonal overlay. A mist of Testors' buffable Aluminum Plate followed by a light polishing gave me a reflective semi-transparent visor. This was then sprayed with a mix of red and amber Tamiya clear paints to give the classic reflective orange-gold look. Yes, you can see though it. Anyway, I plan to detail the visor build in later posts because it takes armor builders down a road less-traveled, costs very little, and produces an outstanding result. The lighting involved sacrificing a wall-outlet mounted LED emergency light purchased at a downtown market for $7. Radio Shack wanted about $5 per LED for the white ones. My $7 light came with 35 of the little buggers plus two low-profile rechargeable batteries and a switch. Each helmet light has three LEDs glued together and wired to the battery that was hot-glued into the side of the helmet along with the micro switch I mounted just under the lip of the chin.
Visor made from chemical defense mask outer visor
The final, and perhaps most significant, piece of engineering was based on a lesson hard-learned at a previous Halloween party. The costume isn't cool if you have to take off the helmet to drink your beverage. This was the fatal flaw in the 2005 Monty Python and the Holy Grail Black Knight costume. Although the one arm that could be chopped off was cool, the need to remove the helmet to drink was not. For Master Chief 2008, things were different. The black mouth piece pulls forward, then pivots and locks in a down position to admit one standard long-necked beverage. Patent pending.
Completed Legendary Edition Helmet with chemical defense mask derived visor
Emergency light repurposed into helmet lighting system
One final thought on the use of the LE helmet--scale. I have a big melon, size 7 1/2. I was surprised to be able to wear the LE helmet comfortably as it is small. However, few of us are seven feet tall. As a result, many helmets out there look too big relative to the rest of the armor. Because of this, I think the LE helmet looks much more in scale on a regular sized human. Thoughts?
Ok, so back to the armor build. The helmet was textured with underseal (don't do it—too soft) and painted. The pebbled finish looked awesome though. Someone asked about Halloween and that sparked the full costume idea. But how? I was deployed to a remote location with access to only basic tools, and decent quarters to work in. I couldn't make a lot of chemical or paint smells, so fiberglass or resin was really out. I looked into Pepekura, but all printers and paper on the base were government property. I felt pretty strongly that your tax dollars shouldn't go into my costume so that was a non-starter. What we did have was cardboard, and lots of it. In fact, I had lots of triple-wall available.
Soon my wife had 500 hot glue sticks on the way. This was a fast and odor-free way to knock out the parts. My basic system was to draw the part on paper based on a paused game picture on the TV, then cut out the pattern and transfer to the cardboard. Every piece is at least two sections of triple-wall thick, with most being three layers. Typically, I would stomp the cardboard to make it bend without kinking. If you carefully crush it on a firm soft surface like a thick rug, you can get limited compound curvature from a piece. Lightly dampening a single side allowed the internal corrugations to "slip" and bend better without kinking. I sponged down most constructed pieces which temporarily dissolved the glue inside the corrugations and allowed the piece to dry with a permanent set, preventing the completed pieces from being under stress.
I began with the hand pieces, taking a walk before you run approach. I locally obtained a craft clay that contained pulped newspaper. Properly thinned, it filled edges and "ghosts" of the corrugation well, drying strong. Shrinkage was a problem so I had to budget time for multiple coats. Home made sanding sponges (remember, remote location) quickly knocked down and shaped the clay. This was a very easy to shape material that I think was probably a better choice than spackle. I would have used spackle without ever knowing except there is no spackle anywhere in this country. My only caveat to the clay is that it chips when the cardboard substrate flexes significantly. Given the chance (and materials), I would have mixed in a small amount of liquid latex rubber to give the clay some crack resistance. After building the hands, I jumped straight into the torso, using the Kevlar pads from a bullet-proof vest as a starting point for drawing my pattern. I built the basic torso in paper, and then transferred it to cardboard. The base layer of the torso, front and back, is a single piece of cardboard. This was not easy, but really yielded a strong piece.
Torso during second application of paper pulp enhanced sculpting clay
The armored Speedos were a great challenge. I was walking to work one day and a pair of neoprene shorts, sized Women's Small, came blowing across the desert. Somewhere there's a 102 pound woman bereft of rubber pants wandering the desert. It is important to remember the tiny size of these things because with careful planning (after laundering), these rubber micro pants yielded the waist cinches of the Speedos, the crotch of the Speedos, the overlapping layers of the inside thighs, and the internal helmet pads. Measure twice, cut once. Built in two pieces and joined by the neoprene, the pants slide up, expanding at the interlocking side pieces, then pull together tight once in position.
Armored Speedos in progress--Note neoprene waist cinch strips
Painting and finishing was a big challenge. The paint shop had given me a gallon of battleship gray oil-based enamel that was being disposed of. Nasty stuff, but I used it to coat every piece inside and out. This was really the key to a great set of armor. The paint soaked into the wood fiber and hardened it, much like fiberglass. It also water/sweat proofed it. The gray paint really stabilized the chipping tendencies of the clay. Finally, it acted as a primer for the finish coats. For the final painting, I couldn't find green paint anywhere. I had to have eight cans of Testors' Olive Drab shipped to me. Really, the biggest challenge was the texture. I needed a cheap and resilient coating for all the pieces to give them a "cast" look and further disguise the ribbed pattern of the cardboard. Where could I find this miracle product? Underfoot, of course. There is NO shortage of sand here. On the lee side of the sidewalks the finest sand settles—much like ash tray sand. I collected this. I would spray a section of armor with black paint, then blow the fine sand onto the wet paint, repeating the process until I had the entire part covered. When overpainted with the olive drab, the result was great. The down side was that I would eventually become human sandpaper, removing skin and paint from anyone or any thing I encountered. It worked well enough that people had to feel inside the torso before they were convinced the armor was really made of cardboard.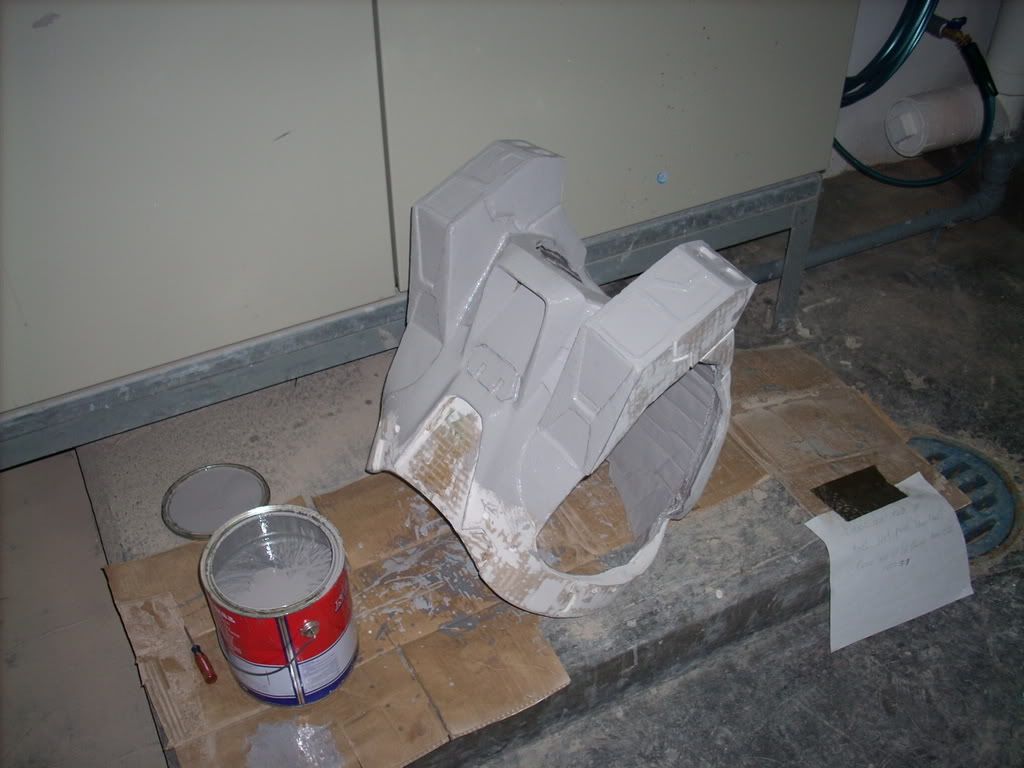 Oil-based enamel seals and hardens completed pieces
Painting it right makes all of the difference between home-made and professional, especially with Pep and cardboard. Even if you can see cardboard ribs everywhere, you can paint and weather the surface to downplay and disguise defects. I've included photos of a thigh with basic paint and the same thigh a couple of hours later with airbrushed shadows, dark-washed recesses, and dry brushed highlights. Even if your goal is to create pristine armor, these steps all apply to a greater or lesser extent. The real trick is with the dry brushing. Despite hiding most evidence of the "cardboard effect", there were still areas where one could see the pattern in the right light. I always dry brushed WITH the grain of the cardboard (parallel to the corrugation). By not stroking across the ribs, the ribs didn't pick up the highlighting and were downplayed by the details that were intentionally brought out.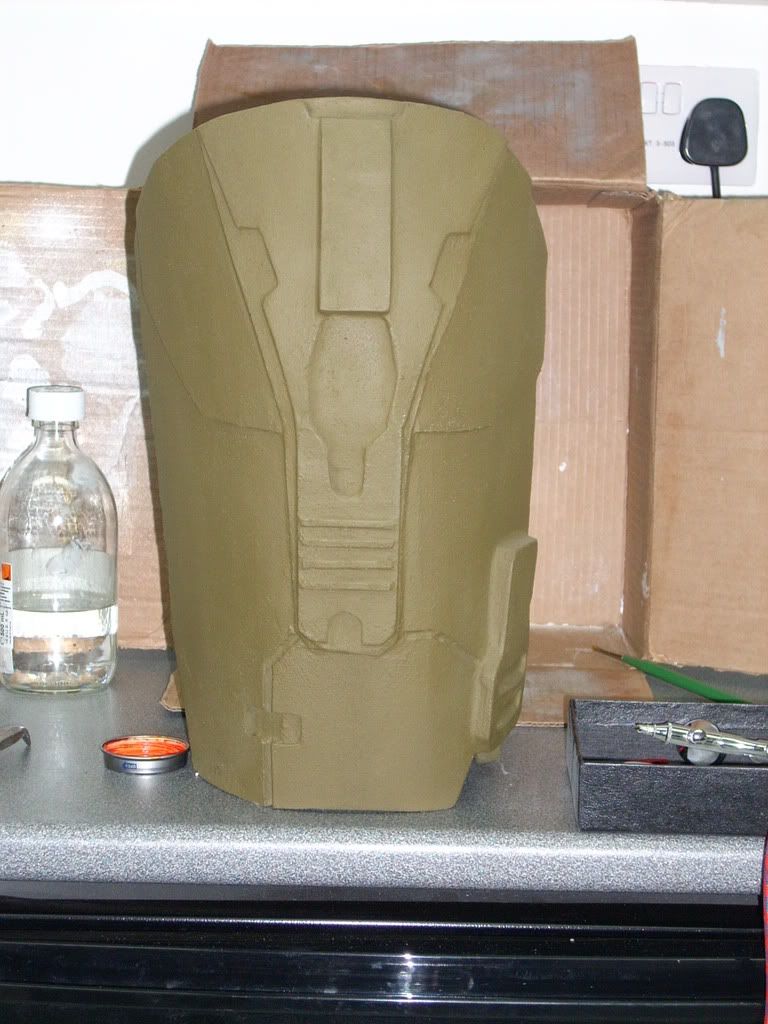 Thigh--Base coat of olive drab only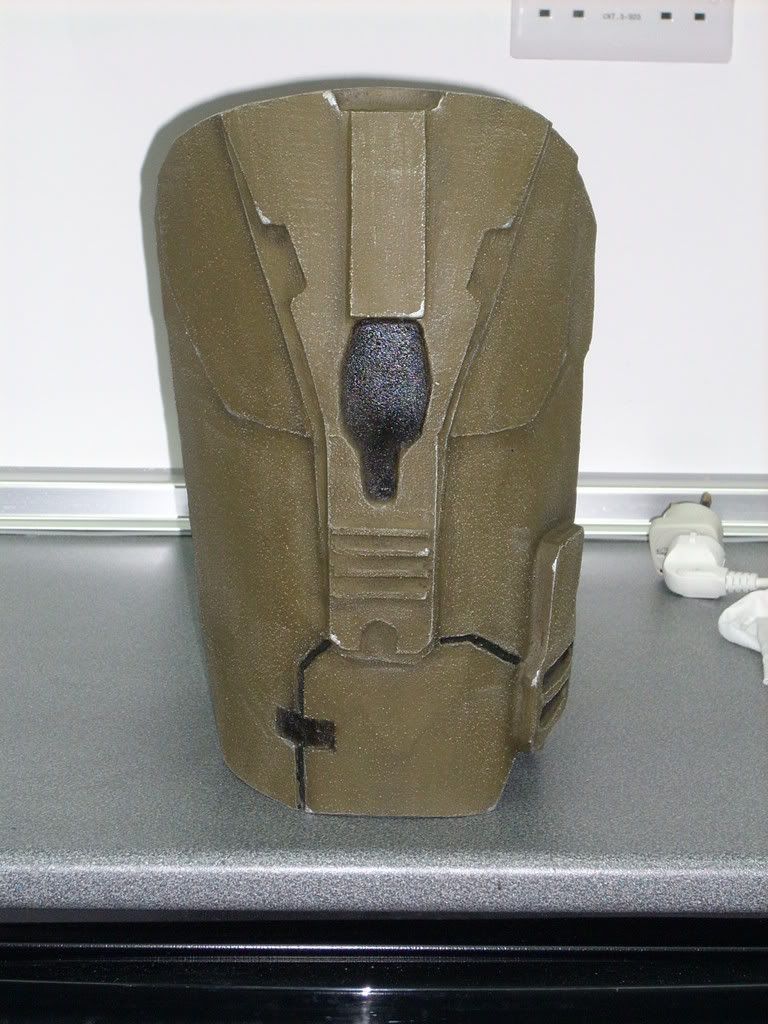 Thigh--Airbrushed, washed, and dry brushed with sand-colored paint to raise details
The final challenge was the undersuit. Eventually I had the local alterations tailor stitch together a pair of knock-off running tights and a black turtleneck, adding a zipper in the back and beverage recycle flap in the front—another lesson learned from previous costumes. Finally, he stitched large patches of black fuzzy Velcro in positions supporting every piece except the helmet and torso. I made up my own gloves and balaclava. I hot glued the pile side of the Velcro inside the armor such that most pieces would slide on backwards, then rotate to "lock" onto their Velcro.
The Halloween party was a rousing success with the Master Chief easily being the most intricate costume present. The armor was not too hot or heavy and the drinking, relieving, and lighting systems all worked as designed. Overall, the suit was fairly durable, requiring only an hour of touch up and repair following a six-hour outing.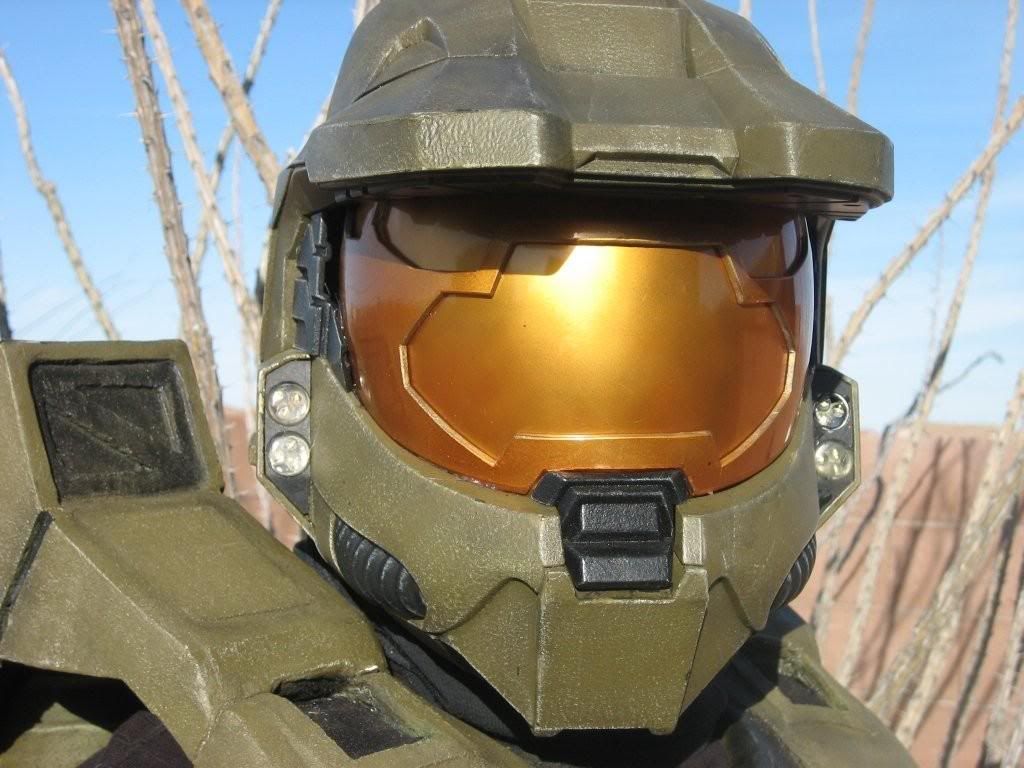 I can actually see through the visor , but it wasmuch harder at night. The lights were required for moving in the dark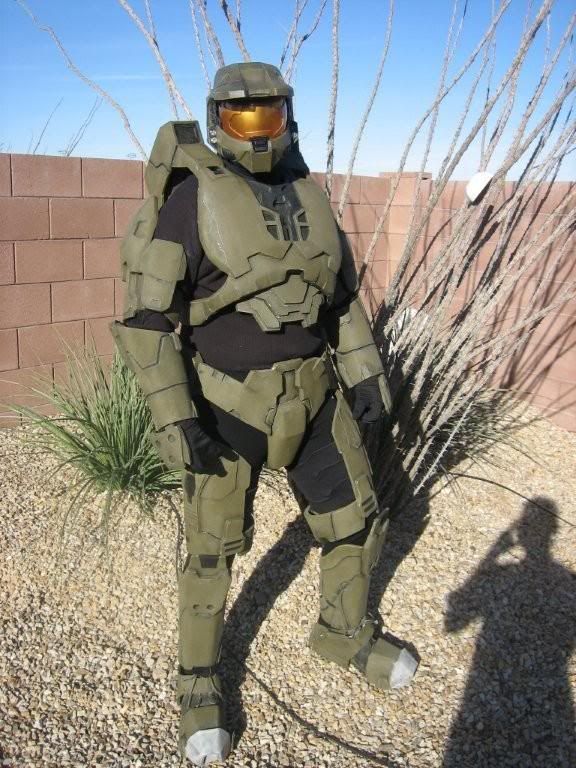 Daylight view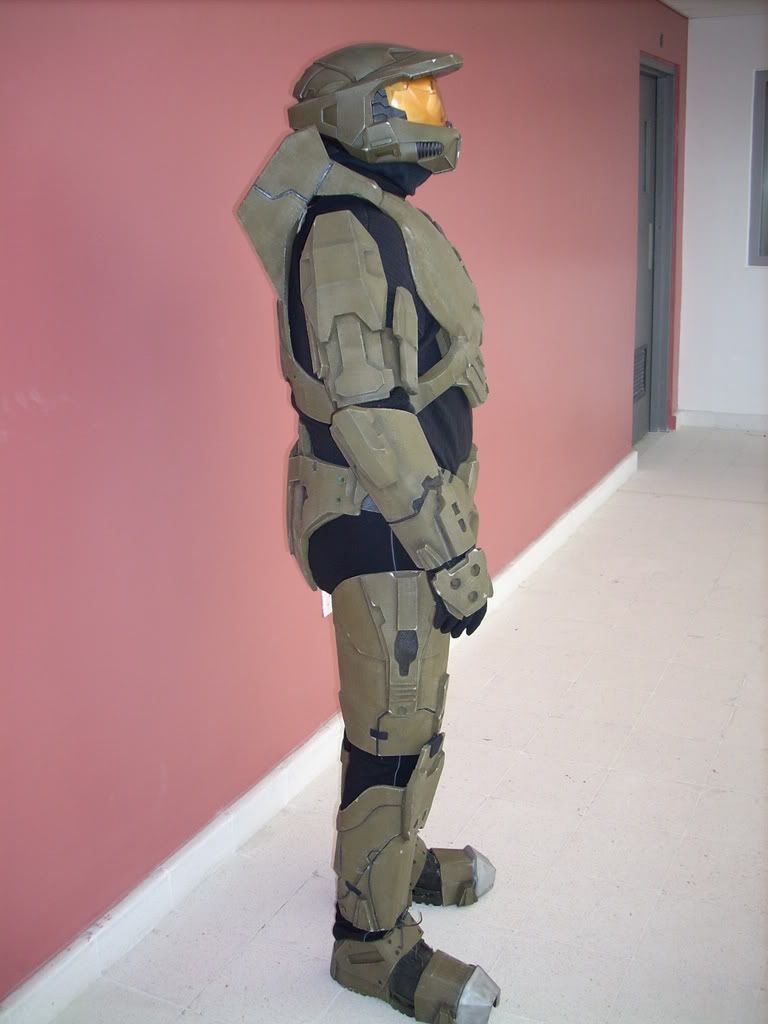 Profile highlighting overall weathering
Dress rehearsal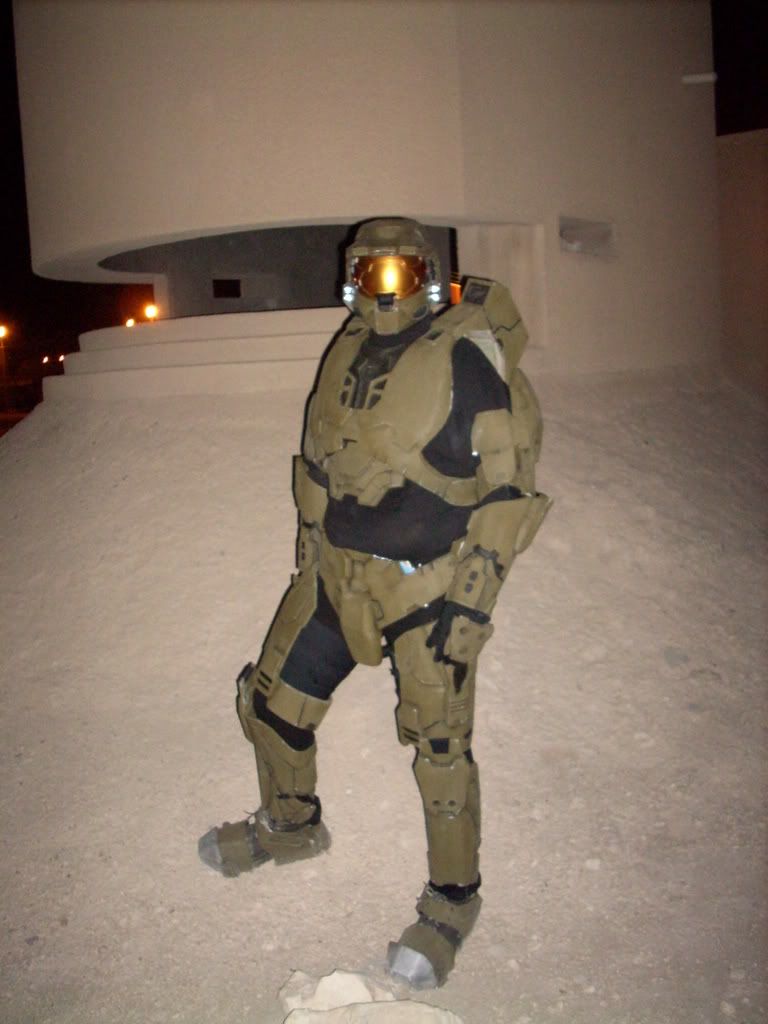 Not unlike the bunkers on Sierra 117 mission
Master Chief makes rare appearance with Saddam Hussein