(The latest versions of my Measuring and Scaling program will always be here in the first post.)
Pepakura Measuring and Scaling Tool by MrOreo123 v1.exe
I liked XtremeTACTICS101's
tutorial
for scaling armor so much, I was inspired to write a program to minimize all the math and just simply give you the proper measurements you should scale your armor pieces to.
To use it, load up any full body picture of the Chief (or Iron Man, or GoW...you get the picture) where he is standing FULLY UPRIGHT and NOT in an action pose. I took pics of my 12" Master Chief I just got to use for reference:
Make sure you can see him from head to toe without having to scroll the screen up and down. If you want to quickly try out the program, you can even just use the picture above. Just leave your browser open.
Next, load up my program. It will tell you to move your mouse to the very top of the character (usually the top of the helmet). Press the CTRL button. Next move the mouse to the bottom of the character and hit CTRL again (make sure you click where the HEEL would be, not the toe, even if the heel is a little higher than the very bottom. Remember, you're measuring the character's height, not the height of the picture). Congratulations, you just measured the Chief's height in pixels. Now you'll enter YOUR height in either feet/inches, just inches, or centimeters. Follow the on-screen instructions for how to do that: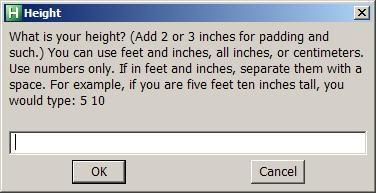 Now that the program knows how many pixels tall YOU are, we can move on to the fun part: measuring all the different armor parts. Using the same method of moving the mouse and pressing CTRL at opposite ends of the armor pieces (remember, you're not CTRL-clicking, just hit CTRL by itself), we can record all the measurements you need for all the armor pieces, one piece at a time. After you make each measurement, it will ask you to name it: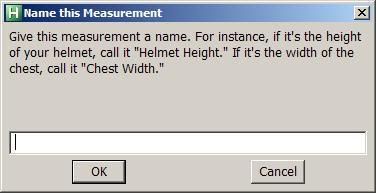 Then it will ask if you're done after each measurement: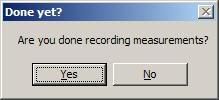 When you're finally done measuring (I recommend measuring both height and width, just to have them to compare), it will load up notepad and paste all your measurements for you. From there, you can save it or email them to yourself or whatever.
Let me know if you run into any bugs, and happy armor making!
P.S.
Keep in mind that these measurements are for Master Chief proportioned armor. You might've scaled him to your height, but if you don't have the body of an Olympian like me (yeah right!
), then you'll have to take that into account when you enter the measurements for your own armor.