HEAR YE! HEAR YE! The 405th Source Pepakura Hub is ALIVE It's AliVE! Mwahahaha
Okay, let's be quick and to the point:
What is it?
: A collection of ALL the Halo pepakura files you need to build you armor sorted out by armor, weapons, vehicles, equipment and organized into sections by games along with a search engine and sorting features that actually work.
Where is it?
: On the front page -
http://www.405th.com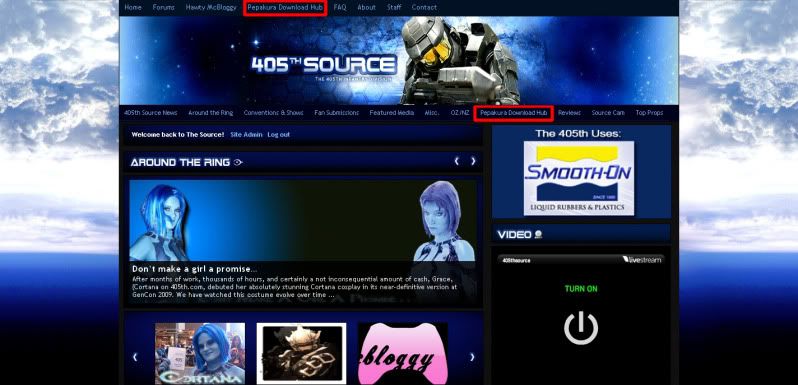 Why do we need it?
: The Halo Costuming Wiki is nice... but let's face it it gets hacked, removed, altered, etc. far too often and is missing a lot of key armor pieces and it's too much of a pain to use the search on the forums to try and grovel through weeds of posts to find what you need. Let's get it organized and keep it up to date eh?
When can I access it?
: Now. Seriously.. what are you waiting for.. go.
*SPECIAL NOTES*
I'm aware it is incomplete at this time, I'm catching up as we speak with the Halo 3 stuff. HOWEVER, If you are a modeler of the Halo 3:ODST stuff and the Halo Wars stuff - I NEED YOUR PERMISSION TO HOST YOUR FILES SO EVERYONE CAN FIND THEM - so please let me know in this thread or via PM that I've got your thumbs up to host them here at the 405th. Also if you guys spot any mistakes, leave me a note in this thread and I'll make the proper changes. I'm still working on getting the categories to display in order of game release... consider this bug noticed and underway to being squashed.
Cheers,
Kensai
PS: If you'd like to say thanks, I'm gladly accepting a cup of coffee in my sig. I promise I'll never mention it again.. but this download hub was a nightmare to code. Special thanks goes to Adam and Vex for getting it started and building a nice base for me to work off of. Extra special thanks to Hawty McBloggy she's made of awesomesauce for helping me out getting it all positioned right - stop by and say thanks at:
http://www.hawtymcbloggy.com