Hey every one this is my first thread and ill try to keep it very picture heavy.
so let me start off with the progress i have so far.[IMG]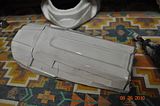 [/IMG]
well i originally went with the pep model from sjsuspartan which i liked alot but i went with the new live action model from ruz.
Also working on the thighs and shins
[IMG]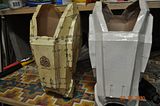 [/IMG]
not much to say but i would like to fill in the front of the shin with bondo to get rid of the the rectangle sticking out.
[IMG]
[/IMG]
so far the thighs are just peped but if all goes well tomorrow they should be hardened and rondoed.
heres a helmet project i was working on last summer. sadly i dropped the project and never finnished it. so with reach coming out i felt i could start my build and include my helmet. but i think ill wait till the game comes out till i work on it again. i really want my helmet to be acurate.
[IMG]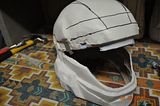 [/IMG]
[IMG]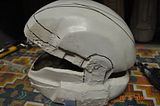 [/IMG]
[IMG]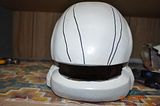 [/IMG]
so thats the helmet and im going to shape it to the reach odst.
P.S letting everyone know im not aiming for launch day. I dont think ill make it in time. just planning on a good costume for holloween.