Hey guys and gals
Since I've already gone and made press releases about all this and they've shown up on HBO, there's not much point staying much quiet about it.
For those of you who may not have seen it, here's the original press release, which was sent out quite broadly and has had positive feedback (and has also garnered interest from a couple of 4x4 magazines here in the UK in regards the warthog build):
-----------------------------
"Operation Chastity" Warthog Project Officially Begins
31st October 2008
Following on from the recent news that the Halo 3: Recon is in development by Bungie and Microsoft, news can finally be released that the not-for-profit fan-film of the Halo franchise, "Operation Chastity", has officially entered pre-production. And what better day than Halloween to announce the official start of Operation Chastity's M12 'Warthog' LRV construction project.
http://halo.wikia.com/wiki/Image:H3_Warthog.jpg
(the vehicle, as seen in the Halo 3 computer game)
The story of Operation Chastity follows a group of United Nations Space Command Marines fighting the survivors of a crashed alien Covenant battleship, and their final battle in the conflict – a secret mission behind enemy lines which none of them are sure they will return from. The film is a self-funded effort, with an estimated budget of around £30,000, and shooting planned to commence in Winter 2009 in the United Kingdom. The film project is in no way affiliated with Bungie Studios, Microsoft Game Studios or WETA studios, and is an independent work.
The vehicle that is going to be used for the project is an A-reg 1984 Land Rover Defender 110, rescued from the GumTree 4x4 yard before its eventual scrapping due to MoT failure. Being rebuilt by Props Studios, the vehicle will be fitted with a whole new body, chunky off road tyres, lifted suspension and a whole host of other upgrades to make it into the futuristic combat vehicle. This is certainly not going to be your average Land Rover!
In the games, the Warthog LRV was the vehicle of choice for Master Chief John-117, the superhuman Spartan raised from a boy to become humanity's greatest soldier as he went across the universe and eventually home to Earth fighting the Covenant. The vehicle being made for Operation Chastity, however, will be used by the Marines of the 267th Division as they fight the alien invaders on human soil.
And it is also hoped that a second vehicle, in the troop carrier format, will also be able to be added to the Marines armoury in time for shooting to commence!
http://images.wikia.com/halo/images/6/60/M...p_Transport.jpg
(the M831 troop carrier, a variant of the M12 LRV, as seen in the Halo 3 computer game)
More updates will be released as and when they come.
Peter Cooper
Writer/Director/Producer, Operation Chastity
------------------------------
The warthog went into the shop today. Our base is a rather tired Land Rover Defender 110 made in 1983. Here she is before the body was stripped off and delivered: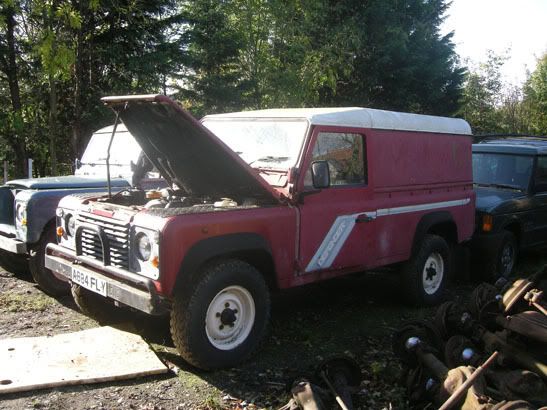 More pictures to follow once more work takes place on it.
As far as more relevant 405th details go - the current budget is between £25,000 and £30,000 pending further cash injection. The film will definitely have one warthog but, as stated, we are aiming for a second. Talks are currently under way with universities over the possibility of getting studio scale models of Banshees, Pelicans, Longswords, Warthogs, UNSC Frigates and the wreckage of the CCS class "Chaste Ascendancy". Armour is being sculpted hopefully in the next few weeks and will be made in fibreglass, and monster (Grunts and costumes will begin fabrication in the new year. Weapons are already under way, however, and I am hopeful that soon we'll have some nice photos of the MA5C prototype to show off.
We also have a couple of names being touted as appearing in the film, which will be officially announced once we have pen to paper. We'll be setting up a blog about the Warthog's construction once we have more material to show off.
Thanks for looking!
Peter