In the little time I've spent here on 405th, I've noticed a lot of ODST builds. A lot were awesome! Some were...yeah.
I chose to do an ODST build because 1) ODSTs are B.A, and 2) ODSTs are B.A. That just about sums it up. I wanted something high-grade that I could use in airsoft games and things like that, so this isn't going to be a simple bondo/rondo/whatever job. My plans for this build are start with the run-of-the-mill pepakura job. After that, I want to go ahead and use the clay pour method as seen on this thread by skylow (
http://www.405th.com/showthread.php/...ra+clay+method
). I want to make this as durable as possible, so I'll be using the finished molding to make a buck for either vacuum or injection molding.
I've considered using ABS plastic if I were to do injection molding, and simple sheet plastic if I were to do the vacuforming. If you have any ideas on which is better, let me know. And don't worry, I
am
fond of using the stickies, but it helps to hear a reader's opinion.
Anydangway, I went ahead and hunted down Kirrou's kick-awesome pepakura files, and decided it would be best to start with the tester helmet to make sure I know how to scale things up and down, and all around.
This was the disastrous result: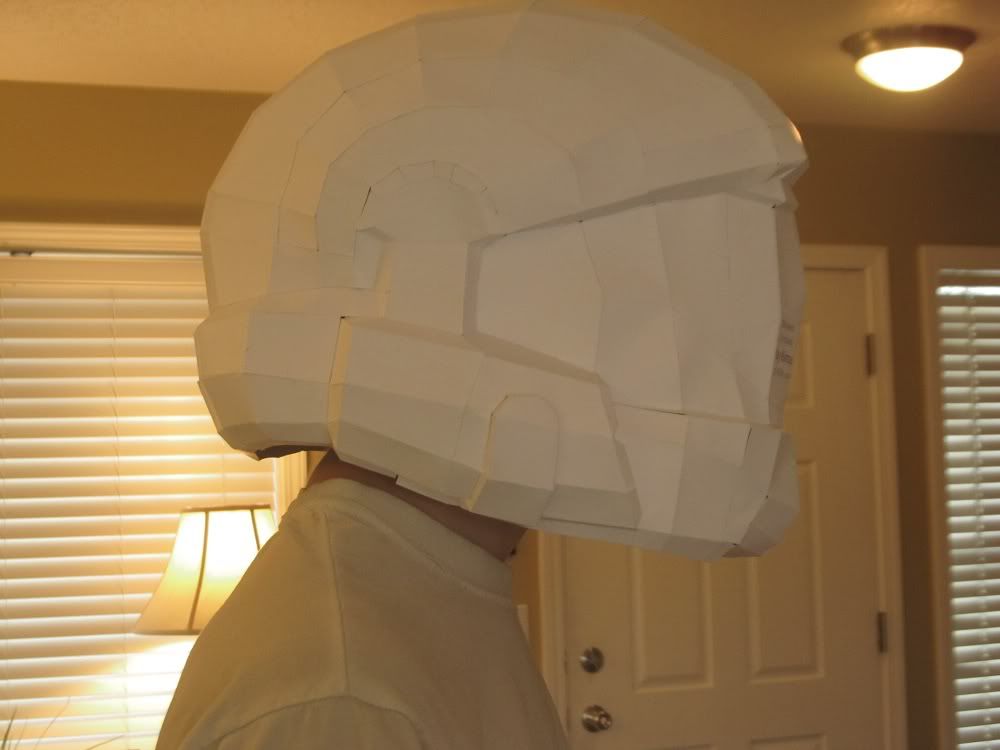 As you can see, I am definitely not ready to be shot from space into battle! Kirrou's file was fantastic for a first build, with the exception that I did not think to scale it down beforehand.
FFFFFFFFFFFFFFFFFFFFFFFFFFFFUUUUUUUUUUUUUUUUUUUUUU UUUUUUUUUUU
That's beside the point. Obviously, I was not about to pour hot, melty clay into this...thing.
So, I went to plan B. The helmet was a little difficult to work with, thanks to my printer and one wimpy toner cartridge, so cutting and folding was more of a chore than it needed to be. I could just
barely
see what I was working with, so there were a considerable number of errors the first time around. In the end, there wasn't much warping, but there was no way something this comedic was going on my head any time soon.
The best thing to do was pick a simpler model and try it out, with the hopes it would come out better. But wait? Kirrou's tester file was simple enough as it is! How was I going to find anything simpler?
Thus became plan B.
As it turns out, halocostuming.wikia.com had plenty of files to work with, and I settled on using the Halo 2 ODST helmet and equipment to get me started down the road to awesome.
Here are the far less tragic results.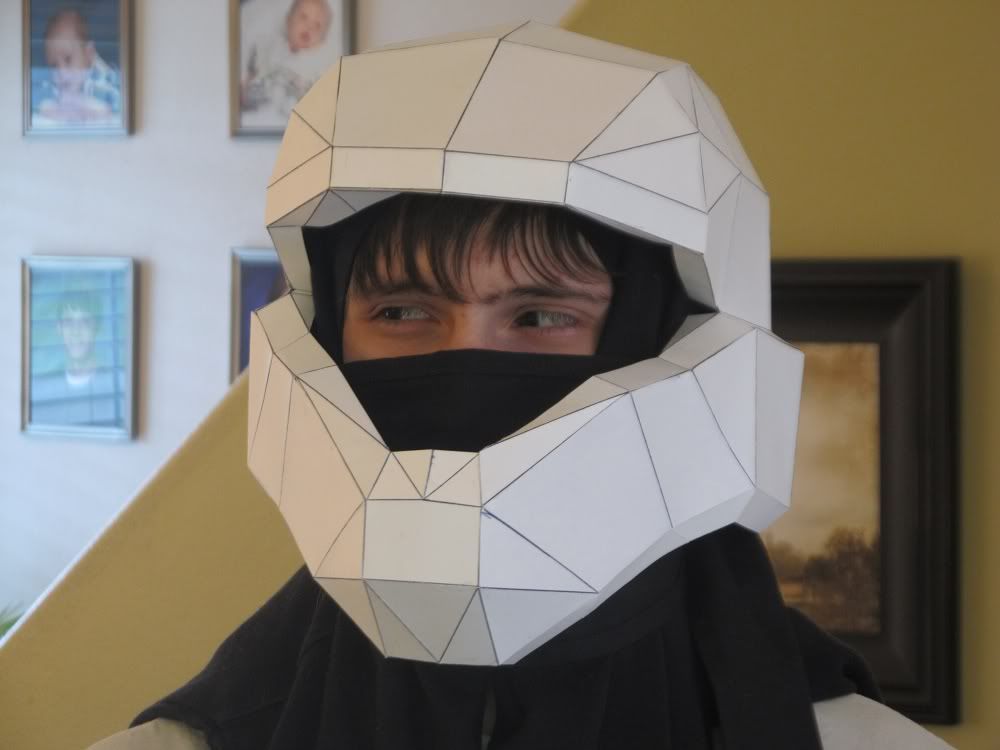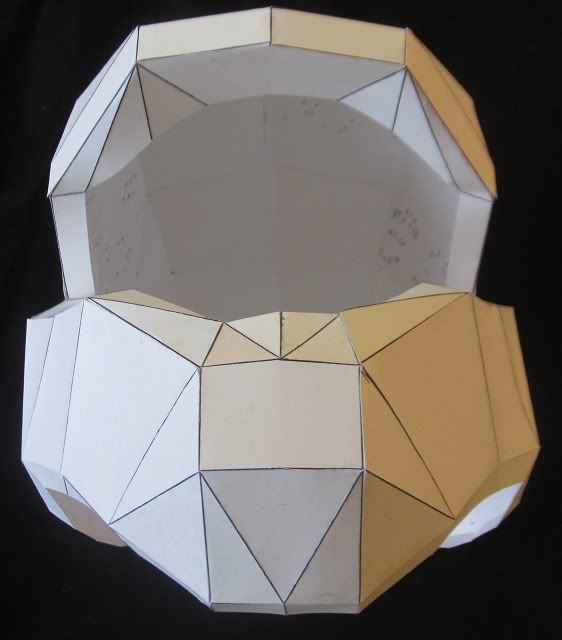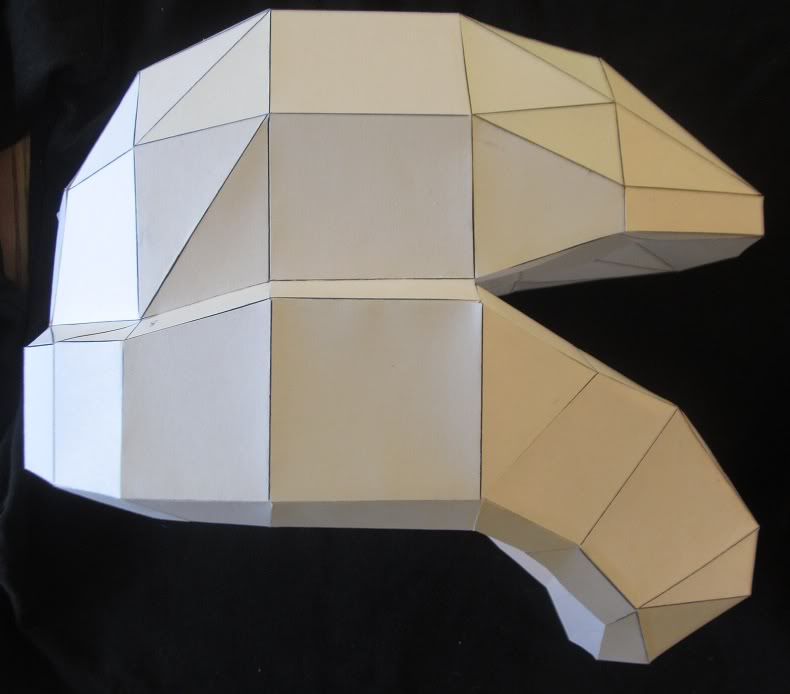 Here's the shoulder pauldron: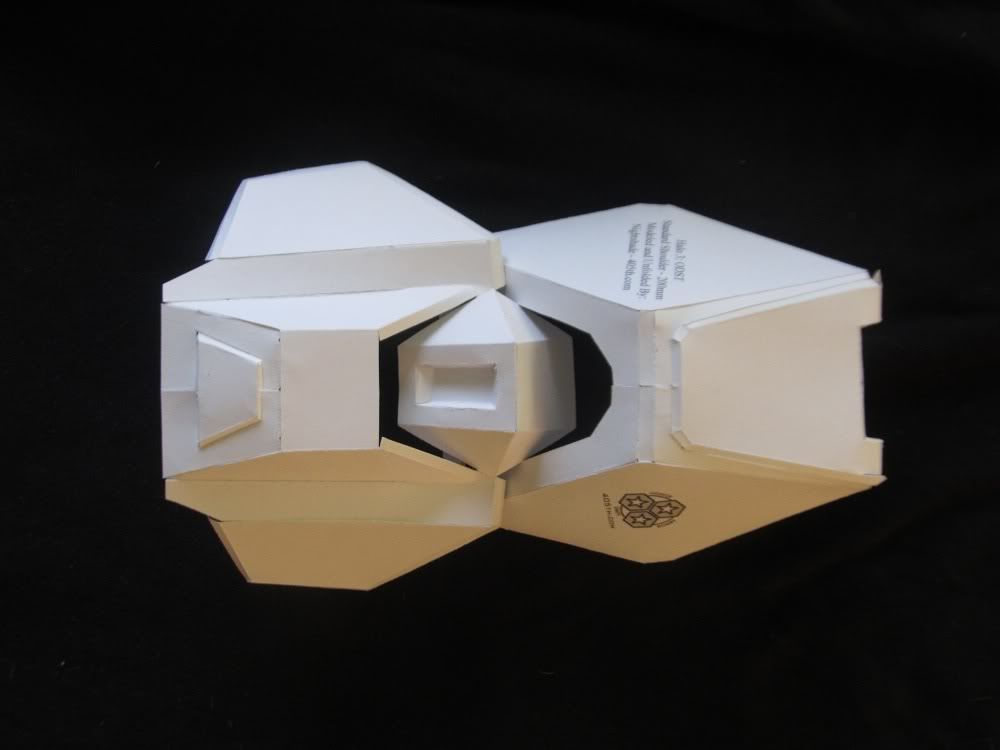 I only decided to do one pauldron because they're symmetrical, and that means once I have the buck finished, I can make as many as I darn well please!
What do you think? Comments and criticisms are welcome!