Hi All,
New member here hoping to join in the fun
I found the site recently and a lot of the work here absolutely blew me away and the more time I spend here the more impressed and inspired I am. I've always been a Halo fan so to see the possibilities of what can be achieved with Pepakura, attention to detail and a bit of hard work I thought I'd jump in and give it a go.
I've never tried anything like this before so I'm on a steep learning curve at the moment so any help or (constructive) criticism is welcomed.
Ok, my goal is to build a Mark VI HD armour set with attention to accuracy to the Halo universe and games as I can, but with a little unique touch here and there to make it my own (yeh that's the cover story for when I screw up). Other than that it's all a long way away and to be honest I don't even know if I have the skill to complete this project, so I'm not counting chickens just yet.
Anyway, what I done so far? Well I spent a few days cruising the site and found the 405th Pep pack and grabbed that, bought the software and decided to start on the helmet. I bought my supplies (as best as I could source locally) and set to work on the printing, cutting, folding and gluing. I didn't run into too many problems, but I certainly learnt a few tricks on the way
So after a few evenings spent cutting and folding I then spent a couple of days gluing and managed to complete, all be it somewhat sloppily, a mark VI helmet pep build..and if I'm honest, I'm quite proud of myself for a pep virgin.
Here's some pics, see what you think: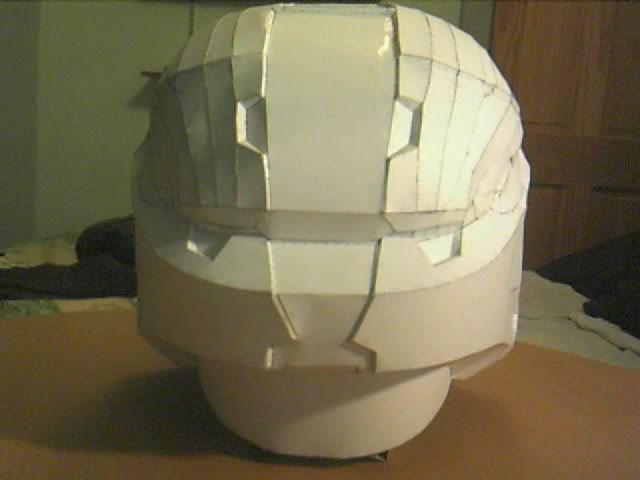 Thanks for looking in