This is what I've been working on today. Pretty soon I might need someone to help with the unfold.
EDIT:
Here is the finished file:
Beaky Helmet Unfolded!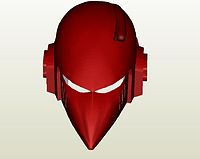 NewChestSeperated.pdo
Here's the shoulder: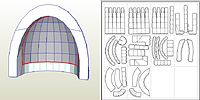 Shoulder
Entire arm (it should be symmetrical so it can be used for both sides). Basically, I set it up so that you just scale the height to the length of your forearm from wrist to elbow. You might end up having to trim the forearm and bicep parts when it comes together so that you have mobility but that should be too hard. Also, the bicep won't go all the way up to your shoulder, I'm guessing. This is ok, though, because you'll have that huge shoulder pad on.
arm.pdo
Right Shin.pdo
Left Shin.pdo
LeftThigh.pdo
RightThigh.pdo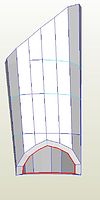 Crotch.pdo
Here's a scaling sheet that I just made. Use your total height in inches plus a little extra for padding. Everything but the shoulders and helmet should have the same scaling factor (also, if you used the forearm.pdo before I changed it to the full arm). Since I haven't built the armor yet, I can't say that this sheet is perfect but, then again, nothing is.
Below is what it looked like in the early stages. I'm leaving it in there for posterity.