I've posted on the 405th for many years...mostly models and props. Halo Universe discussions are also one of my passions. But this is the first time I've felt comfortable enough with a costume(s) I've built that I think are worth sharing with you all.
​

This year for the New York Comic Con, I finished a project that I had started for the Halo 4 launch all those years ago. it started out as a Lasky cosplay, but quickly turned to an 'expanded universe' Where-are-they-now of Franklin Mendez whom surely had to have promoted by now. So I made him into a fleet officer with a modified trooper helmet to boot. Along the lines of what ifs, I could not get my mind off of what poor civilian Doctor Halsey must have gone through immediately after being caught in a botched assassination. I played up the gore angle for effect.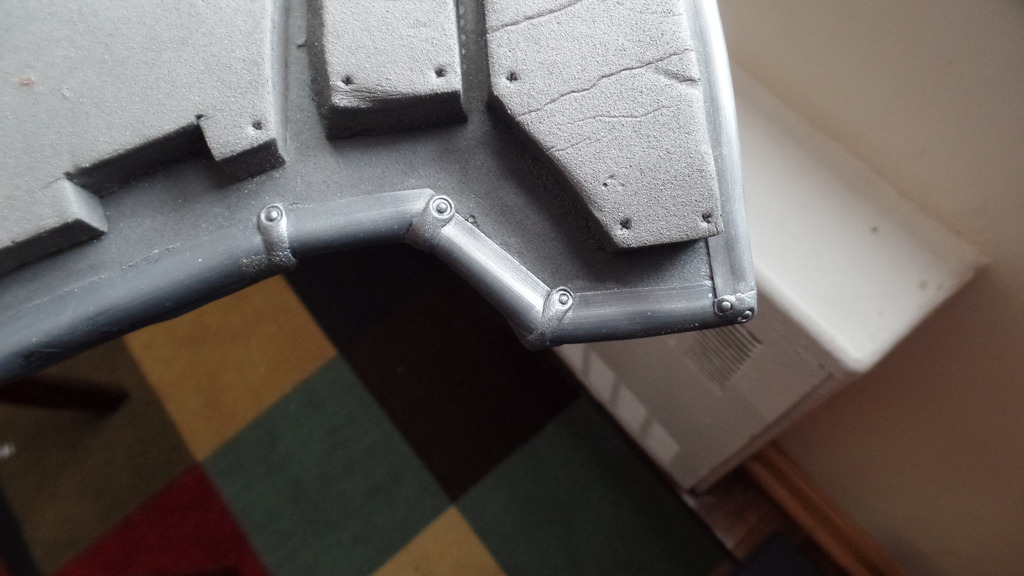 Shoulder Guard/pauldron. EVA foam painted with some gray textured paint. Affixed with Zip Ties.
As mentioned this was started during the H4 launch, lasy's first images did not feature his tacpad, So I got creative. This one simulates a kind of armored flip phone design. in theory it opens to reveal a holo projector and an tactile datapad/keypad.
Stony Prop's EXCELLENT trooper helmet, re purposed for FLEETCOM ops alongside my son's modified Kylo Ren mask/slash/vader helmet
All kitted out with a nylon Tac belt and drop holster, modified to hold my Maggie! The ammo belt held the battery pack for my battle ready spinal neural net.
Craft foam shoulder bell and rank with a plumber's putty oak leaf device painted with metallic house paint markers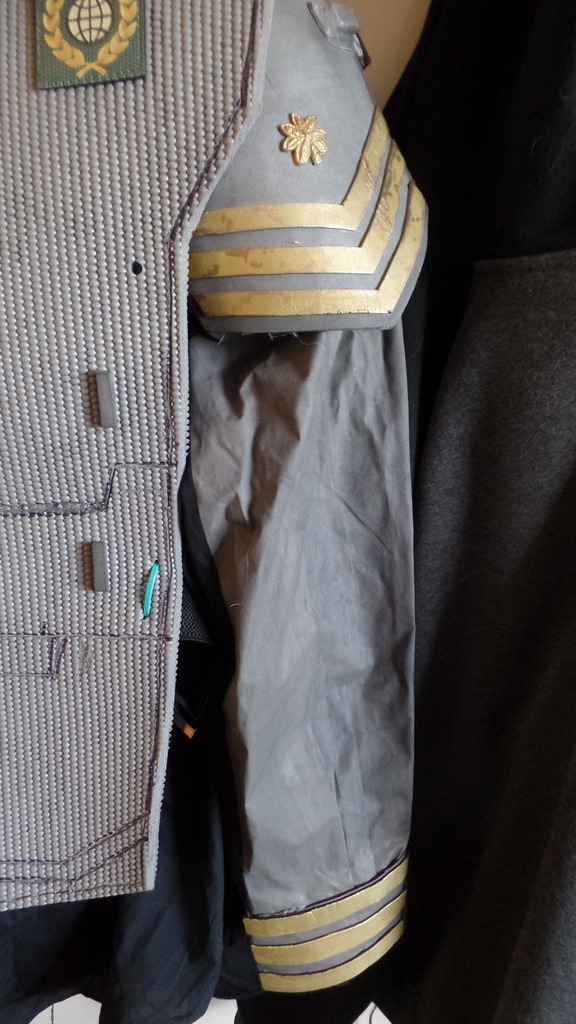 paper printed UEG spray adhered to black craft foam square super glued onto my Yoga Mat ballistic apron
non functional buckles made of styrene and metrocards, super glued onto the bells painted over with sterling and high gloss acrylics. The bells were then HOT glued onto a black dress shirt which had the gray highlights painted on with a spongebrush applicator.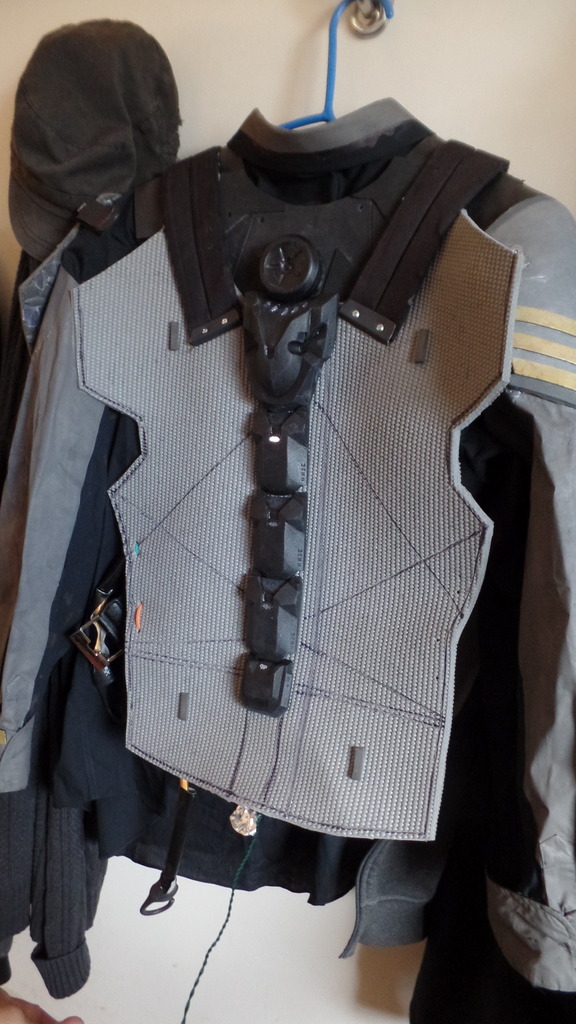 Insulation(pink) foam blocks were carved into the final shape of the vertebrae then molded and cast in S-O 300. I then drilled bulb holes though the yoga mat and passed through some LED tree xmas lights. I attatched the assembly with a rivet gun. Finding the pre drilled holes through the foam mat was the biggest pain in the rump.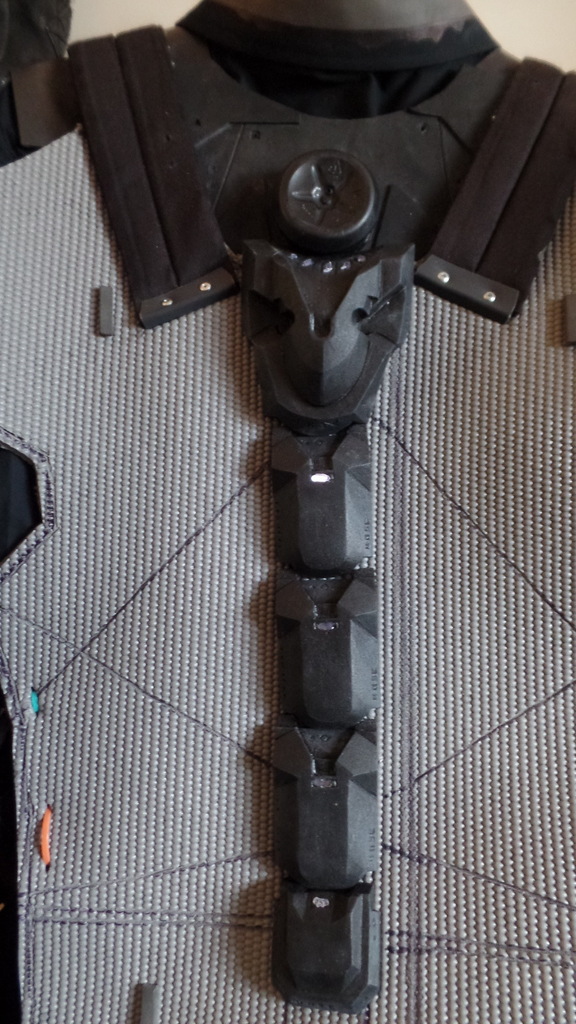 My lines were drawn with permanent marker, thinking that I could grind away all evidence after craving. Wrong! I couldn't without shredding the lines. look carefully and you will notice the back end of a choco-milk bottle.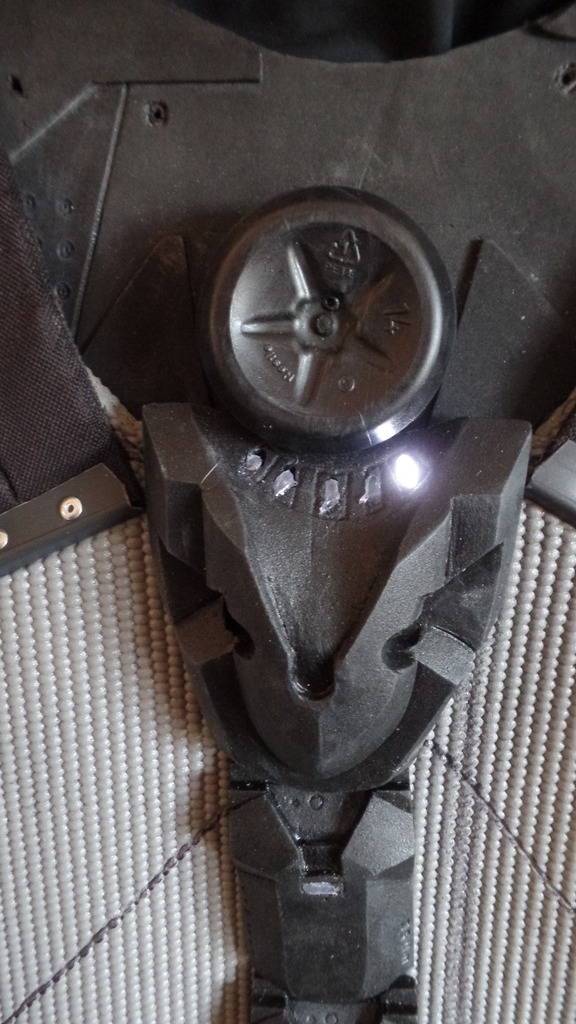 Some lights blinked, to indicate activity. The shoulder piece that held the straps in place was thin EVA foam with foamie accents. The EVA rigidity helped for the support, but not the actual apron.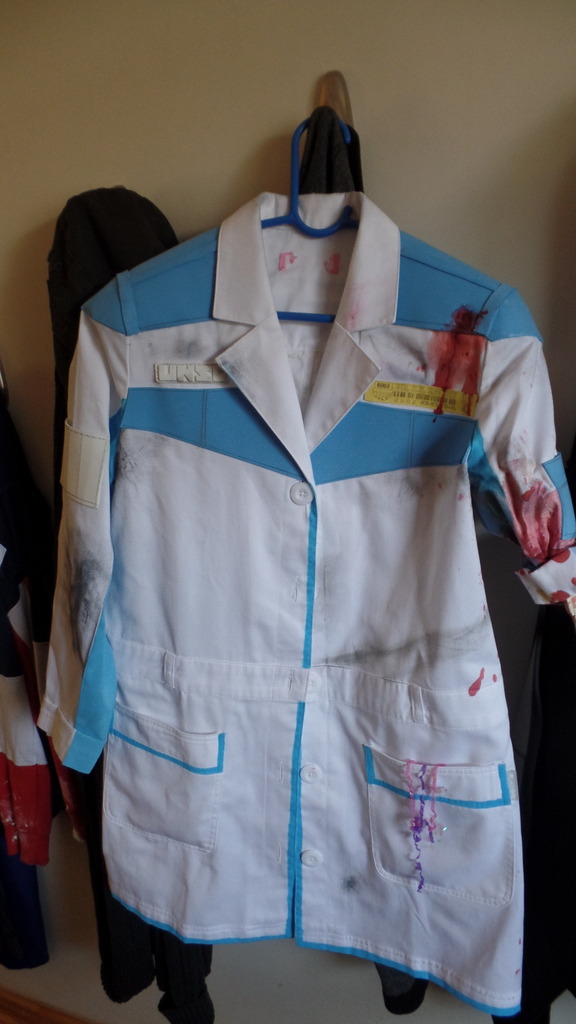 Lab coat with EXTENSIVE modification through actual coloerd foamies from Michaels. Accents were acrylic paint.
Printed Name label on goldenrod cardstock. Fake blood and oil paints shape out the hole i punched though the foamie, but not the coat.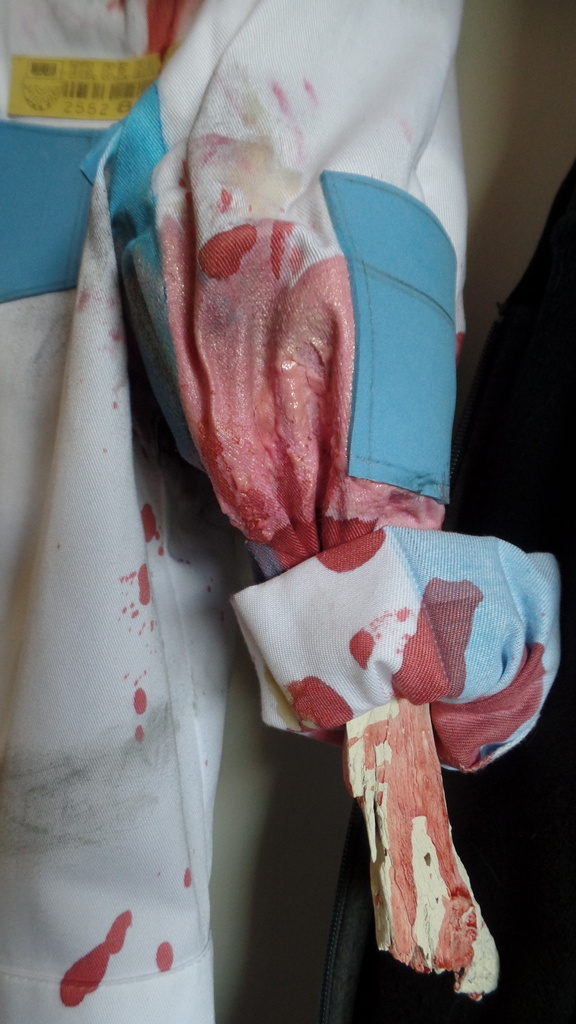 My wife wouldn't do it unless i upped the gore factor..the bone is a treebarnched painted in off white, and drenched in stage blood. I used tinted S-O Foam it to place the branch, and add volume and weight to the limb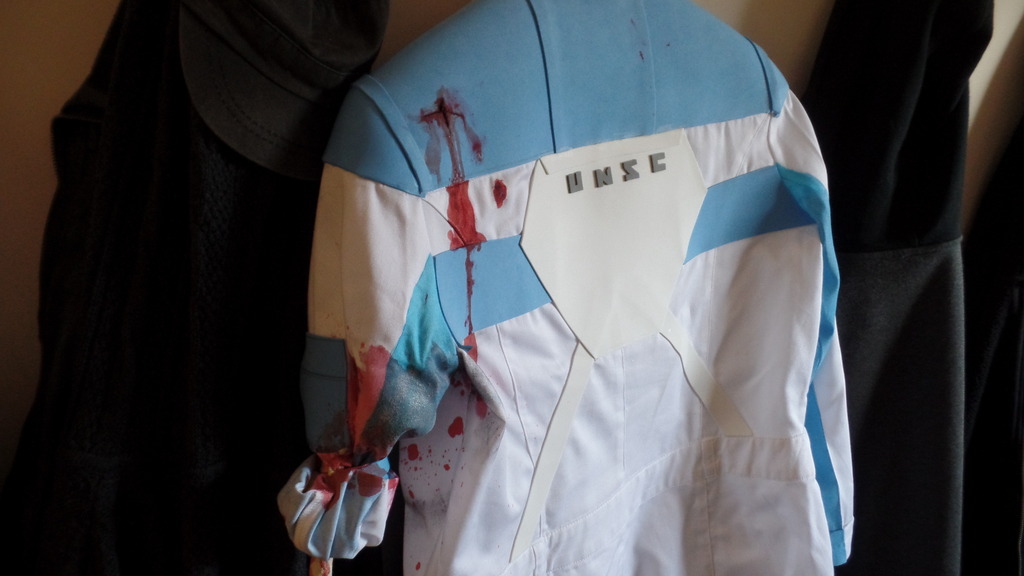 Star shaped exit wound and the ever present UNSC logo branding. Despite all of this, my wife kept getting confused for "generic- zombie-attack-scientist" which sucks but is not as bad as hearing people call me "HALO" for the umpteenth time. I was also confused for a Starship Trooper....TWICE!
SMDH 10X, lol
And that's all for now. please feel free to ask questions. I don't get on as much as i used to...truth be told, i think if it weren't for the fact that the game is right around the corner, there would't be many visitors here and it makes me a little depressed. But I am loyal! I am worthy! I am hoping you enjoy my pics!
Axios friends.