Whats' up guys! So I'm finally back after a 3-year absence. I had previously started on a Halo 3 Mk.VI Chief suit made out of pep, fiberglass, bondo, etc....I had finished most of the legs, before putting it aside due to school. After 2 years in the closet, it ended up getting too damaged to continue, so I trashed it last year. Fast forward to about 2 weeks ago, with the Halo 5 release coming up, I did some thinking, and decided it was time to start another suit. Being that I have about 10 months until I go back to school, I figured now was the time to get a suit done. Due to my acquired dislike of all things bondo and fiberglass from previous car projects, (another hobby of mine), I decided to build this suit out of foam.
I'm still not 100% certain on the end goal/design of this suit, but here is what I have in mind now. The suit is for Corwin-106 (Spartan number I just applied for). He uses a modified version of Chief's Gen-2 suit from Halo 4/5. His armor spec is given the name "NIGHTMARE" (a play on the name "Demon" bestowed on Masterchief by the Covenant). He also specializes in night ops. As far as the build goes, the armor pieces will follow Chief's armor's general shape and structure, but will include custom additions, and other unique design details. Build wise, I am using foam pep files, but will be modifying them with free built parts as I see fit, to help the overall look, construction, and fitment of the armor. If there is anything my first try at armor building taught me, its that I do not have Spartan proportions, and thus, don't fit quite well in standard armor, even if scaled properly. I'm 6'4", which is tall yes, but I have relatively short legs for my height, and they are pretty well built from years of basketball and volleyball. So when I scale my armor to the right height, I have to add about 2" in circumference to the armor to fit it over my legs. So there is going to be a good amount of trial and error, but should result in a better fitting set of armor. That being said, here goes the actual build....
I started off with boots. I did them completely freehand, and they were the first thing I ever did in foam. I wasn't thinking, and built them around a set of combat boots, which lead to some issues. One, they were WAY too bulky, and ended up looking like clown shoes. Two, combat boots sit too high and don't allow the shin armor to sit properly. They were immediately trashed. I have since decided to put the boots on hold, until I can find a suitable shoe to build the boots around.
I then moved up the the shin armor. Prior experience told me they would fit quite right when scaled to correct height. So I basically assembled each shin piece into 4 sections.....front, rear, and both sides. I then mocked up the pieces, and figured I would need to add some width to the front section, in order for me to be able to get my leg (and foot) through the armor. I also decided to make the front portion out of one piece, to improve strength. I will build up the details later with thinner craft foam. They aren't perfect, but I'm pretty happy with how they came out considering. I still need to invest in a hot knife to make cleaner cuts.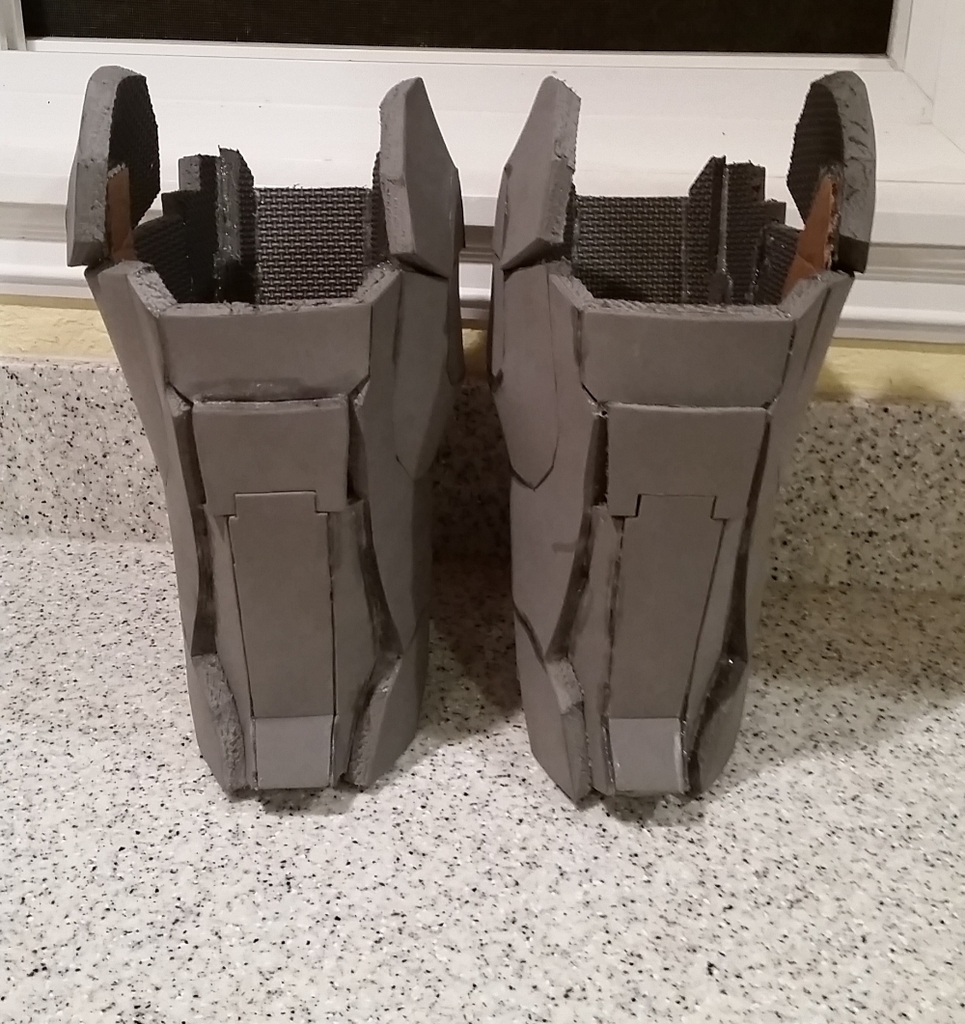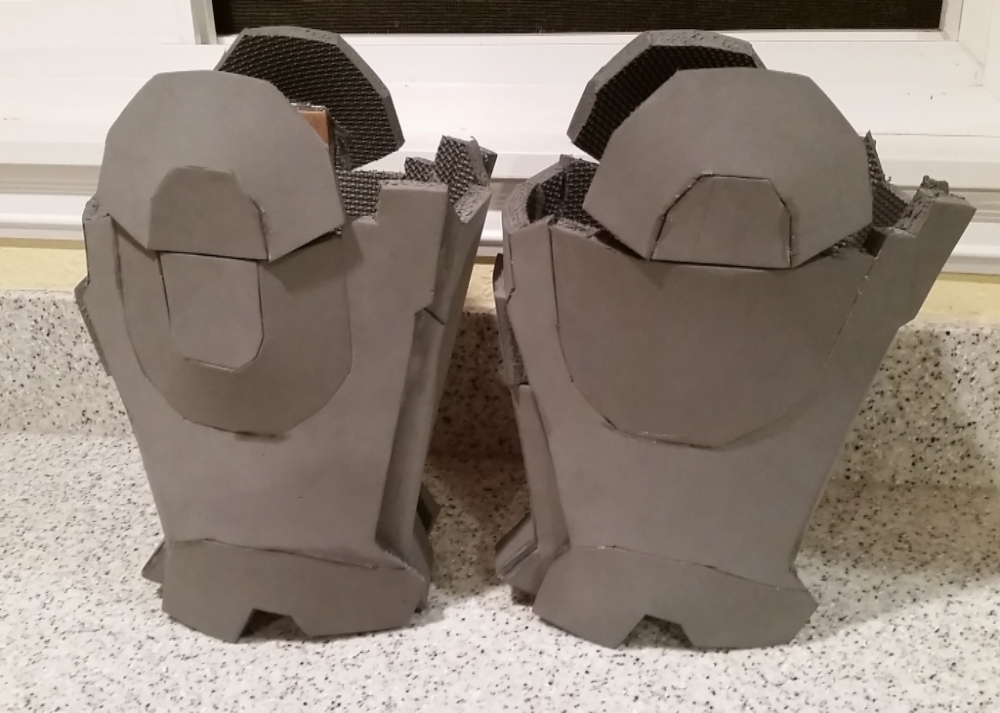 Again, these are just the base, and will be given a good amount of craft foam detail later on.
I also just picked up one of the "Disguise" brand Master Chief helmets from my local Hot Topic. For $35 it was hard to resist. While the color and shape aren't quite accurate, the visior is pretty darn nice. I was also surprised my fat (7 5/8 hat size) head fits in it. I'll most likely be using that helmet as a practice canvas for my color scheme, along with practicing my painting techniques. At this moment, I do want to get a quality raw cast of MC's helmet, though I may change my mind and go a different route.
That's all for now. I will be moving on to the thighs next, followed by the hand, forearm, bicep, and shoulder pieces. The chest will be saved for last. As far as the undersuit goes, I'll be making a separate post about it in the future.
Stay tuned for more updates, and tips and criticism are always welcome.