Gobotic Studios present: "Dawn Under Heaven", an independently produced Halo fan film. We began preproduction in late April of 2010, with principle photography slated for early 2011.
With the imminent release of the latest and final Halo game from Bungie, now is the time for young creatives to enter the arena with a vision of undiluted awesomeness. Right now we're working on the props and costumes for the film, as well as getting a polished first draft of the screenplay.
We'll be posting updates, weekly video blogs, pictures, and much more on our new website.
dawnunderheaven.com
To kick off the project we've come up with a little treat for everybody.
A Reach Trooper Helmet pep file, created and unfolded by yours truly.
It's under our Content section, waiting to be downloaded.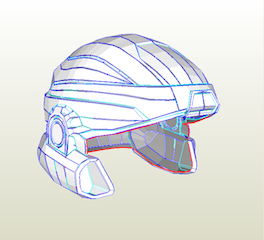 As the project continues we'll be releasing more content for everyone to use.
We're really excited to share this project with all you guys. In the coming months we'll be working on a lot of armor pieces, along with all the other goodies that go along with pre-production, and we can't wait to hear your feedback.
Project Threads:
Trooper Helmet
ODST Helmet