Active Member
Southern Regiment
Alrighty, here goes nothing.
Some of you may know me from the New Recruits forum. Over about a year and a half I attempted to make my first Halo costume out of foam. I think I went through 2 different threads just because my different attempts varied so much in terms of skill level. It's actually kind of crazy looking back at my first few attempts and comparing them to the most recent.
Eventually, about 4 months ago, I finished my custom Halo medic costume. I'm still super proud of it and have worn it around town to a few events but haven't had the opportunity to take it out to an actual con yet and give it a test run. I did however get noticed by 343 on Waypoint and manage to get my deployment application approved by my regiment. So I've got that going for me, which makes me feel great!
Here's a link to my 1st(or 3rd if you count the ones I abandoned before they finished):
Restarting my Freelancer Medic
BUUUUTTTTT that hasn't stopped the cosplay and perfectionist bugs in me from coming up with all sorts of ideas and pushing me to continue to improve.
So here we go.
Every year my wife and I set aside a certain amount of cash from our tax returns just for the two of us. Usually the rest goes to house improvements and things for the kids. This year I decided to use the bulk of mine on a nice little 3d printer! Over the last few months of finishing my medic costume I experimented with the printer and learned how to model/slice/scale objects. It took me a while to move up from simple small objects but Recently I decided to try and 3D print a new suit!
I decided to stick with the RvBverse, but this time go with someone more recognizeable instead of an OC. Thus, Project Grif was born!
I messed up the scaling on my first attempt. And by the time I realized it I'd gone through almost an entire spool of filament. :[ But you live and your learn.
My goal with this helmet to keep all the proportions to scale, one of my weak points with my last build, and to provide my self enough room for a few things: LEDS for lights on the side of the helmet, cooling fans in front and back, and rare earth magnets.
After converted the pep file and scaling it/thickening it/preparing it for 3d print, I sliced the helmet into 4 easy to manage sections. That way I wasn't worrying about slicing up 200 small areas all at once. Then I could take my time with each of the 4 areas and focus on making sure smaller sections were perfected at a time. It's a lot less overwhelming when I set small goals like that and a lot easier to manage wen I get home and can remember where the current slice is supposed to go.
Another goal with this helmet being more proportionate is to give myself an easy way to get in and out of the helmet. With my foam helmet it was easy. I'd read that you should make it a few inches bigger to allow for padding and lights/fans but I've learned that about half an inch should do. So I've lined up the back slices on all 4 sections of the helmet to create essentially two solid pieces for this helmet, the front 3/4ths and the back 1/4th. I'm going to attach rare earth magnets on the insides of each piece to hold them together while I walk around while at the same time allowing myself an easy way to remove the helmet should I get hot or want to eat. It was simple with the foam helmet because of the size but with this one being closer to my actual head size I think this will be pretty simple and effective. I might add a bit of velcro in if the magnets need a little extra help but I doubt they will. I used them to on my pistol for my last costume to attach it to my thigh.
Okay, that's enough ranting about what I've done for today. So far I have the bottom two sections built and have started to print the top sections off. Hopefully by the end of the week I'll be ready to add some auto body filler and resin to toughen this thing up and get ready for painting.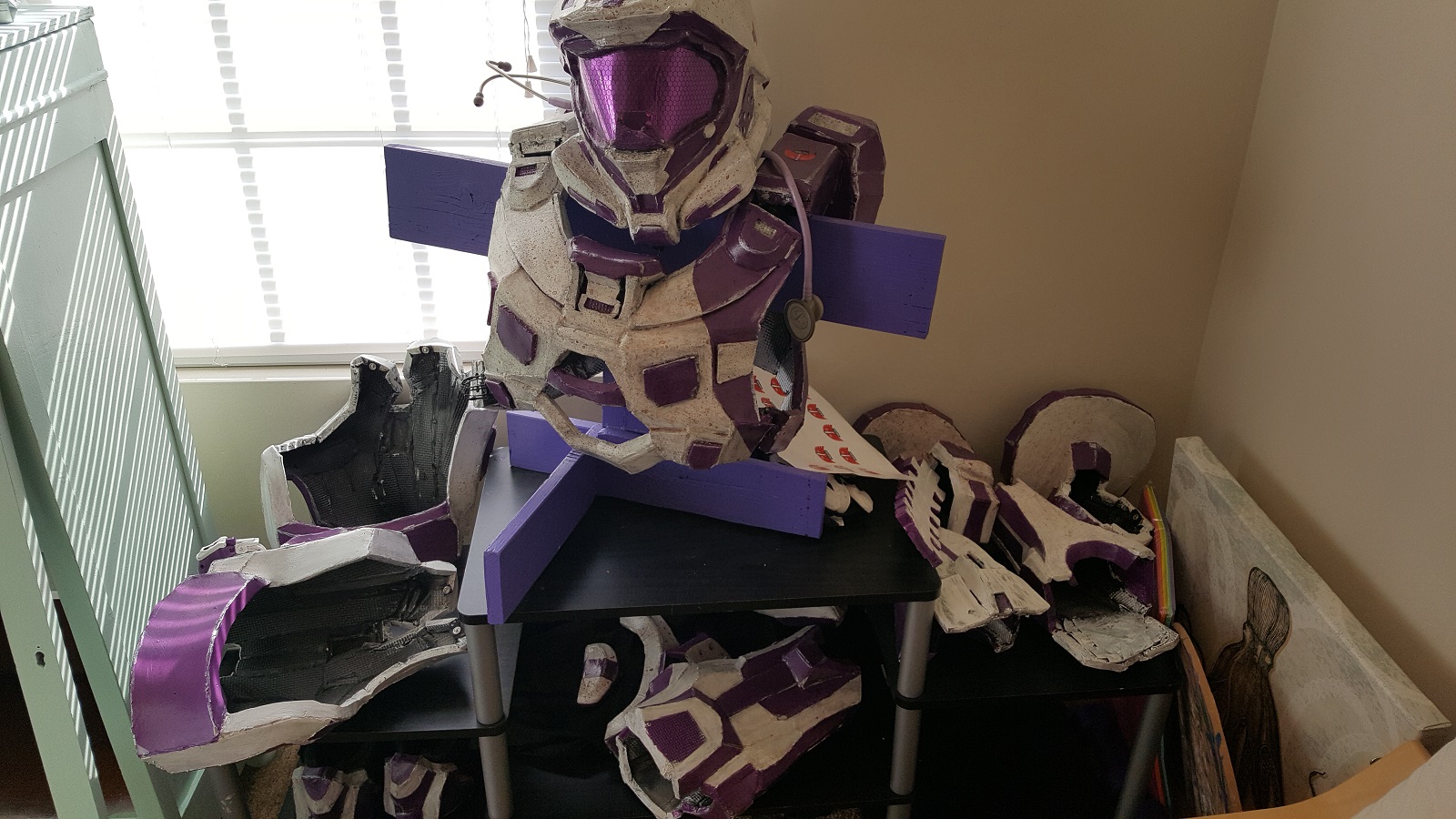 Medic costume. Might have to pack her up if this project goes well.
Front view. I wish I'd thought about it ahead of time, but I'm going to go in later and use my drill or my dremel to cut out the light holes on the sides. Then I'll add LED's through the holes. Just on the the inside of the print I built a little shelf for a battery to sit on.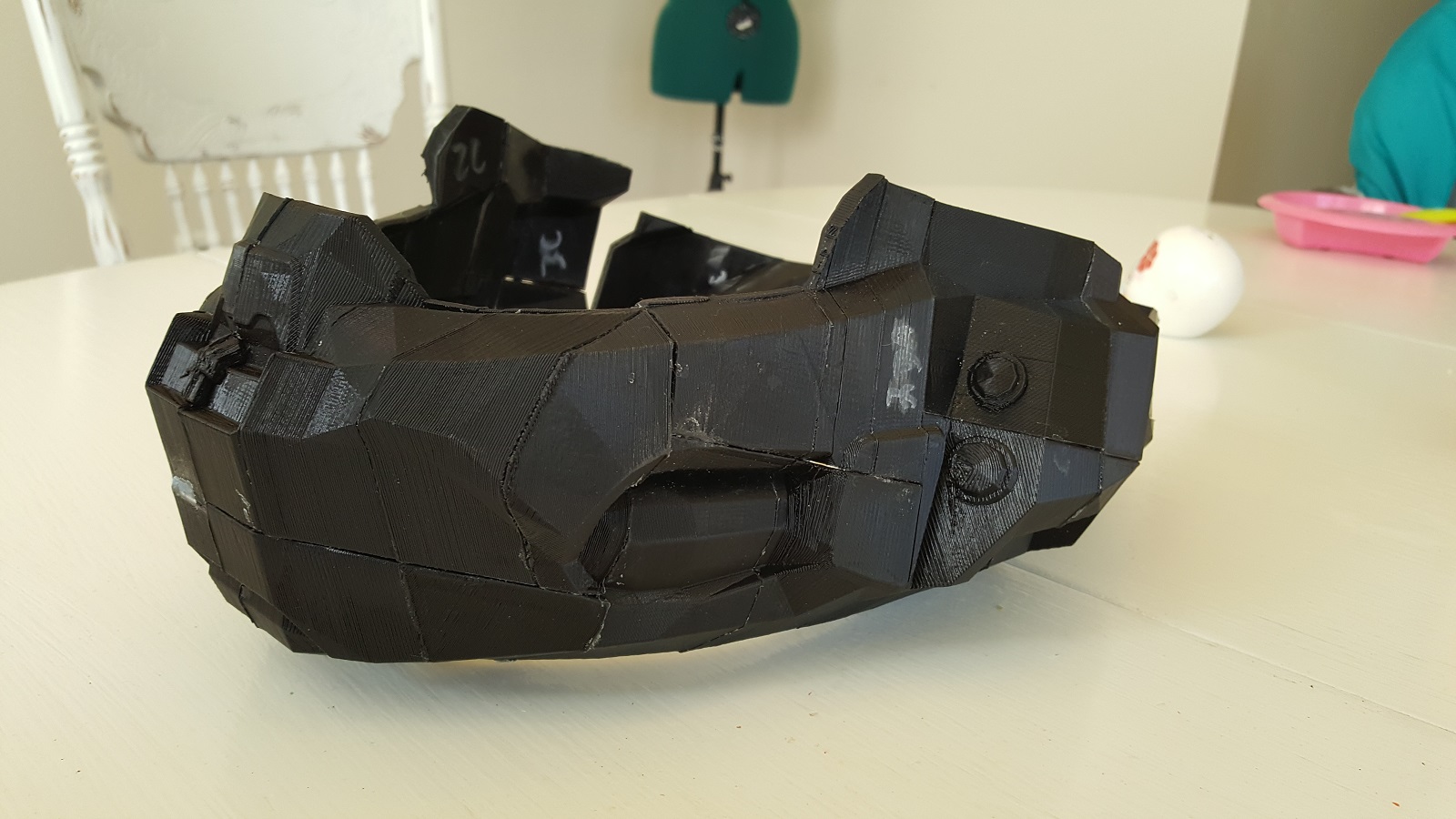 Side view. you can see a few gaps but nothing to major. I already have to go over it with autobody filler to cover up the areas where the pieces line up so it shouldn't be too major of a fix.
Here you can see where I've left the back area detached to allow for easy access on and off.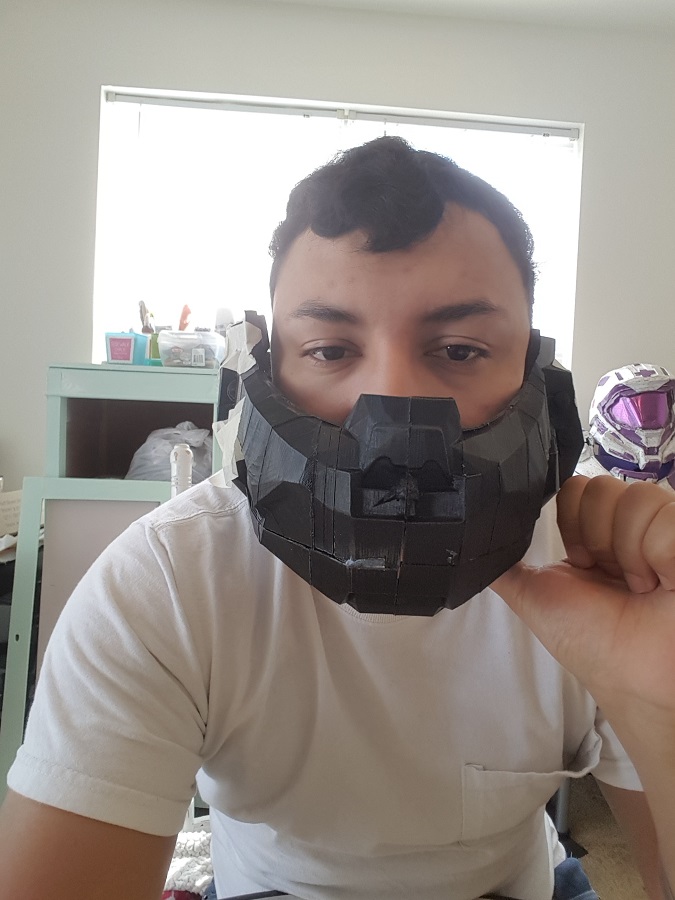 Trying her on. Much better fit to my head. Ignore my messy hair, it's the weekend man.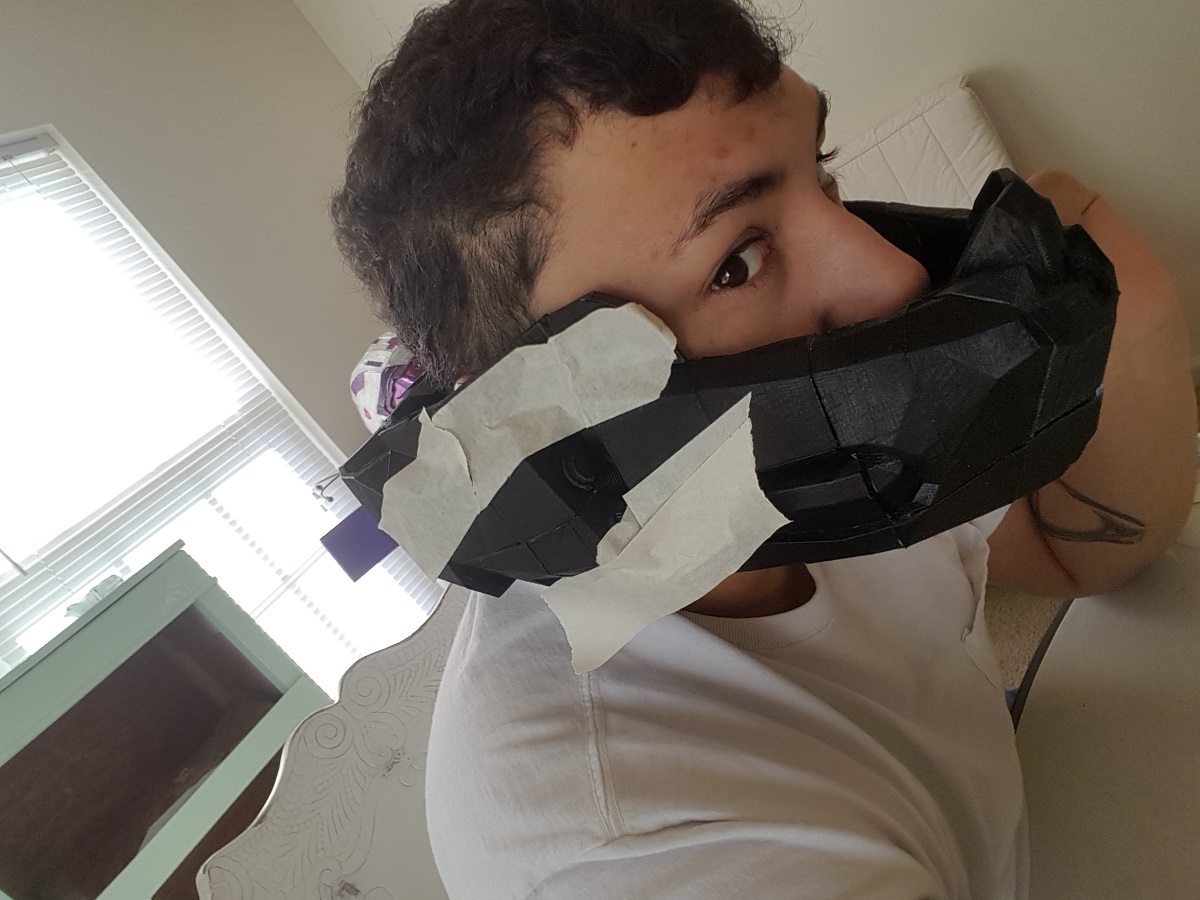 Added some tape to the sides to hold the piece together while I try it on. Looks like it'll fit snug but still leave me just enough room for all the electronics I want to put in.