RCO & BCO
Pacific Regiment
405th Regiment Officer
Washington
Hey Everybody, I got a request to post this repair kit. So I will be posting and listing everything I have in it to hopefully help. In this Repair kit I have the following. 1.Shout wipe & Go wipes 2. Different batteries for any purpose. 3. Sanding Block. 4. Paint brushes. 5. Lint roller. 6...
www.405th.com
I've always liked
SgtSkittle117
's Repair Kit that they posted a few years back (linked above). I've made some changes/additions so I thought I would post mine.
Most conventions should have a cosplay repair booth or sometimes just a box of supplies at the event booth or information booth. This is a repair kit you can keep in your car as a back up, or if you have your own booth at an event.
I thought I was getting the same box as
SgtSkittle117
but it must be smaller as mine has 2 trays and theirs has 3. But mine seems the perfect size (not very big) but uses it's space well. It's also pretty stout for the low price of $13.
Walmart Tackle Box
I'm definitely at max capacity though so if you want to add anything you'd need to buy a bigger box.
Hi-temp Glue Gun
Hi-temp Glue Sticks
Krazy Glue
E6000 Glue (x2)
Cos-bond Adhesive Strips
(contact cement)
Epoxy Putty
Gorilla Tape
Electrical Tape
Painter's Tape
Zip Ties
Parachord
Shoestring
Elastic
Velcro
Lanyard
Binder Clips
Binder Rings
Paper Clips
Tape Measure
Sewing Repair Kit
Needles​
Safety Pins​
Buttons​
Thread​
Scissors
Multi-Tool
Carabiner (x2)
Craft Knife
Replacement Blades
Paint Brush
Black + Silver Paint Pen
Black + Silver Marker
Nuts + Bolts
Batteries (9V, AA, AAA)
Phone Chord + Wall Adapter
Lens Cleaners
Wire Strippers
Electronics Repair Kit
Wire​
Battery Connectors​
Switches​
Quick Connectors​
Crimpers​
Vitamin C powder
Contact Solution
Wet Wipes
Q-Tips
Toothpicks
Ibuprofen
Lint Roller
Bandage Tape
Alcohol Wipes
First Aid Kit
Antiseptic​
Bandages​
D20
Everything is in this first picture. If you want to know the brand or where I got something just ask.
The second/third picture shows everything fit except two of the four 9V and I opted to switch an extra craft knife for replacement blades. I also put a lock on it so things don't wander off and kids can't get to the knives.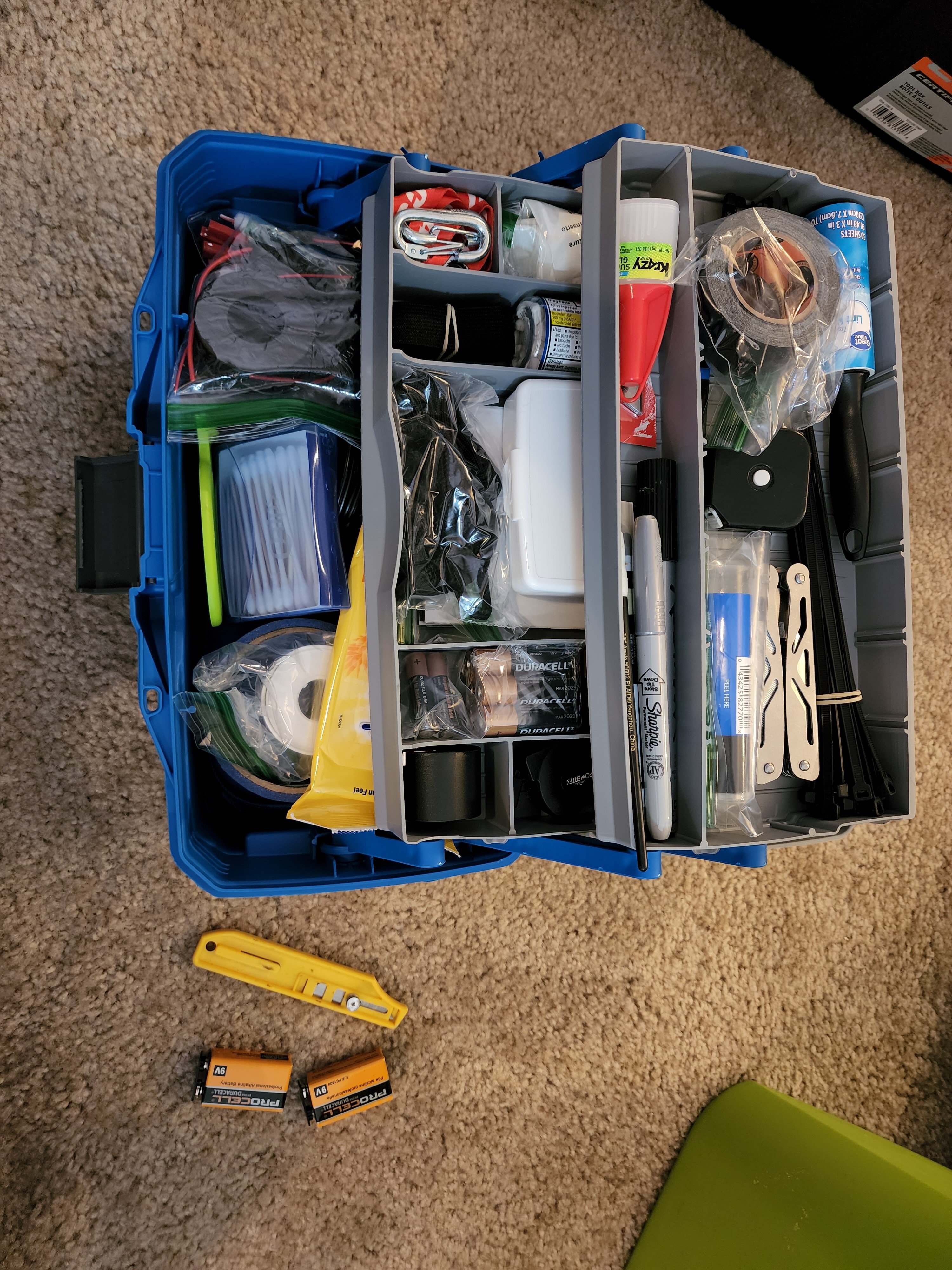 Last edited: