Hi guys and girls.
I'm LATE with this one, yes I know. *guilty look*. I ran into a couple of strange mechanical issues during the testprint I'm currently doing for a
fruity friend
and it took me some time to realize what the heck was wrong.
You wouldn't believe what the source of the issue was, so I'm gonna spare it, but suffice to say I was chasing ghosts for at least 5 hours.
It's a quick job, this one : based upon the release of the H5 resources so kindly provided by Chernobyl, this version actually isn't that different from the previous H4 version, except for some minor differences.
I cleaned the model up a bit (it looks like a total mess in STL, but so far it prints out very clean - if the testprint identifies specific problems, the files will be modified and made available, of course-
This DMR features :
- removable barrel with magnetic lock, which considering the length of the barrel of this one isn't a luxury
- magnetic locked scope
- steel enforced barrel and gun body
- removable magazine
- handguard as sepperate print to enable easy replacement if so needed.
As always, have fun, cut it up to your printers' liking using software like NetFabb, and if you bumb into technical issues just let me know and I'll correct what needs to be corrected.
Files are available here :
https://1drv.ms/u/s!AthGBSmTyQOPgRPHrcoeJ6zONhPa
Next gun up : Finally someone who comes up with a really nice looking BR55.
Ps : the naughty problem part turned out nice in the end by the way.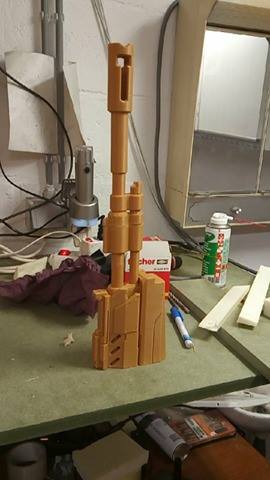 Last edited by a moderator: