Tyrael Armor Build: COMPLETE! pics here : http://www.405th.com/showthread.php/27492-T
So this is is my first attempt at creating resin/bondo armor. But i went a little bit different route than most, I'm using foamies as my base instead of the pep board. I've made several pieces of of armor out of it before so i figured it would be my best shot at crafting what i thought the armor should look like. It's very time consuming...
so if you don't know who/what Tyrael is, he's from the Diablo series blizzard made.
This:
http://us.blizzard.com/diablo3/
I realized very early into this project that it hadn't been attempted many times before. In fact a google search turns up only 2 finished works and half a dozen in progress works with no pics.
Then I noticed that i was having a REALLY hard time getting concept art. It's actually pretty hilarious, but the best art i have is a complete character turnaround from a mod in oblivion where someone actually made the armor for the game.
So i've been working a few months now and I'm starting to get the hang of it I think and I thought i might as well post up some progress pics.
I'm not certain but I don't think I've seen any completed work here that used foamies as a base and bondo/resin on top. I actually asked the question a while back of weather or not it was even possible. I'm not sure who did the video but there was an experiment done on the foam and it warped as the resin dried, essentially it made the idea seem worthless.
Here's a few of my early prototype works of shoulder armor that I think worked out just fine.
here you can actually see the layers bondo/resin/foam. works like a charm.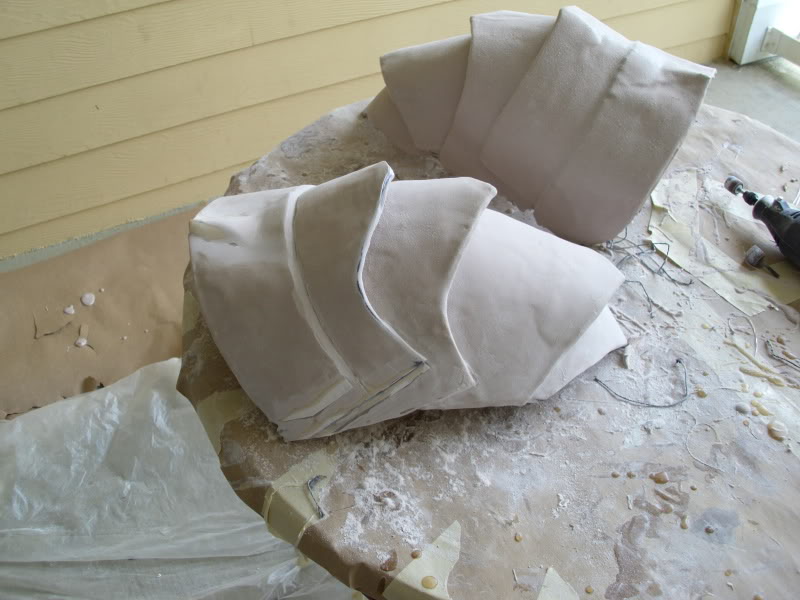 coat of paint to see what it might look like:
I'm just to much of a perfectionist and they weren't big enough, and they weren't exactly the same. So i scraped em for a new design ideas.
I think the image i have of how i want this project to look when completed is very much in the spirit of the Joe Madureira's and Paul Richard's of our time.
I wanted to get the armor looking hefty, almost irrational, but still functional.
I'm at about 80% of the foam base work now and I'm getting excited about getting some resin on it and detailing it.
Ignore the masking tape...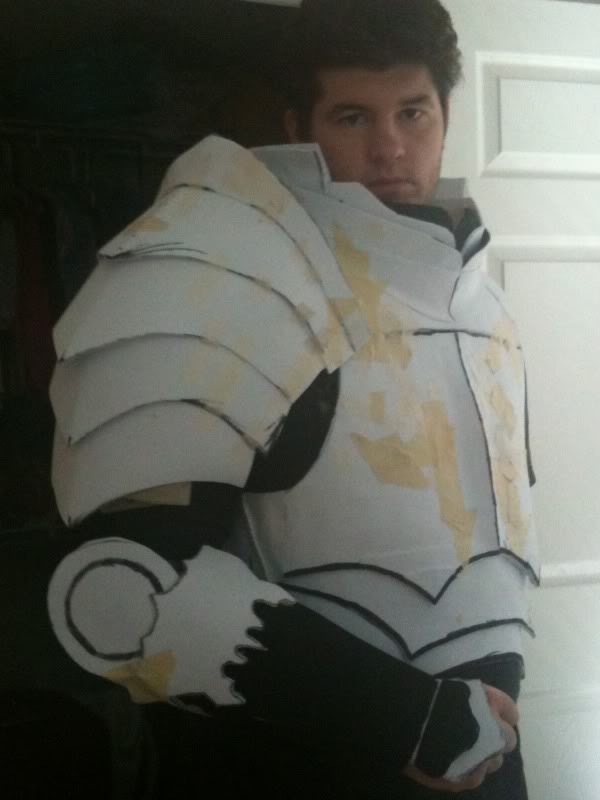 And one of the front on my homemade Mannequin:
I'm still contemplating wing construction, and the boots are going to be hard to pull off because of the immense detail.
I'm wondering about strapping it all together. I think i want to go with a webbing harness and just clip pieces into it, if anyone has any insight i'd really appreciate it.
If anyone has any feedback or comments I'd really appreciate those too.
Concept art from blizz:
http://www.gamer-source.com/?cmd=media&sec=artwork&act=view&id=154