Hey everyone!
I don't know about the rest of you but I'm someone who's just a little too obsessed with the soldiers we all know and love as ODSTs.
It's an armor style I've always found to be interesting and figured after years of dreaming and going through life said to myself: "Hey, why don't you make an armor set yourself?"
So, here I am!
Hello!
I haven't had much experience with foam crafting, painting or even using a glue gun without burning myself at one point or another (but that's normal) but I'm always one to try and surprise myself at what can be created.
It's taken me more than a while to get started, having used all the awesome suits I've seen made here as the incentive to get started, I'm finally posting a progress thread.
To tastefully contradict what was said above I have worked with EVA foam a little in the past year by purchasing the DFT armor PDFs and making only the helmet from it. This was after realizing whilst the plans are awesome for beginners (such as I) it wasn't the styling aesthetic I wanted to wear. Plus I also had only a week to Fan Expo in Toronto to complete anything. So I wore the helmet, an old Reach T-shirt and looked completely out of place with 5% of an ODST suit- but always had a blast!
Early this year I wanted to attempt to make a full ODST set so I smartly loaded up my sketchup model of a trooper I made in the past and went 'this will work well!' before realising 1: My model was too high poly 2: I had no idea what I was getting into and finally 3: I had no idea what I was getting into.
So... I started late April by smartly starting with the helmet and immediately was put off from foam building due to my lack of skills and equipment. Beginners mistake.
I don't have any pictures of that terrible time but soon after reading several other threads I saw the potential of Armorsmith as an aid to scale, export and print the armor pieces. So I bought the program and a rotary tool.
Which died after 15 minutes of use.
But enough said I'll post pictures and information of the many steps! I apologize in advance for the long post.
My first day: Oh how I greatly underestimated what I had gotten into.
Started on the lower leg parts and realized really far in I had over scaled the leg piece. So I downsized it, ran back out to Staples to reprint the plans and was much better off on scale. Here is a v1 next to v2....Yikes...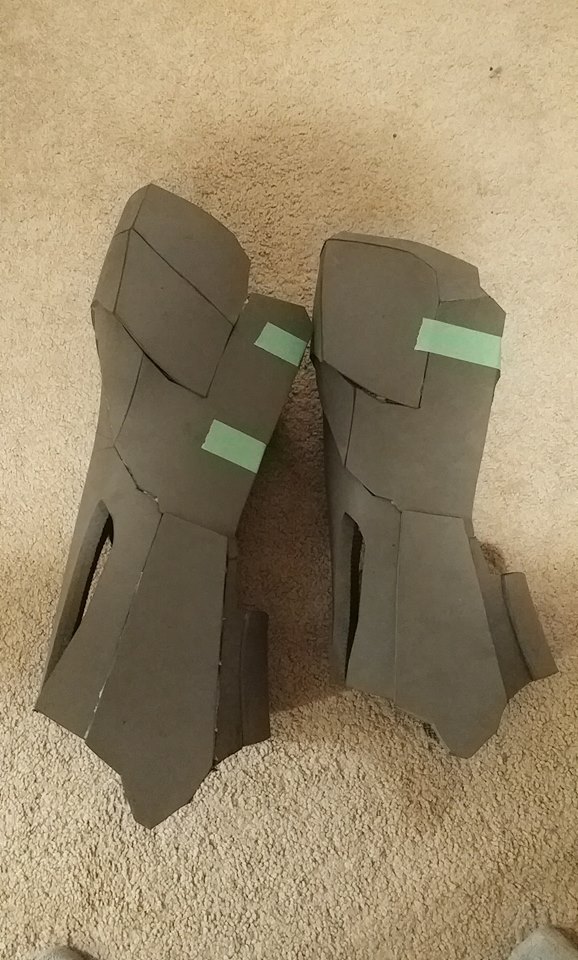 Version two fits much better, allows me to slip my foot in with plenty of space and has decent albeit slightly hindered range of movement. The rotary tool has been more than a life saver, helping me with beveling the countless edges required for achieving a smooth edge for corners as shown with the knee guard below.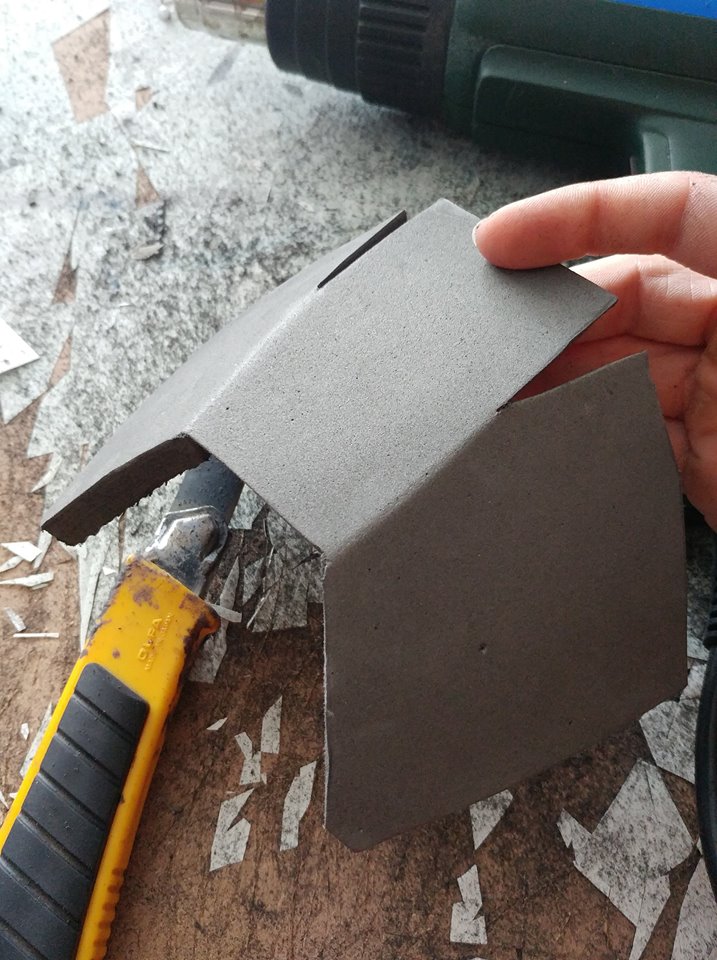 Two lower leg parts in and I can see why some people say these are the toughest parts...so many small parts and beveling to be done!
I next moved onto the upper leg parts and fired those guys out, having to custom make some small pieces for sections that ended up being weirdly extended in the pepakura files in Armorsmith that I wasn't able to print/use.
I also upgraded my workstation from an old cruddy desk top from my wife's old college work table to a fancy cutting mat which both allowed me to have a safer work station and allowed me to spread the dust given off by the rotary tool onto her current desk. She loves it when that happens...not.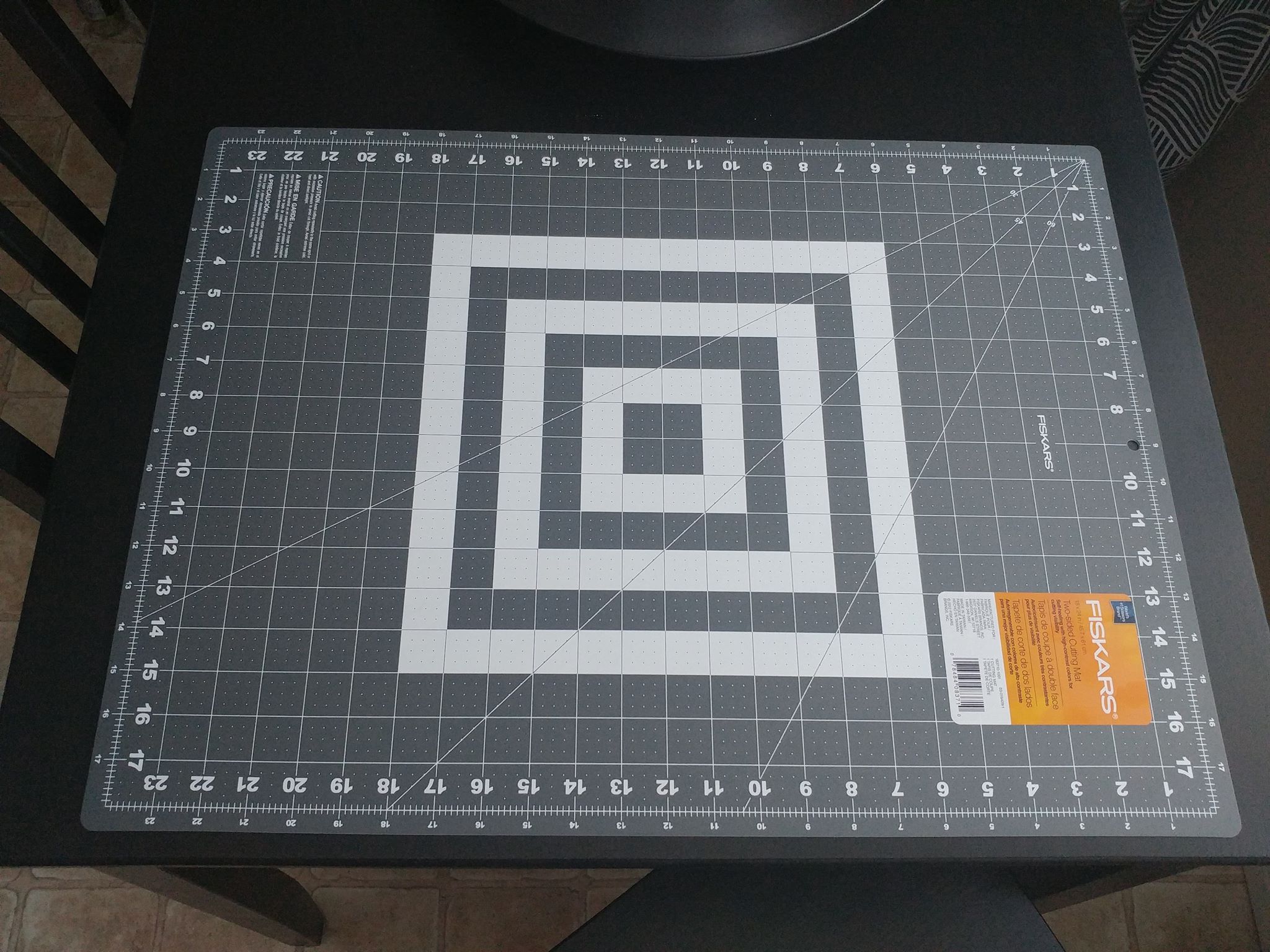 These fellas are small coffins for the many knife blades I wore out before I brought out the knife sharpening tool from IKEA.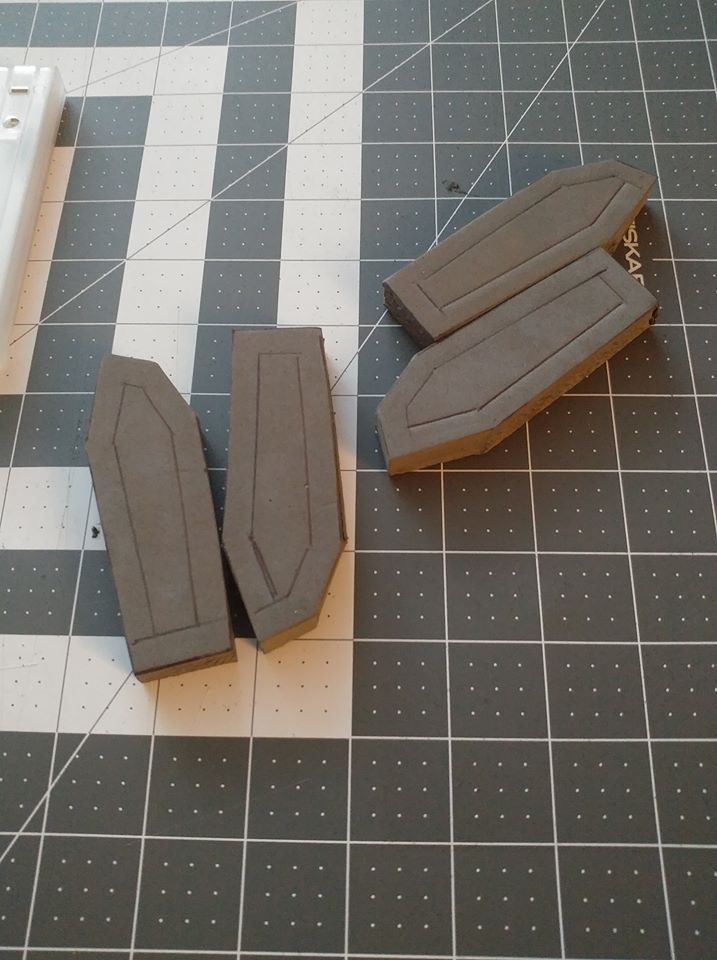 Just kidding it's super nifty details for lower leg pieces brought to you by a rotary tool.
I began work on the booty plate and suffered the wrath of the rotary tool: it sniped on the end due to my not realizing it'll snag and then dig into the edges of pieces.
Its really an 'oops' moment but it's going to be called 'battle damage' officially.
I didn't take any pictures of how I made the stomach sections (sorry) but here is the booty plate, central panel and flange thingies.
"Hey Begocer, those flange things look kinda of bland and boring" Well just so you know I wasn't able to find any craft foam until I hit up my local Michaels and found this: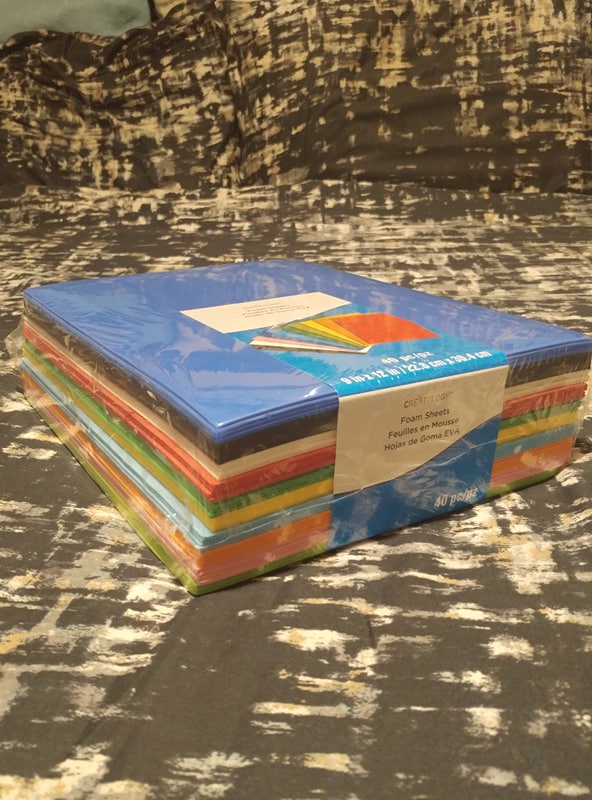 Clown camo! For when the war hits your circus. This stuff is gonna help with adding details to the side plate thingies.
I next moved onto the highly complex upper thigh guard plates: 2 whole pieces that I came to see I made them too narrow. Not a big loss of material and time as it took me a whole 5 minutes to cut out, glue and heat form so remaking them won't be an issue at all.
I finally got over the hurdle of the completing the lower legs (minus the visible missing parts... I threw out the stencil for it....oops)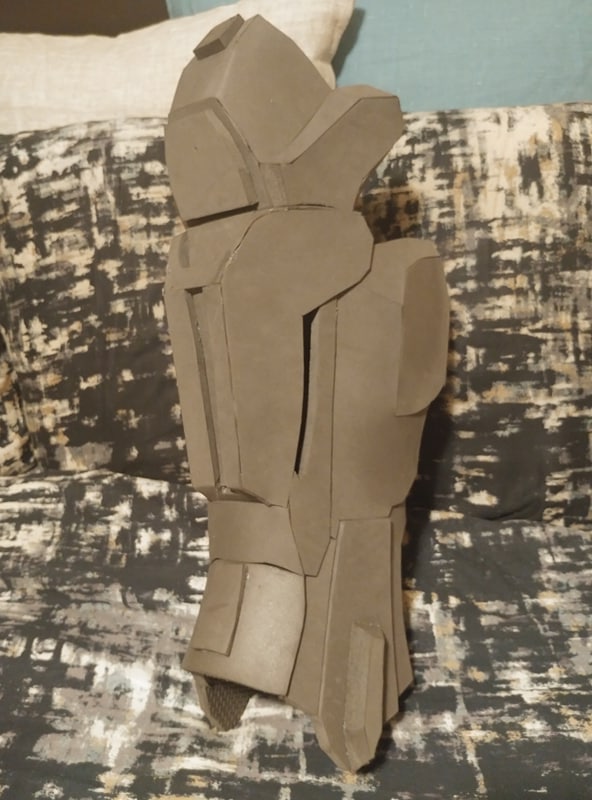 So I moved onto the largest piece- the chest! I spent longer than I want to admit cutting out and gluing the chest part before common sense finally kicked in and showed to me that I could've done it out of 1 piece instead of 6.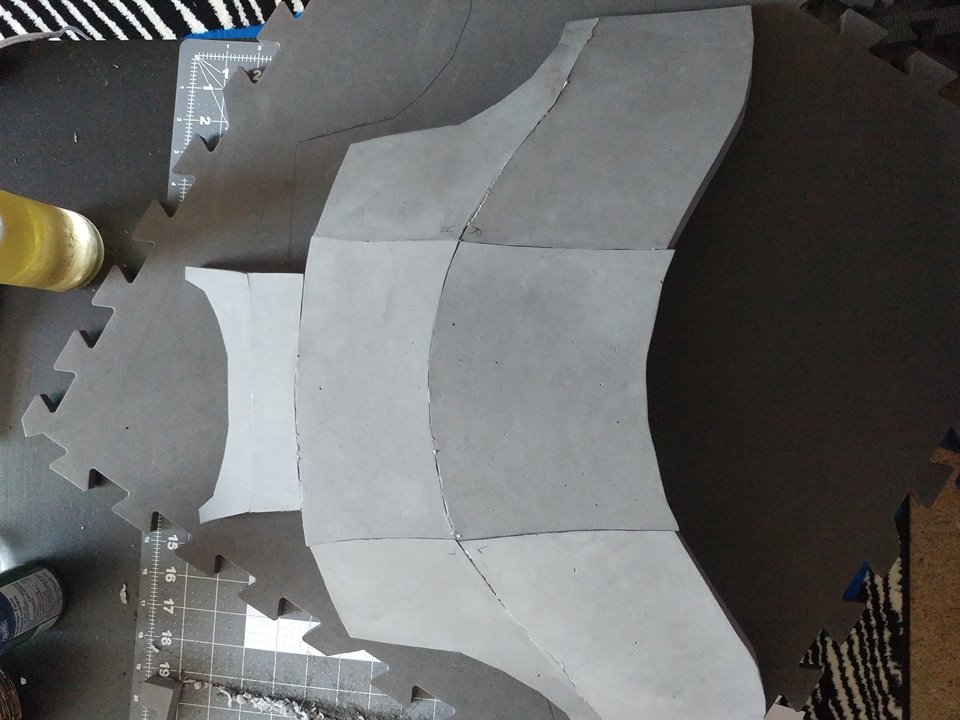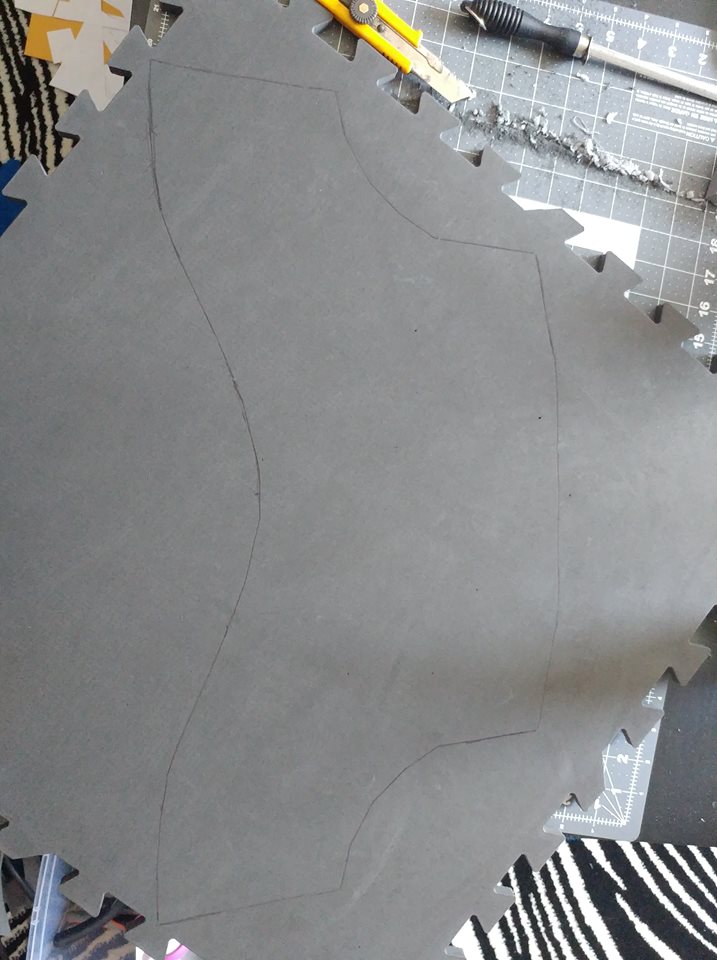 Oh well. Got that sucker cut out and glued up and through the magic of not taking progress pictures I give you a chest mount! My head was too big to fit through the hole so for now its just shown as is so I can better build a more fitting neck cuff and hole.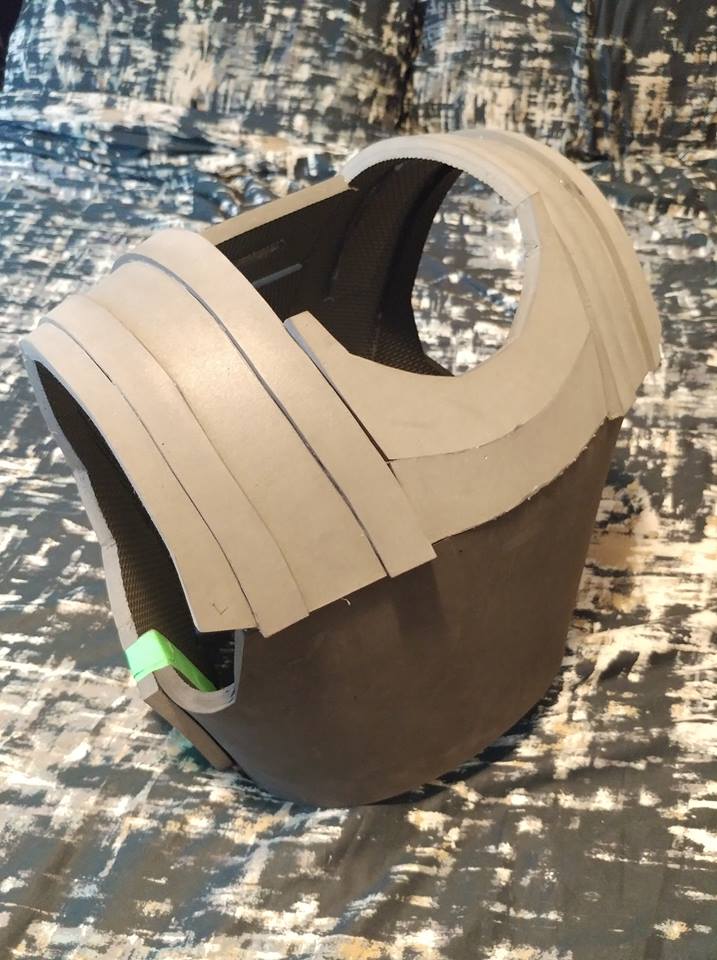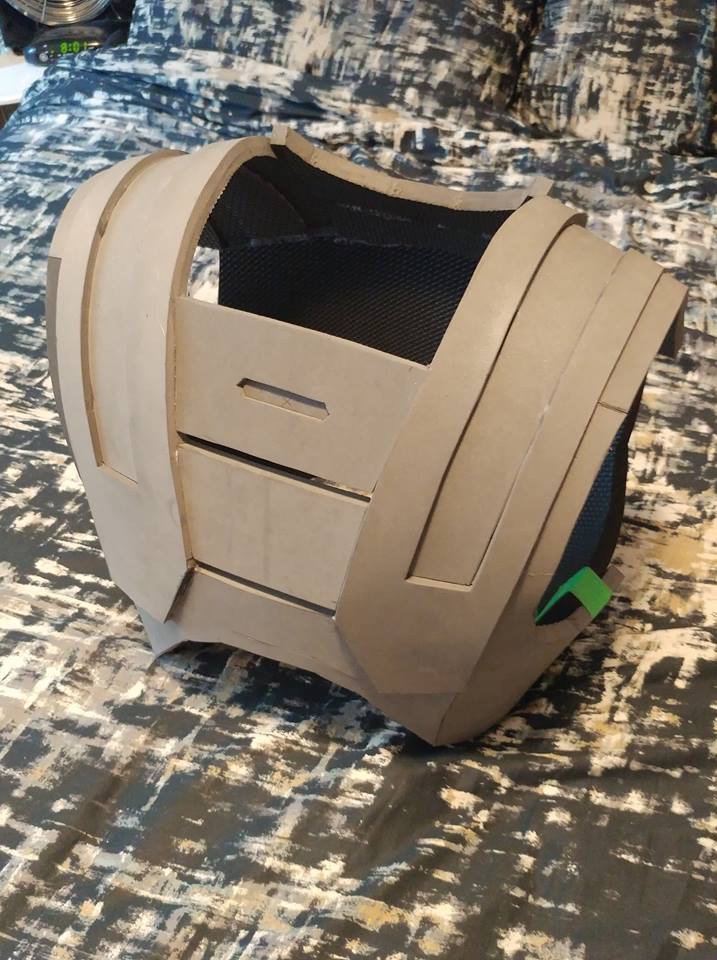 For the time being the taped side parts are staying separate until the chest piece is mounted and I can properly scale how tight the entire piece has to be as I don't want it too loose and too tight. I'd post the process of me donning the taped chest piece but I'm ashamed of how long it took and how many times I went 'Help! I'm stuck again and need to be rescued!' to my wife...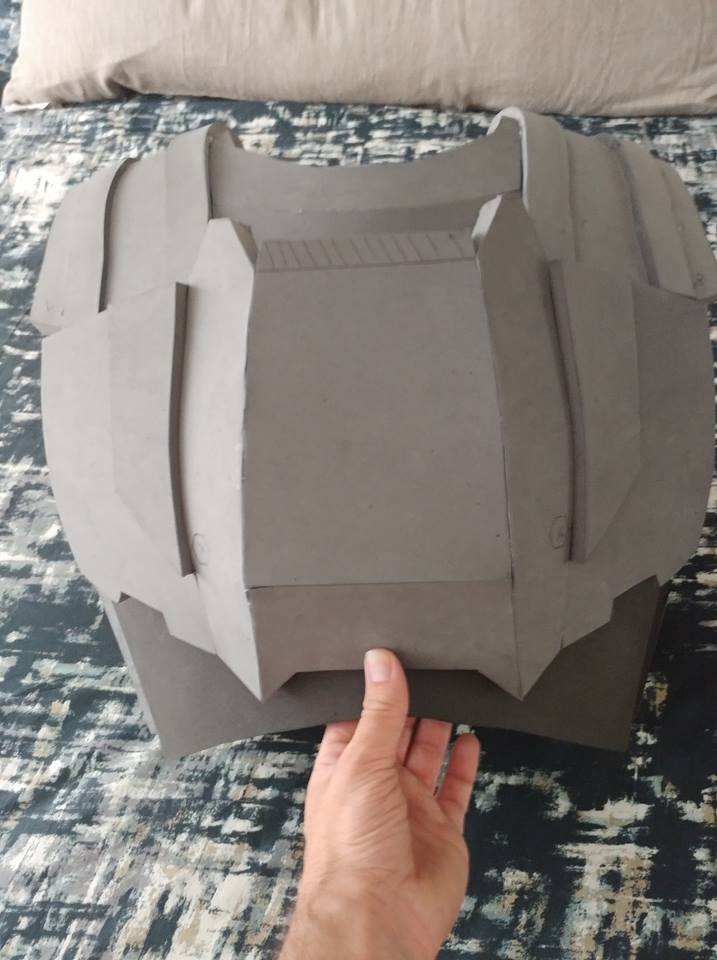 I next moved onto the beloved ODST chest plate and got it glued up and marked for on the fly field surgery. The piece is really bowed but with what will be tons of hot glue will fit nicely onto the mount without stressing the glue on the back section.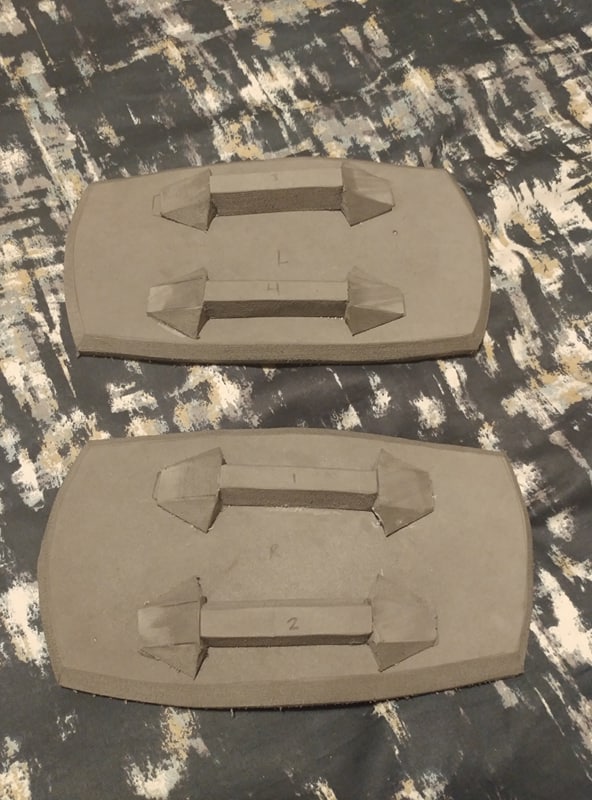 These two parts will hopefully be stuck to the areas of the chest that are yet to be sized but for the time being their off to the side since is so hot the painters tape can't even hold itself together.
So here we are. A dozen really large pictures and a final one showing off what I have up to this very moment! By the way, how many pillows on a bed is legal before it becomes a crime?? My wife says 8 is fine and won't accept that 2 is really better...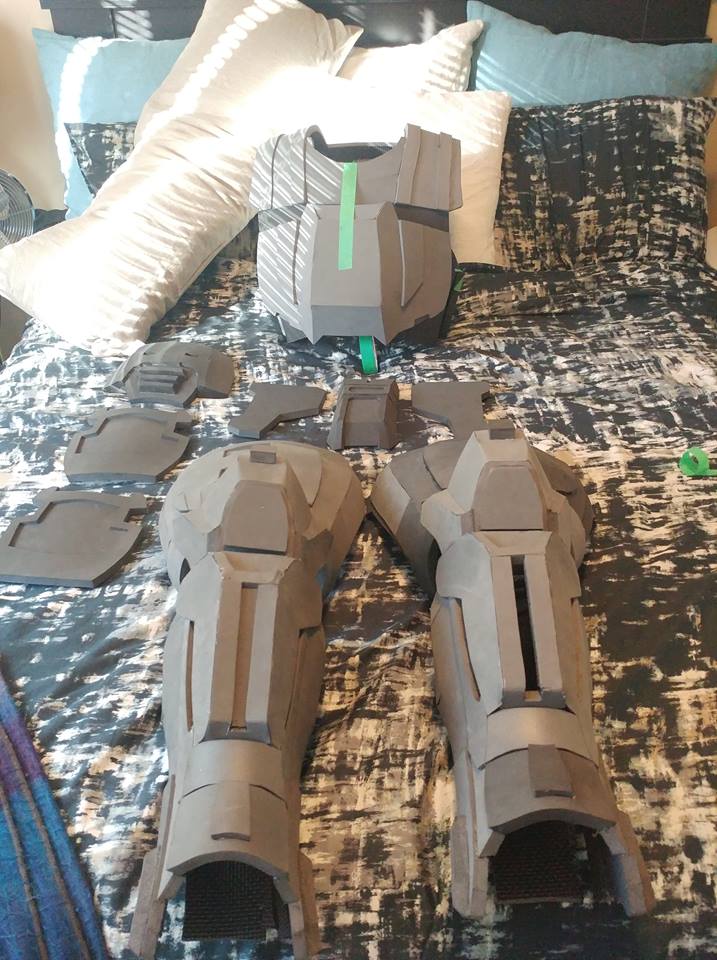 Only thing I'm worried about is those thigh pieces- they are
really
bowed at the top due to how the foam was put together and will need a large piece of foam to draw them in. Just have to custom make the piece needed for it but that will come at a later date. Oh and I've since filled in that missing section on the lower leg part in the above image.
Currently my next step at this moment is to get the final plans printed (forearms) and start on the upper arm sections and mounting brackets. And finish those blank stomach side sections.
I've got much to learn in how to get cleaner cut lines and still occasionally have the rotary tool bite into edges when I angle it wrong. Since I've first started I've improved with getting edges sanded smoothly considerably and having that knife sharpener has reduced the amount of blades wasted.
Again I apologize so much for the length of this post as I will make sure all future posts will be much shorter in the future, this was just a quick/lengthy catch up of what I had done.
I'm always open to opinions and critiques!