I started this build in early 2018 but only recently after multiple revisions got it to where I want it. Here's what it looks like now but after this let's take a step back in time..
Vs: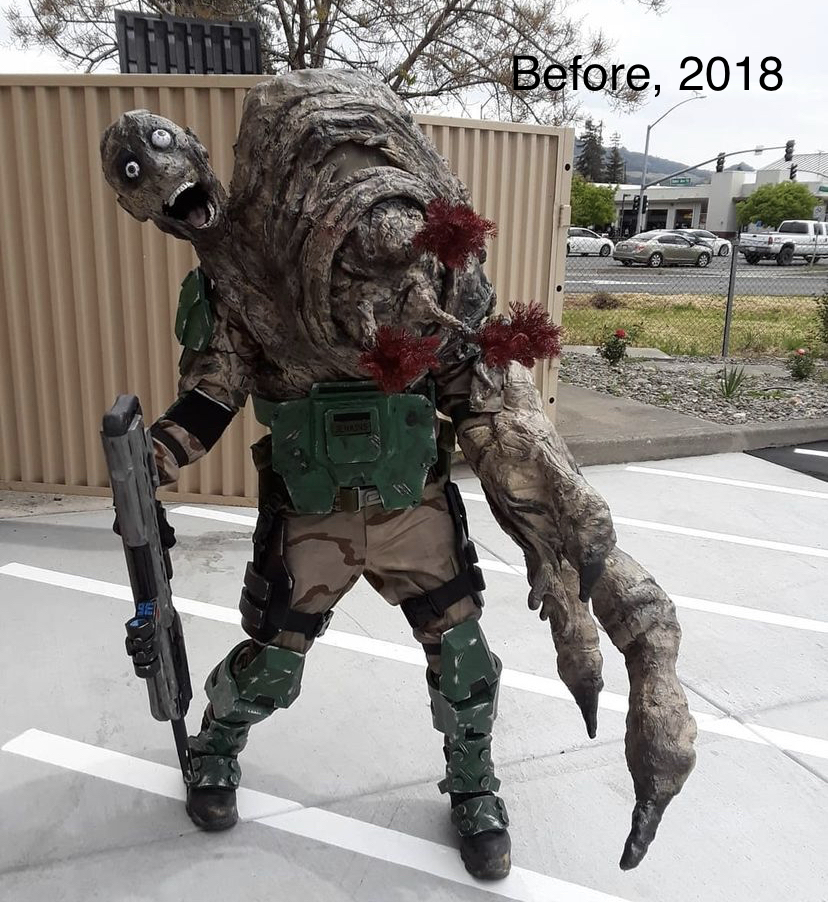 When I started this build I considered having my real head off to the side in makeup to make zombie faces at people but that wouldn't be practical. The whole body piece is actually inspired by the old Lego minifig scuba/helmet/ backpack pieces that just slides over. So that's when I just started stacking foam!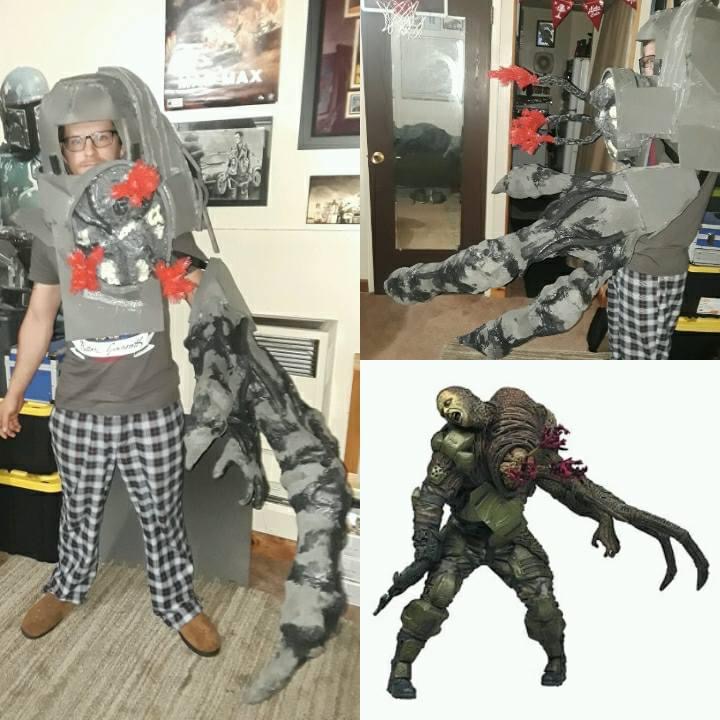 I also wanted my real left hand to be usable and the first iteration of the claw arm was just strapped on my forearm but that became heavy so I went with a pvc frame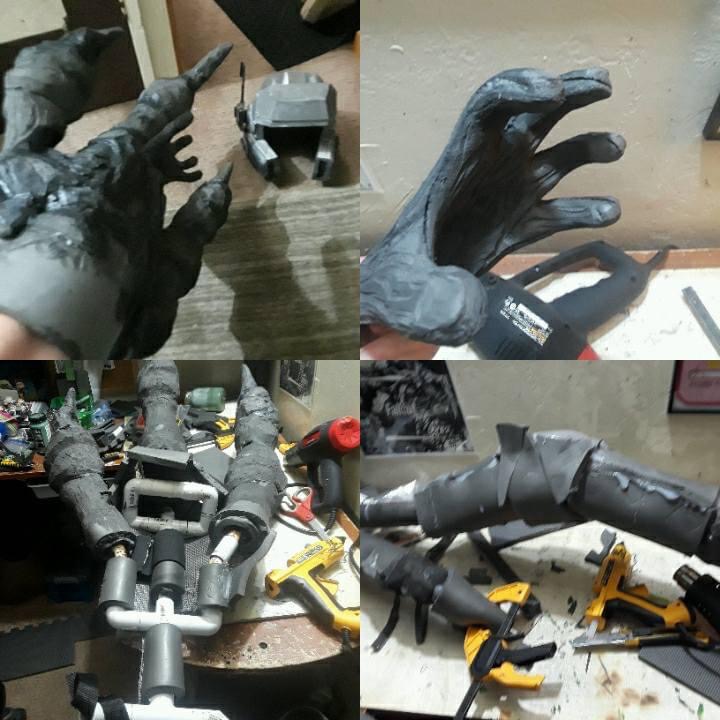 That also became really heavy, you'll see why I complete remade it later.. Most of that pvc was later extracted by cutting the foam down the middle and keeping the handle. The human hand I templated off my own hand and has coat hanger wire inside to flex, same with the tentacles: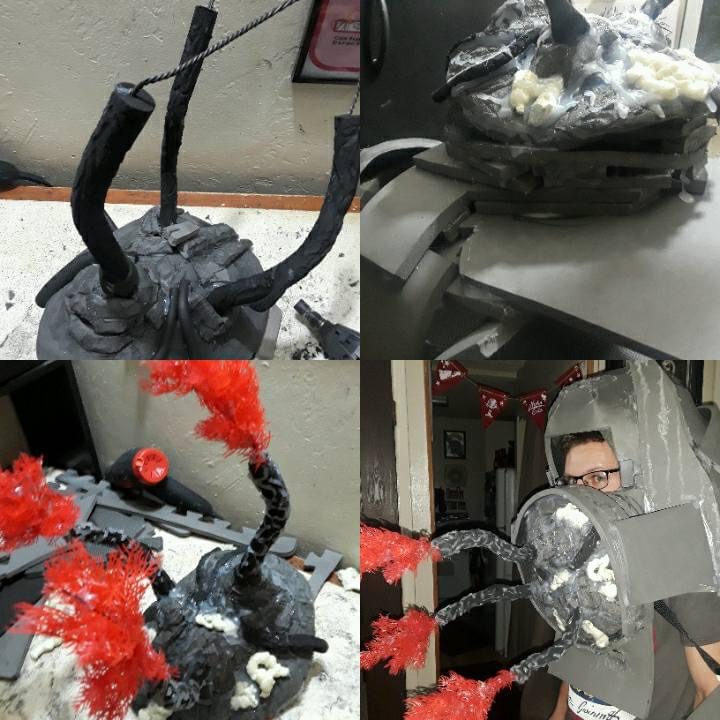 The feelers at the end of the tentacles are plastic fish plants
For the side head I used a styrofoam Halloween skull as a base, teeth and jaw from a medical skull, ping pong balls for eyes and wrapped with foam: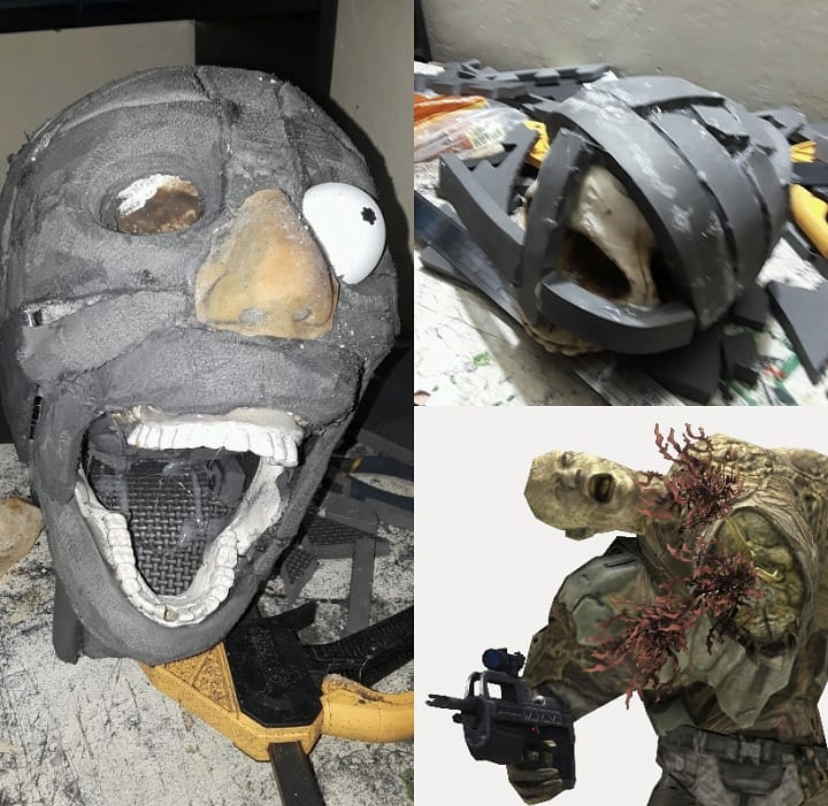 For the general shape and texture most of this build was dremmeled into shape, half the inspiration for even starting this project was the excesse scrap foam chunks I had left over from previous builds so I finally put them to good use in the least efficient way possible! I would just glue chunks randomly and tediously sand away, I was covered in foam dust for days and went through a lot of sanding drums. I originally thought of using expanding foam for most of it but I couldn't control the outcome of its shape and it didn't have the desired texture I wanted so there are only a few chunks mixed in. Also it can crack and get crushed where EVA is more spongey. While all the pieces where in place I blended them in with hot glue and caulking then plastidipped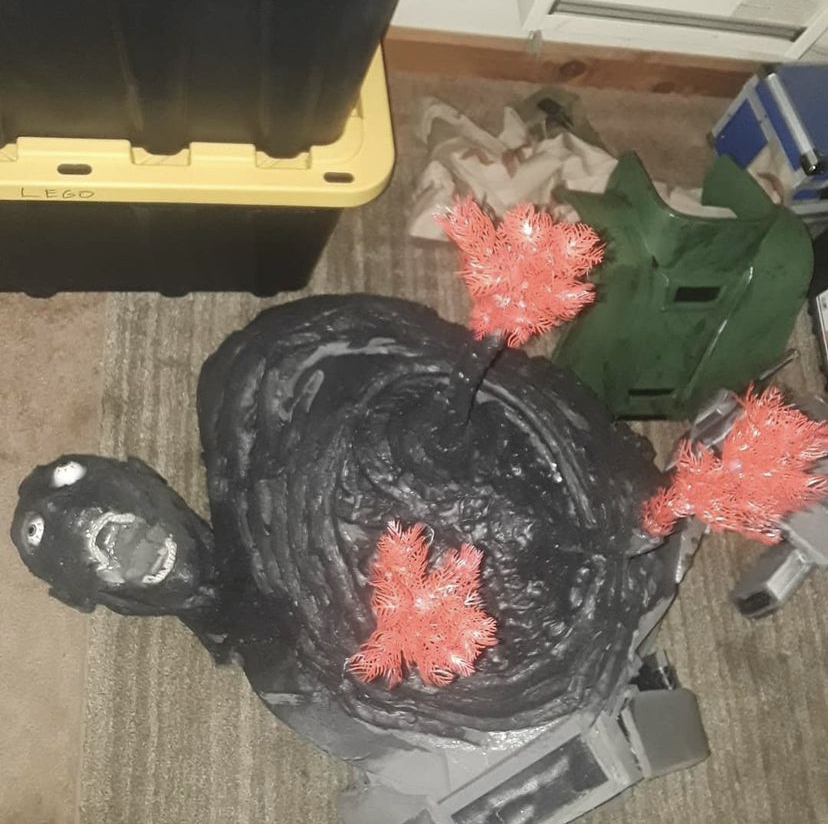 For the marine armor I used Andrew dft's templates and tutorials. And yes that's a reference to pvt jenkins and the horror he endured in halo ce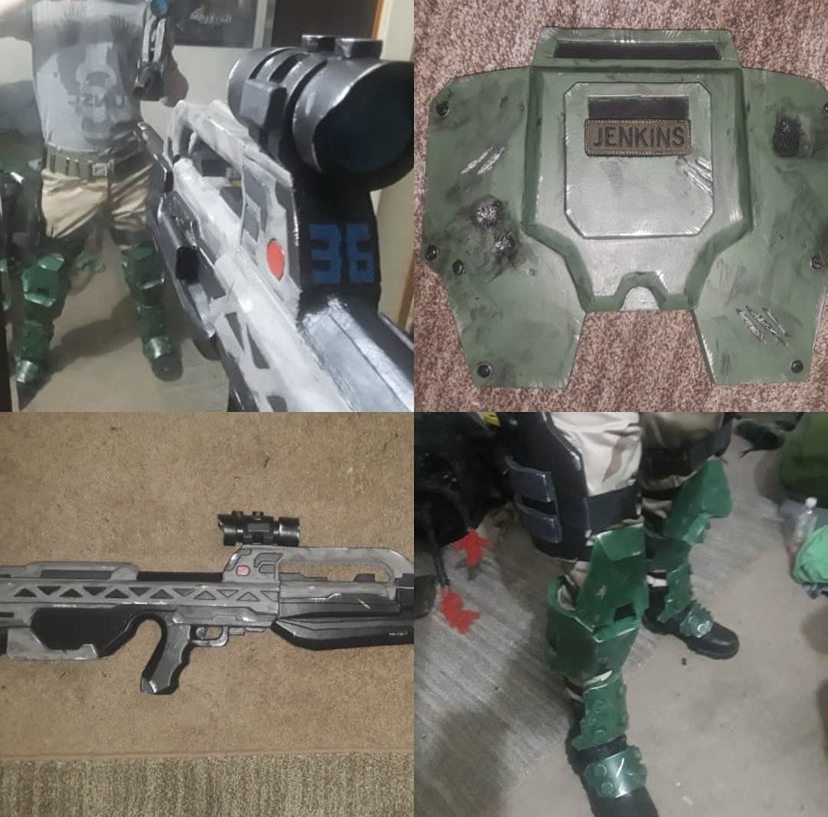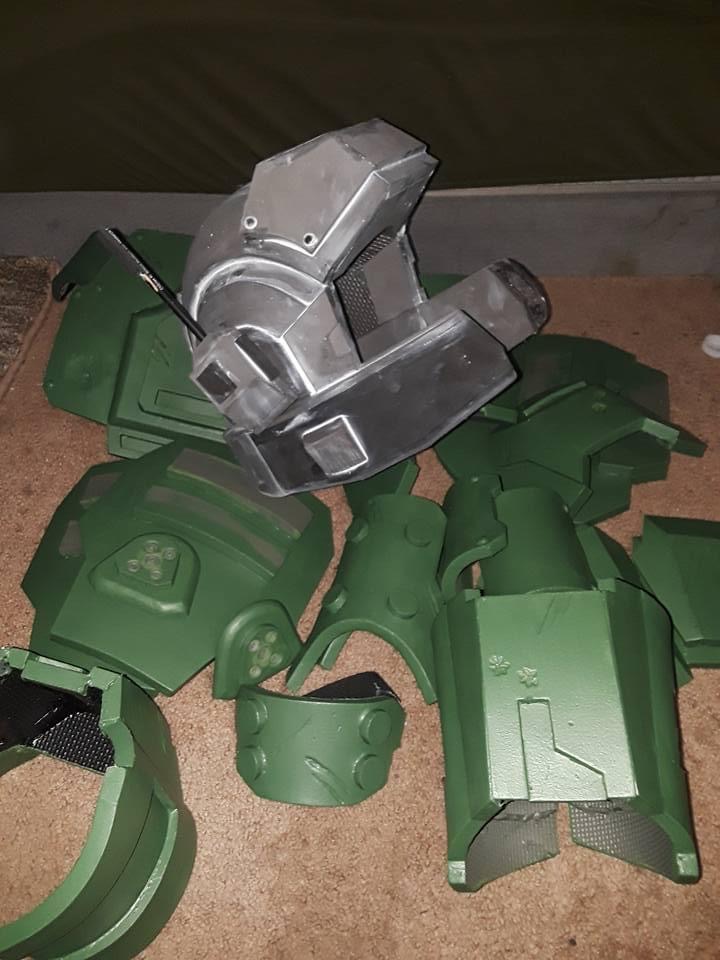 So after throwing foam at it for months I ended up with this monstrosity: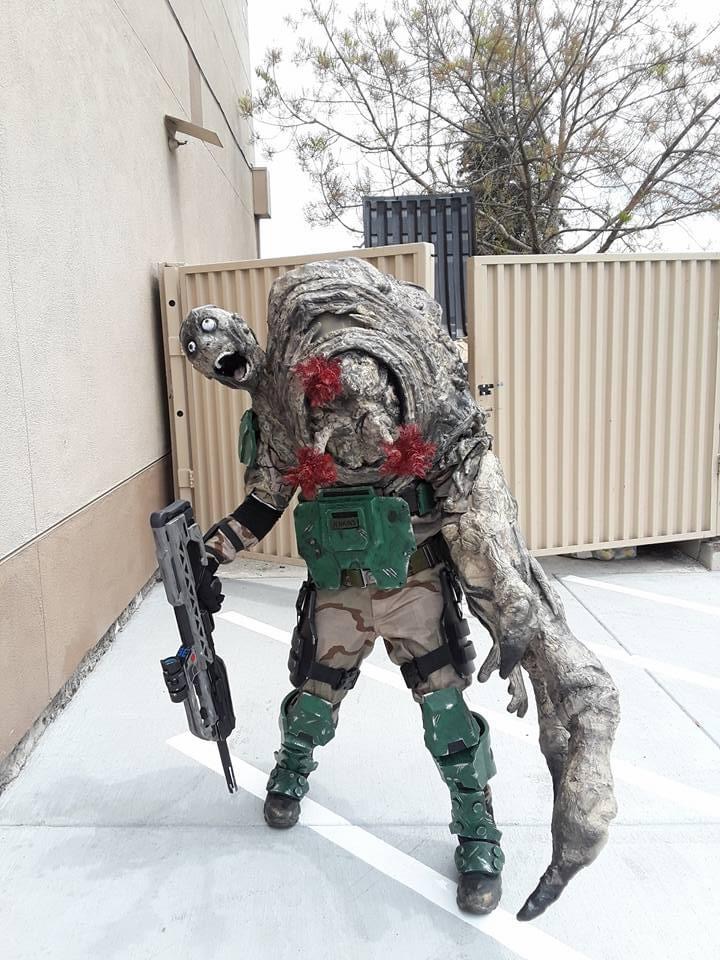 And it was absolutely miserable to wear.. you can see why I switched to the marine later that day..
It was very heavy from the sheer amount of hot glue and caulking used, probably over 10 packs so over a hundred sticks and about 4 or 5 tubes of caulking. If you put all that material in a box together that's heavy by itself but now it was on my shoulders. The arm too was still heavy despite the pvc being later extracted, it needed a purse style shoulder strap so I didn't have to hold it up but it was still uncomfortable and I had very little range of motion. The panty hose viewport provided no range of vision and was my only source of ventilation. I had a small fan inside but that only circulated my own hot breath. Despite all of this I actually wore it all day at 3 or 4 cons!
The build was semi retired for a couple years and I procrastinated on revising the parts that I didn't like. Every old cosplay deserves a second chance and this one definitely needed some work. With the hype of halo infinite coming out and
Karrver
's flood build (definitely go check it out on their page!) inspired me to revise some parts on mine to make it more tolerable to wear and more game accurate. Completely remade the claw arm. New tentacles with stronger internal wire so they don't droop, more of the fish plants at the ends, and are now removable for storage and just plug into the body. Side head repositioned and completely coated with foam clay for a better expression of anguish, the old head was comically ridiculous and needed a redo most of all and was the focus of many comments on social media. Most of the body got new foam clay textures like the overgrown armor pieces and trypophobia holes. Most of the base foam that I originally stacked upon got gutted from the inside just leaving the exterior "shell" to reduce a lot of the weight. In the details of the texture I made a couple ventilation holes with wire mesh, one for fan intake and another to hear out of and made the view slot bigger and more blended in. New chest plate and elbow armor made from 405th files, Pvt Jenkins names plate is a reference to the helmet cam found in halo ce, and the old leg armor from the @andy_dft templates repainted in a darker olive drab and weathered to match. Thigh platforms are also new, now foam wrapped in fabric. Everything repainted with spray paint then weathered with acrylics. Under suit is unweathered in these pics as returned it for a better one.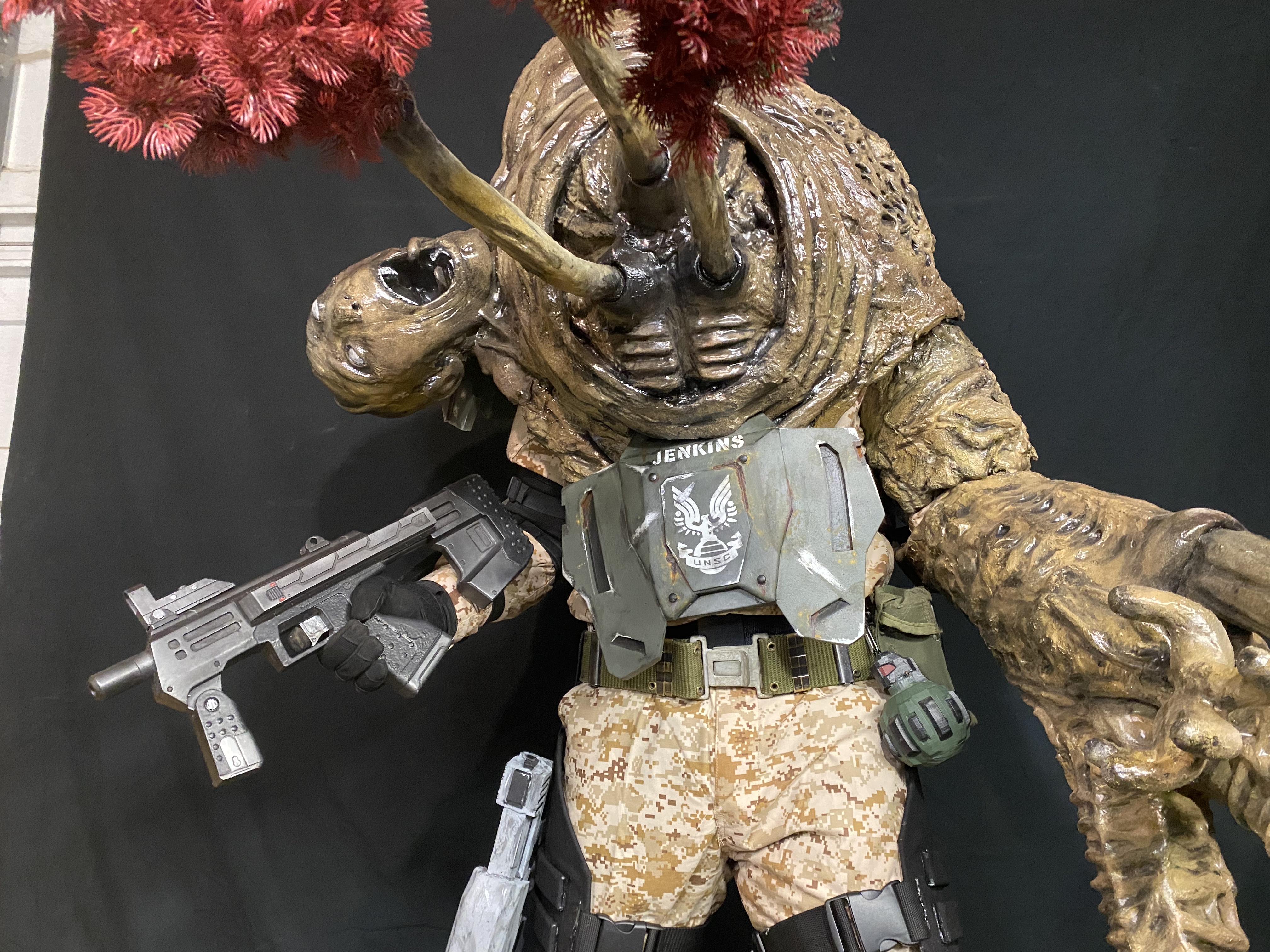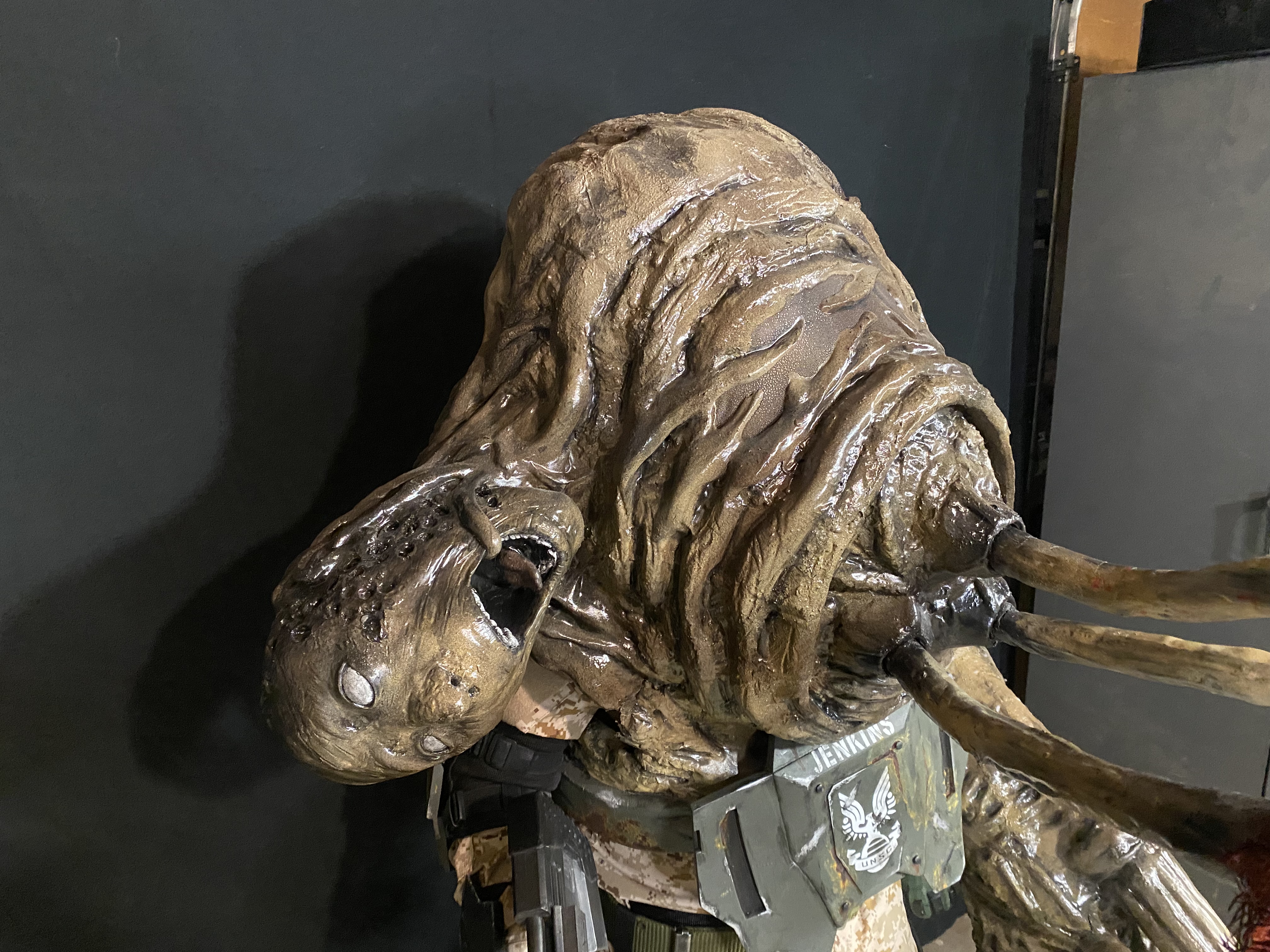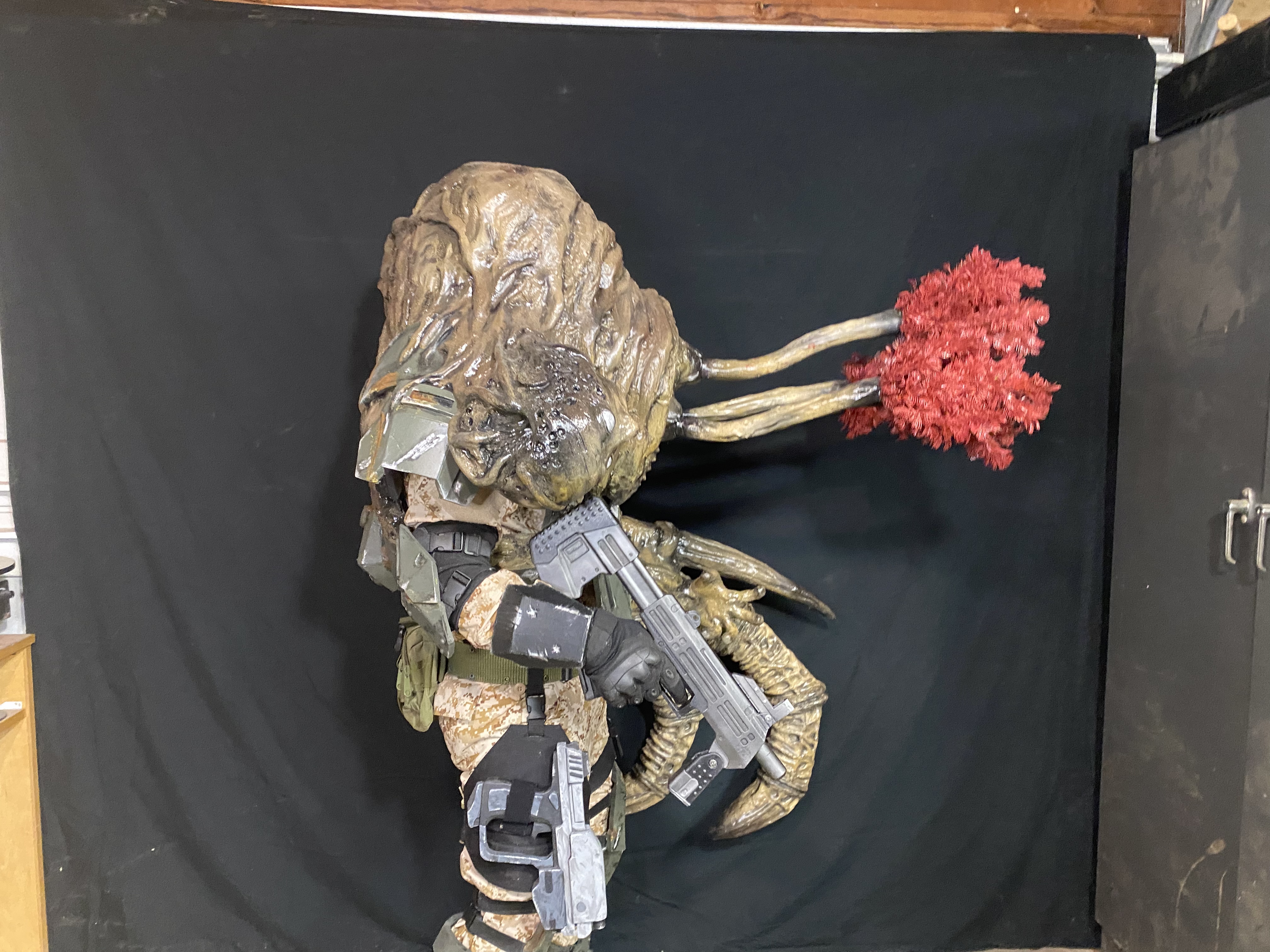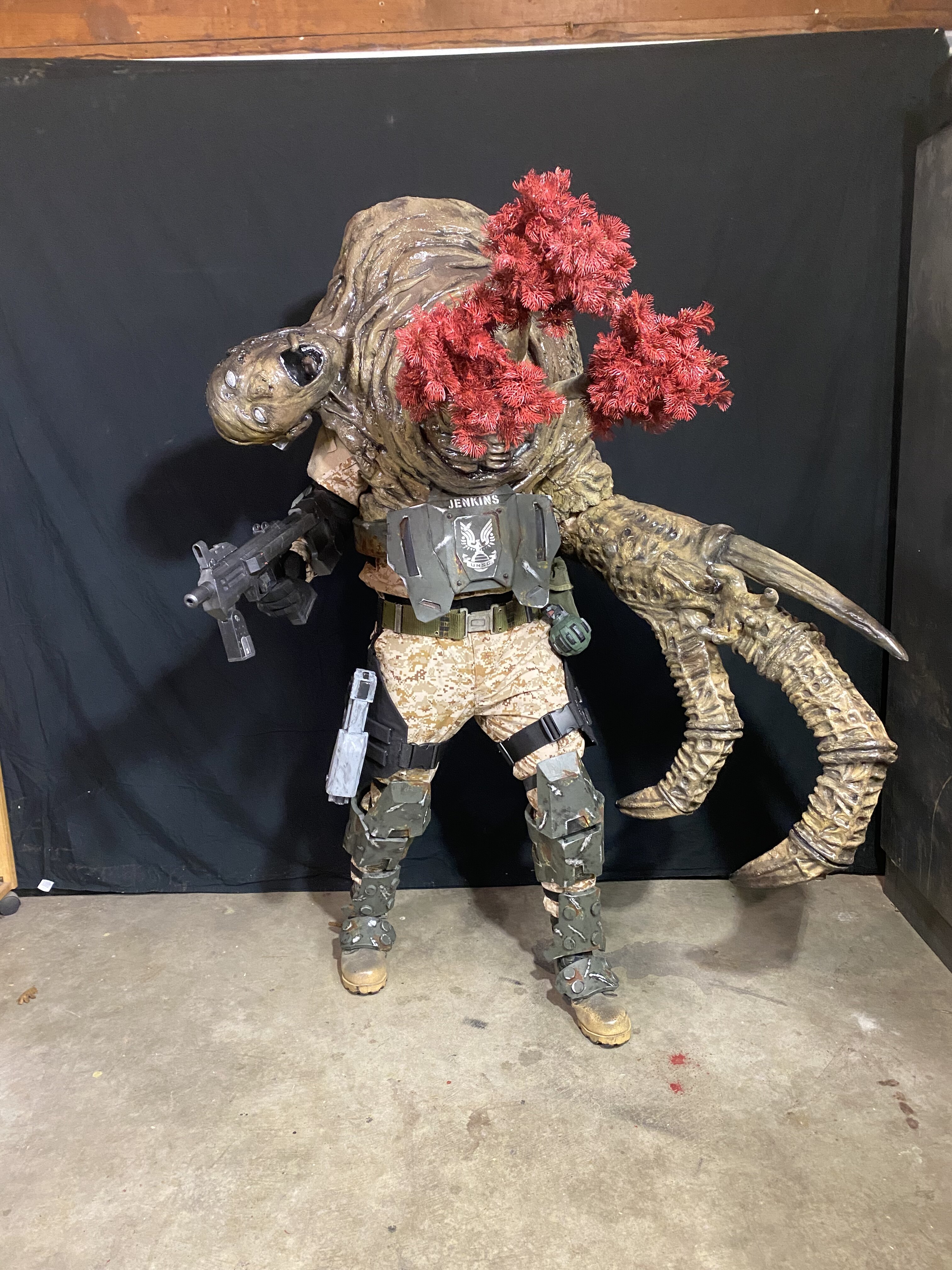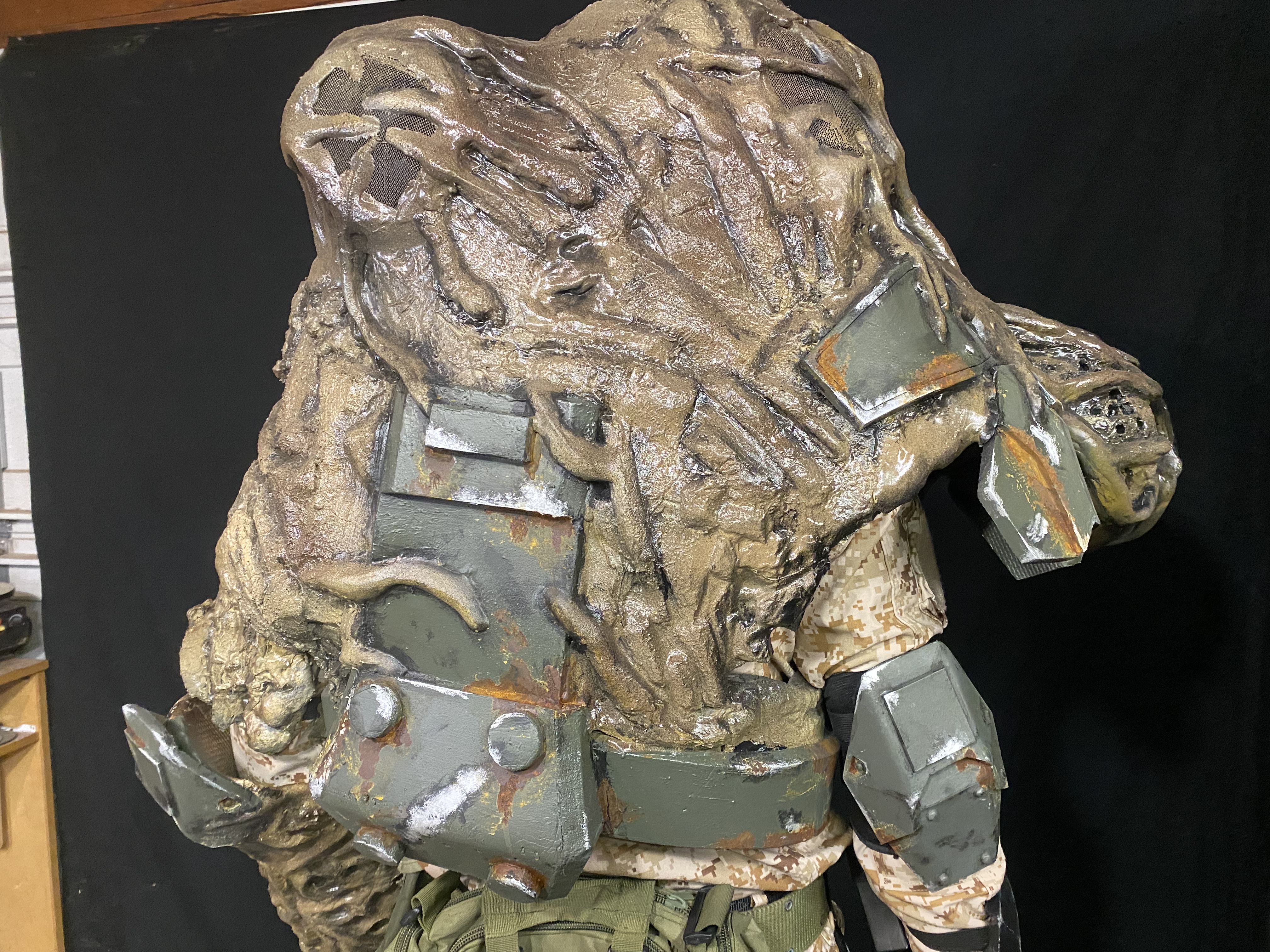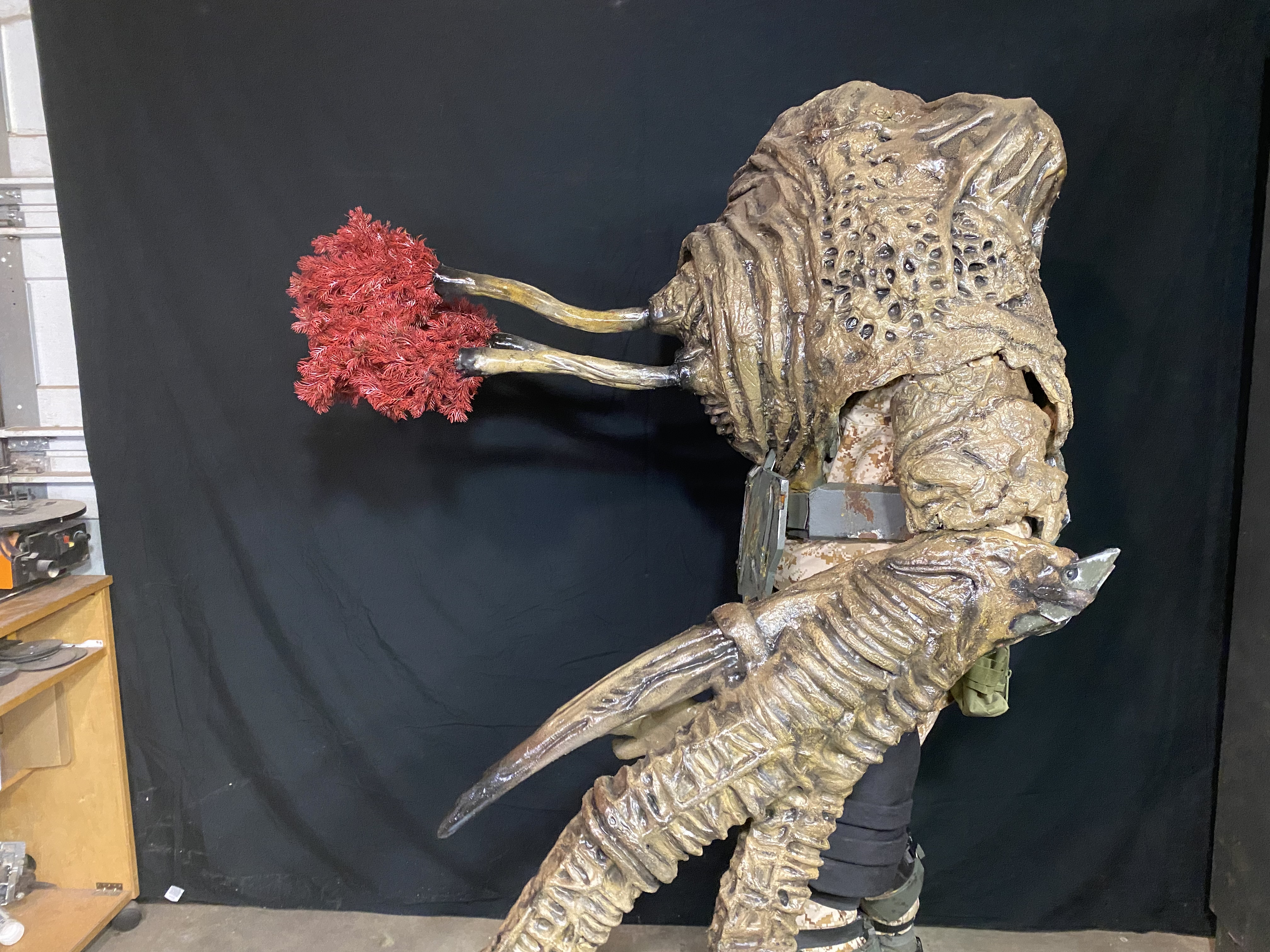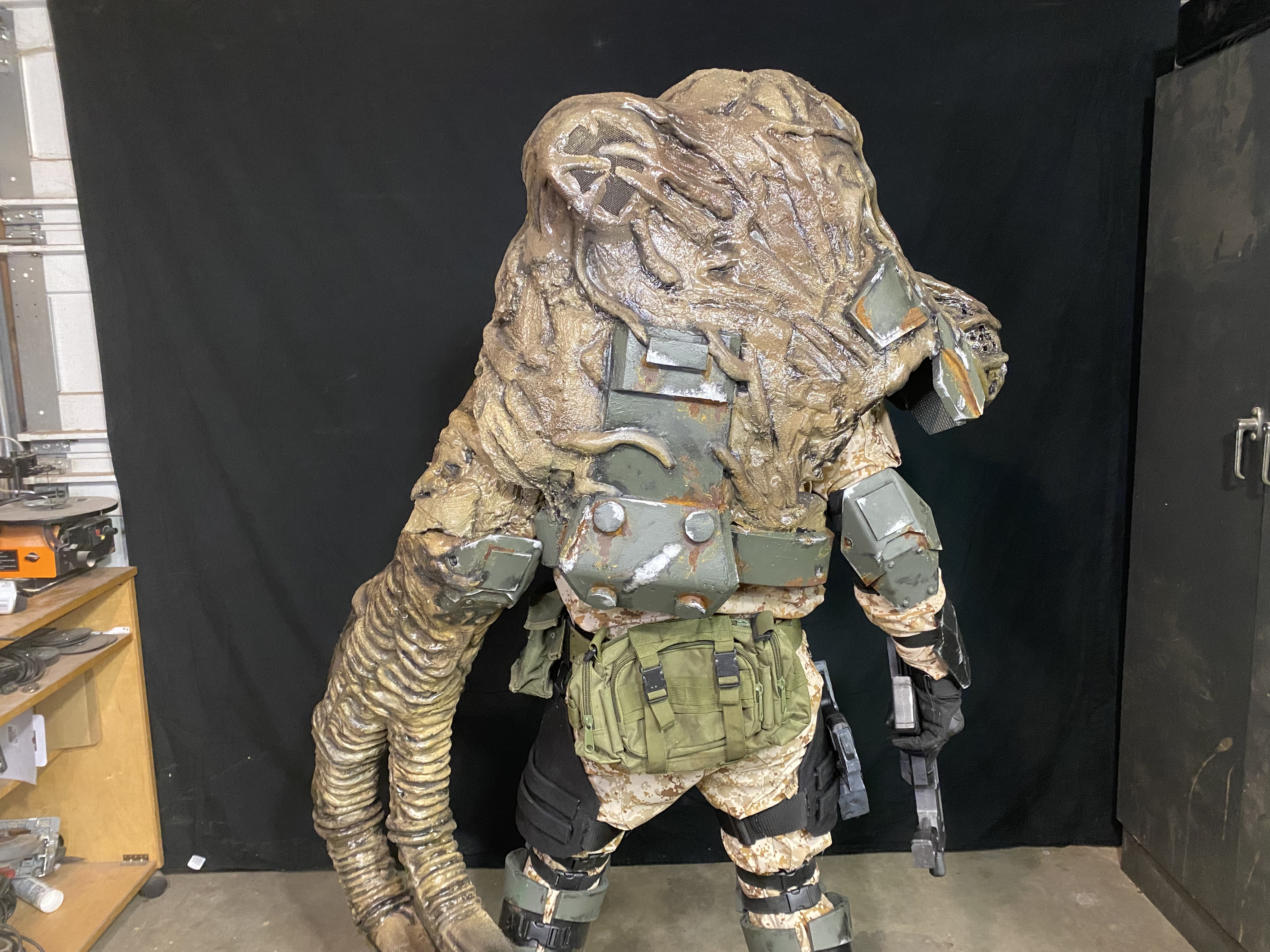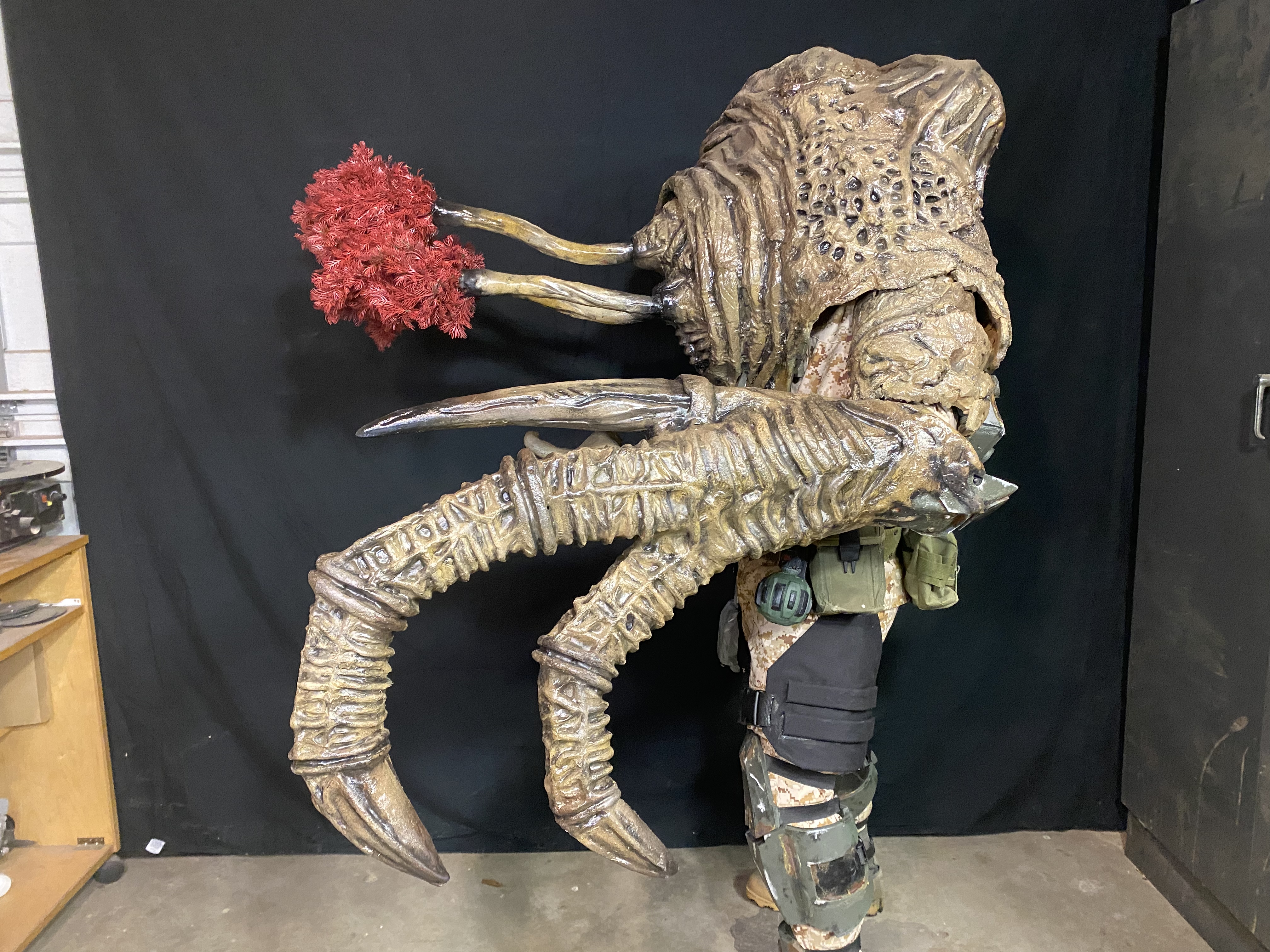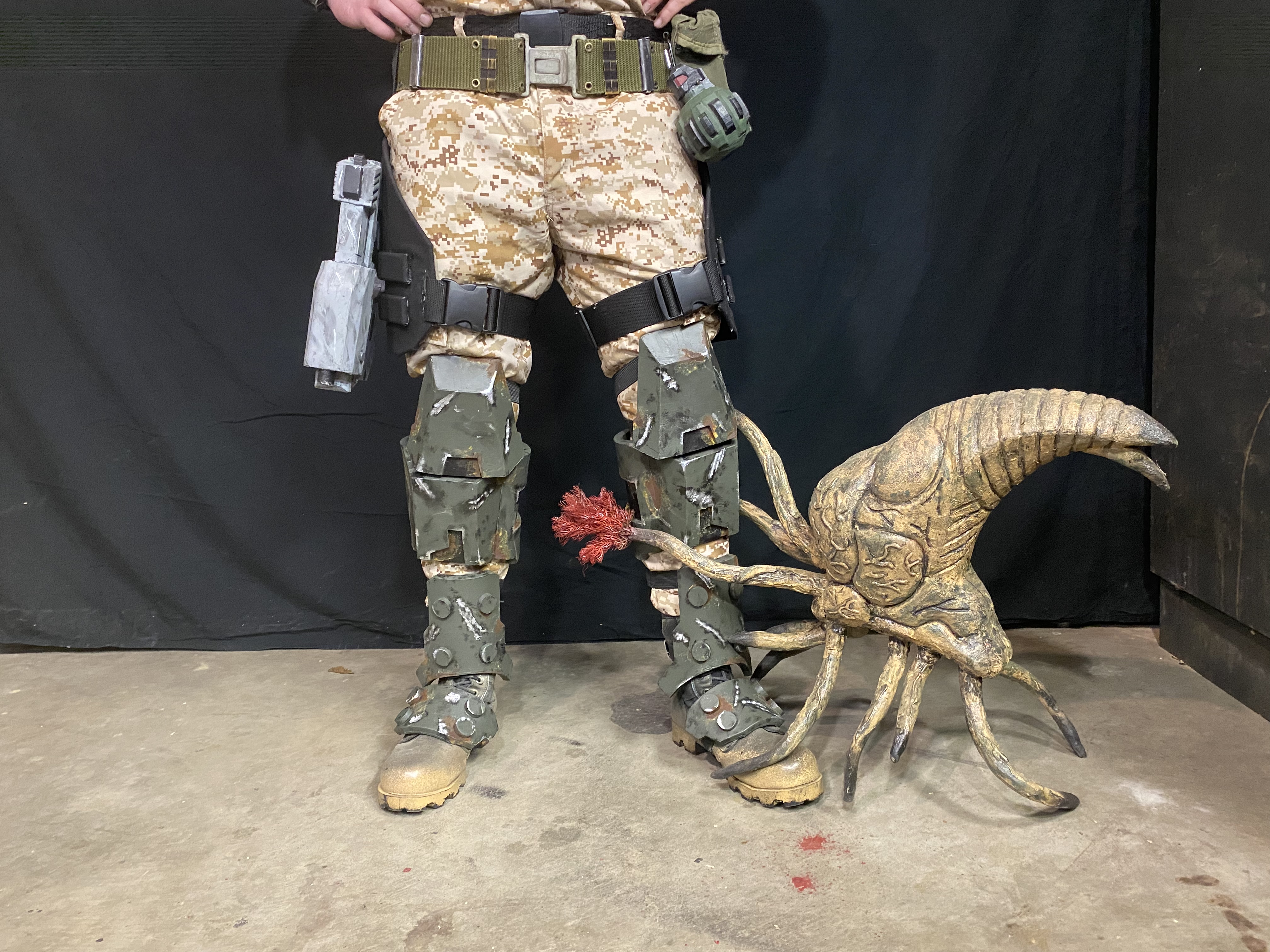 (I'll do a thread on the infection form after this)
Newly rebuilt Flood marine arm/claw. Much lighter and more accurate than the old one, actually used the toy as reference this time, I don't know what I was going for before! All eva foam build coated with foam clay with a pvc handle inside. The old one had an overly engineered pvc frame and a ton of hot glue and caulking which made it so heavy it needed a shoulder strap to carry and had to be put one before the flood body essentially trapping me inside without help taking it on and off. This one can be carried a lot easier and can be dropped anytime. Hand was traced from my own with metal wire inside and marine elbow templates from the @405th . Painted with rattle can spray paints and detailed with acrylics.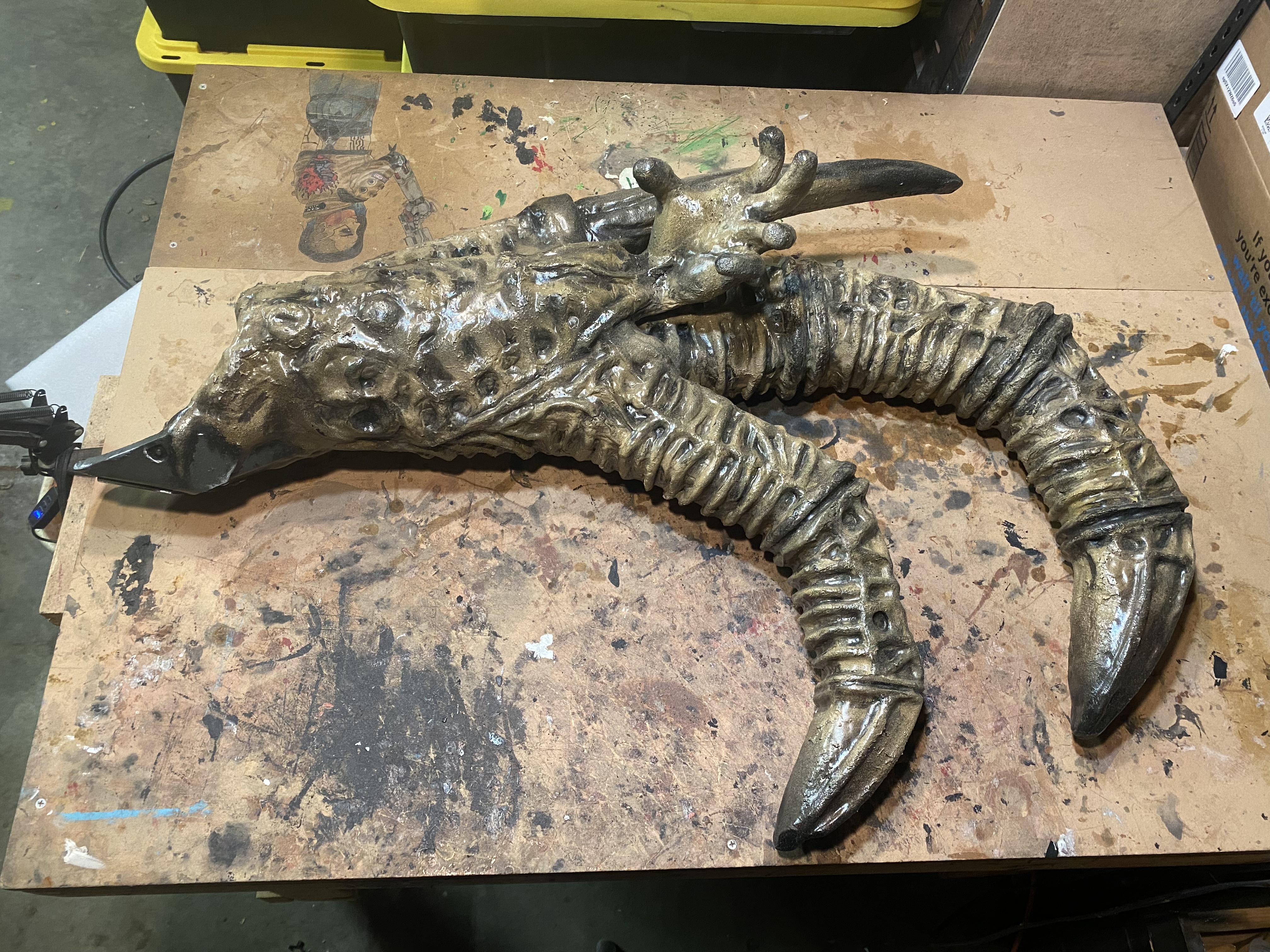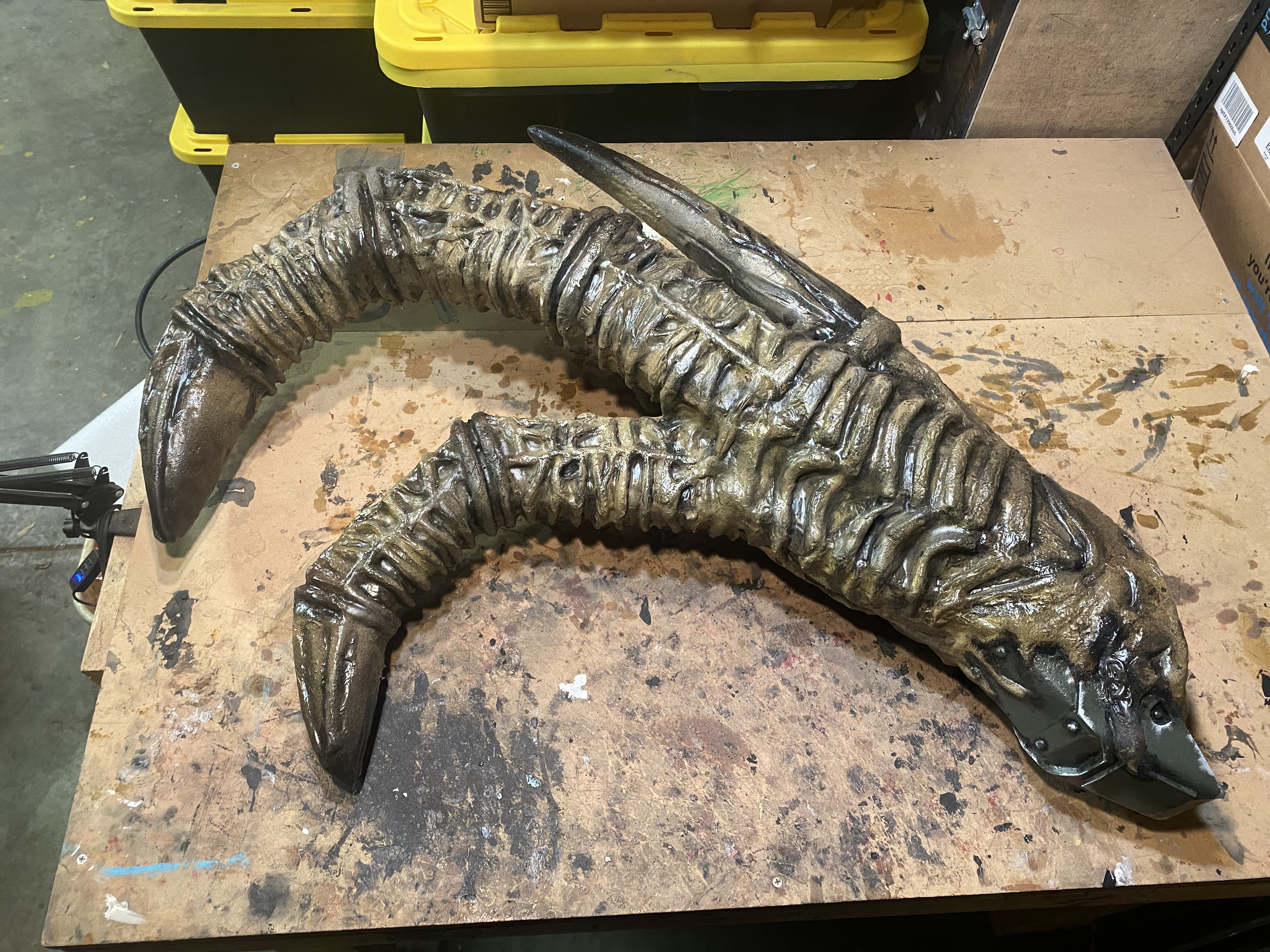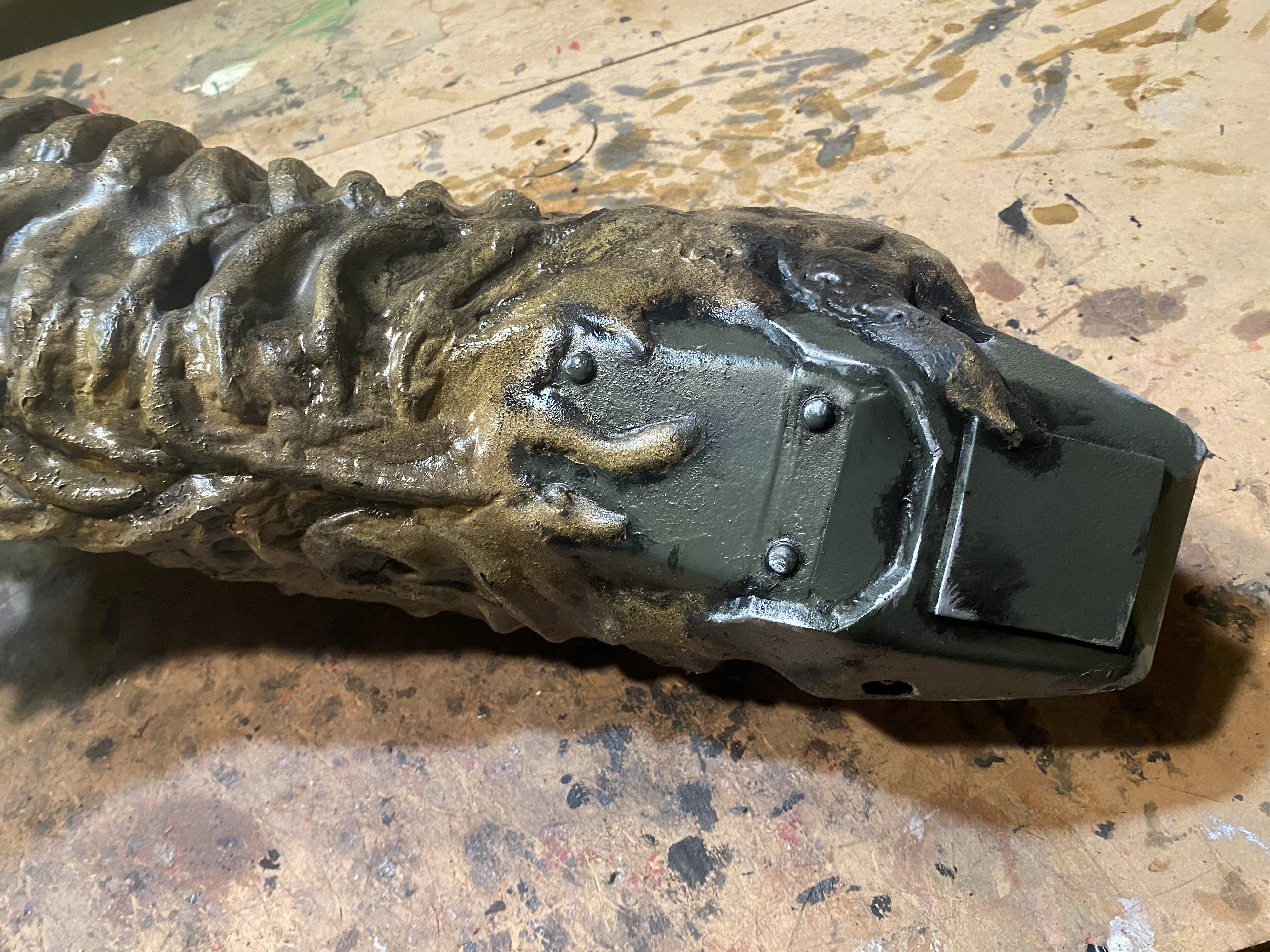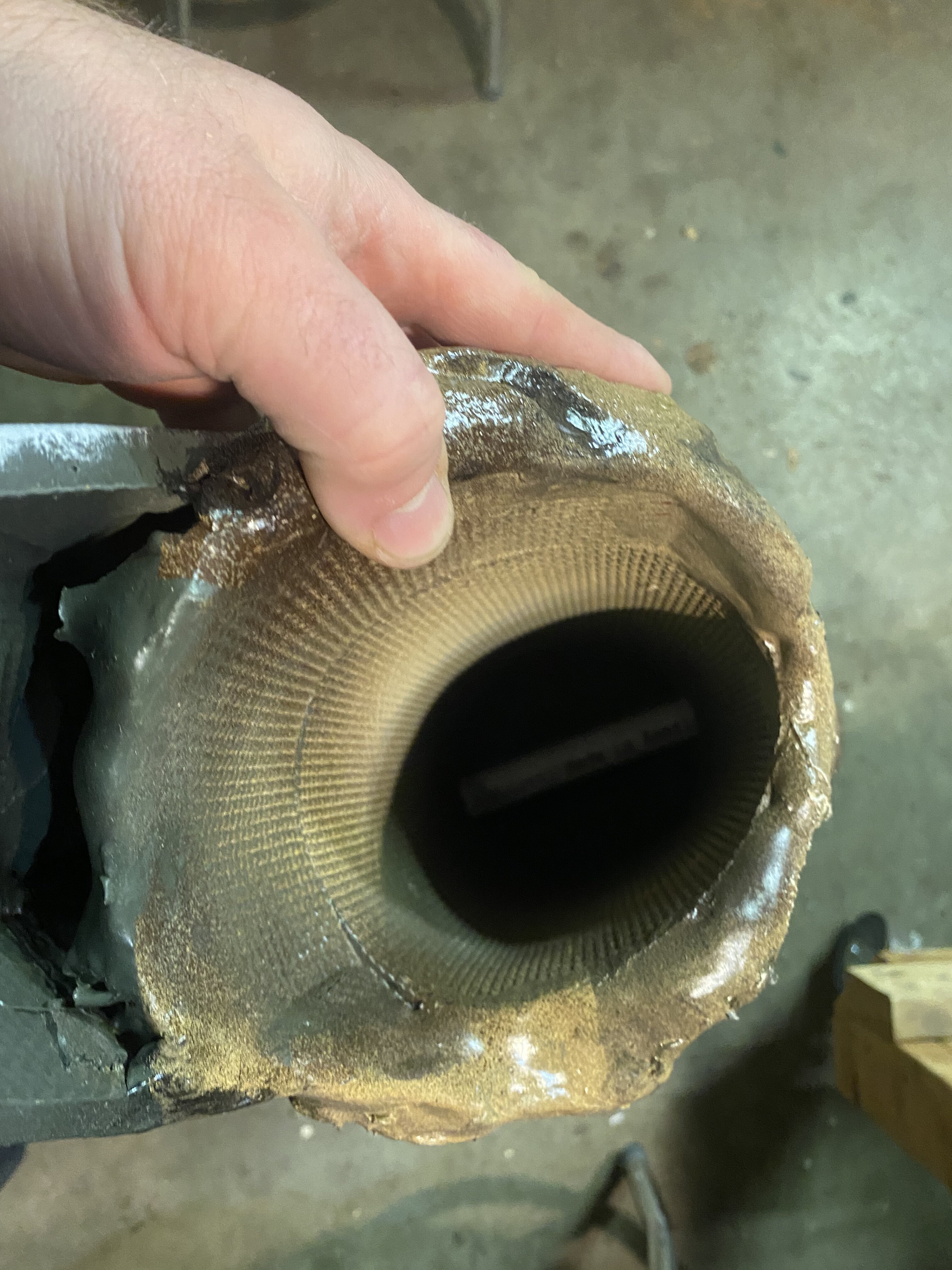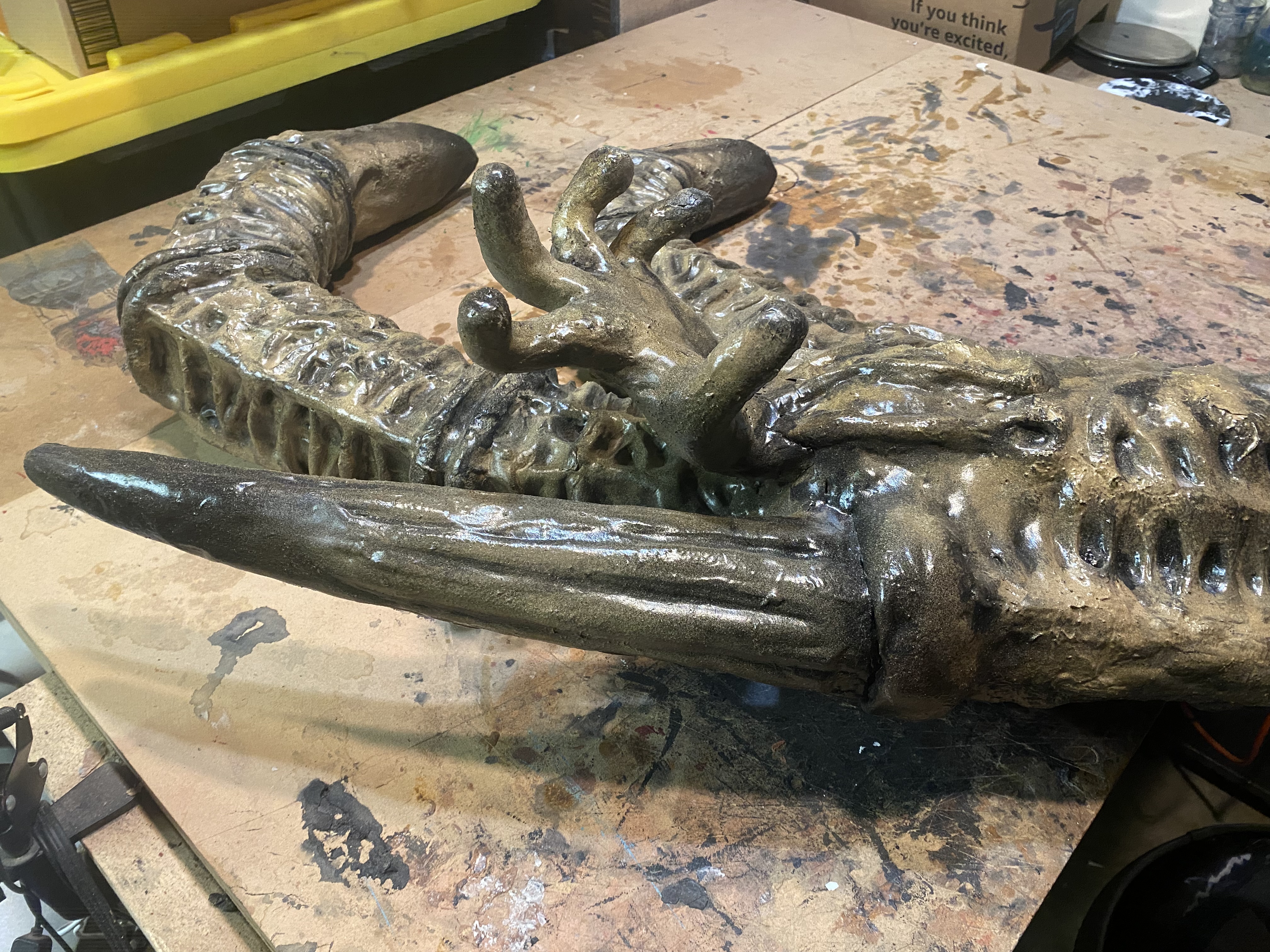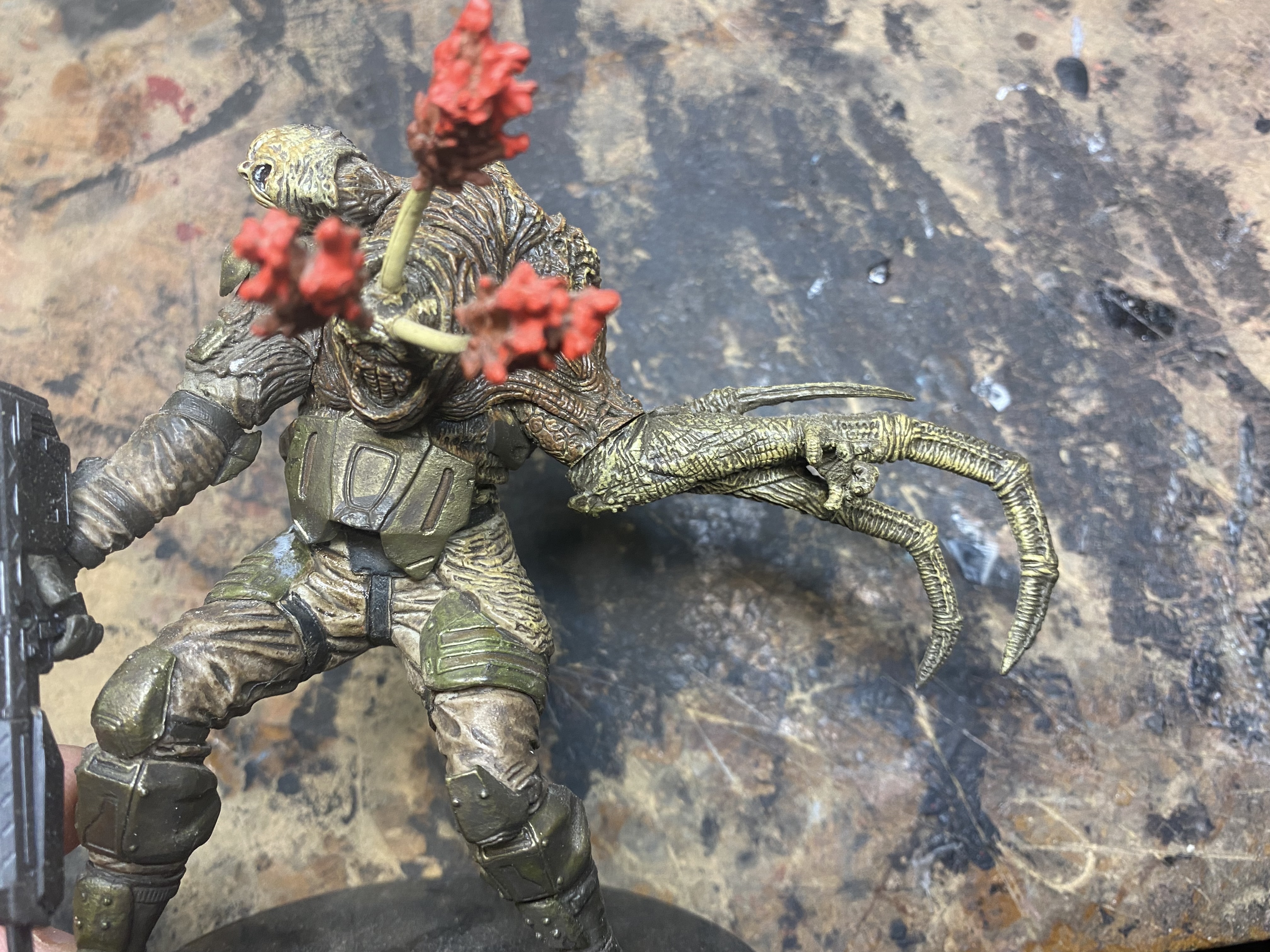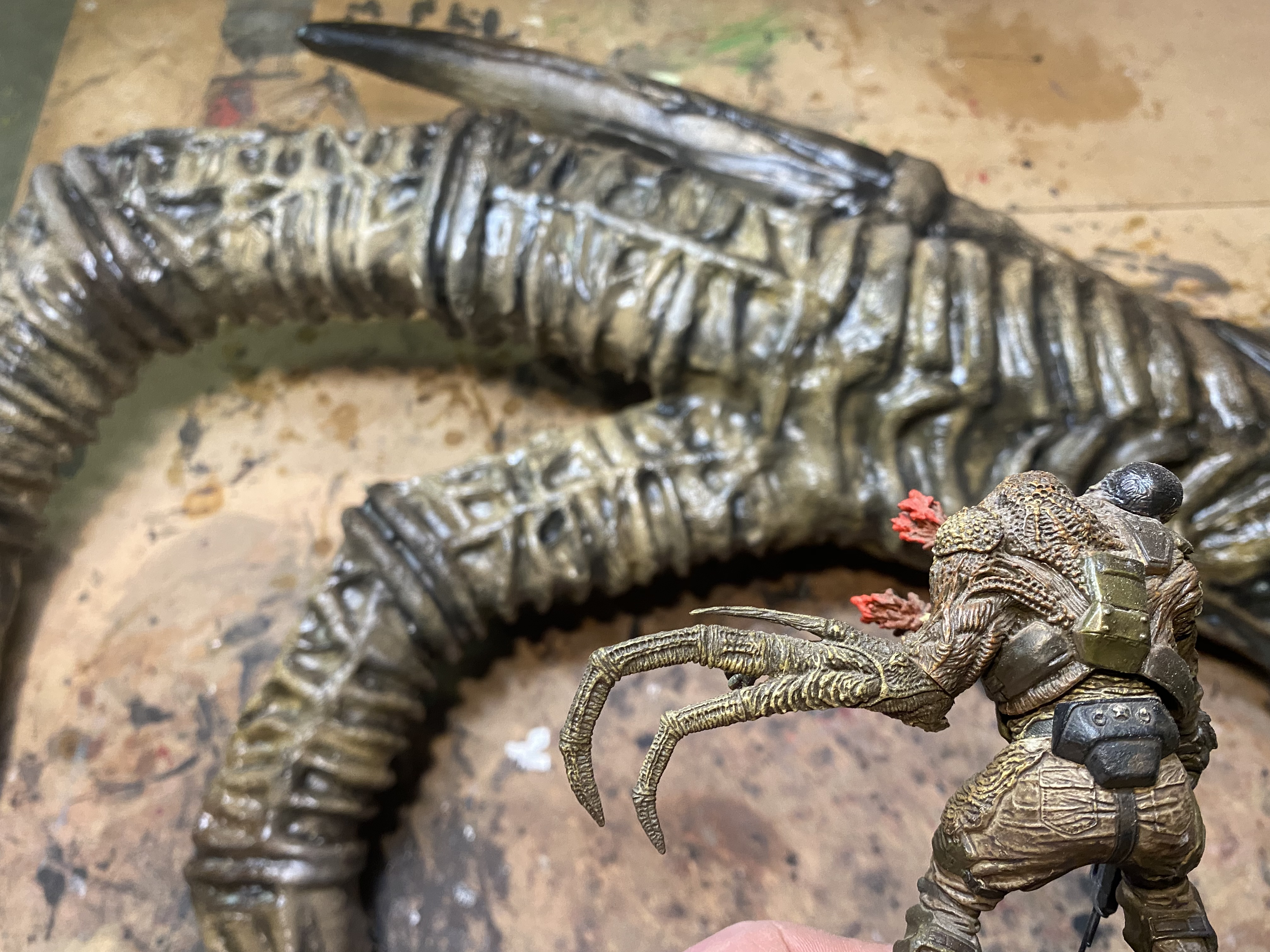 Photo dump of work in progress pics: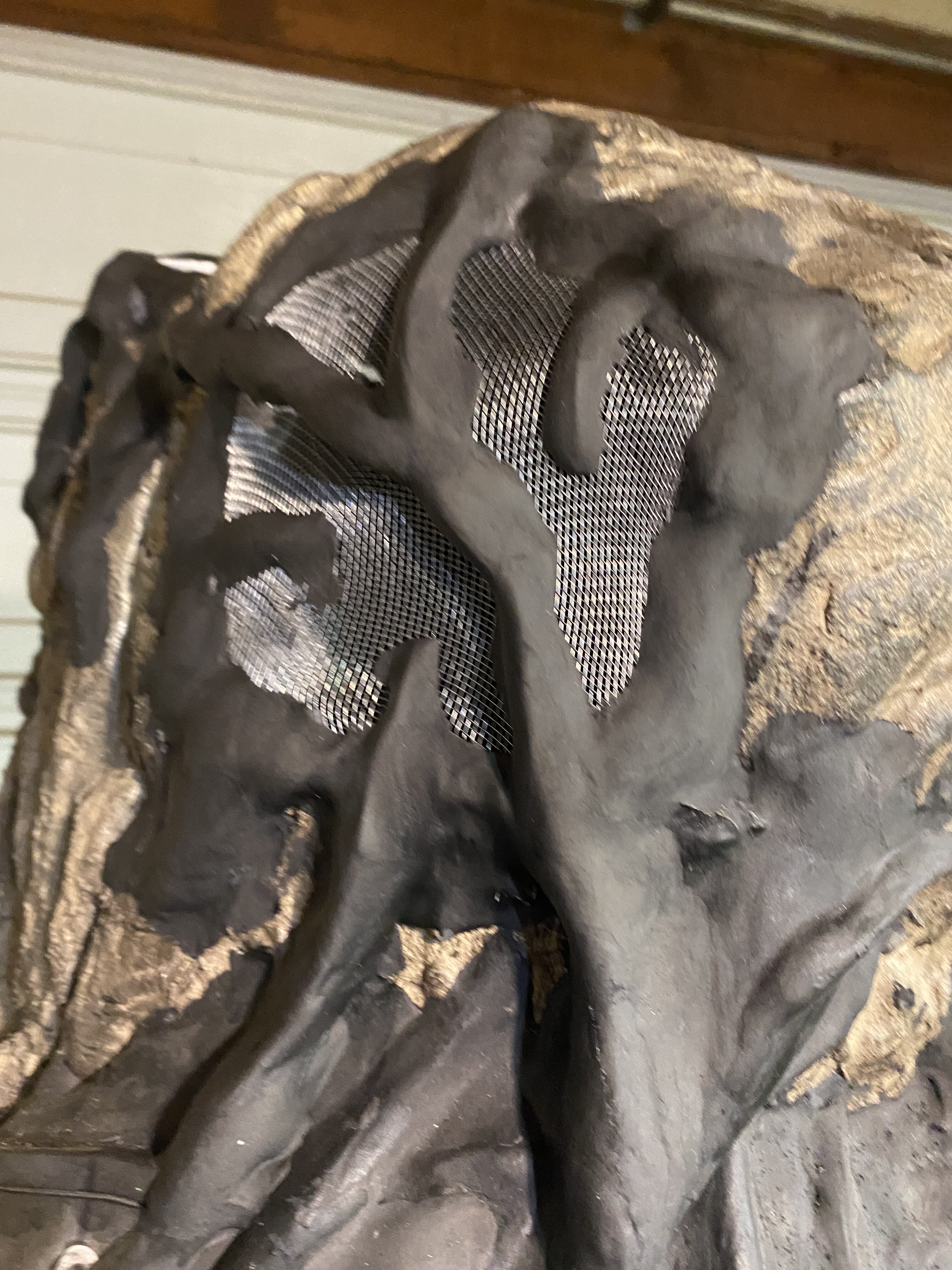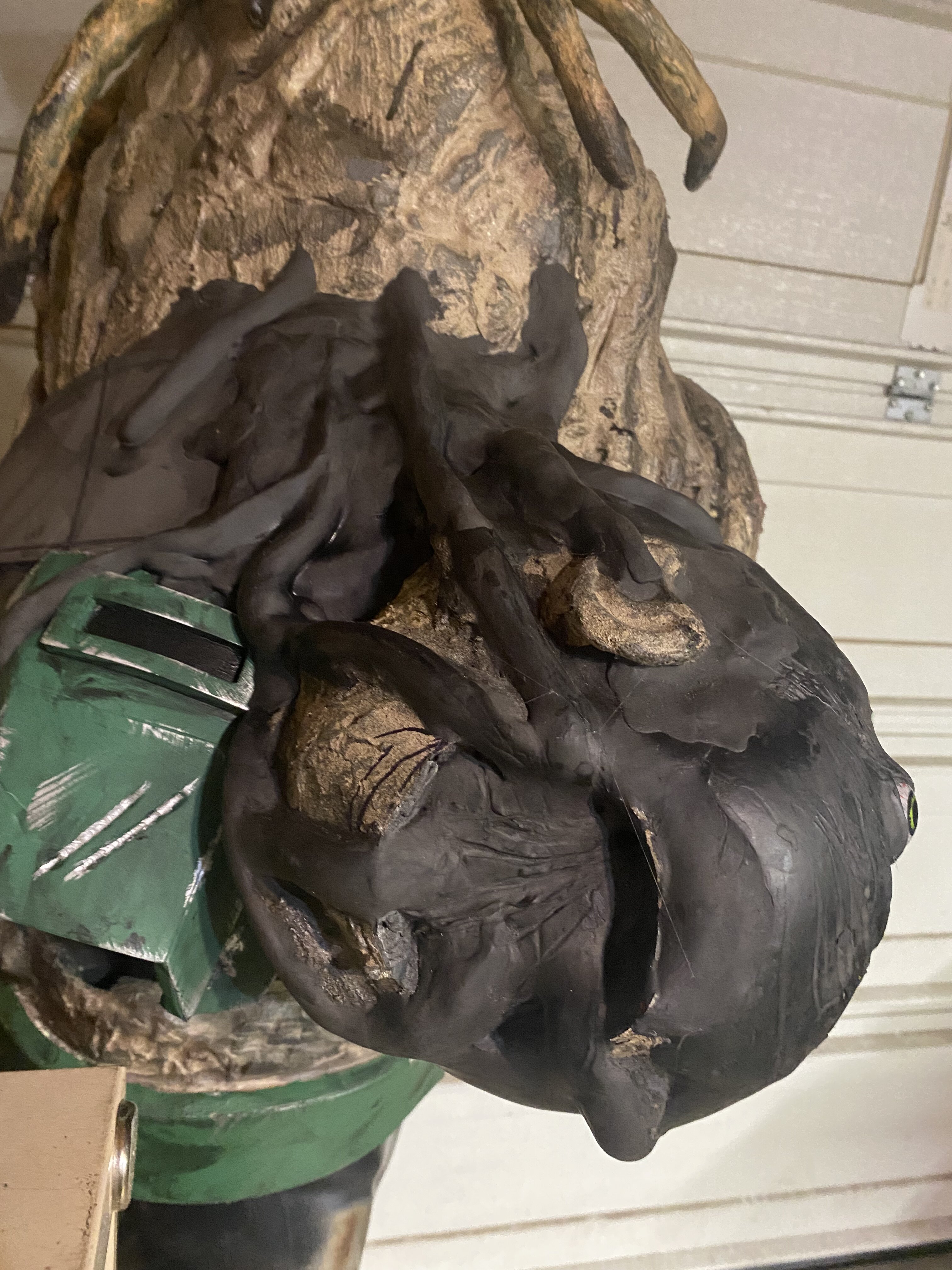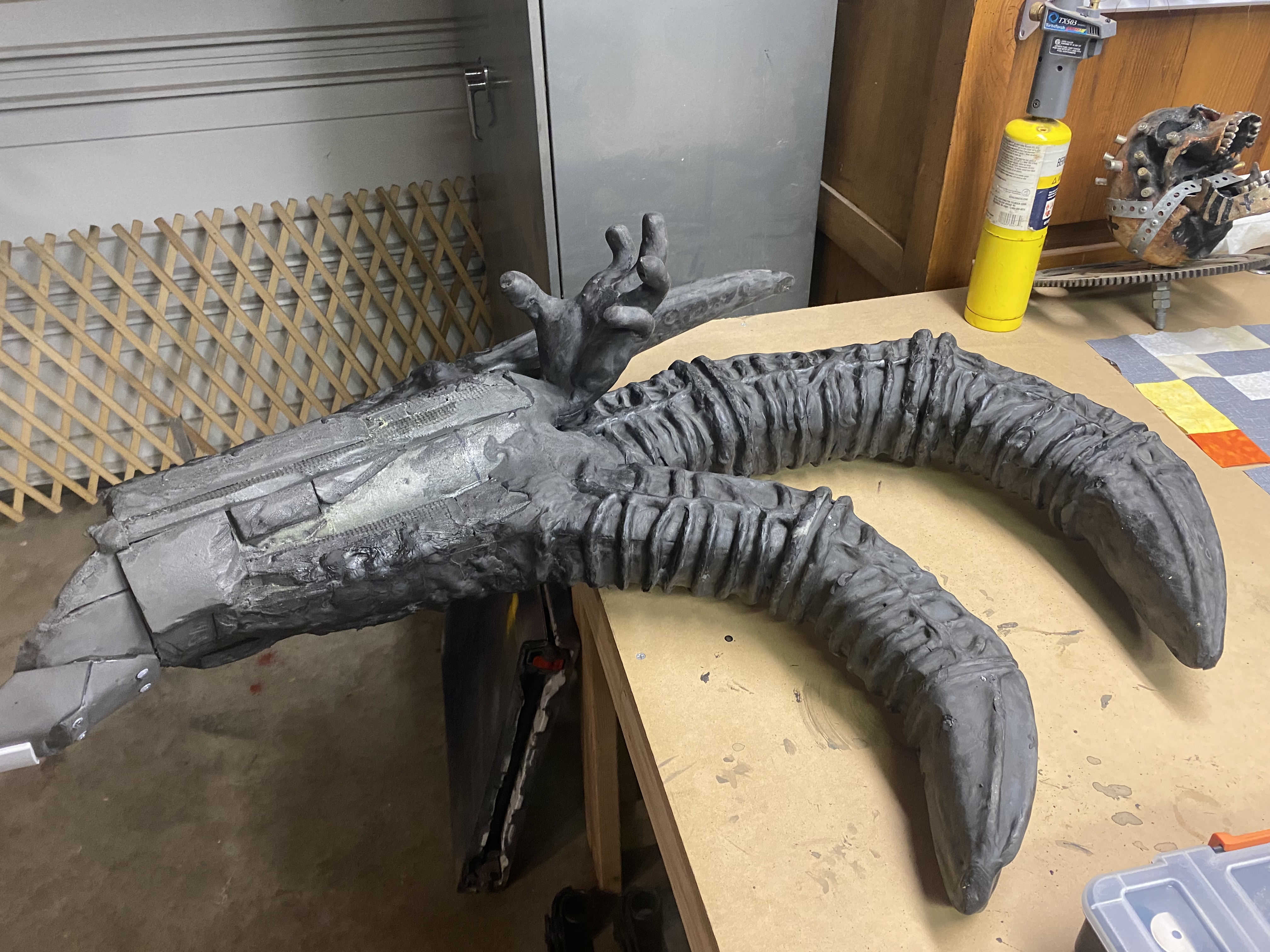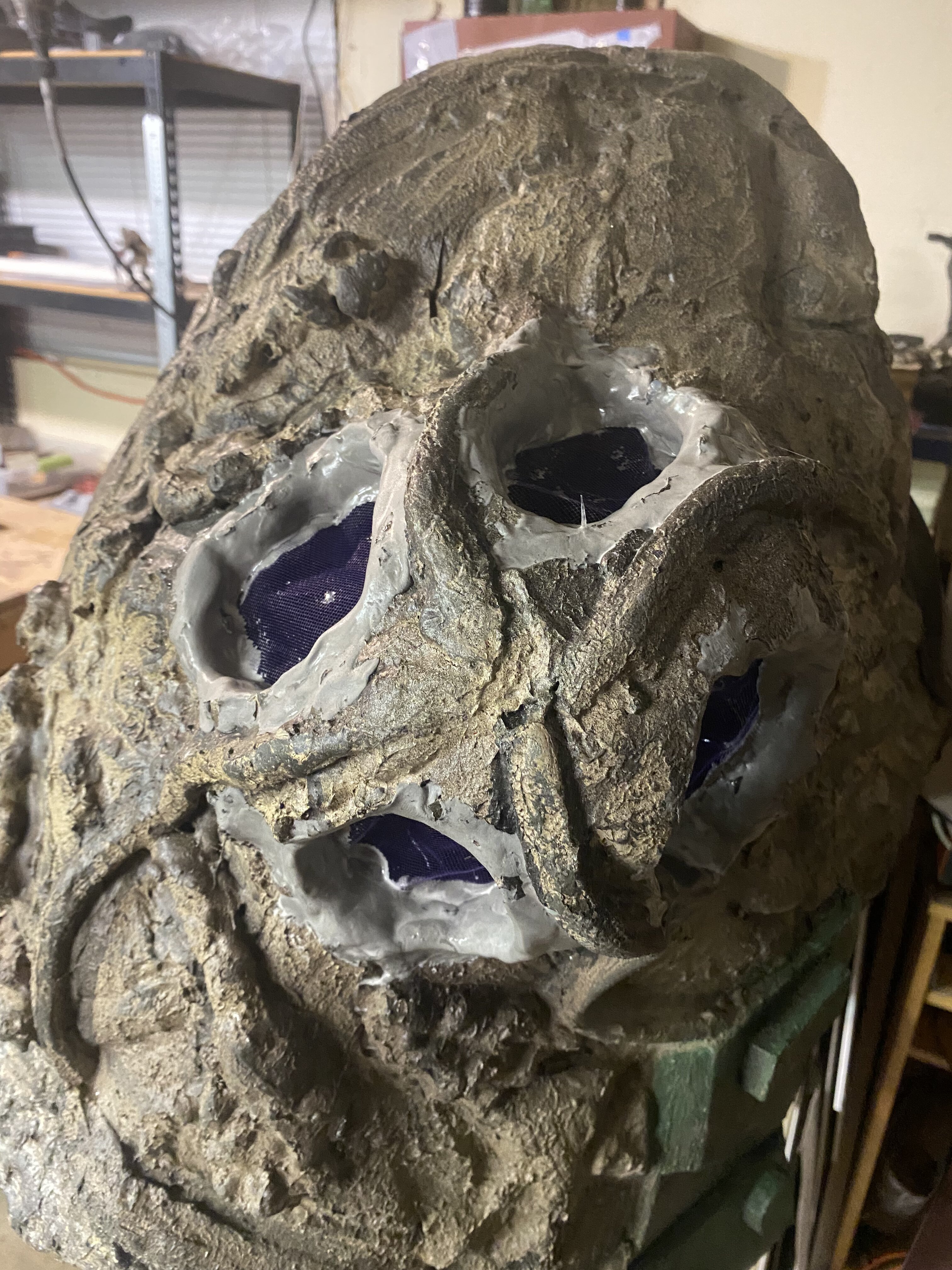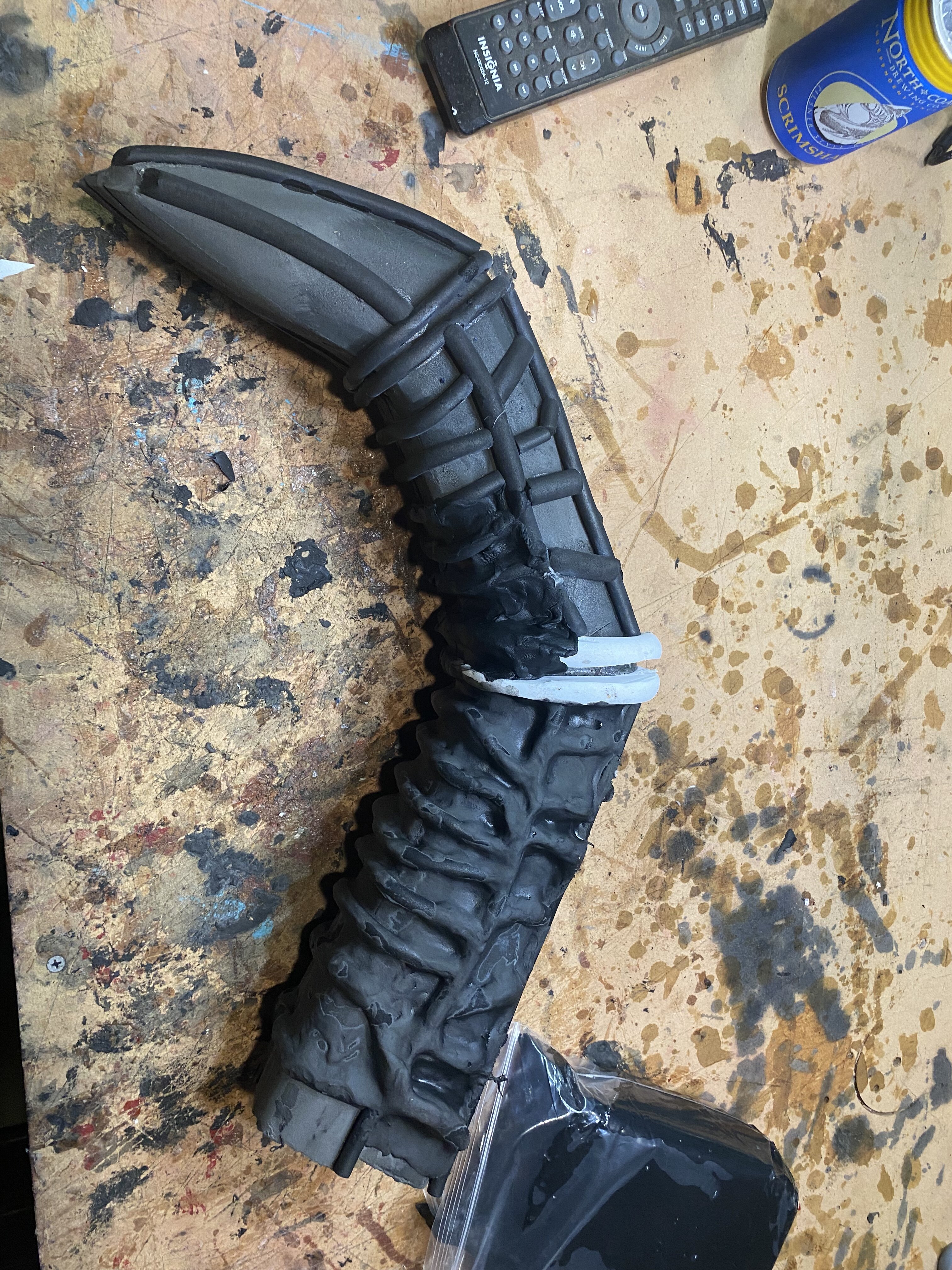 And that's all the pics the site will allow me to upload, but there's so much more! Also have some professionally shot pics of it with my odst build and @karrver's other flood build (which they did in a much smarter method of clay sculpting and foam casting, they clearly know what they're doing, I just throw foam at things and hope it sticks lol) So that's about it on my flood guy, if you've read this far thanks for sticking around on my years long journey of getting this costume done!