Well, I'm making a pepa suit, and basically this thread is to follow my efforts. I've read quite a few of the tutorials here, but I'm doing things a little different for mine. Mostly because I know nothing about fiberglass or moulding. Hopefully those more experienced can give me some advice, and maybe this will serve as a tutorial of sorts for those just starting out.
stage 1
First of all I made a paper version of the helmet. I used one of those liquid gluesticks with the felt tip. It works really well since it dries fast and doesn't waterlog the material. It was a good thing I did paper first because the base scale is huge. As you can see in the picture it makes my hand look tiny, and I have fairly large hands.
stage 2
This is the helmet done in cardstock. As you can see it looks a lot better, warping less and being more symmetrical. It's fairly small, I changed the scale to 24 cm high, but that's actually the scale I want. I'm fairly skinny so hopefully a smaller suit will look right to scale.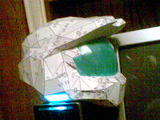 Stage 3
After about 6 coats of glossy apple red, I finally got it so that you can't see the matching numbers anymore... mostly. I also changed out the old visor, which had a sight distance of about 5 mm, with a two layer plastic lense. One lense I cut out using the pepakura template, and put in using liberal amounts of tape and hot glue. Needless to say it wasn't very attractive or befitting a spartan. But that's okay because on top of that I added another lense which I had tinted, and installed very easily right over the first. For tinting I used Gila privacy window film, which turned out to have a very nice mirrored effect, essentially what's used for two way mirrors. Unfortunately the only way to buy it is in 3' by 15', and is pretty expensive. You might as well buy a motorcycle visor. For me however, I was worried that my helmet might be too small, for the visor, and I really dont want to take a jigsaw to 30 dollars.
Next
I bought some corrugated tube, which I plan to spraypaint black and pop in. After that I guess I'll add in the details to the paint job.
Also in the works.
I'm making an ar out of wood, so it'll be very no frills. The way I have it planned is basically to cut it out in half inch thick sheets and nail them together. I have everything I need for it, so expect updates soon.