Member
Australian Regiment
I haven't updated my "Spartan Body" build post for a number of years now but rest assured my work continues in getting the physique as close as possible - I might post some recent progress photos soon
With a Cocoon Create 3d printer now set up, I've decided to pull the trigger on properly starting my Master Chief build.
I did begin using foam a couple of years ago starting on the forearms but wasn't happy with how they were turning out (although lines and details were ok). So I thought I'd going down the path of 3d printing instead but wasn't confident with the models available at the time.
My preference is the Halo 4/5 armour look and thanks to the hard work of CarterBuilder12 (his thread
HERE
) I can work with the 3d models, splice and ultimately print them.
Materials collected so far:
For Armour:
5kgs of PLA filament to turn into armour
Rustoleum 2x Filler/Primer can
Cans of Enamel in: Flat Black, Gunmetal and test "Olive Drab" colours
Cans of Acrylic in: Clear Satin
For the Undersuit:
2-3m of Yaya Han's "Scuba Hex", lengths of both Black and White (shown
HERE
)
1m of Yaya Han's "Super Hex" (shown
HERE
)
2m of Black Spandex
I like the incorporation of the hex pattern in H4, I recall taking a number of reference shots from in-game and posting them on the forum at some point. So I might have a mix of H4/5 for the undersuit but I'm undecided currently - that decision can wait whilst I concentrate on the armour first.
So my journey has kicked off once again into armour making. Very small amount of progress so far, as I get used to 3d printing but also get used to the stages of sanding and priming (multiple times it'll look like) and eventual paint and detailing/sealing.
Here's the test prints and some handplates to see for scale and detail:
Benchy came out pretty good with some slight overhangs (expected due to no support material). The calibration cube I haven't measured just yet but it doesn't look like much tweaking is needed based on how the handplates came out. This was using Cura for slicing but I might look at moving into Simplify3D just so I can see supports and such.
The handplates are test pieces to test the steps I'll eventually take. Below is an example of a pass with 120 grit (Left) vs no sanding (Right) and then hit with the Rustoleum 2x primer via 3 thin coats (5 minute wait between coats):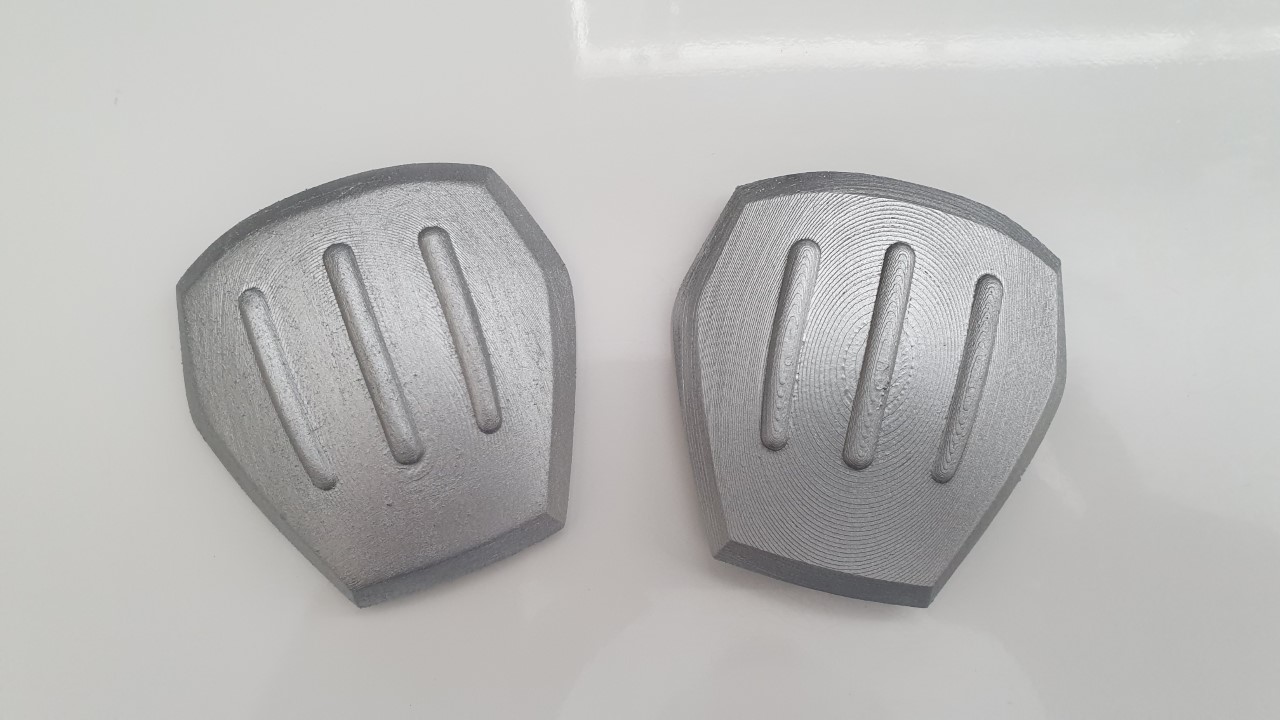 I didn't sand out all the print lines but relatively happy with the result for step 1 of prep. I notice some edges soften a little thanks to sanding, but for flat surfaces (especially the likes of the torso) I'll look at a block/detail sander in future.
Currently prepping the forearm model in Meshmixer before I'll export into Simplify3D. I'm using Meshmixer so I can get measurements on pieces to make sure if they need scaling or not.
Hopefully more updates soon!
EDIT: Hoping to get a name change from Morphine to Gumption 117 hence the title name