Active Member
Australian Regiment
I'm finally attempting it!
From the very first time I played Halo 2 in a church, I've been a fan of the Halo Universe.
Although some games have been rocky, the Halo costume community has always been great!
I have learnt most of my build techniques from talented people here on the 405th.
It was actually these forums all the way back in 2011 (10 years... wow I'm old), that originally inspired me to build costumes.
My first attempt at a Pepakura Reach build went horribly wrong, but overall it was a great learning experience.
My second attempt didn't start too well either, but after some friendly advice and research, I think overall the foam build turned out alright.
[Custom Halo 4 Build]
My third attempt allowed me to use what I had learnt so far, to try to make a pre-launch build. Learnt a lot from that one...
[Agent Locke Build]
My fourth attempt (first non-halo build) pushed me to attempt something new and ambitious. What it taught me, was sometimes one can be a little too ambitious.
Past Builds - [1st] Halo Reach Fiberglass Build | [2nd] Halo 4 Spartan Foam Build [Normal/Button Fox] | [3rd] Agent Locke Foam Build | [4th] Khajiiti Werewolf Transformation Build
One build I have always wanted to do was make an elite/sangheili, however I never had the courage to attempt it... until now.
So begins my great journey to make a
Halo 2 Anniversary Thel 'Vadam Arbiter Build
!
First the game plan.
My goal is to put together a full suit (armour and undersuit) as well as either an Energy Sword or Needle Rifle to wield.
I feel a have a pretty good build outline in place, which I'll go through as it comes together.
I'm hopeful the build won't take too long overall, and aim to have regular updates, so enjoy the ride!
Main Reference Images for the Halo 2 Anniversary Arbiter Model

The Great Journey Starts with the First Step - The Stilts
Before I get too crazy, I need to work out the overall height/dimensions.
To do this, a stable base is required, literally.
Looking into other builds, and usin
g
Chaos Costumes
digital templates to start, using my foot and some paper I sketched up my stilt design.
I noticed a lot of stilt builds tend to use a 45
°
angle base, however for this build I have ended up going with a 30° base instead.
When measuring up my foot, I felt a 30
°
stilt will provide me the 'sangheili look' I'm going for while providing more 'comfort' with the lower angled heel.
Once I had got the main design worked out, I put together a cardboard prototype to visually assess the concept.
After a bit more tweaking, an extra base height increase, and some size trimming, I am all ready to make the real thing.
Left to Right - Chaos Costumes References | 30° Stilt Prototype Process (Cardboard)

Finalized Cardboard 30° Stilt Prototype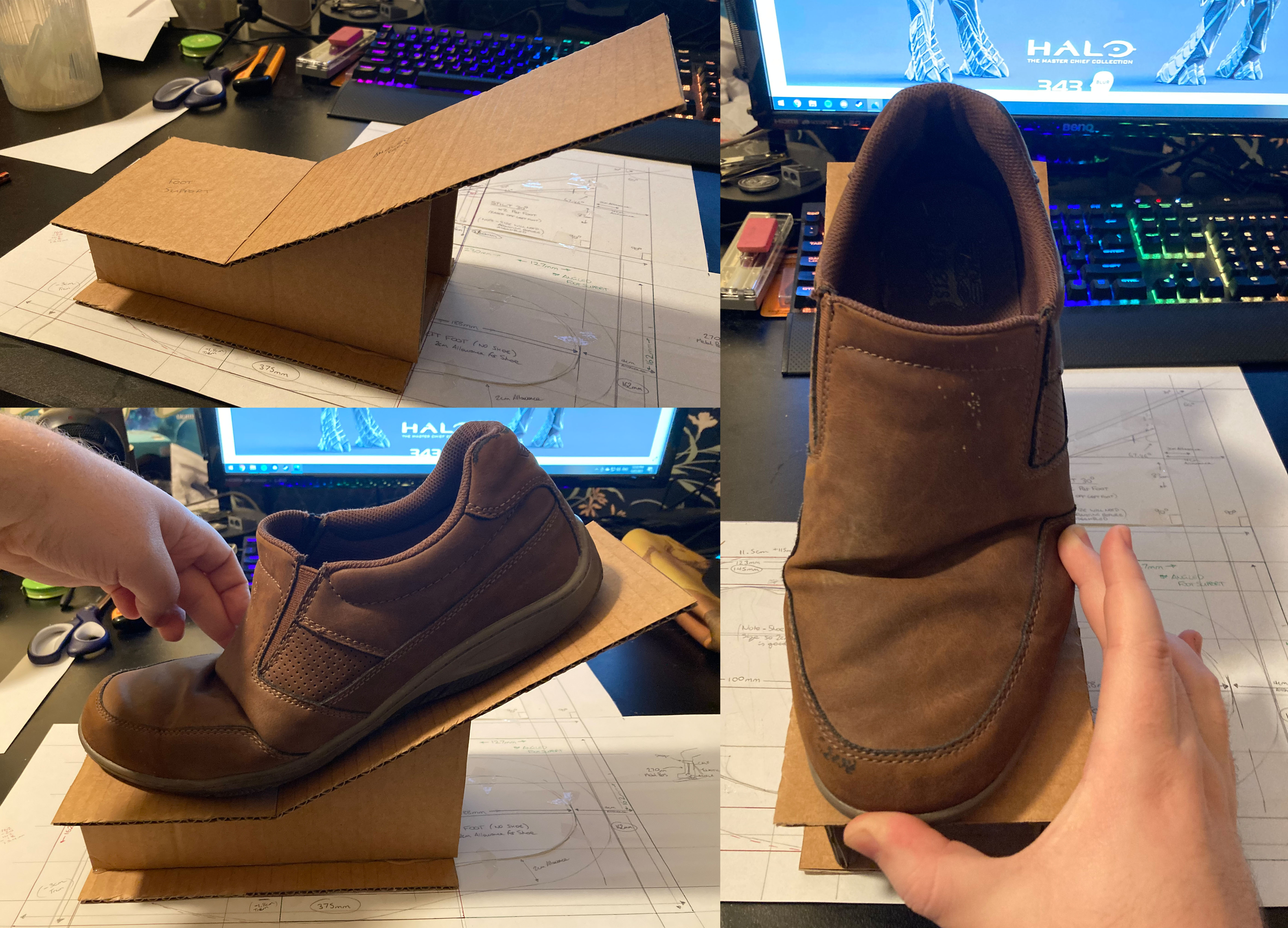 I am hoping to smash out the wood version over the weekend so wish me luck!
Last edited: