Sr Member
Colonial Regiment
Hey all.
I have been doing some paint tests to try to find the right combination of colors to create the new Halo 3 Master Chief green, and crossed the finish line tonight. I though I'd share some of my progress with you.
In the past I used an automotive colormatched paint for my armor that was a real pain in the @$$ to apply because it needed to be applied overtop of a gold underbase and needed to be airbrushed on. So counting off paint applications, it was : Primer, Textured Paint, Gold, Woodland Green Mettalic. Thats alot of painting and drying time.
Recently I discovered the beauty of Adams paint application process, and experimented using it for Fitz's helmet. I was very pleased with how it looks, but I didn't really feel too good about stealing his color scheme for use on my own armor.
The color of the chiefs armor has changed alot since Halo 3, especially depending on where you got your resources pics from. The old color I used on my armor was based off of the in-game Master Chief model from Halo 2: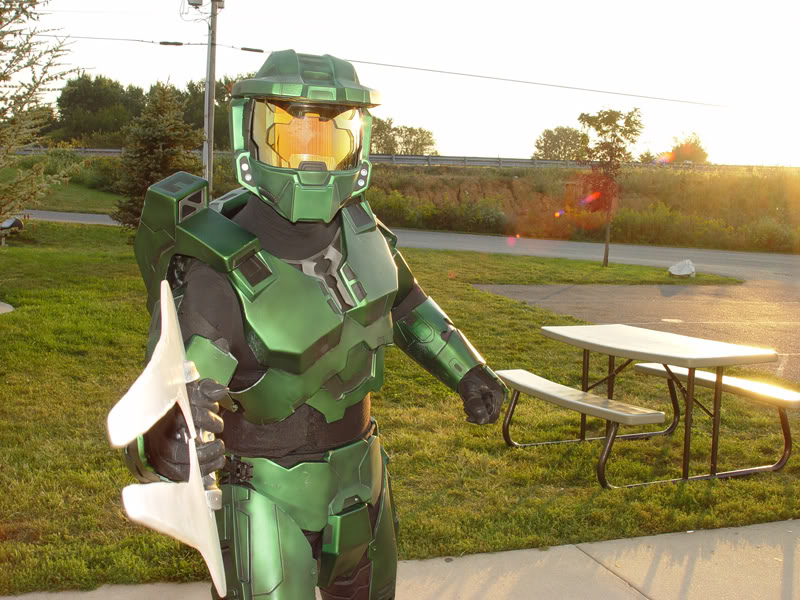 It looked different shades depending on what the lighting conditions were.. Which was great, but it still was a pain to apply, and looked a little too 'candy green' for my tastes. I Cant beleive it's taken me a year to decide that.
The color that Adam uses is really cool because of the mottled effect that happens with the application of dark grey primer overtop of the Oregano paint... it looks about PERFECT for the announce trailer MasterChief: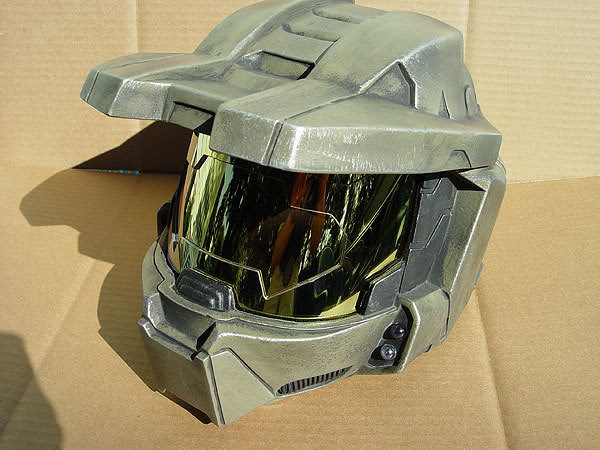 So you may have noticed that the color used on the in-game Master Chief has changed again since then... It wasn't until the very last round of pre-release pics that we finally saw the final color. When I saw it, it immediately reminded me of a particular patina process that I used to apply to bronze sculptures, and I was pretty sure that I could replicate it in paint. It took a number of different colors, and several layers of dry-brushing, but it's still alot easier than the old colors that I used to use... Anything to avoid airbrushing helps a good bit for me being that my compressor is really noisy and I can't use it at night..
So heres the reference pic I used... the color is identical to the render pics that Bungie has on their site: