Hey 405!
This community played a huge role in my childhood, and I loved every second of it. For someone who was unable to play Halo, making Halo armor was the next best thing. It's been almost 5 years since I've done anything here and currently, I've taken up fountain pen repairs as a general past-time. Just a few months earlier however, in one of my fountain pen servers, I found a fellow 405er and hence why I'm back here!
Anyhow, I was still in 7th grade when I made my suit; I am a graduating senior now. My suit composing of several pieces of armor from different games: A Halo 4 Wetworks helmet with contoured shin armor, Halo Prefect arm guards and elbow guards, as well as several others, including Reach shoulder pads. The biggest mistake I had while creating it was not adding bondo— the fiberglass alone was extremely annoying to polish, and cracked easily. Due to this, the chest plate is completely destroyed, and many of the pieces are now sadly cracked.
So anyhow, I really want to get back into it; this stay-at-home order really allows me to finish what I've always wanted to do. Currently, my main goal is to create a new helmet— I don't think I have enough time to finish a suit of armor before I have a buttload of work pushed upon me.
So here's what my helmet looks like now:
You can see all the cracks and quick foam repairs I had to make due to the mistake in this picture.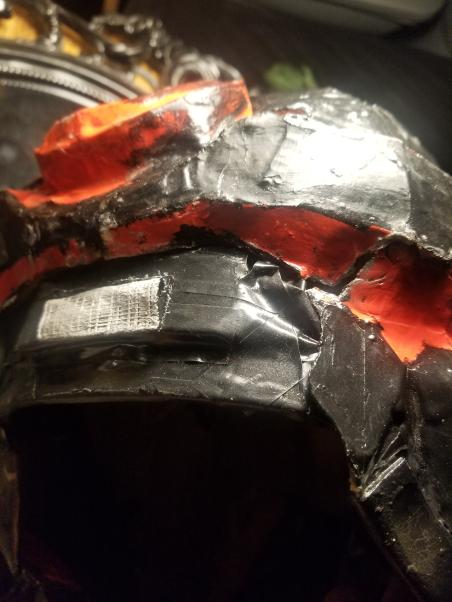 The back didn't look so good because I had to break that area just to fit it onto my head. Talk about a pig-headed mistake.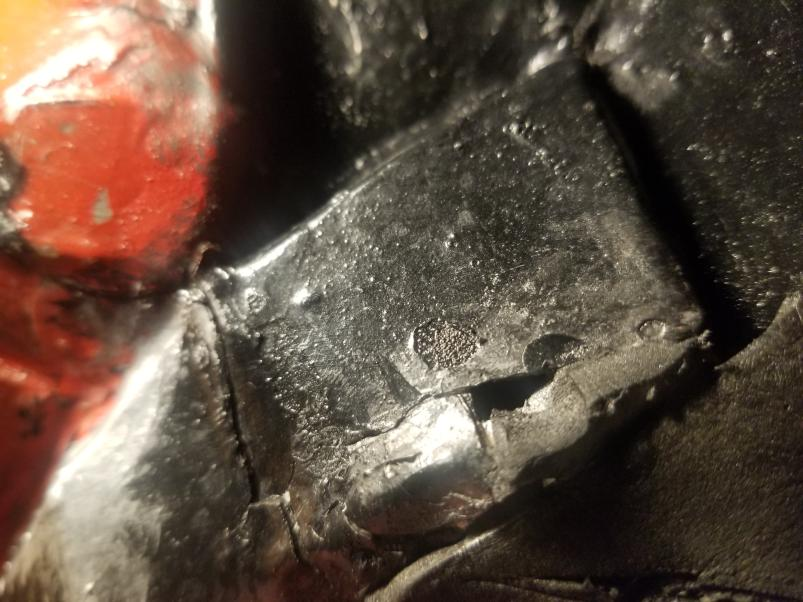 Just some more cracks in detail.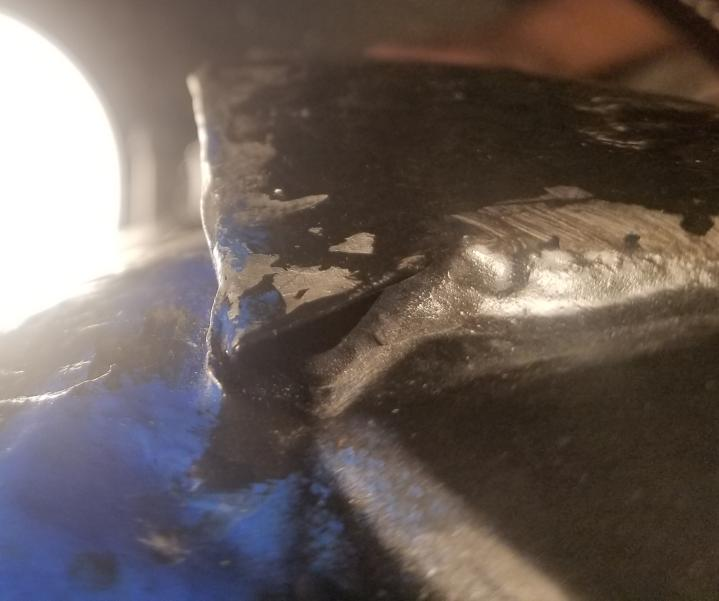 The fiberglass weighed the cardstock down, causing the glue to come undone.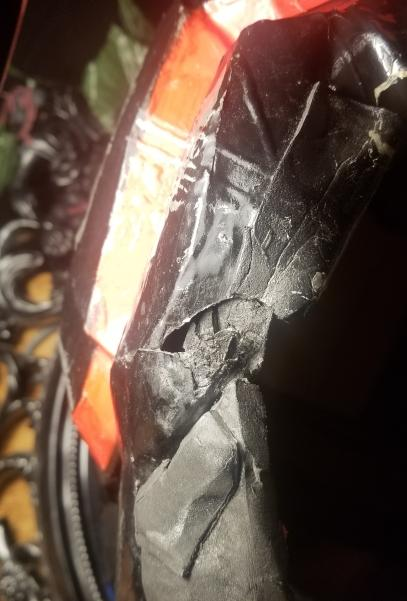 A lot more foam fixes and cracks.
So this time, I wanted to make sure I get all these mistakes fixed- I went ahead and sketched a few small modifications (hopefully you can read it).
I'm planning on either resizing the model or cutting off the base gasket, but I'm not actually sure what to do with it. I have a few ideas, but nothing too special. I feel like magnets are really hard to use, especially since I don't have earth magnets on me and don't plan on buying any soon. With artificial magnets, it seems extremely weak and might not hold up the bottom gasket. Velcro is also a viable option, but with the same problems. To sustain the weight of the gasket, I was thinking of perhaps using clips or hooks- clips seem like a decent way to hold it up if it wasn't impossible taking it out, so I'm not sure how to properly adjust it.
I most likely won't start making it yet (so it might be a while till I actually post anything) but I want to get some ideas from the community. What do you guys think?
Anyhow, any ideas? Suggestions?
(also if you remember me, it'd be awesome if you said hi!)