Commanding Officer
Community Staff
Division Staff
Canadian Regiment
At the end of July, I'm going to be attending Costume College in the LA area. Mostly this revolves around sewing and historical costuming. But over the years they've added classes in a lot of different areas as well. This is my first time going and I'm super excited!
They offer two types of classes - Limited and Unlimited. The Limited ones you sort of have to apply for. Nothing more than sending in your top 10 choices and then they somehow decide who gets what. I think you are usually going to get between 1 and 3 of your top 10. The Unlimited ones are those that have the room for everyone. Usually more lecture based rather than hands on.
I was VERY fortunate to get my top 3 choices. I'll be going on a tour of the LA fabric district. Having been there a couple of times now, I'm really excited to be going back. But even more exciting where my top two choices - beginner foam fabrication and advanced foam fabrication. These are taught by industry professional Mal Keller. I am SUPER stoked about this.
I wanted to go in to the classes with a build in mind so I could get the most out of the information and be able to ask specific questions to take advantage of Mal Keller's vast experience! Yesterday I decided finally on the Copperhead armor. Originally I was going to go for Vale....and then I saw this.....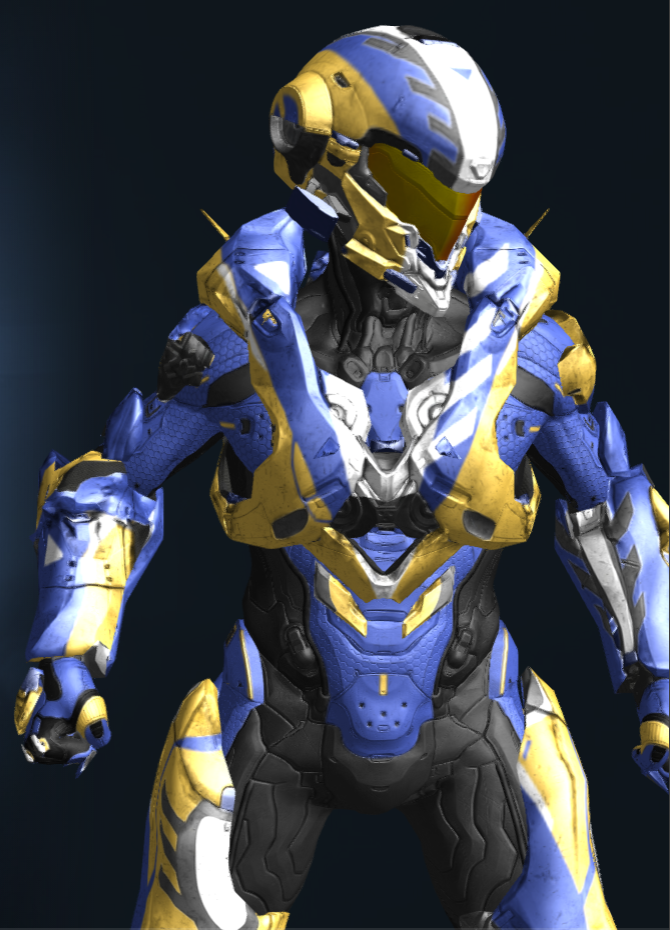 How can I not when it's named FANGS?
Dat undersuit tho.....dang. First things first.....@Asgardianhammer was able to hook me up with a prop maker for the helmet. Foam files for the armor? Yes! I will need to get my hands on better references that just this for the rest of the gear/paint but that's doable. Soooo uhhhh....the undersuit.
This is always a tricky thing with Halo gear. They are frequently beyond detailed. But sewing is my strong point so I started to look at it that way. First thing I see is the overall shape. Wide at the shoulders and hips....narrow at the waist. Certainly the armor plays a large role in that, however, I'm thinking that I can use the girl shape I already have to really accentuate that shape. Definitely this undersuit will involve a corset, likely built right in with the lacing hidden in the back by a flap. This will not only give more of the hourglass shape but also help with the detailing staying in place no matter how I happen to move or stand, but still allow me to bend. If I did a corset that also has a high back and shoulder straps, this could lend to serving a second purpose - a harness system for the armor. I have something similar in a much more basic form for one of my 501st costumes to distribute the weight of a resin cast jetpack. Being foam, it won't be so much about the weight distribution but more about keeping the armor in place securely.
For the armor itself, I'm going to need to scale it down... a lot. I'm only 5'1". I don't want to look like I'm lost in the armor. And with that comes getting it to the size that still shows the right amount of undersuit detail. This is a little like the chicken and the egg....which comes first! My initials thoughts are the under suit simply because I don't want to start on the foam until after Costume College. Once I get that dialed in I can move on to the armor.
As some of you know, the newer Stormtrooper armor from The Force Awakens has gaskets that show at all of the bendy places - shoulders, elbows knees. In the movie they were rubber. Members of the 501st quickly learned that the rubber, although authentic, meant you couldn't even put on your own helmet because they reduced your mobility so much. Most now use ones created using a sandwich of fabric with a middle layer of foam material. This creates the ribbing detail but still allows for mobility. That will be my first test to see if it will work for this detailing. I believe I'm going to use spacer fabric for the outer layer and likely a sturdy but still stretchy layer of ponte de roma fabric underneath. For the foam layer, I'm going to talk to my friend who makes gaskets. The spacer fabric will give the scuba look without adding the uncomfiness of neoprene. The spacer fabric and the ponte de roma are both washable. The unknown at the moment is the foam and what I'll be able to do with that. Might need to stay with handwashing but obviously as an undersuit, washing is an important consideration. I'll also need to work on the blue hex pattern fabric for the arms/shoulder areas.
I think I've babbled on for long enough. Hopefully I'll have more to report soon!