New Member
Singapore Regiment
Hello everyone, It has been a while since I've made another Halo built and this time I am going for a Chaingun from Halo 5 Guardians!
Take note this built took me 3 and a half days,
I will go through step by step and will show you my time stamp on how I tackled this built. The end product is a huge prop, went 1:1 scale with this bad boy, 68 inches in length and 24 inches in width, Lets go!
Reference Images!
Now Starting the Built!
10 hrs in
Ok I do not have the earlier progress picture but this is 10 hours into the built! I started off by make a cylinder shape and support of the barrel, slowly work my way to the back.
take note at this point I do not go for details! Work on blocking out the shape of the gun, detailing comes last!
Adding the details!
48 hrs in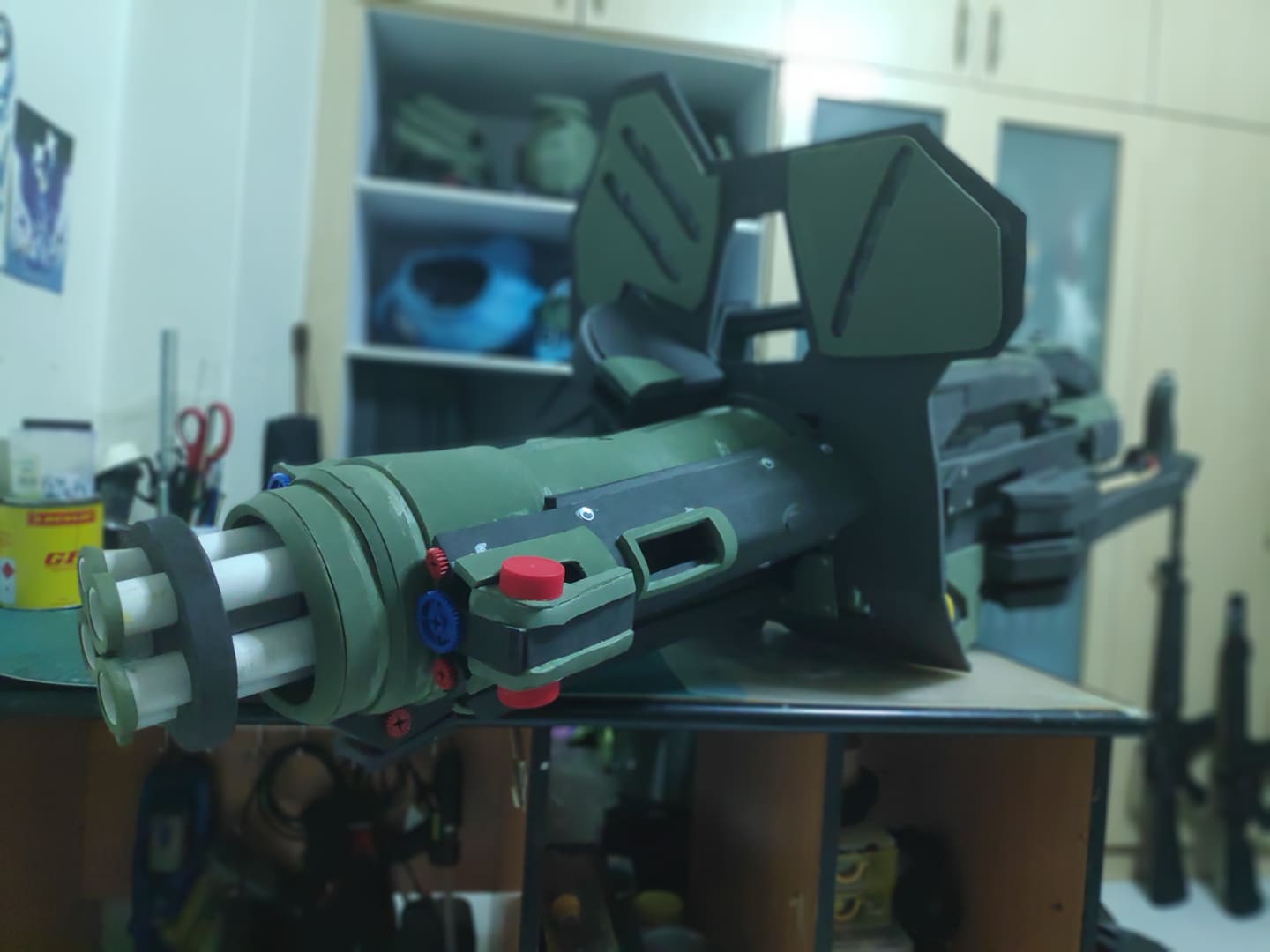 Ok at this point I have already done blocking out the shape and already add the details! I have done the back area as well as finish up adding small little details on the front.
Before you prime your prop do double check if there is anything missing or is there more stuff you need to add.
Off to Plastidip this big boy!
3 cans of plastidip used!
54 hrs in
Yes I have used up 3 cans of plasti dip.. I feel a huge hole in my wallet
Base paint done!
68 hrs in!
Waiting for the it to dry was a pain! I used a fan to sped it up. Ok so for the base paint I used Graffiti spray paint, gives off that matte looking texture.
pantene grey for the gun itself and military green for the shield!
I also used Dry brushing to add abit more texture like rust for e.g and more shades of grey. Now waiting for the paint to dry!
I am done!
84 hours in
and everything turned out great!
Used stenciling method for the unsc logo, will add more later! e.g the yellow and orange arrows. used oil paint to darken and shade parts of the gun as well as used Citidel silver for weathering, done by using a small brush!
patience is key for detailing!
Time to bring this bad boy out!
FYI this is my Spartan Locke its 6.6ft tall and my Gun for ref!
Con time! And yes it turned out great!
Stay tuned for my next Halo build! Thank you so much for reading this far!