Division PR, RXO and BCO
Division Staff
Canadian Regiment
405th Regiment Officer
Delta
Community Staff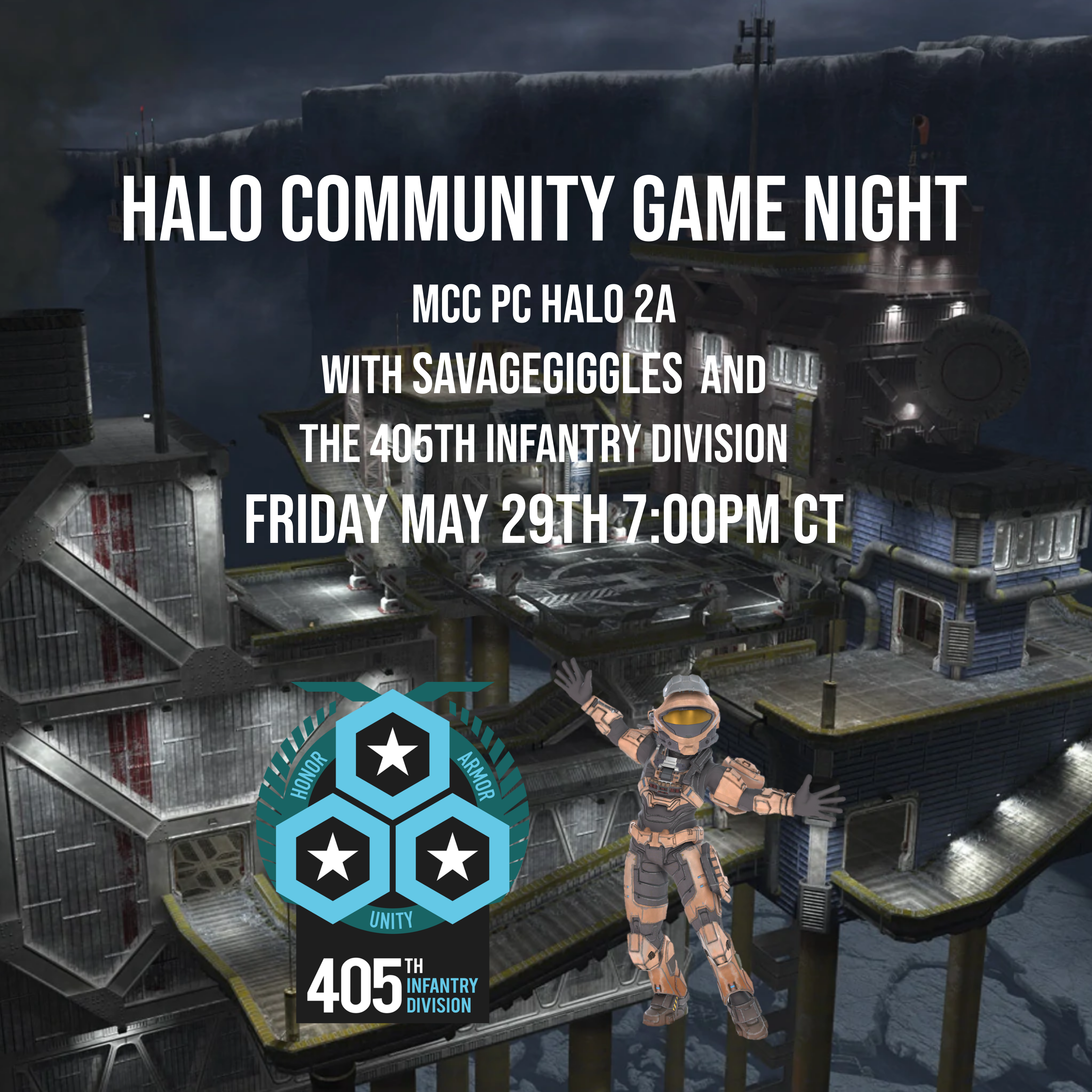 Who is ready for another Halo costuming community game night this Friday? Do all you 405th members miss hanging out with SavageGiggles at Halo Outpost Discovery last summer? We'll be streaming games of Halo 2 at 7:00PM CT this Friday with SavageGiggles and a bunch of 405th members. If you'd like to join in the fun game sessions will be managed through the 405th Discord which you can join with the link below. All games will be broadcast through both of our Twitch channels so if you don't have MCC PC and still want to enjoy the games there is still a way to participate and hang out with other Halo costuming community members!
405th Discord Link:
Join the 405th Infantry Division Discord Server!
405th Twitch Stream:
https://www.twitch.tv/405thhalo
405th Steam Group:
Steam Community :: Group :: 405th Infantry Division Halo
savagegiggles Twitch Stream:
savagegiggles Instagram:
Jordan Price (@savagegiggles) • Instagram photos and videos
savagegiggles Twitter:
Jordan Price (@SavageGiggles) | Twitter
For those unfamiliar with the Discord everything is sorted into convenient channels, the important ones for this event are #hog_game_nights and the voice channels MCC1 and MCC Party. #hog_game_nights will have information such as the Steam and Windows Store names of party leaders and the current game modes being set up. Each of the voice channels will be available for any of the game parties. MCC1 will be our dedicated stream channel with players sharing their screens for sake of switching on our stream, if you'd still like to play with the group but do not want your voice or screen shared MCC Party will be available.
Currently the plan is to have either
NobleofDeath16
or
Savagegiggles
as main party leaders loading up games and myself (TurboCharizard) running the screen switching for the stream but if anything changes we'll make sure to let you all know.
Game modes will be Halo 2 mixed multiplayer so expect a wide variety of game types throughout the evening as well as possibility of some fun custom game modes if they are available at the time.
Due to this event being streamed by SavageGiggles and our own Twitch channel we would like you to consider that the streams are a PG13 environment so cursing should be minimized as much as possible to make the stream coordinators lives a little bit easier. After the stream session is over we'll likely continue on for a bit and "turn off our streamer voices" for some relaxation afterwards so expect a good night of games, hanging out with friends and of course Halo!