Division PR, RMO and BCO
Division Staff
Canadian Regiment
405th Regiment Officer
Delta
Community Staff
If you haven't seen this gift to the Halo Community yet, please watch it and enjoy the goofiest take on Halo CE that I've seen in... ever.
The tomfoolery is inspiring, so much so that I sat down and started modelling the most adorable thing ever over the course of two hours while chatting with the Discord Gang. Is this my first prop from Halo CE? Yes. Is it cursed? Most certainly.
その可愛いですね
? You decide.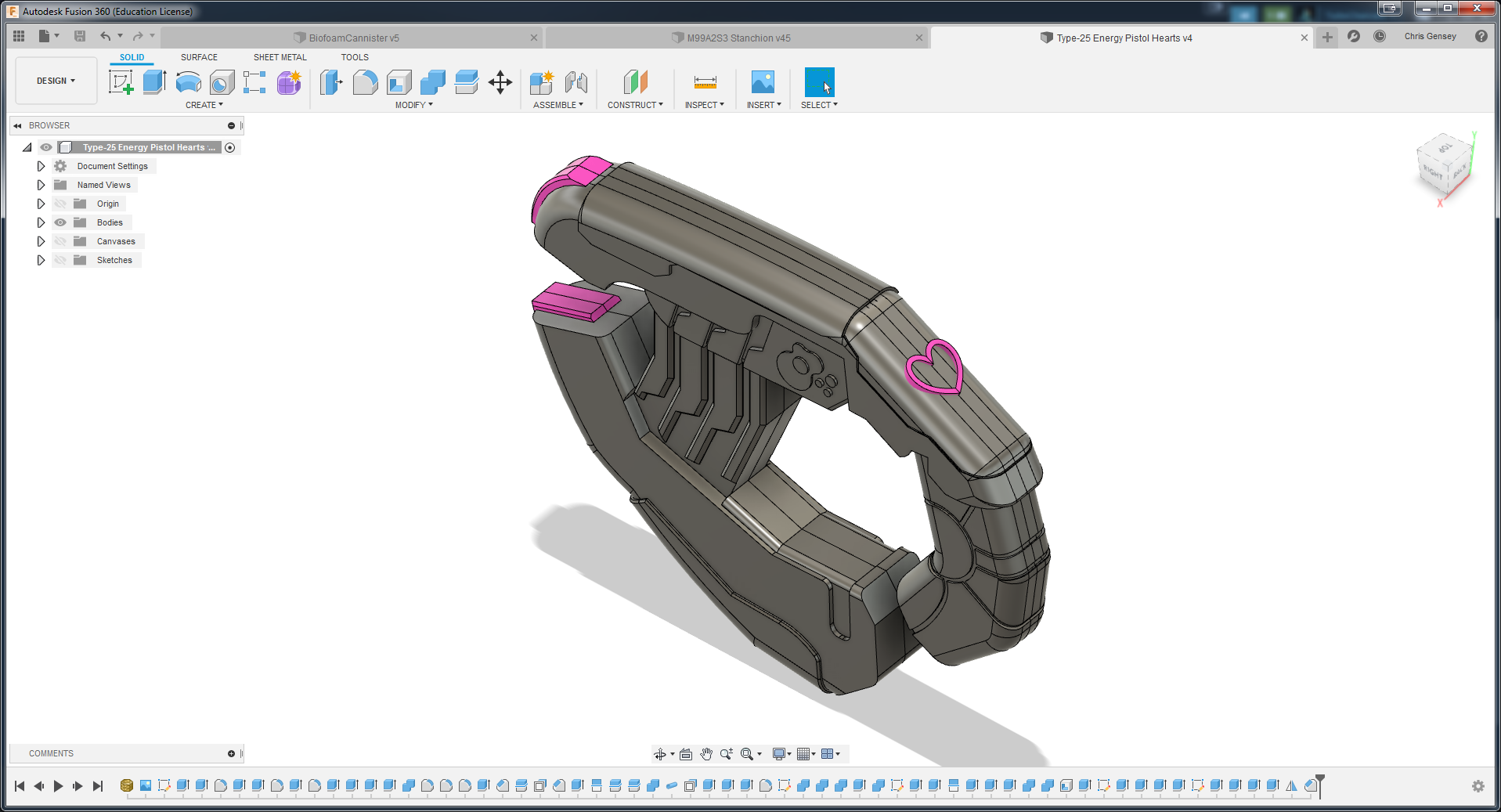 The plan is simple, the pink parts of the model will be 3D printed in a semi-transparent material and then addressable LEDs will be mounted behind them to give a nice cute glow. Everything in the steel colour will be printed in an eSun PLA+ of some variety. Inside the top hinged cover will be a grating to let smoke from a vaporizer build up and be released when "venting excess love" from an overcharged shot. The hinge will be opened via a trigger mechanism and there will be a switch to control the vaporizer and air pump. All electronic components will be within the 3V-5V DC range so they can be powered off a small USB power bank tucked away in the lower section of the plasma pistol.
Now my goal is to track down some electronics to jam into the confined space of the pistol interior. The planned bits and bobs are below.
Kangertech T2 eGo Clearomizer
3V Micro Aquarium Pump
WS2812 LED Strip (Neopixel equivalent)
Adafruit Pro Trinket
7-11's finest 2200mAh USB power bank
Switches
Thank you for joining me on this cursed journey.
Thank you to
ZettaiKagerou
for being a memelord and helping me be inspired to bash this out in one sitting.