Division PR, RXO and BCO
Division Staff
Canadian Regiment
405th Regiment Officer
Delta
So far in terms of costumes I've done a bunch of generic mooks that are effectively just my personal avatars in game, I want to switch things up a bit and go for something a with a bit more lore crunch to it. May I introduce you all to my next planned Spartan suit, Spartan Daisy-023 from Halo Legends: Homecoming.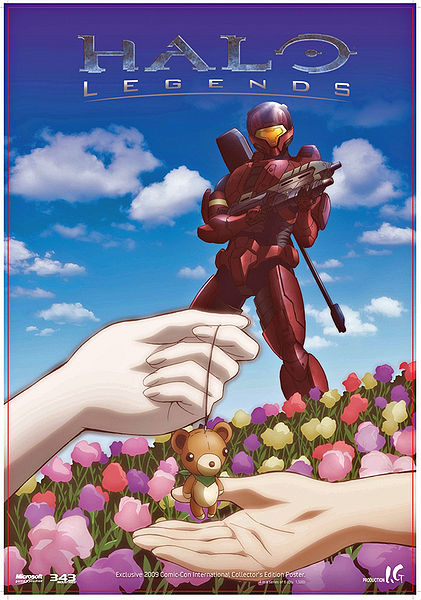 If anyone here is noticing a theme in my builds, yes I am a card carrying member of Red Team and I really, really like the CQB aesthetic. In Legends Daisy as a Spartan II wears a stylistic GEN1 Mark VI C Variant painted a rusty red to match the desert sands of Sargasso as camouflage. The animators slightly changed the Halo 3 version of the Mark VI armour so I will be using the Halo 3 armour set as reference in this build and add a few of their flair pieces as details because some of their design choices would require me to be both female and anime in proportions and I don't know if I can manage that.
Daisy's loadout is simple and practical
M6C Personal Defense Weapon System
MA5B Individual Combat Weapon System
Sniper Rifle System 99C-S2 Anti-Matériel
Teddy-bear Charm
I plan on using
the files created
by
MoeSizzlac
as a base for the legs, bracers, biceps and backpack portion of the suit and modelling the CQB chest, helmet and shoulders. The suit will be fully printed and finished with an external coating of XTC-3D and internal coating of EpoxAcoat GREY for strength and clumsy-resistance. The props will be a mix of EVA foam and 3D printed accent pieces to keep them light weight and easy to sling onto the back of the armour.
My goal is to have this suit finished for the first big convention of 2019 in Victoria so this build will progress relatively quickly for the 3 month completion time.
As usual I will use the original post as an index to link to other posts of note as well as a tracking sheet for progress and material consumption.
Wish me luck folks.
Scaling - Armorsmith
Reference Collection
- 2 hours
Helmet - CQB - Complete
Modelling
- 7 hours
File Cleanup
- 10 hours
Visor
Chest - CQB - Complete
Modelling - 10 hours
File Cleanup - 12 hours
Shoulders/Biceps - CQB(R)/CQB(L) - Complete
Modelling - 6 hours
File Cleanup - 1 hour
Gauntlets - Mark VI - Complete
Printing - 50.9 hours
Assembly
- 0.25 hours
Thighs- Mark VI - Complete
Shins/Boots - Mark VI - Complete
Under Suit - Complete
M6C Personal Defense Weapon System - N/A
MA5B Individual Combat Weapon System - Patterned
Patterning - 1.5 hours
Sniper Rifle System 99C-S2 Anti-Matériel - Patterned
Patterning - 2 hours
Teddy-bear Charm - Patterned
Patterning - 1 hour
Combat Knife - Complete
Modelling - 1 hour
Materials Consumed
eSun PLA+ Gray - 12kg
6 Minute Epoxy - 1 Syringe
Devcon 5 Minute Epoxy
- 25oz Kit
BSI Insta-Cure+ CA Glue - 1 Bottle
BSI Insta-Set Spray Accelerator - 1 Bottle
Smooth Cast 65D - 1.9lb Kit
XTC-3D Epoxy Resin -
Krylon Triple Thick Clear Glaze
Krylon Chalky
Rustoleum 2X Primer
Rustoleum Colonial Red
Rustoleum Canyon Black
Rustoleum Clear
Vallejo Model Air Black Metallic
PETG
Jacquard iDye Poly Yellow
Jacquard iDye Poly Orange
Alclad II Chrome
Expendable Materials Consumed
Sanding Pads - 9 x 80grit, 5 x 120grit 5 x 220grit
Sanding Drums - 4
Sanding Sponges - 3
Respirator Filters - 2 changes
Mixing Cups
Chip Brushes
Sponge Brushes
Cling Wrap
Green Painters Tape
Yellow Frog Tape
Nitrile Gloves
Printer Replacement Parts
1 x NEMA17 Stepper Motor - 48mm TEVO Tornado Y-axis replacement
2 x 0.4 mm MK8 Brass Nozzle
1 x 0.4 mm MK10 Brass Nozzle
30cm PTFE tubing
Consumables Consumed
Number of Coffees Consumed - 22
Number of Rims Rolled Up - 15
Number of winning Rims - 1 x Coffee, 2 x Doughnut
Number of Energy Drinks Consumed - 5
Volume of Alcohol Consumed - Yes
Last edited: