Executive Officer & RCO
Division Staff
Midwest Regiment
405th Regiment Officer
I am sure many of you saw Yesterday's Announcement about Halo Outpost Discovery, and it's tour stop date in Chicago. As Halo Outpost Discovery is a multi location, traveling event, it will be organized by Division with a a great deal of involvement by the local Regiments. There will be a forum created shortly where all of the information will be posted so you can see what our participation will be and how you can be involved! Division Staff is super excited about this, but we just need to ask for your patience while we continue to work with the organizers and solidify details before we post further information.
* EDIT: NEW INFO*
The following link is now live for you to sign up for shifts in the 405th booth area. 405th Volunteer Schedule Link Updated July 13, 2019 PLEASE NOTE THE FOLLOWING!! 1. The tabs along the bottom show each city - be sure to sign up in the correct sheet. 2. Most shifts are 2 hours - however...
www.405th.com
The following link is now live for you to sign up for shifts in the 405th booth area.
405th Volunteer Sign Up
PLEASE NOTE THE FOLLOWING!!
1. The tabs along the bottom show each city - be sure to sign up in the correct sheet.
2. Most shifts are 2 hours - however some opening and closing shifts are either 1.5 hours or 2.5 hours to accommodate the VIP opening and closing times.
3. Each member is required to volunteer for 6 hours over the course of the 3 days in order to qualify for an Exhibitor pass.
4. Those that are asked to be on a panel - those hours will count towards your Exhibitor pass.
5. If you are on a panel - please ensure that your booth shifts do not run immediately before or immediately after a panel as that won't leave you enough time to get to each location.
6. Please enter both your forum name and your real name when you sign up for a shift.
7. Once you have signed up, please send
FANGS
a PM on this forum with your cell number so you can be reached on site.
8. If you sign up for an opening or closing shift, please remember that even if you have a VIP pass, you'll need an Exhibitor pass as well to be on site before and after closing.
9. If you are signing up for shifts and have NOT yet given your name to your Regiment Commanding Officer, please do so now.
10. If you are not yet part of a Regiment, please reach out to your local Regiment Staff to find out what you need to do to become a Regiment member. You can still volunteer if you do not yet qualify but I need you to start interacting with the Regiment Staff.
11. You can be in armor for your shifts. However, if you take on a booth shift or the sticky bomb shift please be able to communicate well with members of the public either with a good mic system in your bucket or by having your bucket off. If you're going to be working at either the booth or the sticky toss, you can also be in street clothing. Please remember though, you are representing the 405th so if at all possible - wear something 405th. If that isn't possible, please aim for something Halo - like a Halo t-shirt and nice jeans or maybe an ODST PT uniform with t-shirt and duty pants etc. And if you can't do that, please wear something you'd wear to work on a casual Friday.
Any questions or if you find any issues with the spreadsheets, please let
FANGS
know as soon as possible.
Thank you everyone!
6-10-2019 : Booth Layout Images:
Our booth and activities will be in "The Armory" on the map, with the Crossed Rifles and Helmet logo.
1a - Costume Group Collateral Tables - This is where there will be business cards/Fliers etc. from Costume groups (including ours), cosplayers, and Conventions/Events. If you have some business or trading cards, be sure to put some on these tables!
1b - Cosplay Repair - This is not being manned by us. Herscend Live will be running this area. It will be a space for people to make quick repairs to their costume.
1c - Cosplay Retreat General Public - This area is open to the public and is a curtained off area for people to change in or out of their gear or just take a break. It is one open area so no privacy for changing in or out of your undersuit. It also is not for storage.
1e - 405th Regiment Flag Photo Op. - This is the photo op area on the sign up sheet. (Please note that the real one will have a flag for Singapore as well). Behind this area we are hoping to have an area to store our bins. It is not secure, only curtained off, so please do not store any valuables. But it will save you from having to haul your bin out to your car after gearing up.
1f - Jeremy's Living Room Photo Op. - This is NOT ours but part of the cons. Herscend Live will be running this area. It will be a photo oppurtunity set themed around a Classic Halo: CE/Halo 2 LAN Party.
1g - 405th Grunt Activity - This is the Sticky Bomb Toss on the schedule. In the future we hope to use it as a fundraiser for a local charity but we won't be suing it as a fundraiser this year.
1h - 405th Recruiting Booth - This is the photo directly below this and is the "Booth" on the volunteer schedule. The backdrops may or may not be there as it is money dependent but we are doing our best to have everything. The main booth piece is designed from a crate and will house all of the booth pieces for transport and storage and is used as our Recruitment Desk during the event.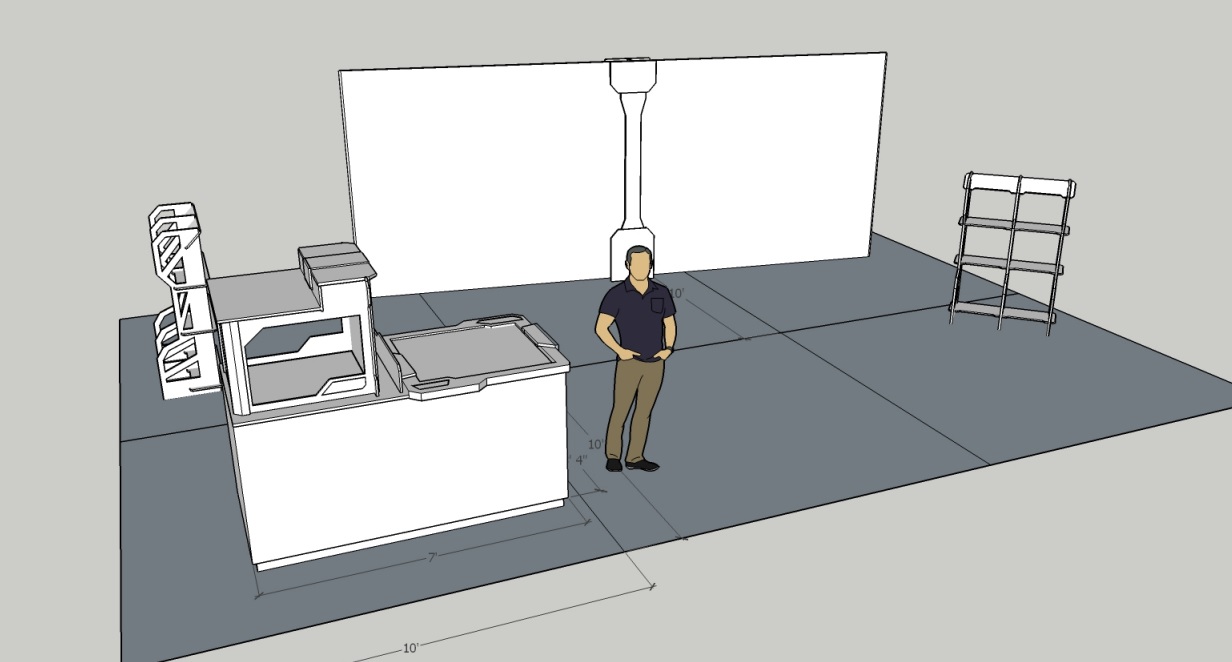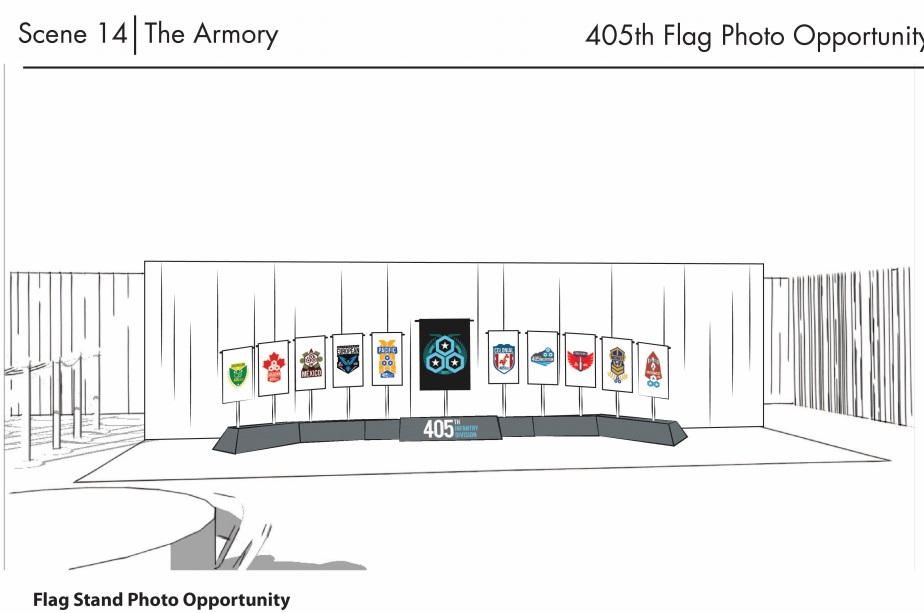 July 11th, Update: Post-Orlando Info from Fangs:
Hello all! I know that lots of you have all kinds of questions about the show etc. now that we've run one. I'll be posting in this thread as soon as I dig through some of the piles of work on my desk that magically appeared while I was away. I hope to have all the information that you need in...
www.405th.com
Some highlights
CHANGE ROOM
There is a change room for us behind the main booth. It isn't very big, so we need to limit this to Members who are Volunteering. There is no private space in the change room, it a block of space that is only curtained off from the outside, so please either come in your undersuit or use the washrooms. You can store your bins back there but try and limit the amount of space you take up. We've asked for a few tables to help out with putting smaller stuff up top etc. but we have to work together to make it not get over crowded. There are the couches and also round tables out front for everyone to sit and relax in so try not to hang out in the change room. Leave this area just for changing please.
The Cosplay Hospital
for those of you who haven't heard yet is now to be manned by us. There are two big totes inside the 405th crate that have most everything we could need to make quick repairs. Glues, strapping and buckles, foam, snaps, scissors, xacto knives and cutting board etc. We affectionately referred to it as the Mary Poppins Bin, as it must be bigger on the inside to hold that much stuff. (Also usable - Hermonie's bag or a Tardis - whatever fandom you prefer.) They forgot to get signs printed for this area so hopefully we'll have those at the next show. In the new set up we have it curtained off with the short 3' curtains so it's visibly an area but people can still watch and see what we are doing. 405th Mmbers are the ones that should fix stuff - we don't allow anyone but us to use the supplies. And we need to be conscience of keeping the area clean. You don't want to set the next person's armor down in glue accidentally. There is plastic sheeting to put down should the table get messy. There are face masks to help with the glue stink. And there is a big box of bandaids - just in case.
Last edited: