Hi everybody!!!
Well I have decided that I will indeed make the height change to my armor after all. I am only 5'7" tall and being a female that's not bad actually, since I seem to tower over all the other females I see around. When this is done I should be at or a little above 6' tall in my armor.
On top of that I was looking at my poor boots and after all the wear and tear on them have decided to repair them and give them a much needed update and renewed detail work.
So as you can see here wearing these is no easy feat, and personally I have gotten tired of feeling like I just went into the boxing ring after every time I have worn my armor.
I have purchased some platform sneakers from a website headquartered in Southern California to fix the issue with the height and the ill-fitting boot plates.
Here they are:
Technologic Platform Sneakers
Of course they will have to be painted black so they don't show through any openings in the boots but hey I think this will work well for my build.
I also bought some 1/2" thick foam to do the detail work over the existing fiberglass parts. I have cracked fiberglass in several pieces and also some major damaged pieces from over wear. But I will go over that in another post.
So here are the boots right now with my old airwairs inside of them. The main problem is that I adhered the plates to the boots and that made them not very flexible. A HUGE design flaw on my part and I feel bad about that but now I can fix it. After wearing them over and over again without repair the back of the boot plates began to degrade and dig into me. I put black tape over the edge to keep it from continuing but that was just a bandaid over a major bleed, the d**m thing still cut the heck out of the back of my leg and so sitting down was never an option for me.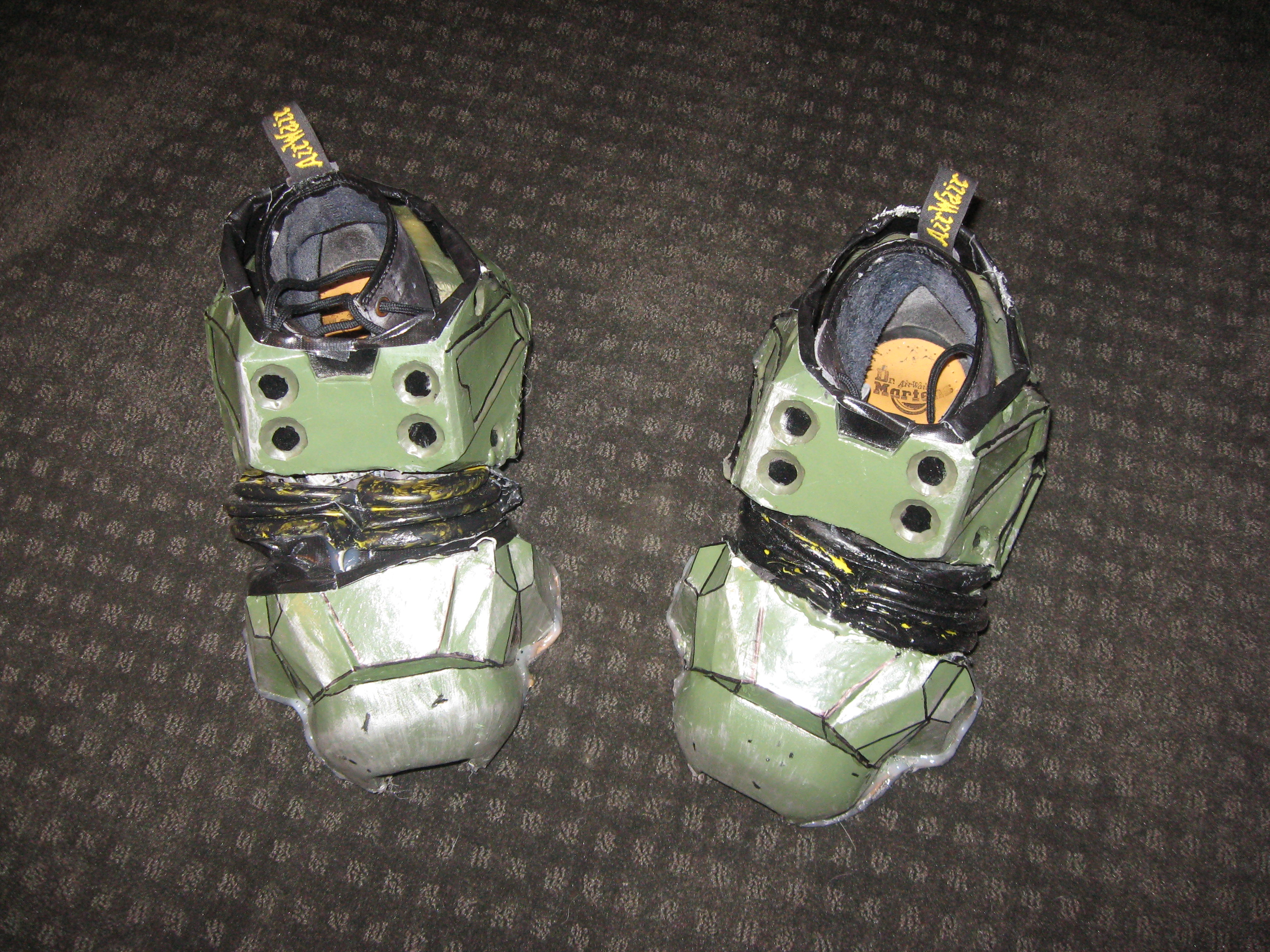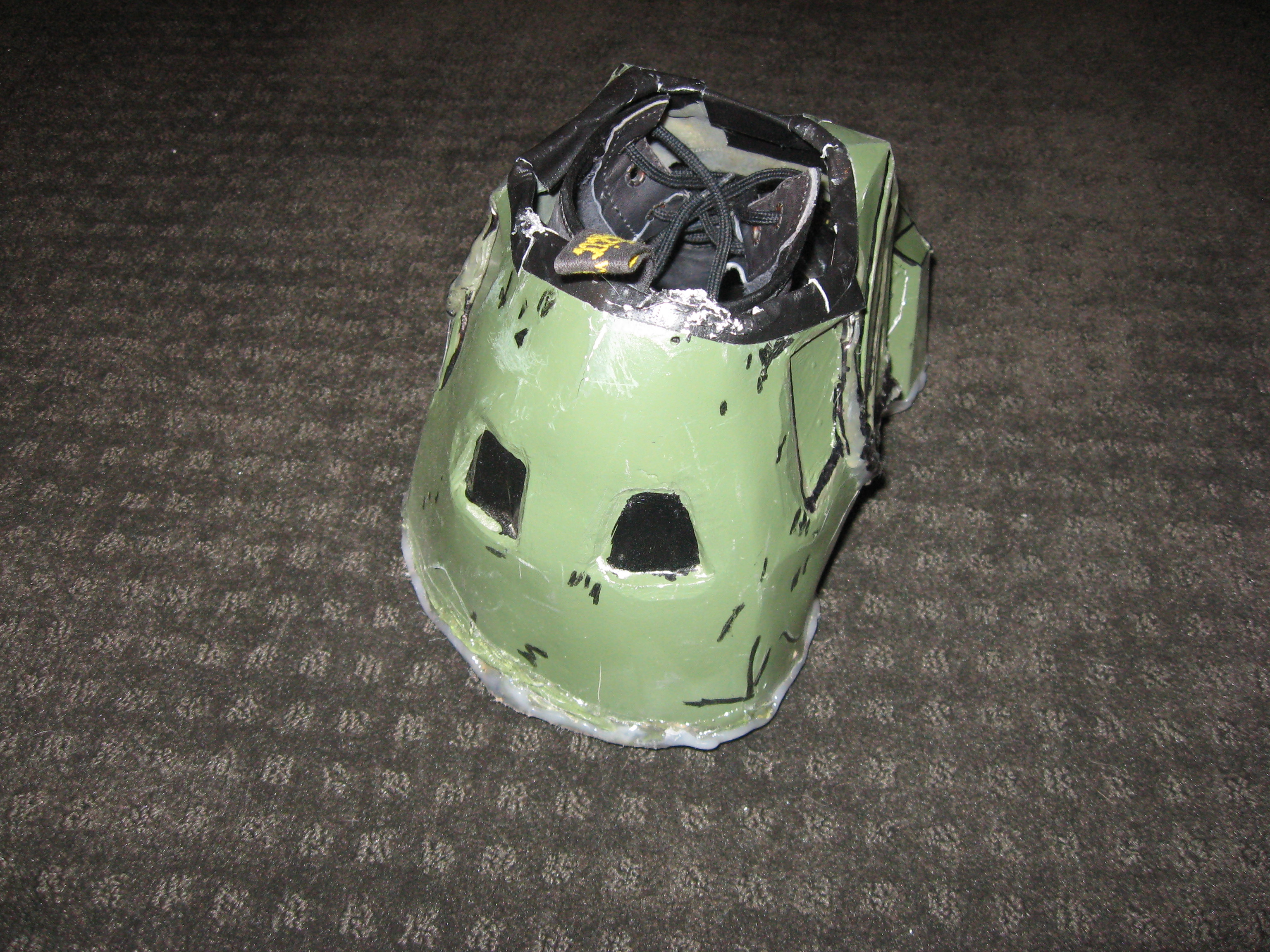 So the next BIG problem was the walking surface itself. When I initially built these I had a rubber mat that I cut up and glued to the bottom of the boot area. The rubber was less then ideal and after a couple wears it fell off and basically shattered in several places. So I went to a cardboard and carpet setup for a while. As long as it didn't get wet I thought I would be ok. WRONG AGAIN! I couldn't climb stairs very well since the surface was slippery and the carpet I put on these was almost the same way.
So I hope to get all the micro fractures and the footing problems fixed in this update. The new shoes won't be here for a few days so that's ok. I have to go back to work anyway's and won't be able to do anything until next weekend.
So these are the feet of my Master Chief figure I have been using as a loose model for some of the detail work. I will be replicating the backs of the boots on my boots after I remove the airwairs from the boot shells. I hope this will be a fairly easy process and I don't destroy them during the disassembly process.
So everyone stay tuned for the next load out of my project update!! Here comes my attempt at rework and detail integration and I hope for the best. I just hate the thought of opening up my build and changing things. I won't fix anything that's not broken but I have anxiety about messing this up.
Well here goes and see you all soon!!