Executive Officer
Division Staff
Midwest Regiment
Community Staff
After using the same, from a Ship of Theseus point of view, Halo: CE Mark V/Season 2 Caboose costume since 2007, I have been wanting to branch out and do another Halo universe costume for a while now. I'm not done with or retiring Caboose, I've just had the desire to do another Halo costume for a while. Having gotten my start in costuming with the 501st in 2003, my skills have always tended towards Plastic Kit Assembly, hence why my armor evolved from Fiberglass pepakura to its final Vacuum Form styrene iteration. As such, I have been thinking about getting an ODST kit from Sean for a while. Late last year I was able to pick one up second hand for a good deal.
I had thought about various ODST appearances, and which one I would want to do over the years. I waffled between doing a Rookie (to go along with my own long standing Nickname), one of the ARK ODSTs as they seem to be under represented, or even entertained the idea of doing an ODST inspired by Delta Squad's Scorch from Republic Commando. Although, the Scorch inspired ODST would work best if you could get a group of four together and do the UNSC version of Delta Squad.
Anyway, I received the armor, and the previous owner had done an all black with Purple secondary color scheme. I had initially wanted to try and get the costume back into a wearable shape for GalaxyCon back in December and was trying to decide how I might go about that with minimal repainting needed (which precluded my initial 3 ideas for an ODST) in the Ohio winter weather. When I was looking at the paint application areas, I was struck that if I simply swapped in a mahogany for the current purple, you would actually get a close approximation of the color scheme of a Rottweiler. This was on my mind as our beloved Rottie passed away in 2021 to an aggressive cancer after having just recovered from Pancreatitis. In addition to that, an important part of my life has become my work assisting on a program that facilitates the training of explosive detection dogs across the country. I remembered a piece of concept art from Halo 5 that featured an ODST and a dog:
That lead to the realization that an ODST unit nicknamed the "HellHounds" that worked with dogs would fit in perfectly with the "Hell Jumper" moniker.
So I decided to do a canine Handler ODST with a Rottweiler inspired paint job. While I was able to repaint most of the armor before GalaxyCon, I was not able to make the costume fully wearable due to having to rework and repair some of the previous owner's strapping and attachment methods. I also had painted everything with acrylics owing to the cold weather, but shortly after Christmas here in Ohio we had a heat wave and I went ahead and repainted the chest with Rattle cans in order to prep a beter surface for the Vinyl decals I wanted to use to replicate the ODST chest markings.
Here's the current state of the chest plate. I had the Dog Skull and crossbones decal already from a previous training Op, and realized it fit perfectly on the chest and kind of mirrored Dutch's Jolly Rodger.
MrJamin
was kind enough to provide the other vinyl decals for the other chest plate details, as I don't have a CirCut myself.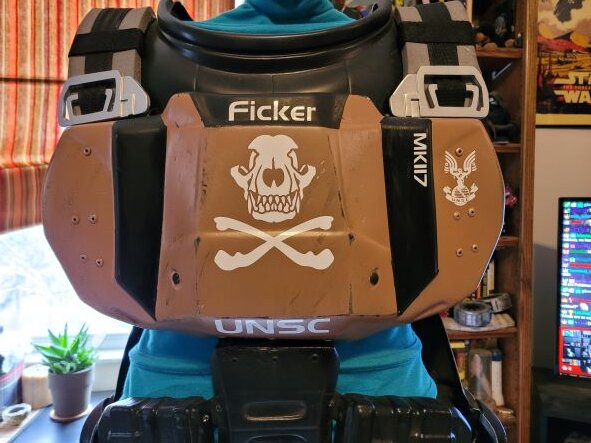 Up next, attaching the Back pack.