Active Member
Pacific Regiment
Hello 405th! i'm back with another prop project for y'all! this one will have more community involvement, more pictures, and more advanced tech!
So, to start, this entire project came around because my University (previously featured in my 3D Printed Props thread) gave me access to this
A B S O L U T E U N I T:
(Pardon my Australian)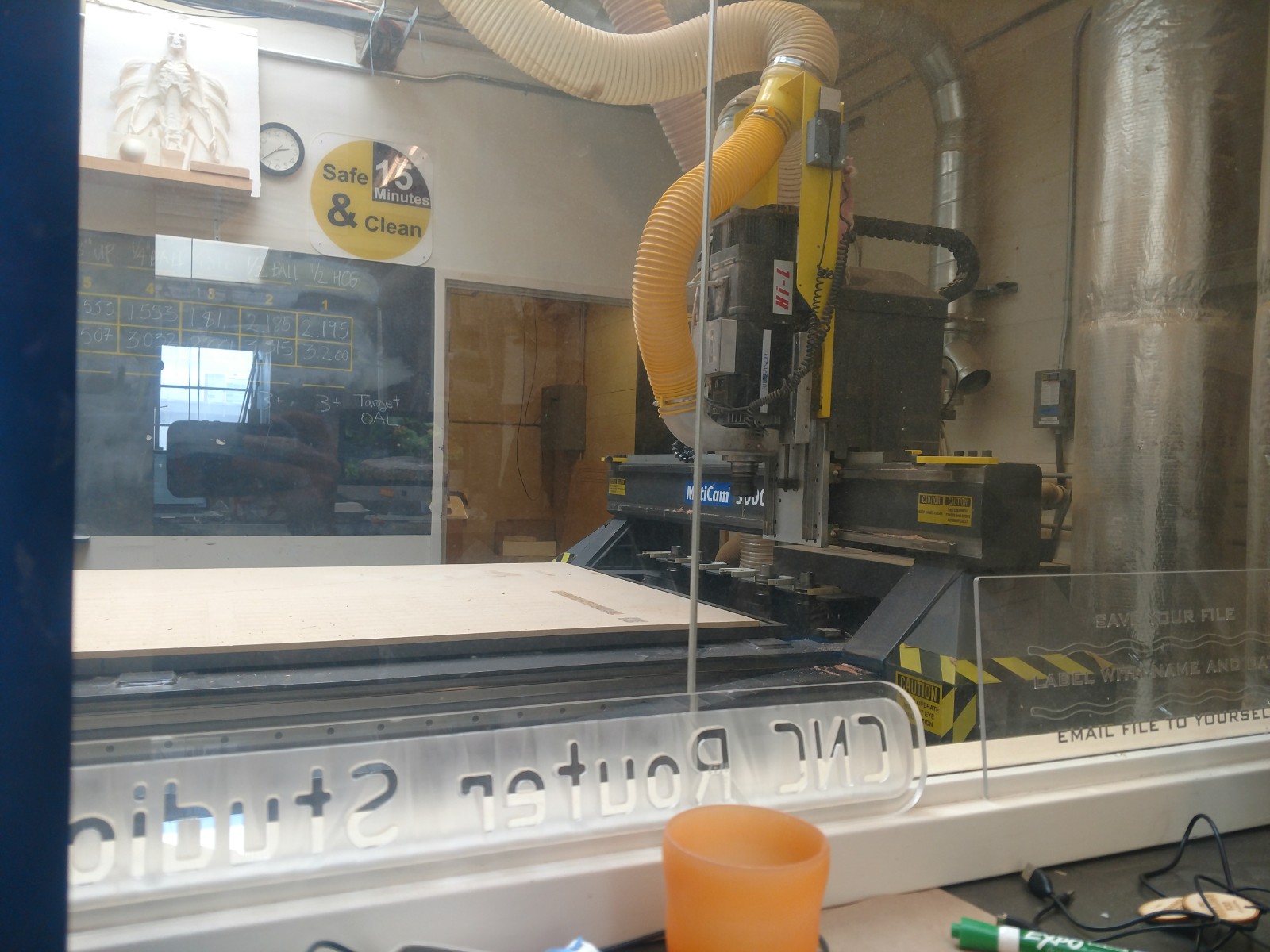 Boys and girls, say hello to the Multicam 3000, a 3-axis CnC mill!
Starting in January i took up a job as a student workstudy monitor running this beauty, and it got me thinking about all the incredible possibilities...
So, for a little backstory, I always meant for my 3D printed props to be molded for casting to sell, as a way to fund this little hobby of mine, as well as to provide fantastic props to all you lovely armour makers for a fair price. But it ended up getting hit with a couple problems.
1: i lovingly and painstakingly painted these 3D printed props, which isn't a very good idea if you plan on casting something, as the process is very dirty and could potentially destroy the master copy of the prop. and 2: a solid urethane cast of, for example, an Assault Rifle, would weigh a TON! that'd make it an absolute killer to ship, and wouldn't be very fun to carry around a convention for an entire weekend either!
The good news is, there's a solution to this issue. the bad news: It involves sawing the prop in half... or starting from scratch.
So, the solution i came up with to make lightweight yet sturdy props is this:
When you're casting something big that you want to be light, you do a slush cast shell that you fill with expanding foam, which is super lightweight, while also being fairly good at getting smacked around without breaking. But, instead of slush-casting (which would be a pain in the ass for props like this, in my opinion) there's another way. All you have to do is chop the prop in half lengthwise, hollow out the inside until its ~1/4" thick (give or take) then do a two-part mold of each half! all the hollow shell goodness with none of the turning and tumbling and sore arms that you get with slush-casting.
Now, this method could easily be done with my 3D printer and existing files. But do you really expect me to have such a beautiful $80,000 machine at my disposal and NOT make all of you insanely jealous watching me use it to perfectly craft Halo props? i didn't think so! And, more practically, it cuts the fabrication time down from ~1-2 months to a matter of hours. so there's that.
SO! now for the voting! since this project's goal is to sell props, i need to gauge what props you guys want, and how many of you want them. MDF, silicon rubber, fiberglass, and urethane are all expensive, and since this isn't just a personal project i'd like to make sure i'm spending money on things that are worth it. I've compiled a list of what i feel are the most popular weapons in the series (mostly from Halo 5, for now):
The AR is a shoe-in, so that's what i'm gonna start us off with while everyone votes. and once i get some sufficient numbers i'll start going down the list by popularity and working on those.
Now for the actual build process! well, first and foremost, the 3D modeling. we got the game-ripped asset:
which we need to pull all the complicated bits off of. I'm doing this because while the CnC will be very accurate, it can mangle some of the more detailed parts of a model if they're small enough.
these details will be 3D printed and cast separately as well.
This is also partly a little perfectionist nitpick of mine. things like plates and screws and small details like that, in my opinion, look just slightly flat or "off" when they're just a carved or painted detail on a piece, as opposed to being completely separate and attached. It's something so small most people won't notice either way, but the devil is in the details i suppose.
There are also some parts that i want to keep separate for practical reasons. the biggest one is the barrel. after having the barrel of my 3D printed AR smashed off so many times, having one that is a "breakaway" piece that comes off cleanly and can be easily reattached is pretty handy.
Tomorrow i'll separate what goes into the 3D printer and what goes into CnC. for now, get voting!