Fiesta Bowl Parade today in Phoenix, AZ
- Got to the STAGING GROUNDS about 9am.
- Suited up and rode school buses to the beginning of parade route.
- hung around for about 2 hours until it was our turn to go.
- saw OHIO STATE Marching band, and TEXAS University Marching band. At LEAST 150 people per.
- Parade started off well. Might i mention we were marching behind the Horse People.
- Oh, and the temperature was approximately 68 degrees.
- made the first left turn onto CENTRAL AVE. There were huge grandstands just like the Rose Parade. TONS of people. there were floats and floating things. I think a Dewback was in front of us somewhere near a floating car.
- My spacepack was starting to kick my sheebs and wished i didn't bring it.
- Whole route took about 1h15min. 1.8miles
- heard people call us Spaceballs more than once, and at the very END of the parade i heard a small child loudly exclaim... "No Mom! THOSE are SANDTROOPERS!" Makes a Sandy smile!
here was our marching order:
Banner carried by two Imperial Services Organization ladies.
Darth Vader
4x5 section of Stormtroopers
1x4 section of Sandtroopers
1x1 section of Snowtroopers. Oh wait, It was just Scott...sorry!
section of Biker Scouts
Section of assorted troopers, Pilots, clones (Skittle Troopers as someone called them on practice day 2)
2 male and 1 female Sandperson
Hero Section:
Boba Fett
Jango Fett
Darth Maul
Darth Nihilis
Darth Vader (Anakin EP3)
Rebels Section:
Chewie
C3P0
Scattered Jedi
Queen Amidala
more than 10 Jawa's
2 Imperial Fleet Troopers
Womp Rat Squadron Leader
Rouge Squadron Pilot
Assorted Mandalorians
here are some of my favorite pics from today...
Suiting Up:

Pre-Parade: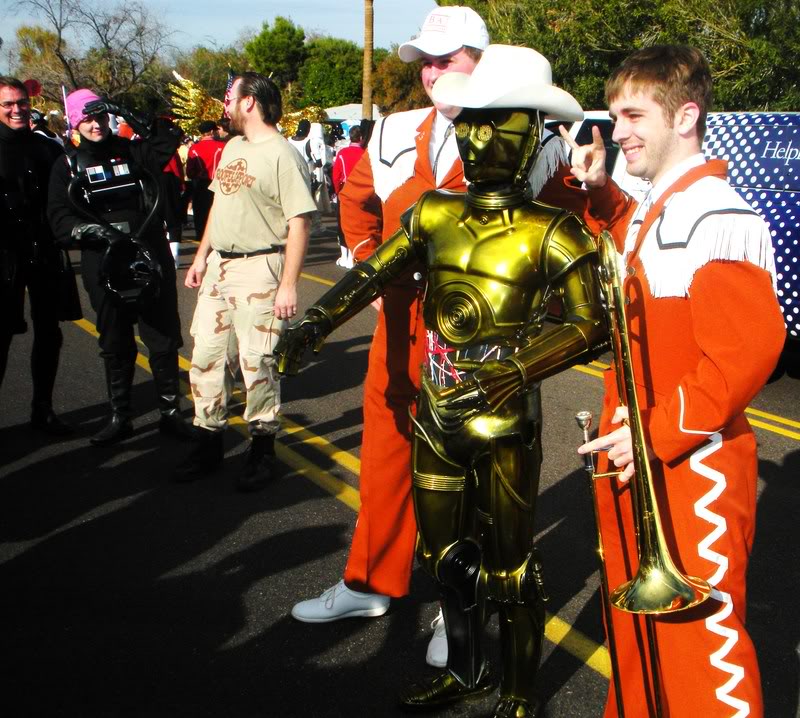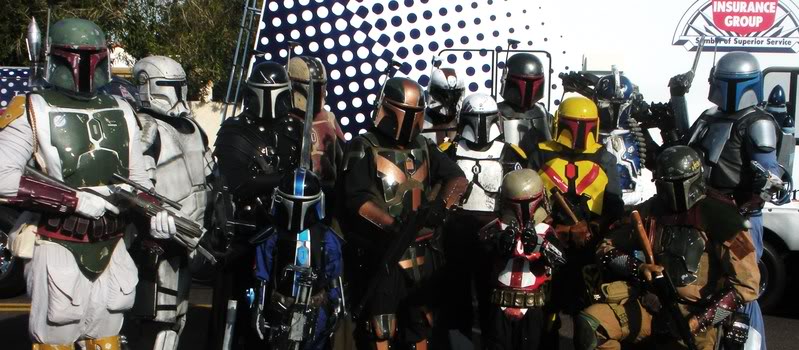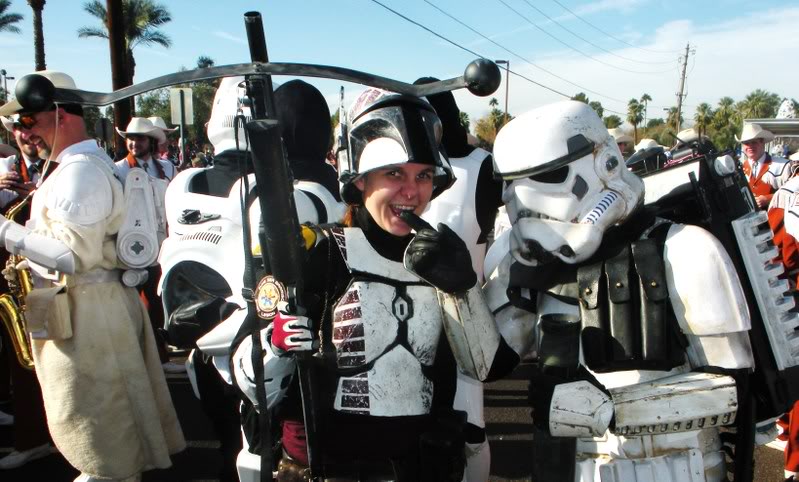 Two different Spacepacks, two different designs...
The Dune Sea Garrison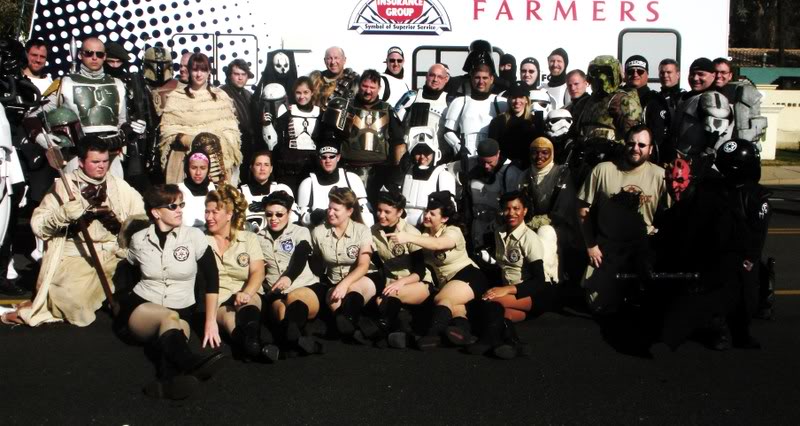 Waiting to go!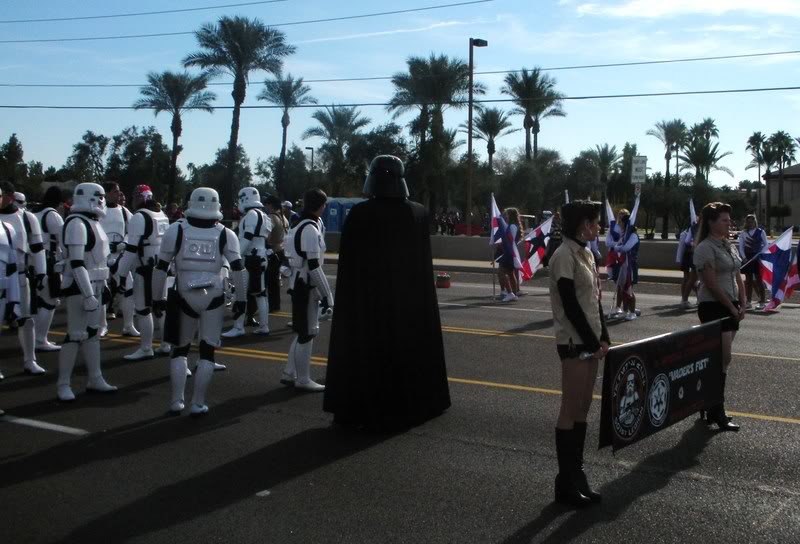 I still want to know WHAT this kid is pointing at, or how long it was till the female Tuskan ate him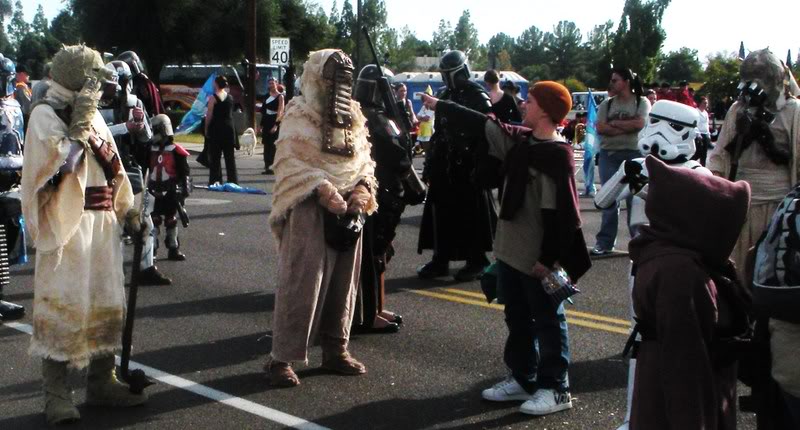 This thing was awesome!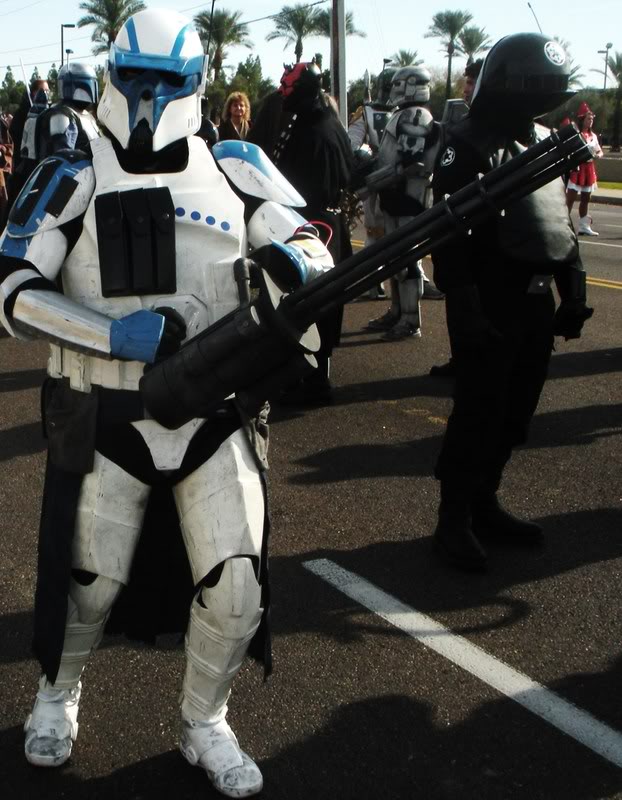 Parade:
Our PRO i saw several times remove people who shamelessly wandered into our formation to take pictures with Vader. The gaul of people too! sheesh!
Post-parade:
I think we found Big Foot!
Now after the parade we went to Fuddruckers. they saved us a section.
we quickly took over the ENTIRE restaurant. no seats left!
The line to get in, of just our legion guys/gals went out the door.
someone ordered the 1 pound burger...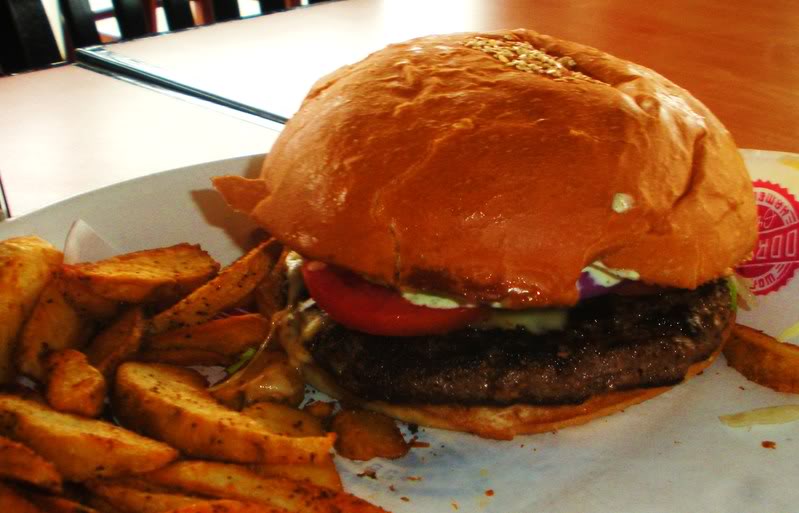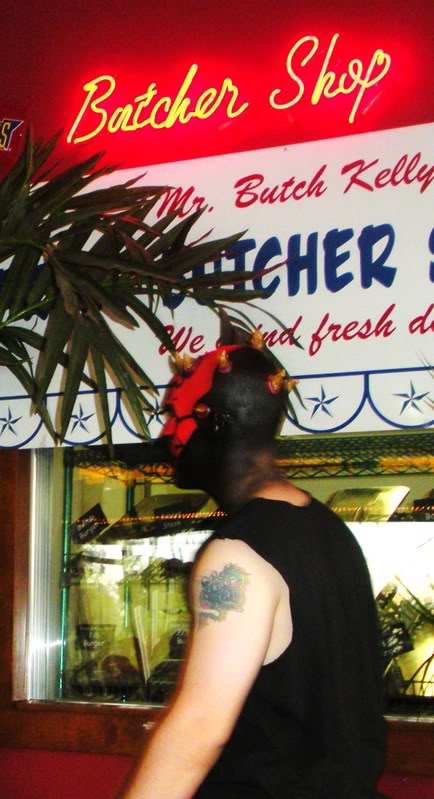 video
here
. at about 100 minutes!