RXO
Pacific Regiment
405th Regiment Officer
After finishing Veronica Dare over half a year ago, I thought I'd make a post about how the armor turned out and my experience building it. This post will have pictures from the development of each piece, and as it's my first armor build, be kind! This build was made with Cobalt Eclipse Cosplay (Christian) who is also my Player 2, and Buck!
This build took about 5 months in total, starting in October 2018. First debuted at WonderCon 2019 in Anaheim, CA.
I first started with a duct tape torso of myself and fitted a hand drawn template of Dare's chest base piece around it. From there, I could get a better picture of how I could fit it to me. I used 5mm foam from Harbor Freight and some webbing ordered off of amazon to connect the front and back pieces securely (which was hot glued together - now I know about contact cement). We didn't use any templates for this build - so it might not be entirely game accurate but it's pretty nice!
The white pieces are made with kid's craft foam. Each part of Dare's chest piece was constructed separately and attached later. The centerpiece of the lower half (the circle) was made out of a heat formed piece of plastic from a bottle that was laying around. Lol.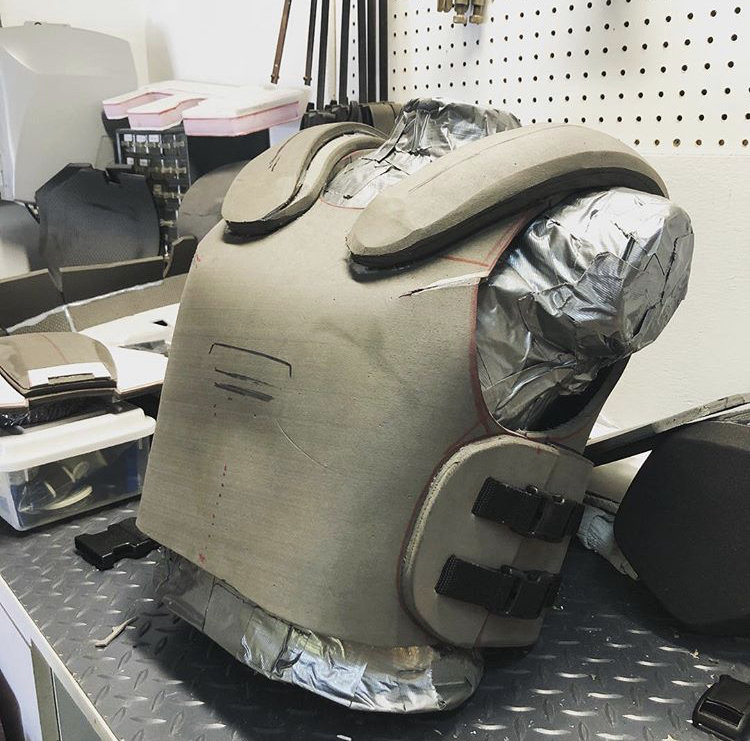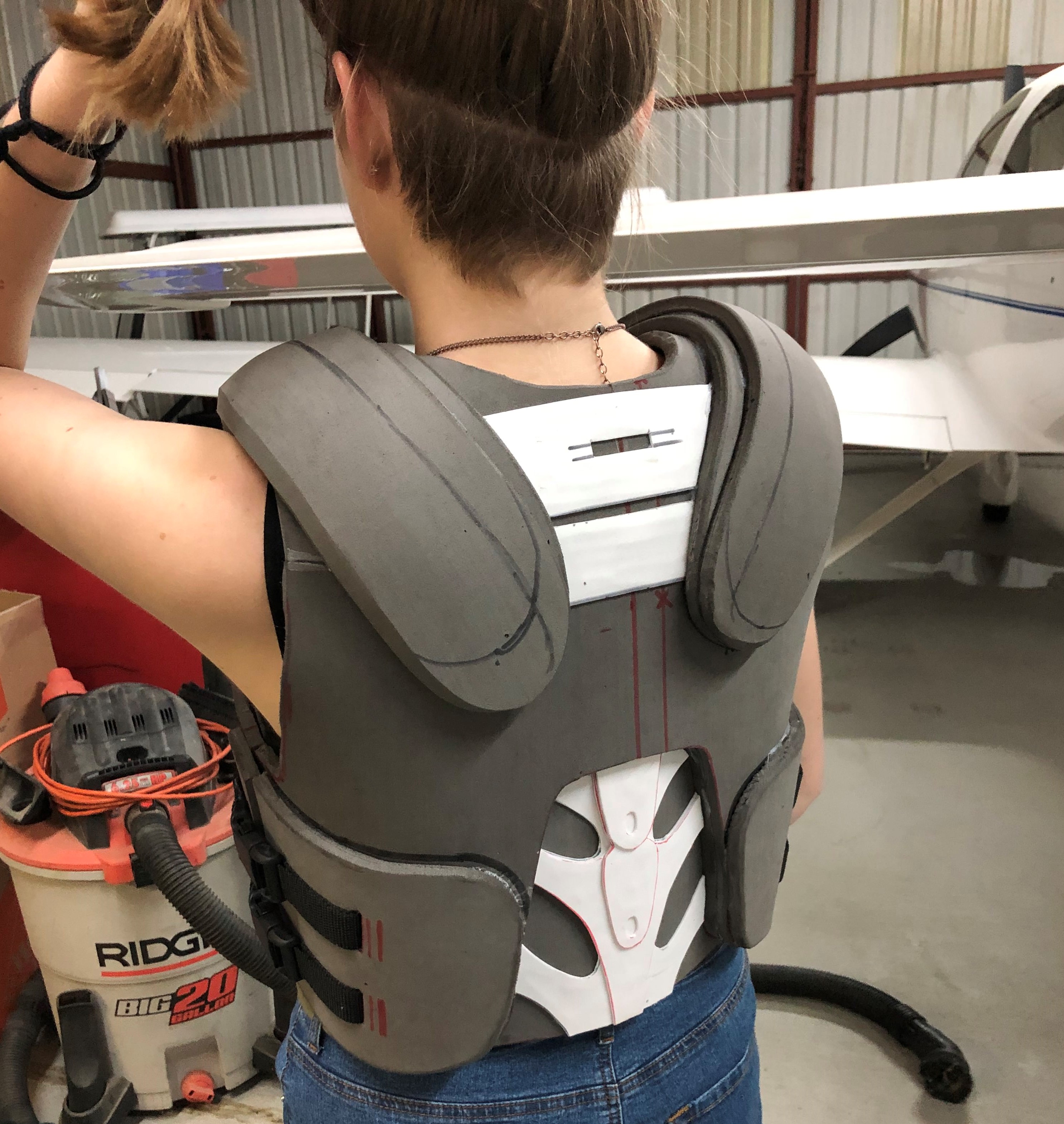 The shoulder straps ended up being too bulky - looks great towards the top but pushed the chest plate too far forward off of the base in the end.
From here, I started to work on the lower half. Each leg was cut out from a template that Christian helped me draw out.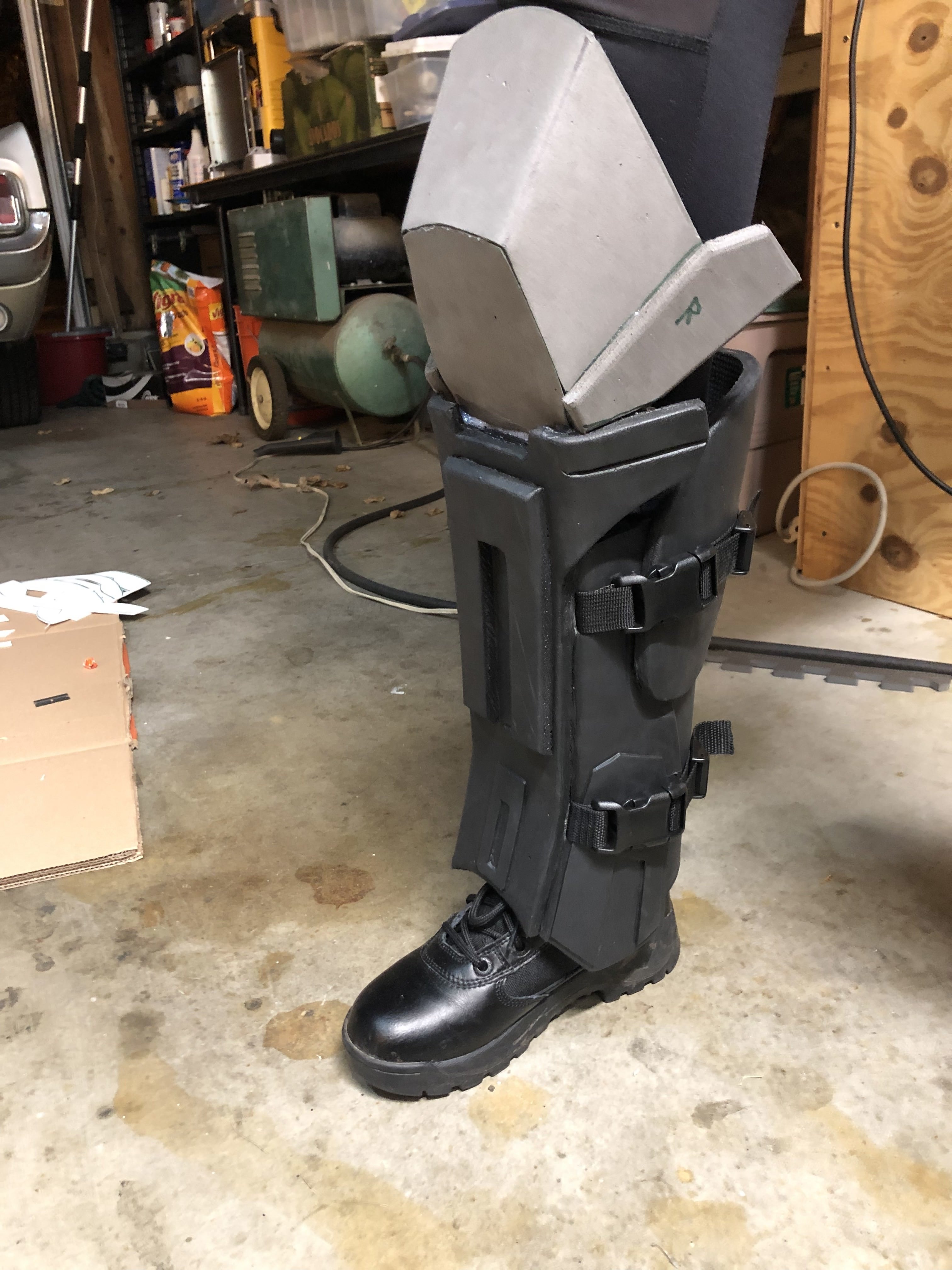 1st pic: Painted shin pieces made from 5mm foam and craft foam
2nd pic: Shin straps added to secure/tighten - knee piece glues and attached
3rd pic: details made from craft foam
Finally, the thighs could be clipped on with the webbing. They're later attached to a belt harness but I don't have any pics of it.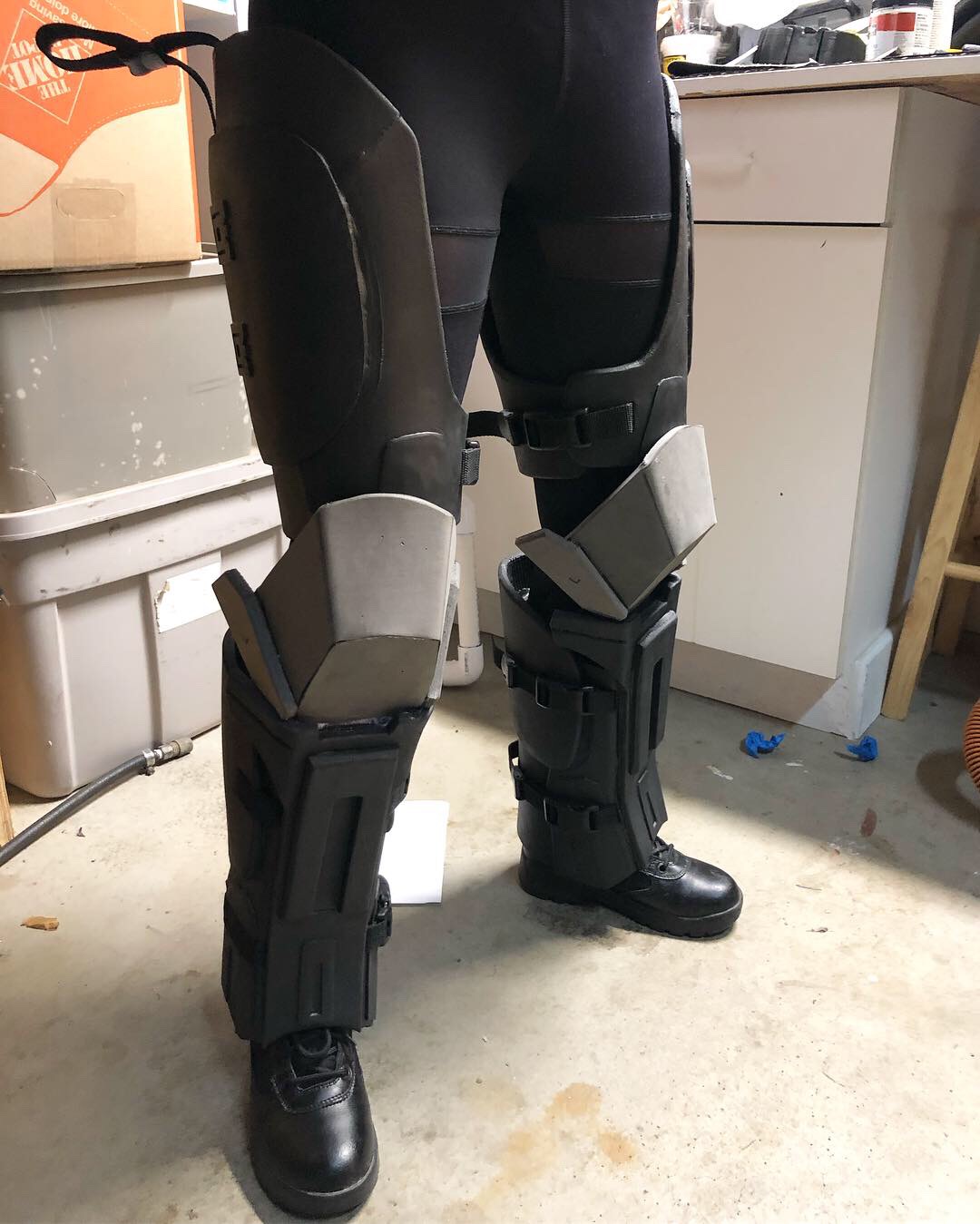 Straps towards the top of the thigh pieces held the whole bottom half together when they connected to the harness around my hips.
And here it is unpainted - in all her glory: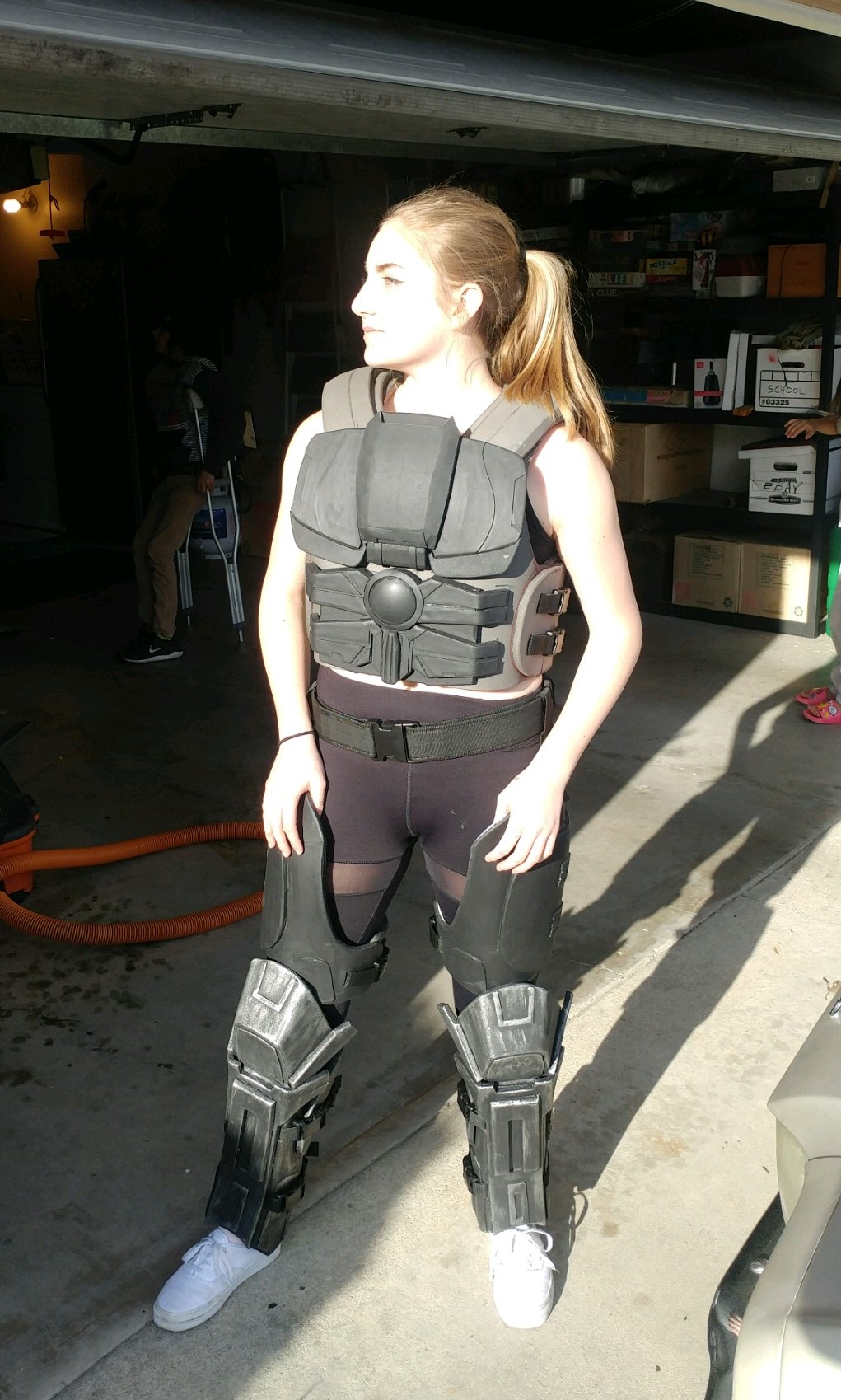 At this stage there isn't a connection between the thighs and the belt - I'm just holding it up with my hands. Must have been a deadline coming up because I'm white as a ghost.
Next came the rest of the details: Arm gauntlets, hip plates, headpiece AND PAINT!
1st pic: Thighs painted with camo, it was hard to find a close up of her exact camo pattern so I tried to eyeball it
2nd pic: Comparison between painted and unpainted gauntlet
3rd pic: close up on unpainted gauntlet with straps that can be adjusted!
And finally, after lots of paint - and lots of adjustments - I ended up with Dare.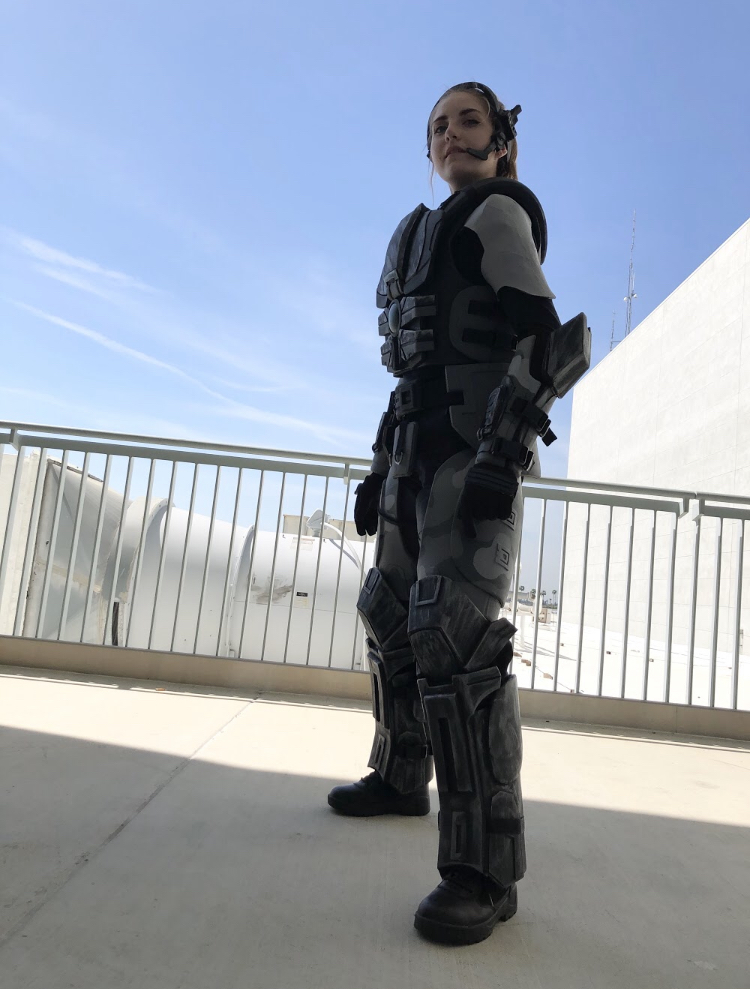 Left to right: Connor, Blake, me, William, Christian (Buck) and Forrest at WonderCon 2019 in Anaheim, CA.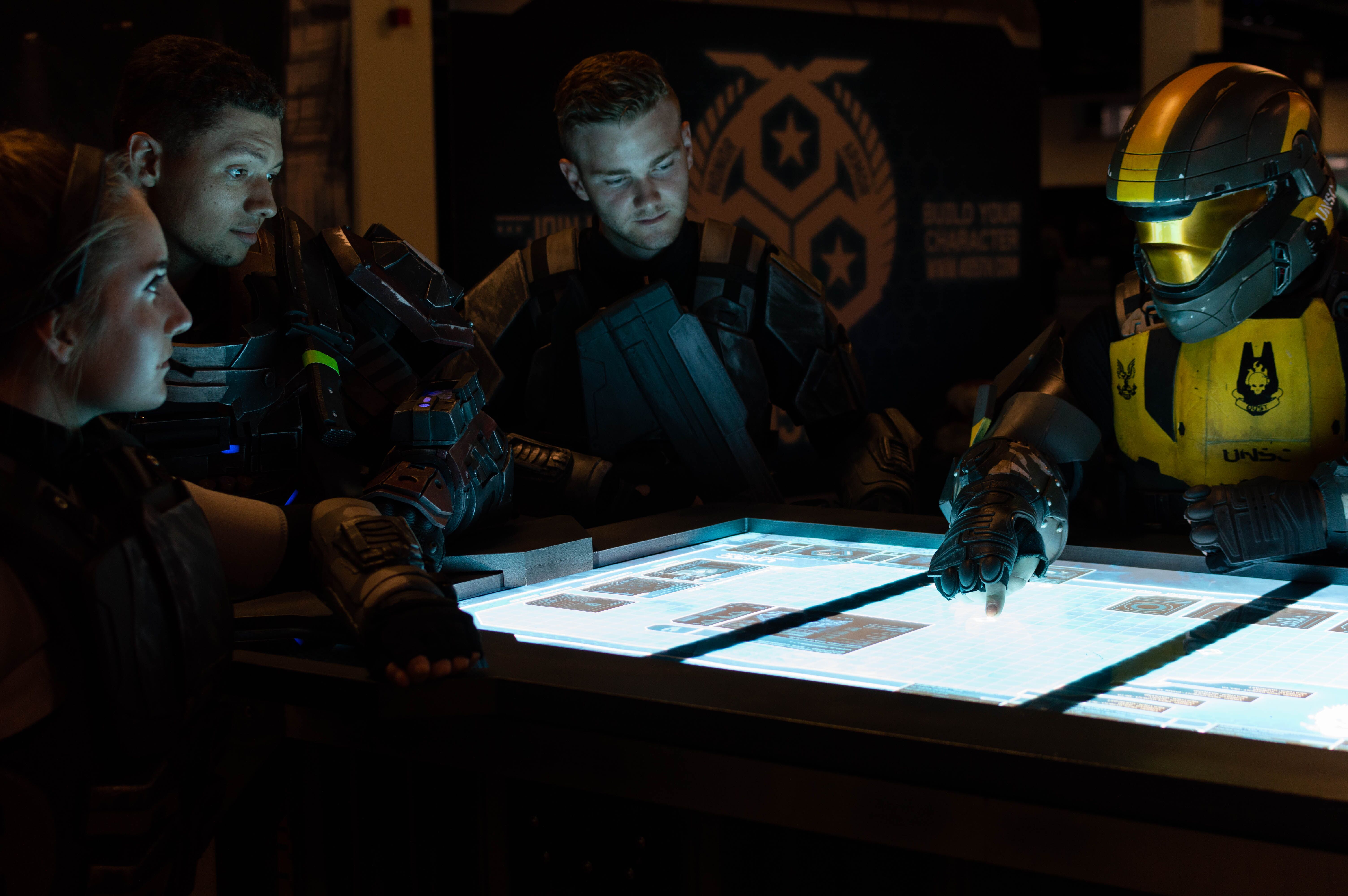 Left to right: Me, Blake, Christian, and Jonah at Outpost Discovery 2019 in Anaheim, CA.
Even after WonderCon - I added and changed lots of details for her armor. I'm working on her recon helmet, found real shoulder pieces, made the socom pistol, and next I'll be redoing her entire chest piece. Thanks for tuning in, until next time.
Last edited: