A couple days ago I was brainstorming things to model in fusion360 and I had a novel thought: what would the magnum look like as a revolver? And that's how it started, the M6R. I've learned a whole lot about how fusion works from this build. I organized this build by components (a first for me), learned how to use the timeline to make rippling changes, and also how to easily export components as STL files. If the test prints are any indication, this is going to be one chonky, satisfyingly impractical space gun, so let me tell you a little bit about it.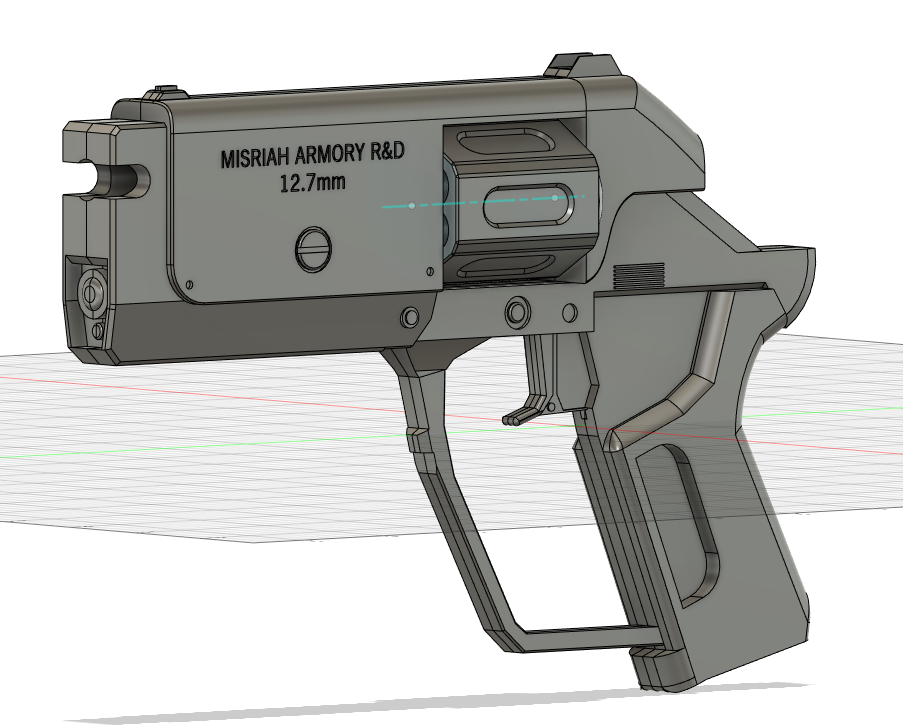 I imagine the M6R as a Misriah R&D project, maybe a contender for some UNSC contract or maybe just a flight of fancy by some bored design team. Perhaps only one was ever made, or perhaps they got as far as field testing. I'd like to think a couple actually made their way into the hands of Spartans. Maybe an officer traded a box of imported cigars to some savvy Misriah rep to make sure one was recorded as "lost", one which now occupies a spot on his desk.
It's a straightforward revolver, chambered in the same 12.7mm rounds that the rest of the M6 series fires (I don't know enough about actual guns to know whether or not this makes any sense) with a break in the middle, allowing the cylinder to be easily reloaded. It's got the signature M6 grip and extra large trigger guard, perfect for meaty spartan mitts. A needlessly complicated electromagnetic firing pin replaces a conventional hammer (cause space) above which is a small lever which releases the front of the revolver to hinge down.
Whatever the story may be, it's obvious drawbacks when compared to the ruthless practicality of the rest of the M6 series stopped it from ever reaching production.
It's on the printer now, updates to come.