Hey guys, I can't believe I didn't think to post this here to begin with! This is a very long term project. It's been in development now for a couple of months. I've been working on converting a Nerf Retaliator into the Halo 2 sniper rifle. Most of the parts are going to be 3d printed, and I haven't ordered the printer yet, which is most of the reason why I'm still in the design phase.
I wanted to get some feedback to see what you guys think! I'm designing it to make use of the "accessory rails" and the barrel and stock attachement points of the nerf blaster to create a fully modular rifle build. It will be able to be broken down for storage or transport and reassembled without any tools!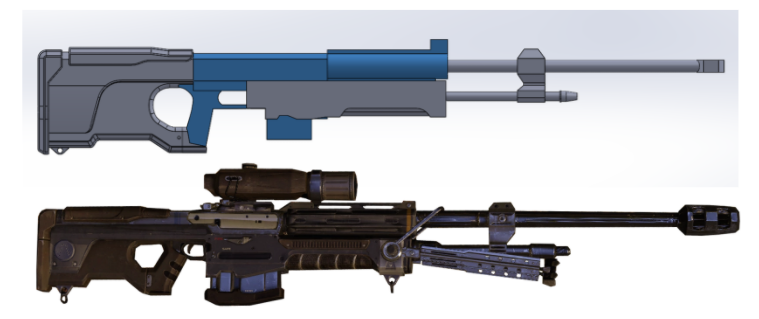 I'm using the Halo 2 Anniversary sniper model as my reference. The goal here is to create a fully functional prop. I haven't started with the scope yet, or the bipod, as those are going to take some tricky design work that involves a lot more than just 3d printing.
You can see in this image all of the components I'm going to have to 3d print. The foregrip will use the accessory rail to clip on, the stock will use the stock attachment point. The barrel detaches as well. I'm going to be modifying the retaliator to bolt action (currently slide action)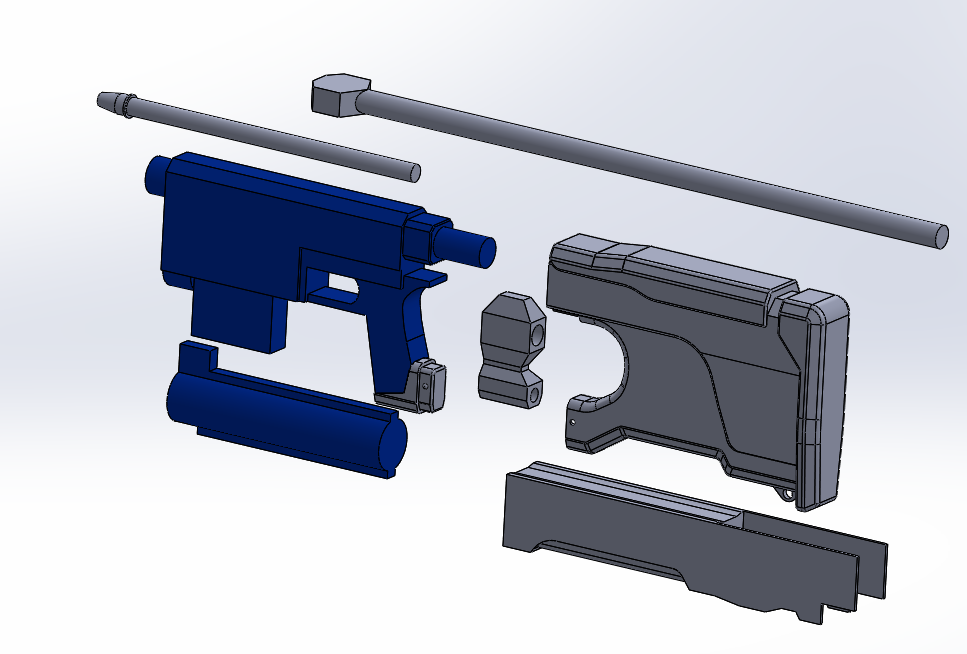 Here you can see all the individual components. The grey piece on the grip of the retaliator is going to be a 3d printed stock stabilizing component that will be attached with screws to the retaliator grip.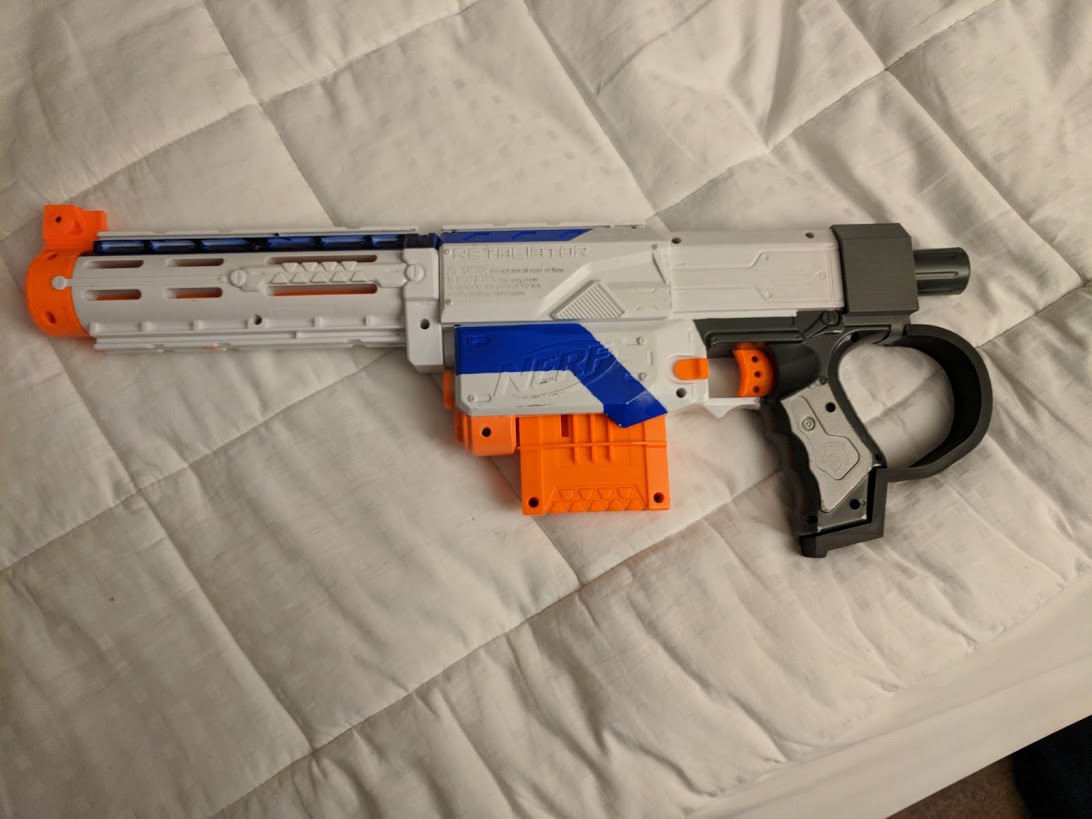 I've done some 3d printing test fit pieces at my local library, they have a 3hr limit on prints so I haven't been able to do much more than small sections of the design to test dimensions and tolerances.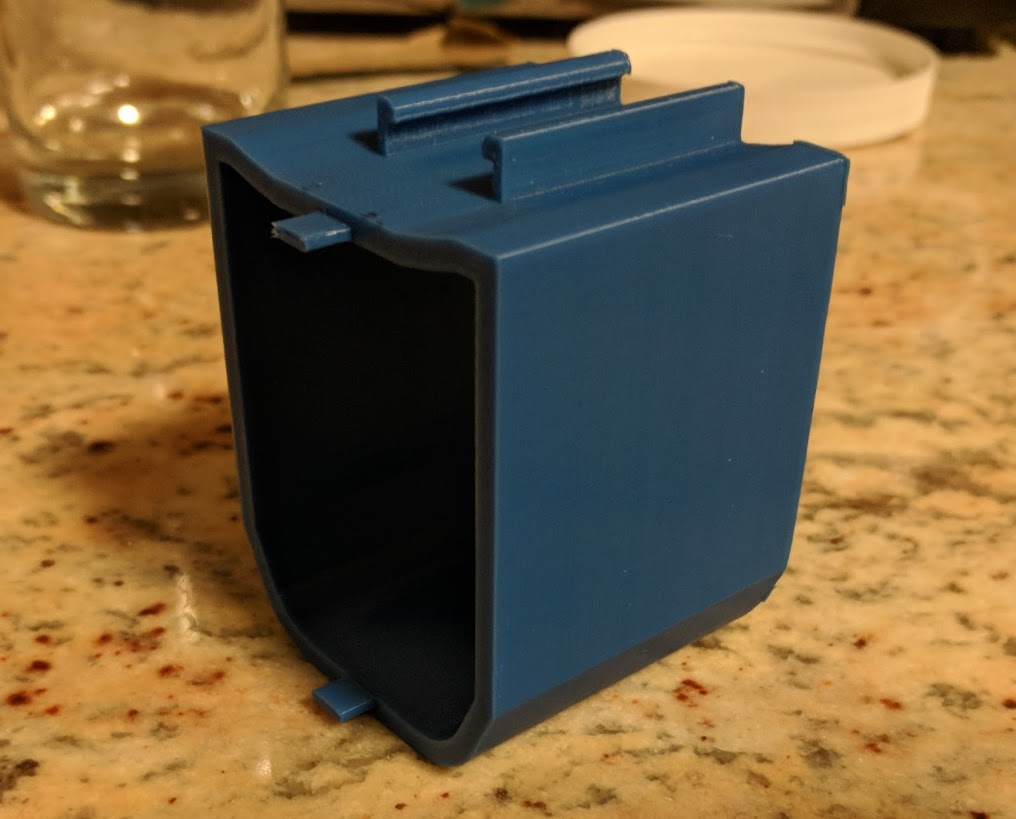 test print of a small section of the foregrip, I was testing the accessory rail attachement point tolerances here. They came out really well.
So that's where I stand right now. The most complete component is the stock, and I'm still not 100% happy with the proportions yet. Next closest is the foregrip. I'll be able to print it in just 2 or 3 sections once I get my 3d printer up and running.
I'm interested in the community's feedback. What do you guys think? Do you like fully functional props? Or are the fully 3d printed, more game accurate props more desireable?
I'm doing this mostly as a personal design exercise, and something to hang on my wall and say "yeah, I designed that"