Greetings fellow 405th members,
I wanted to post a brief (but thorough) review of the voice amplifier setup offered by TK6294 (Jim) as I have been very impressed with not only his products but his exemplary service.
Some background:
I tend to run a fairly heavy electronics load in my MkVI armor – between the LED's, dedicated speakers for music, and dedicated voice amp/microphone system it can be a bit much. I have had a traditional wired headset/voiceamp setup for a couple of years now but very rarely ever used it. Why? Because it was one more cable to keep track of and plug in. It was also irritating because the mic cable was always connected from my helmet to my chest piece, not very convenient when you want to pop your lid to chat or cool down. While my old system worked, it wasn't optimal by any means and because it was always on, you were constantly broadcasting – not always a good thing.
Old Setup:
Enter TK6294:
I initially saw his information over at the RPF but lost track of it. Then his gear showed up in a recent thread about voice amplification and I figured it was time to see what his gear could do. He and I exchanged several emails about his products and based on our conversations, I decided to give it a try. This was all on the Friday before the Reach Launch so I was pressed for time if I wanted to complete the upgrade for the release. Luckily I noticed that Jim is located only about an hour from me and he graciously agreed to let me come down over the weekend and pick up the new equipment (thanks, Jim!)
I drove down and met him in person and we talked shop for a while. I showed him my existing setup and he pulled everything out and personally tested it and gave me a crash-course before I loaded everything up and headed home. I can't say enough positive things about how friendly and helpful he was – he even pulled out his TK helmet so show me his cooling setup. Overall a great experience!
The Install:
It was a very simple install. If fact, it took more time to pull out my old setup then it did to install the new. I had already measured the space inside my helmet so I know that the mic and transmitter would fit – did I mention that I opted for the WIRELESS headset – WOOT!
New Setup - Amp: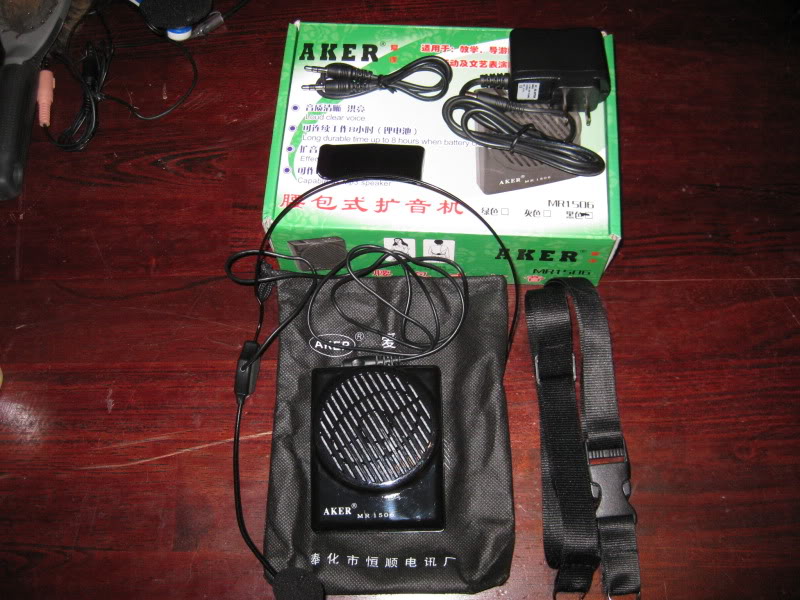 Wireless Mic:
PTT Cable:
I used hot glue to mount the mic boom (it is directional, which is a huge help when trying to avoid fan noise bleeding through) and Velcro for the transmitter (making sure to leave the on/off switch accessible. The receiver for the wireless mic system went in the back of the torso, once again using Velcro. The amplifier itself simply replaced the old one in the front left pectoral of the chest armor. I was especially pleased with the amplifier – it is rated at 10W and is easily the smallest (yet loudest) amp that I have seen. It also has a secondary line-in which you could use for background music or amplified sound effects (like an AR or Energy Sword). Because every component was designed around a voice application, the feedback rejection is quite good and at reasonable levels (plus) I had no issues.
Helmet Mic:
Helmet Transmitter:
Amplifier in Chest:
Wireless Receiver in Back: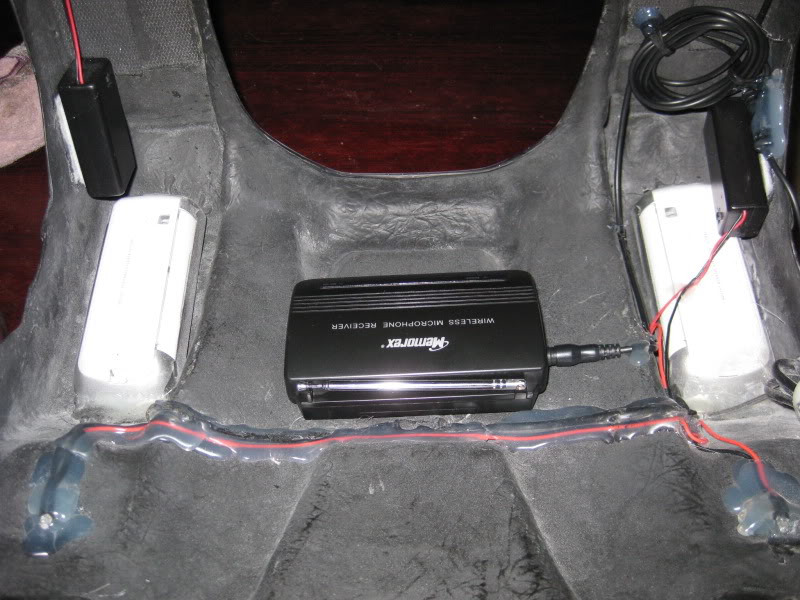 The wiring itself can be done either as a straight-through connection (wireless receiver to amp) or using one of Jim's PTT (push-to-talk) cables. I opted for the PTT cable, as it allows me to keep radio silence unless I choose to switch it on. The PTT cable basically has a remote microswitch designed to slide inside your glove and activate when pressed. It also adds a small "click/pop" when engaged so it gives you that whole "comms engaged" sound – it's a nice effect. I simply tacked the wiring in place with hot glue just to keep it from snagging. You do need to keep track of the switch end of the PTT cable as you suit up but I found the switch easy to place in the glove and manipulate.
In the interest of full disclosure, I did have an issue with my first PTT cable. There was a loud "crackle/scratchy" sound when the switch was depressed. I believe that it was simply a bad microswitch and as anyone who works with electronics knows, these things do happen. What impressed me is the way Jim handled it – he simply sent me a new PTT cable THE NEXT DAY and refused any offers to pay for it. It's this kind of customer service that is sometimes missing in this hobby and it was refreshing to say the least. Needless to say, the replacement cable has been perfect so far!
Overall I have to say that I am impressed with both Jim and his products (and that's generally not an easy thing to do when I'm involved). It's a huge relief to have a wireless voice amp system that works and works well and Jim was as professional and courteous as anyone could wish for. I would wholeheartedly recommend trying his gear and while I have only been using it for a short time, he has hundreds of other satisfied customers out there. I would suggest that anyone looking for an amplification solution contact Jim directly or through one of his forum classifieds at the RPF or The Dented Helmet as his "in-hobby" prices are better than the prices on Ebay or Amazon.
Thread at the RPF:
http://www.therpf.com/f13/fs-small-...-wireless-headset-mic-push-talk-cables-80127/
I hope that this review helps some of you out – Thanks!
-DW
Last edited by a moderator: