Hey Marines,
Well, we finally did it. Out of the 10 team members that were supposed to be dropped in, only 7 made it in safely.
A little fictional background on our unofficial Unit:
"105th MEU (SOC) / ODST, 12th Marine Force Reconnaissance / ODST. Our particular Unit is 'The Devil's Own' and we have 2 sub team elements [Gold Team & Blue Team] within the Unit."
Singapore's Toy Games & Comic Convention 2010, now being handled by Reed International [new York Comic Con..etc], saw it's first and largest ODST combat deployment on both the 11th and 12th of Dec 2010.
We booked a room for the entire weekend and to have a place where all of us could suit up and 'drop in' together. The 'drop in' walk from the hotel to the Con was interesting to say the least. The hotel guests loved us!
Our entrance into the Con turned heads and pretty much stopped traffic wherever we were.
But tell you what, a picture paints a thousand words so here you go...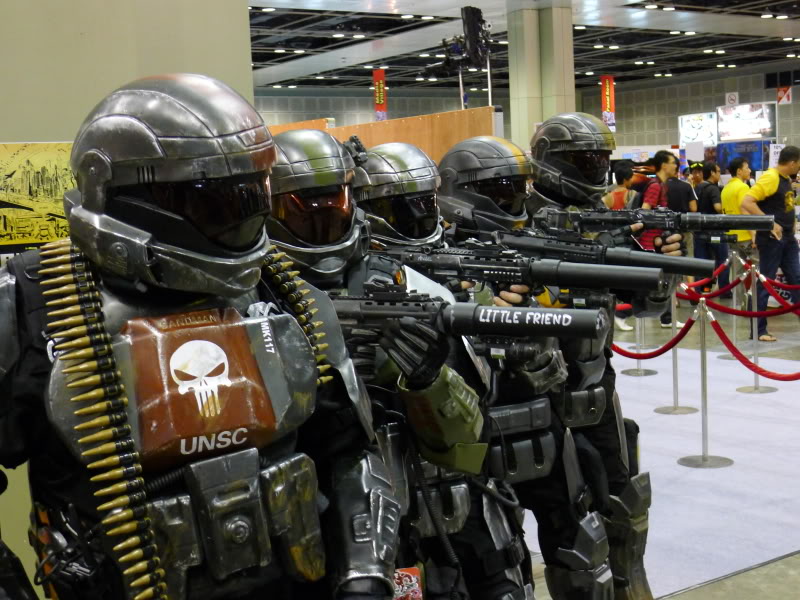 More pics to follow once they get sorted but hopefully, these will give you a rough idea on our Combat Deployment.
Once again, MANY MANY grateful thanks to Sean B for the awesome armor kits! Bro, this Combat Drop is dedicated to you! I know your pretty much tagged the FB pics my friends put up but I wanted to make it official here at the 405th! We couldn't have done this without your help! Hope we did your armor kits proud bro!
Stay safe,
Tim.