With the site having no user galleries to post into, I'm posting this thread to serve as the collection thread for
Reference Pictures
for Reach.
--Please do not post your random/ funny/ cool screenshots in here, someone can make another thread for that.
This thread will be for useful images for modeling, painting, detailing, etc etc.
--Here's a link to the old Beta Ref Thread, some things you are looking for may be in there:
http://www.405th.com/showthread.php/23788-Official-Halo-Reach-Beta-Reference-Thread-%28Pic-Heavy%29
--If you have large or lots of images, please post thumbs or links to galleries.
--Please keep in mind that helmets/ armor pieces are unlocked over time with rank, so the majority of them aren't available to most people yet. Things like the Mk V and Mk VI helmet are fairly high rank items. However there are hologram+death glitches that allow you to see some of those, which is how I got shots of the GUNGNIR helmet. Look up holo glitches on Bnet for examples.
--Here's an image from the Halo Wiki (pointed out on hbo by GrimBrother One, I don't know who made it), a compilation image of all permutations in Reach. Refer to this image for labeling, requests, and questions.
(Click to enlarge)
I'll kick us off here,
Halo Reach ODSTs: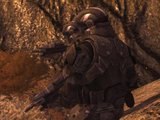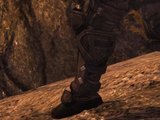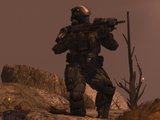 GUNGNIR Helmet: