Hello all, new blood here, y'all can call me Prof or Tyler. Got dragged into all this by a friend, and ended up doing the whole thing backwards. Went to a con, then went to a shoot, then joined the forums, and finally started a build. Halo 3 was a defining halo for me, even above and beyond Reach, and I had a hell of a time running around with my Marine buddies back when. Figured it'd be a fitting tribute for me to join them, so here we are! I'll be logging down what I do here, once I've got enough to show for a thing, anyway.
This will be my first ever cosplay build, and I'll be going at it with Fusion 360, a 3d printer, no artistic talent whatever, and a determination to make and print my own files. Most importantly, a fellow 405th member is going to provide some assistance with fabric work, in return for some prints and stuff. Its gonna be a fun ride! To get a feel for Fusion and autocad in general, I went ahead and started modelling a Biofoam canister. Figured it'd be a good starter prop for any halo build, and a nice learning platform.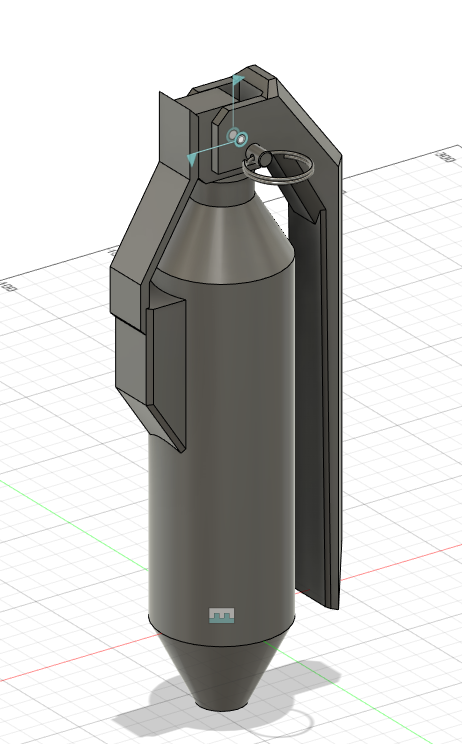 Its still work in progress and I'll probably add a few surface details, but in keeping with wanting to have a bit of spin on things, I decided to answer the question of "How does the nozzle not just flop around all the time" with a pull pin - with a pivot pin as well, so hopefully it can be a useful prop for shoots and such. Plus its just fun to make things move.
As for the marine proper, I'm apparently making the circumstances of my introduction a tradition, by starting from the outside and going in. I'm working on losing a bit of weight to better fit what I have envisioned, but my head, hands and feet ain't changing size anytime soon. So I went out, and got some combat boots and gloves, and started sketching ideas for the Helmet.
The boots are more or less perfect. The gloves don't quite match the references I've seen, but they fit
flawlessly
and I'll take a perfect fit and no glove chafing over a slightly more accurate back rubber any day of the week. Tried to get a BDU as well, but they didn't have anything in the right shades for a Marine, even with some leniency. Gonna check back in a few weeks, otherwise might just order online. Not like there's a shortage of other things to make.
Over the next couple weeks I'll be drafting up the ankle and shin plating, and a first pass on the helmet size plus some padding buffer space. But before I can get into that, I've already been asked to help make a new print for a Reach Magnum - I have even been provided a broken print. Don't know who's design this is, but whoever it is, you did good, and I've seen it around a lot, promise I won't just lift your measurements. The best use of it so far is to help me understand how thick Xmm is actually in the hand, its really hard to judge scale in program. You lose sense of how big a millimeter is when its just on a screen at arbitrary zoom.
I'll be making the Halo 3 Magnum alongside it, since they're pretty similar, and the general component and operating technique for the one should be useable for the other. I'm aiming for detachable magazines and moveable slides, but ambition and reality don't always agree, and I'm pretty green to this. An assault rifle is on the plan as well, but not on my active list of works.
My goal is to have all this put together before April of 2023, when my next local convention is. Work and life permitting, it should be doable, but I'd love to hear any of your guys input, thoughts, or advice!