Sr Member
Colonial Regiment
I have this posted in various wierd places, so I thought maybe I'd collect it somewhere more centrally located for easy access. I've been contacted by a few people here who couldn't find it.
So heres the best info and pictures of my sword, compiled nice and neat... enjoy. It's probably old news to most of you, but theres lots of new members who didn't know where to look.
I started this project in October of 2005 as a accessory for the Spartan armor I was making for Halloween. I completed a simplistic version of the sword in January of that year. I picked up the project again in January of this year at Redsleighdowns request for a fully functioning Energy Sword prop.
I actually used EL wire for this, just two six foot sections encased inside the plexiglass blades. The plexiglass is frosted from the outside so the whole blade glows a bit, but still gives it that lightning looking pattern. 2.3 mm EL wire is about $1.15 per foot, and the power inverters are about $9 each. For EL wire go to
http://www.vibelights.com
Best prices on the net.
The handle is sculpted and molded. I used Chavant Medium clay. I should also fess up that I made a 'pre' form of the handle in clay, then molded it, cast it in plaster, and carved all the tight detail in that. I re-molded the detailed plaster model, and now I can pull my final resin copies.
And heres what it looks like done: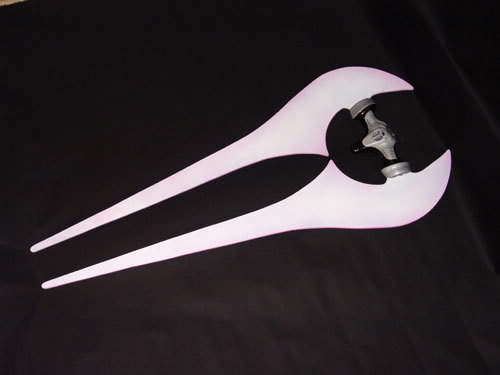 Heres the comprehensive gallery hosted over at
Halo.Bungie.Org
for more pictures, in high resolution:
http://nikon.bungie.org/news.html?item=18797
Heres the final video:
http://www.youtube.com/watch?v=HGW3cQk5m28
For more useful tidbits of info, check throughout these threads:
http://mjolnirarmor.com/forums/viewtopic.p...asc&start=0
http://mjolnirarmor.com/forums/viewtopic.php?t=246