THis is only say 75% done, mostly the front chin area needs to be done, but the back and sides are say 90% done
LOOK MOM, NO BONDO!
front:
top
back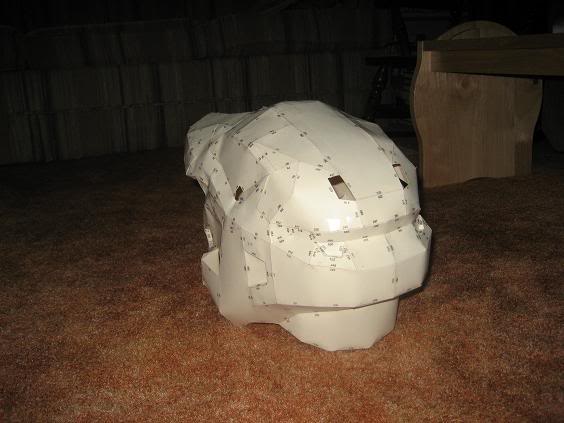 back fell over
with a rough sanding like I did to my angular helmet, this helmet will look professionally done and bondo'd without bondo, some details will be missing, but for a pep helmet, it's very very smooth, especially the back neck area and top of the helmet.
This is my 4th helmet I have made with pep, the model is from slyfo, I removed fold lines which showed in pep made the 3d model smoother, I wont release this since I slightly edited it, I didnt save the edit anyways, so dont ask me for the pdo. All other helmets I have made were all halo 2 pep file helmets, this is a halo 3 pep helmet I'm thinking in another 2 days it will be ready to resin and glass, but with fall here and raining everyday, I may wait till next spring to resin and glass.