Once again I have been asked to produce a painting tutorial, so I have given in this time. Here it is:
Firstly I must state that this is not the only way, not the best way, not the fastest way, not the cheapest way. But it is
my
way, and I'll take the Pepsi challenge when it comes to painting because this way has been around for 400 odd years.
Anyone who has read one of my tuts will know that I try to explain what I'm doing as well as demonstrating it. This tut will be no exception, so
read
it as well as looking at the pictures! Then I encourage you to post, ask questions or even tell me it's crap and that you have a better way, we're always learning after all.
The tut will be done in a series of posts since I can't be arsed to write it all in one go, and I need to find a suitable candidate subject to paint to demonstrate all the methods.
Part one: The overall explanation
In order to understand how to paint stuff to look real we need to understand how the human eye and brain processes images.
When looking at shapes it is the
contrast
not
the
colour
that is important. You can still recognise a banana is a banana even if the image is in black and white, or even if the banana is painted blue! This is because the eye uses the difference between light and shade to determine shapes. It is part of the reason why people 'see' stuff in cloud formations, or burnt toast or the middle of vegetables. Shadows mean shapes.
Here's a detail from The Night Watch by Rembrandt, it was painted over 400 years ago (1606 to be precise). Rembrandt belonged to a school of painters who tried for realism in the look of their paintings. Look at how he uses light and shade next to each other to give depth and shape to the faces, the hands and the folds of the clothing.
The problem we have with our models and creations is that if we just paint something 'green' it won't have the punch and realism we want because the contrast is too low. This seems silly on a 1:1 replica, but the early film makers realised that to make something look real we need to give it some 'help' to make it look a bit more punchy. Early prop makers went back to the old masters, like Rembrandt, and tried to emulate what they had done on a flat canvas to help 3 dimensional objects look better.
I came into this in the late 1970's. As an art student I was working on a series of models for Bovingdon tank museum. They were all of vehicles that had existed at one time but had either all been destroyed or scrapped. Bridge layers, engineers vehicles, specialist vehicles and the like.
Building them from the original drawings was easy enough, but try as I might I couldn't paint them to look real enough....... Then I met Shep Paine and Francois Verlinden at a convention.
Shep had done a series of models for Monogram, and Francois for Tamiya, both of them were using the system I will show you now, and it seems that the system originated for props during the making of 'Metropolis' by Fritz Lang.
Here's the only vehicle I still have in my collection. It's an M39 utility vehicle and the paint job was all done using three brushes. No airbrushing at all. Notice how all the detail is visible and stands out. This model is about 9 inches long.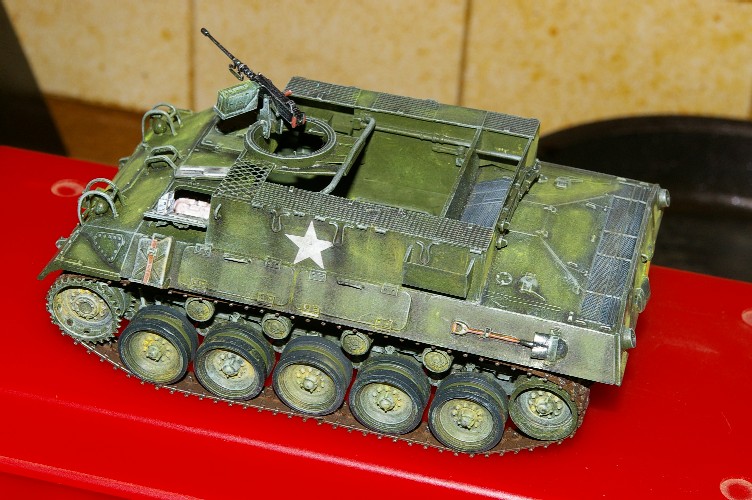 It's actually pretty simple to achieve this kind of result once you understand the theory and learn a few simple techniques. What we are going to do is take our basic colour, then darken the shadow areas and lighten the highlight areas. On a three dimensional object this is a piece of cake when compared to what the old masters could do on a flat canvas. Believe me I've tried.
Second post will cover the tools required, a paint discussion and an outline of the techniques.