Using casting resin - liquid plastic - to harden your helmet or armor project: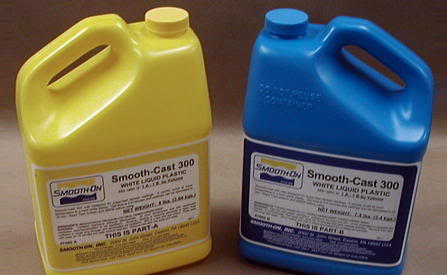 Apologies for the wordiness of this tutorial, but I'm hoping that more text now means less answering the same questions over and over later.
Many thanks to spartan051 who answered all of my questions before I started doing this.
After I saw his SC300 MC helmet I was inspired to try this out, and he was a big help.
Here's his build thread:
Spartan051's SC300 Mk VI & Recon WIP thread
And here's psberetta's thread:
psberetta's Casting Resin Rogue helmet thread
For related videos, especially if you have no knowledge of resin, you should certainly check out:
Smooth-On Youtube Channel
Smooth-On Smooth-Cast 300 Video
Adam's Casting Video
Before I start:
I know, I know what's coming, that's not Halo!! I've been asked by a couple people to write up a tutorial on using casting resin, and this is the project I used this method on. When I end up doing this with a Halo-related project I will swap out the pictures; until then it's Star Wars. This is Boushh, Leia's disguise from ROTJ for anyone who might not know.
Preparation/ Before you resin:
-- Assemble your pepakura file. You'll need supports, too. If the pep file you built didn't have any, then come up with some – cardboard, cardstock, whatever you can use to keep your build as straight and square as you can.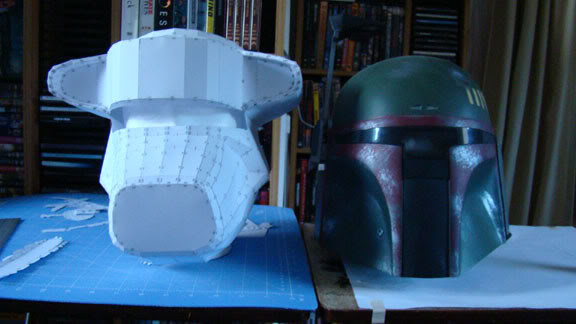 -- Make sure to close off as many gaps as possible in folds – small holes are fine, but any noticeable spaces should be covered. I used clear scotch tape on the outside and it worked out pretty well for me. Just make sure to get the tape as flush and smooth as possible, otherwise the resin will leak a little – it's still not a big deal, it can be sanded right off.
-- Any open areas, such as a visor or holes for vents, need to either have a temporary piece put in place that will get resined and cut out afterwards, or build a lip around the edge. If you don't do one of these things your resin will just pour right out the opening.
-- Make sure to set up everything you'll need beforehand. It will make everything go much smoother for you.
-- Here's what I used:
Portable table
Plastic to cover your table (it might be a good idea to lay plastic/ newspaper down under the table and in your work area, this can get pretty messy)
Smaller plastic containers or disposable cups to measure the resin in
Plastic container (or several) to mix the resin in
Paint stirrer or similar item for mixing resin
Casting Resin – I used the trial (16 oz bottle sizes) size of Smooth-On Smooth-Cast 300.
Latex gloves
-- I used clear plastic disposable cups for measuring. The easiest way to mark them (if you use disposable cups) will be to get a measuring cup that uses liquid measurements, add water to the measuring cup in each amount you're looking for, pour that into your disposable cup, and mark it. Make sure to label each measurement if you make several marks. I marked mine at 2 oz and 4 oz.
Now on to the fun stuff, Resining:
-- You'll want to start with small batches of resin; if you pour too much in at a time you'll run the risk of warping your cardstock in ways that are not at all pleasant to fix. I started with 2 oz measurements.
-- Pour 2 oz of Part A into one of your measuring cups, and 2 oz of Part B into your other cup. Now pour them together into the larger mixing container and stirrrrrrrrr. Make sure it is evenly mixed or you may run into curing problems.
-- Pour the resin into your helmet/ armor piece. Only on the inside, the outside does not need it. The first coat of resin in your helmet needs to be spread fairly thin, this will allow it to soak into the cardstock and begin to harden your helmet before you add the thicker coats. Slush the resin around, making sure you don't let it sit in one spot for too long. You will know as soon as it starts to kick, it will move around much less and turn white/ opaque.
-- Repeat the 2 oz + 2 oz parts until you're happy with your first thin coat. Don't wait too long between coats - though I didn't have this problem I've seen it said that if you allow too long between them the coats won't stick together properly and your piece will delaminate… The layers of resin cure as totally separate layers instead of one cohesive cast. You shouldn't have a problem with it as long as you aren't off taking long breaks between coats. Just don't go taking a lunch break when you're halfway done with this.
-- After the first thinner hardening coat is done, you can step up the measurements if you wish and start mixing 4 oz of each part at a time. I never went any higher than that, this is only paper you're pouring the resin in to. The first coat is a little stiff by now but not fully hard, pouring too much in at once could still warp your project.
-- Repeat as needed or until you run out of resin. The thickness is up to you, whatever you're comfortable with. You'll want to shoot for 1/8 to ¼ inch thickness all around for a decently sturdy helmet. I came up just a little bit short on mine so I had some pretty weak areas, mainly around the lower edge/ rim.
-- Now find a nice safe place to let your helmet/ piece cure. Not sure the cure time exactly, but I let mine sit overnight.
Last edited by a moderator: