Long time lurker and noob of the 405th here.
I have always wanted to build an ODST costume since I first saw them as a child in Halo 2 and now planned on putting a little bit of my own flavor into it, however I had never done any spray painting, sanding, or stenciling work at all. My thoughts were since PJs in real life and Halo Fanon (
UNSC Pararescue
) deploy as medics with numbered teams (Seals IRL/ODSTs Halo) and I worked in Air Force Rescue for around 5 years I wanted to do something a little different and show the UNSC AF a little love since the games don't show them very much, if at all.
As I have OCP/ACU uniforms and gear, I'm going for a look of being deployed to a harsh sandy planet.
These images I found online were the basis for the costume but using the gear I was issued to save a few bucks on uniforms.
I started with an XCoser helmet and painted it up and sanded off the branding emblem. I have a 3d printed magnum, shoulder pauldrons, and a NERF AR at this time.
After the first try the paint was a bit poor on the helmet so I sanded the first medical emblem off/repainted and took a tiny paint brush and painted the little white/black fine details with acrylics.
I really liked the finish and how the sanding revealed the gray beneath around the emblem/side of the helmet so I kept it. I used a black sharpie to draw the wreath of the emblem.
After I finished my helmet (before weathering/figuring out how to paint for use in sand environment) I moved on to my magnum and finished it up and then used silver acrylics to highlight the weapon as extremely used based off of one of our M9 service pistols IRL which have been in use since potentially 1985 and are extremely worn out. I didn't paint the pistol grip as I imagined it would be polymer to save weight. The right side is painted a little more as it would be on the outside of my thigh and would in theory receive more weathering as it would be more exposed to the elements.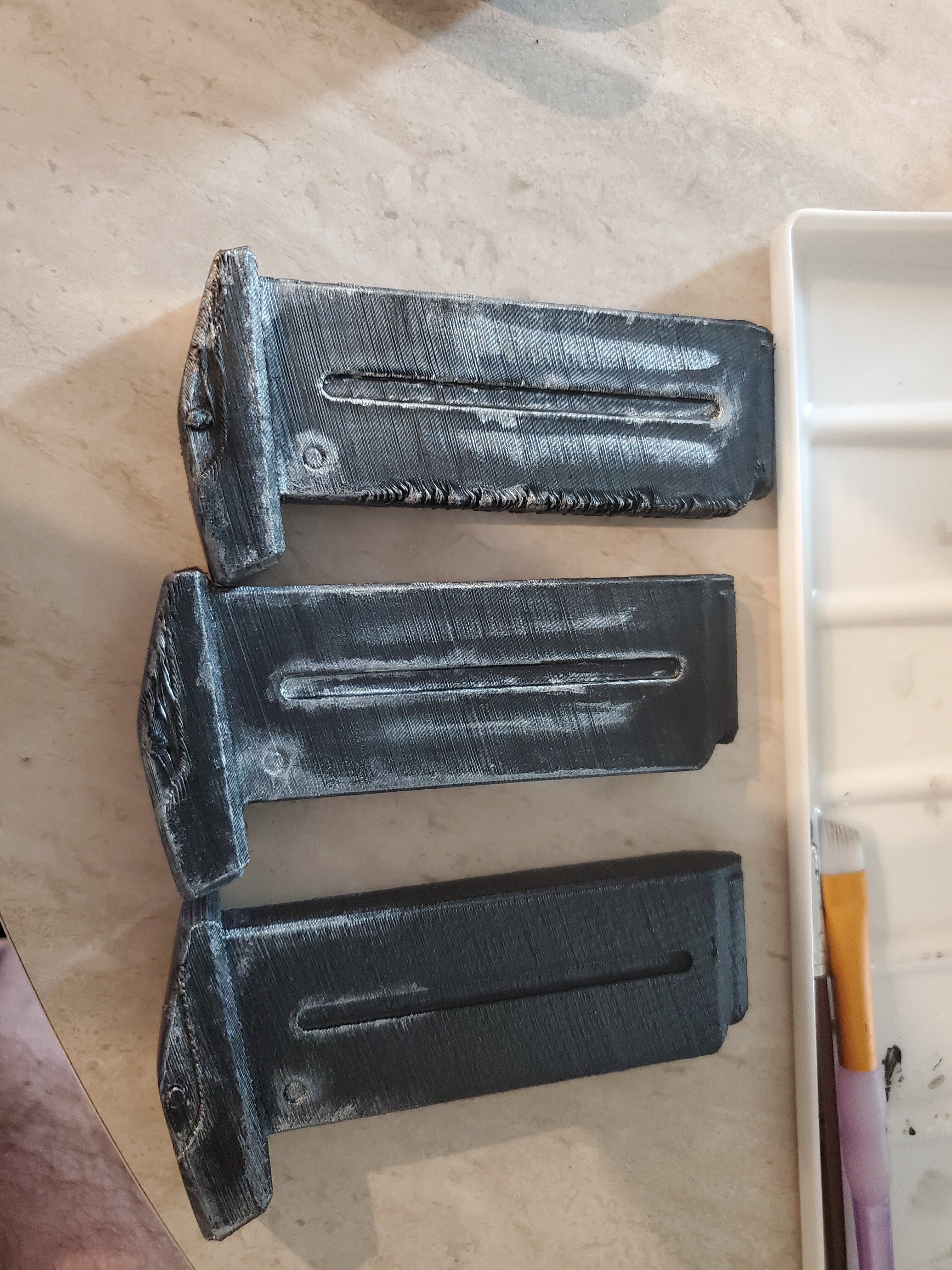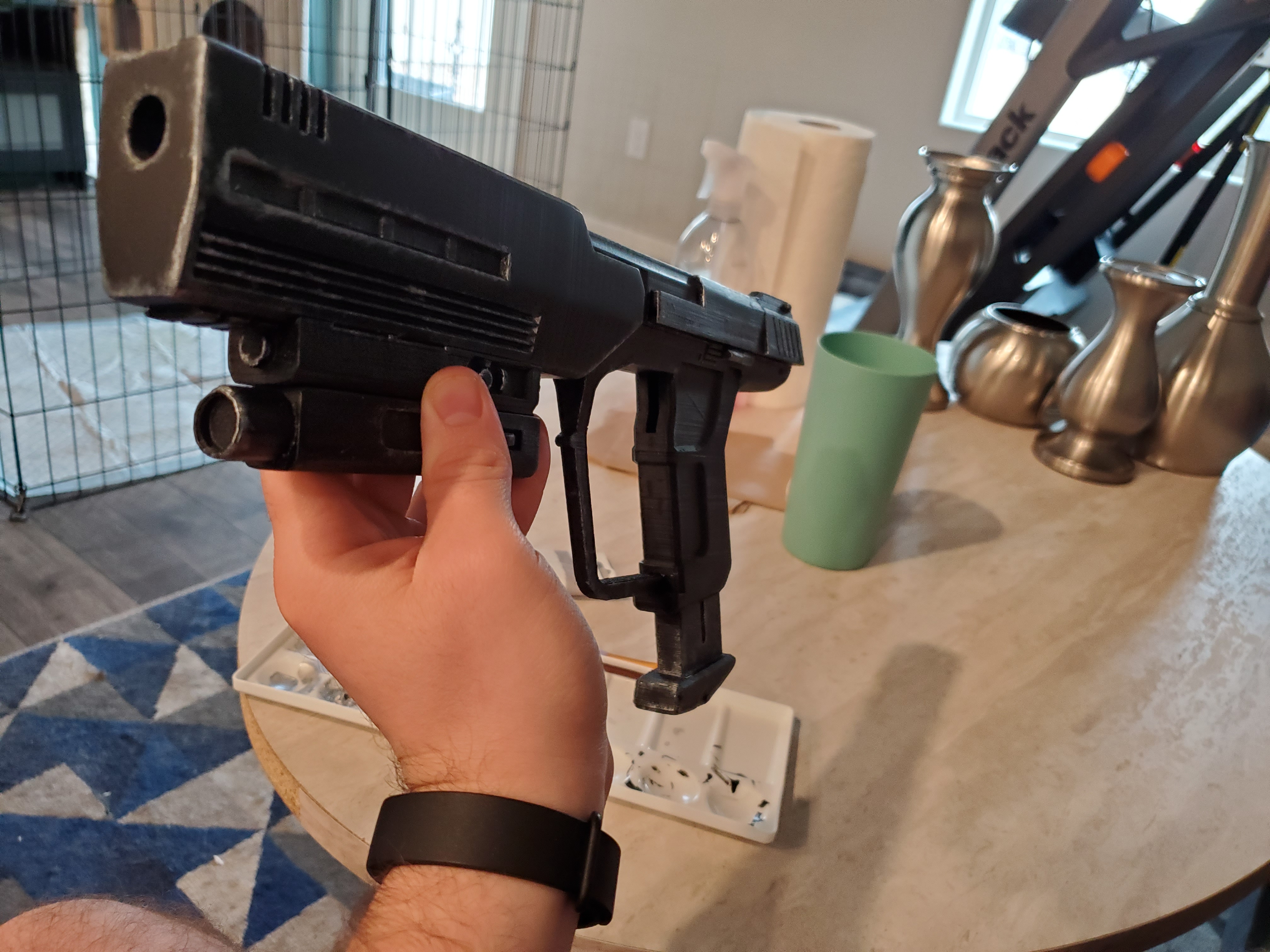 A couple days after that the velcro I ordered came in and I put everything together to see how it all looked together currently (Oh and I used some old knuckle gloves I had and cut the fingers off of them).
This is where it's all at currently. The tape on my AR is temporary as I still need to paint it and I need to figure out a magnet for the magnum to stick to my thigh but also still need to make thigh plates or armor (Not sure where to take the build as I have no experience with foam).
I currently have the ICONIC chest piece and the ODST backpack on order as I also have no 3d printing experience or 3d printer so I am excited to sand/paint that. If anyone has any ideas for the cosplay overall (very welcomed) or advice for foam/3d printing/weathering for a sand environment please reach out.
I am unsure of what the actual UNSC AF logo is after much research, so I am looking at putting this (roundish emblem not the wing) on my helmet to match the AF pilots from H3. I am also looking to incorporate our iconic mustache we put on the helicopters or helmet face plates onto my helmet. Please let me know what you think so far and thank you for your advice and time. (P.S. it was cleaning day at my house when I took these pictures so please don't roast me too hard lol)