Afternoon, Gamerz,
I am new at this format so bear with me.
I am in the process of building my first full body cosplay. This community and the simple act of building cool stuff has been enough motivation to convince me to go ahead and attempt the full suit now that the helmet is printed. I have been extremely active so far in posting my build on Instagram (
@meyer.makes
) but I've been meaning to make an inaugural post on the 405th for about a month now. A mix of anxiety and other life events at the time kept me from doing exactly that, but here I am at last.
So... Who Am I?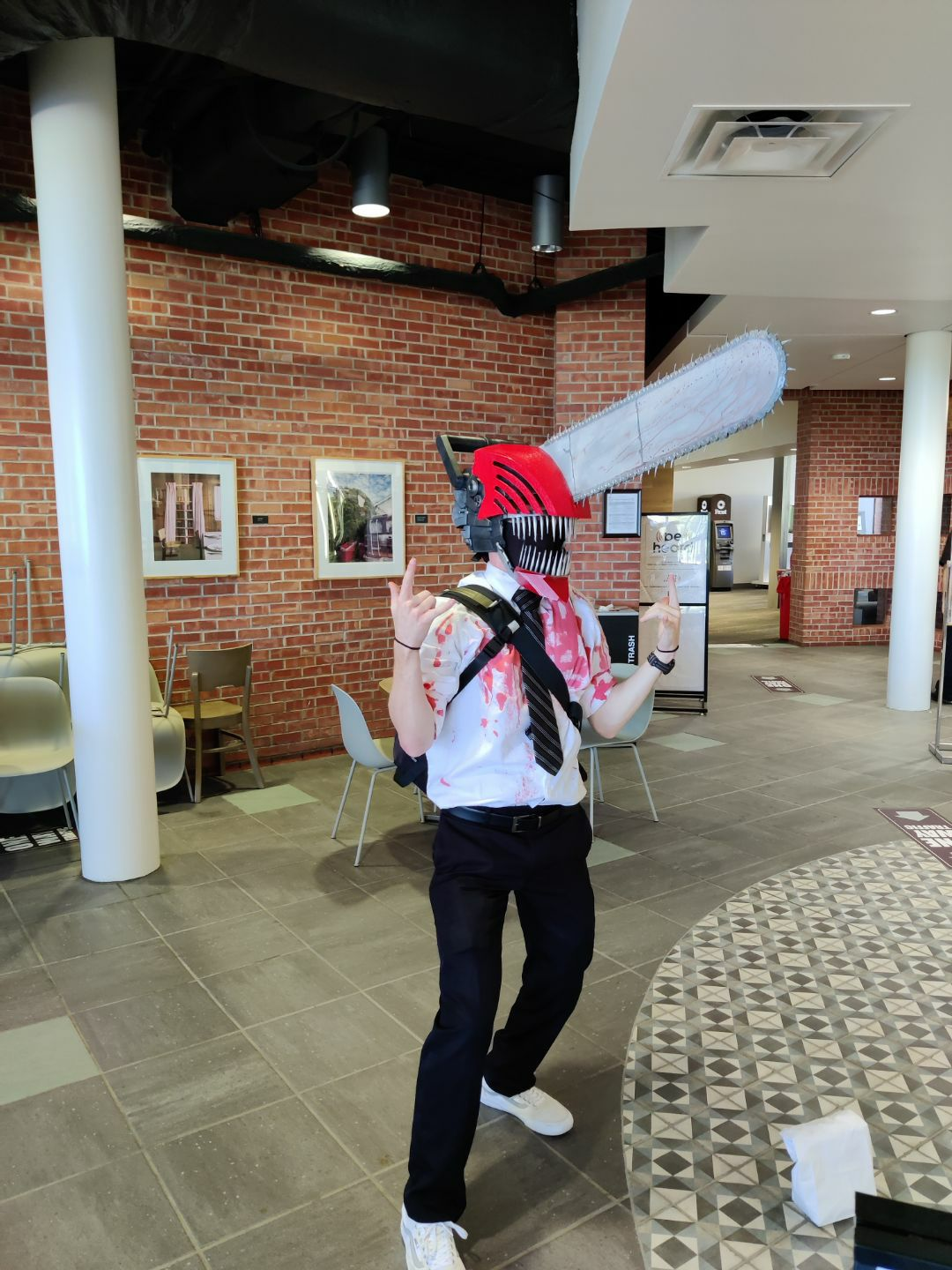 At the moment, I am unfortunately an extremely burnt-out engineering student that has been using 3d printers for about 1.5 years now. I go to school in San Antonio, TX, but will be taking this upcoming Fall (2022) semester off and live back home in Dallas to recover from the past 3 years of University. I have pretty limited background in the actual CAD modeling of props and costumes, but when I am modeling I use Fusion360. I have been building props/weapons for theatre productions for a while now that I've been in school. I am going to be using a lot of the resources here to better my understanding of the other material disciplines (I'm looking at you, EVA) while I continue work on this costume. I've really fallen in love with cosplay in this short time, but man has it been making me consider a change in trajectory in my life.
Printer of Choice: Prusa MINI+ in my house (At time of writing, currently troubleshooting the little bugger. Lots of very poor Benchy Prints. Was my main workhorse for all of my prior projects.) PrusaSlicer is goated and I will be tolerating no PrusaSlicer Slander on this thread.
Other Toys at my disposal:
3x Prusa i3MK3S at School (5 hours away, but while I've been at school for 1/2 of the summer I was able to get my helmet printed and brought back home. Have printed for probably a combined 1k hours on these without ever having a failed print, and the Autoleveling abilities of Prusas have kept me excited about all their new toys that come out)
FormLabs Form 3, Ultimaker, CNCs, Laser Cutters, basically the whole 9yards at the school's makerspace that I part-time at. Very helpful in my past projects. But very far away from home.
What Am I Building?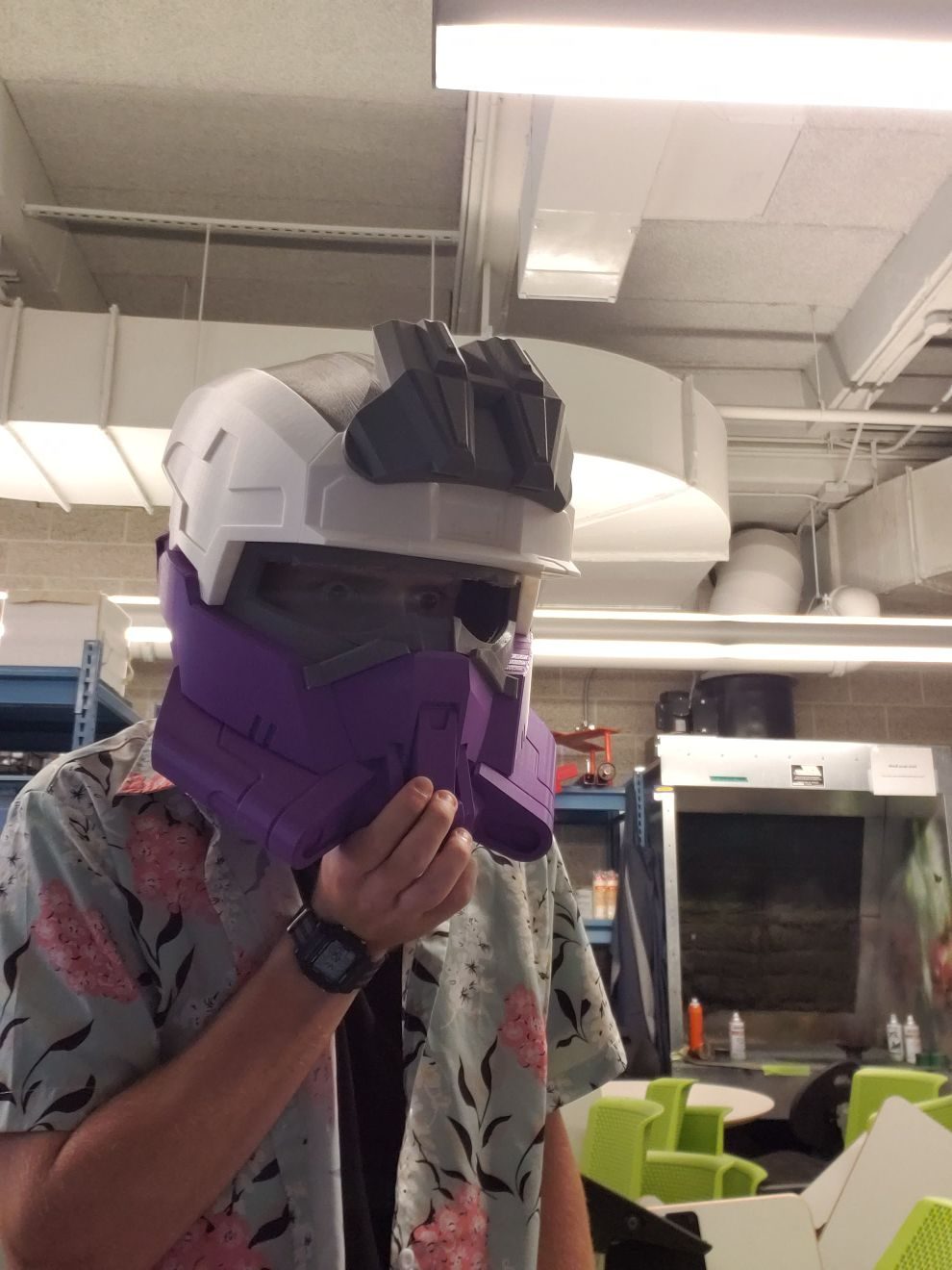 Ok, time for the content.
Over the summer thus far I have been using
AguilarWorkshop's EOD Helmet Files
and the printers at my school to build the entirety of the Reach EOD helmet, attachments and all. Highly recommend, and he has been extremely helpful in getting this project past liftoff. The above photos are the current state of the helmet, and I have to go through the post-processing stage while I fix my printer and get started on the Reach Armour. The final result is EXTREMELY CHONKY but is fits over my head quite nicely and is EXTREMELY cool.
I will, of course, be using NerdForges Reach models, a couple kgs of PLA, and a dream. The plan is to get this done on my little MINI+ (bless it's soul) while looking for resources on the undersuit. Undersuit is my main priority since that'll influence a lot of the sizings of armour in the future.
Next Steps:
Fix at-home Printer.
Find resources on the undersuit.
Start finishing the helmet with attachments, Bondo, and hopefully a finalized color scheme.
That's about it at the moment! Would love to hear your thoughts or questions while I embark on this journey.
Cheers!
~Meyer (Spartan 463: Wanton)