RMO
Colonial Regiment
405th Regiment Officer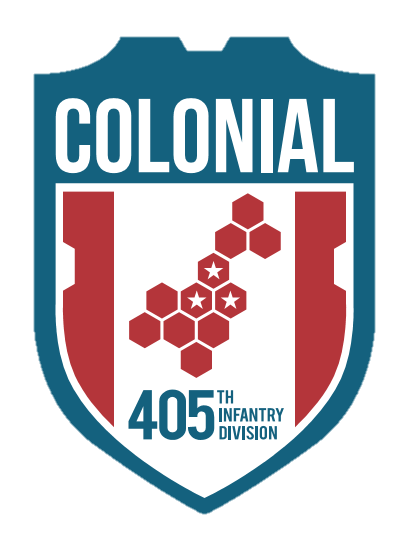 [Incoming transmission from RCO]
Welcome to the Colonial Regiment! Glad to see you taking your first steps in joining our regiment. I am happy to see all the new faces and innovations and talents everyone brings to our little corner of the nation. Being in Colonial is always a fun and never dull experience for sure. From our laughs and jokes at conventions and the help we give to each other, Colonial is more of a family than anytrhing else. I can't wait to share the experience and be suit up with you.
~Francis (Frankie) Serenko III aka serenko3, Regiment Commanding Officer
Unity, Armor, Honor
UNITY: We value every member and the bond of community they collectively create
ARMOR: We value the enduring passion and attention to detail our members pour into their creations and costumes.
HONOR: We value not only honor among our members, but honoring and celebrating the fictional universe of Halo®
405th Regiments are our way of embodying these values on a local level. Regions are covered by small staff teams to coordinate and delegate tasks for events and functions that are happening near you.
Requirements to join a Regiment:
Have a 405th account for 90 days
Have a 405th account with 50 posts
Live in the area you are applying to join
Benefits of being in a Regiment:
Vote in the yearly election for Regiment Commanding Officer (RCO)
Access to member's only forum
Ability to create threads in Regiment sub-forum
Alerts to activities happening near you (typically via Facebook)
Represent 405th in official capacity at events
Buy 405th and Regiment branded merchandise
Ability to join a Battalion
Ability to apply for Deployment
Meet Your Staff!

Regiment Commanding Officer (RCO)
Is responsible for reporting all Regiment activities to Division level staff.

Regiment Executive Officer (RXO)
Is tasked with duties to keep the Regiment active

Regiment Membership Officer (RMO)
Is the main point of contact for new and active members
Areas of Activity
In case you are wondering about how wide we reach out, we go from Maryland all the way up to Maine covering eleven states; it's insane right?!? Head to the
Member's Map
if you'd like to see if there are other members near you. To be included on the member's map you must update your profile information to include a real city and state. If you have any trouble please contact your regiment staff.
Battalions
Consists of 5 or more active regiment members located within a close geographic area led by one battalion commander.
Benefits of a Battalion:
Access to a member's only sub-forum
Ability to create a closed Facebook group to coordinate events and appearances
Ability to create Battalion branded merchandise
Request to start a Battalion
Conventions
Event Guideline FAQ
Local events will be listed in the
Convention and Prop Parties
sub forum.
Multi Regiment Events include:
Dragon Con
Penny Arcade Expo (PAX)
-
West
-
East
-
South
-
Aus
Rooster Teeth Expo (RTX)
Halo: Outpost Discovery (HOD)
New York City Comic Con
Keep in Contact
Please consider joining our
Facebook Group
and follow our
Facebook Page
More more informal conversations you should also check out our forum-wide
Discord
Deployment
While not required, Deployment is often the next step for members. Once you have a completed Halo suit you can
submit it to Division
for evaluation, called Deployment.
Primary Purpose:
Get unbiased expert advice on the quality of your costume.
For more information please visit the Deployment FAQ
Last edited: