Hi All,
I got encouraged to join this community by some 405th members from my area and to share my recent (and still in progress) ODST Buck build, so I figured I'd do just that!
A bit of background info before I get to the build itself. The main goal for this costume was mainly to work from an existing kit and see what I could do with it as I usually do my other projects from scratch. With that in mind, I opted to go with
Sean Bradley
's kits for the Armor, Helmet, Visor and Gloves ( I do have to say that his kits are quite fantastic and easy to work with).
I'd also like to thank my very good friend
CyberBen
for helping me out a lot while making this.
Alright, with that out of the way, let's dig into the build itself. Note that this post is a basic summary of the steps I took to make it happen and that I'll go into more details for specific areas/pieces/techniques down the line.
Here's a picture of where I am right now overall. (Its pretty much a basic ODST)
Note that the Sniper present in this picture was generously given to me by CyberBen, although as to whom it originally belonged/was made by, I cannot say for sure…
First step I took was to cut out most excess material of the plastic pieces from the kit and assemble a few pieces that were supposed to be permanently attached to one another, such as the calves, shins/ankles, back pieces and ab plates.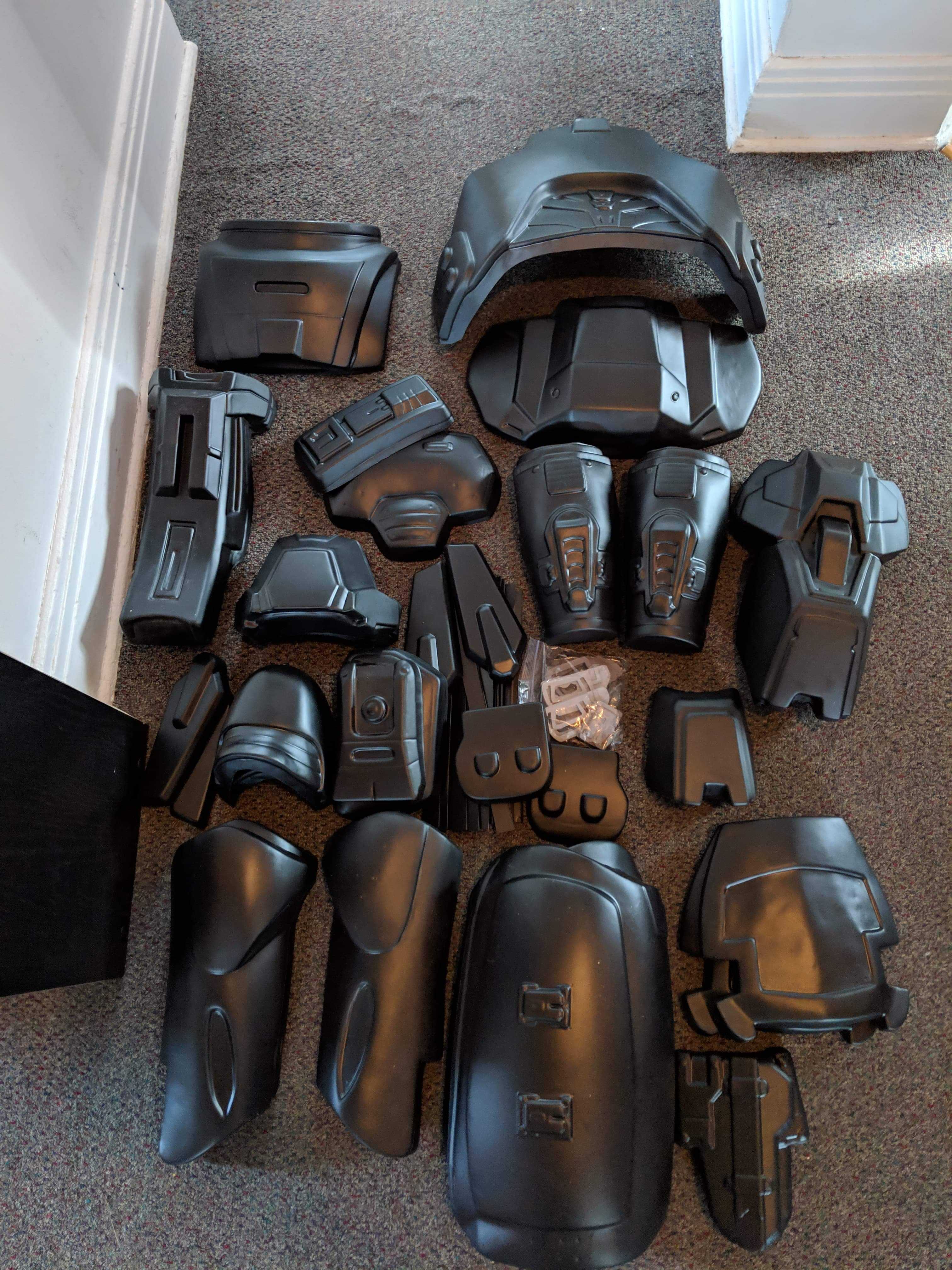 The Armor pieces before any real work was done to them.
Once that the base assembly was completed, Me and my buddy CyberBen added some fiberglass and resin to most of the armor pieces for increased durability. That took a little while, but was well worth it, its very solid and actually not too heavy. Before I could start putting the pieces together, I had to trim all the excess fiberglass/resin, witch was an itchy mess to say the least…
Fiberglass funtime.
With that done, the fun and rewarding step was starting, assembling the pieces and strapping!
Most of it was done using parachute clips, nylon straps, custom foam pieces, Velcro and elastics. A plate carrier was also used for the chest to hold all the pieces together. Padding was also added to the forearms to keep them in place.
Once I was satisfied with how the pieces fitted together and the overall look, I disassembled the suit, prepped the pieces and primed them in black. For the painting, I started with a basecoat over all the pieces with a dark gray metallic spray paint. For most of them, all that was needed after that was some weathering, however some pieces needed a camo pattern in addition, notably the thigh plates and the forearms. I carefully masked the pieces that shouldn't be painted over and proceeded to do an urban style camo using 3 different shades of gray and some custom stencils. Weathering was also applied to these afterward. Then all the pieces got a few good coats of matte varnish.
Example of the Camo Pattern and the paintjob on other pieces.
For the helmet, after the fiberglass trimming, I cut out the holes for the visor and the vents. I also remodeled the front shin to give it a little more curve as well as filling any gaps between the visor and the helmet with bondo. After the dirty work was done, I added some padding and a ventilation system running on an 10000 mah battery bank (that thing lasts around 8 hours+ with 4 fans running non stop, its pretty impressive tbh). It then got the same painting treatment that the other pieces and voila! Suit was ready just in time for its first con.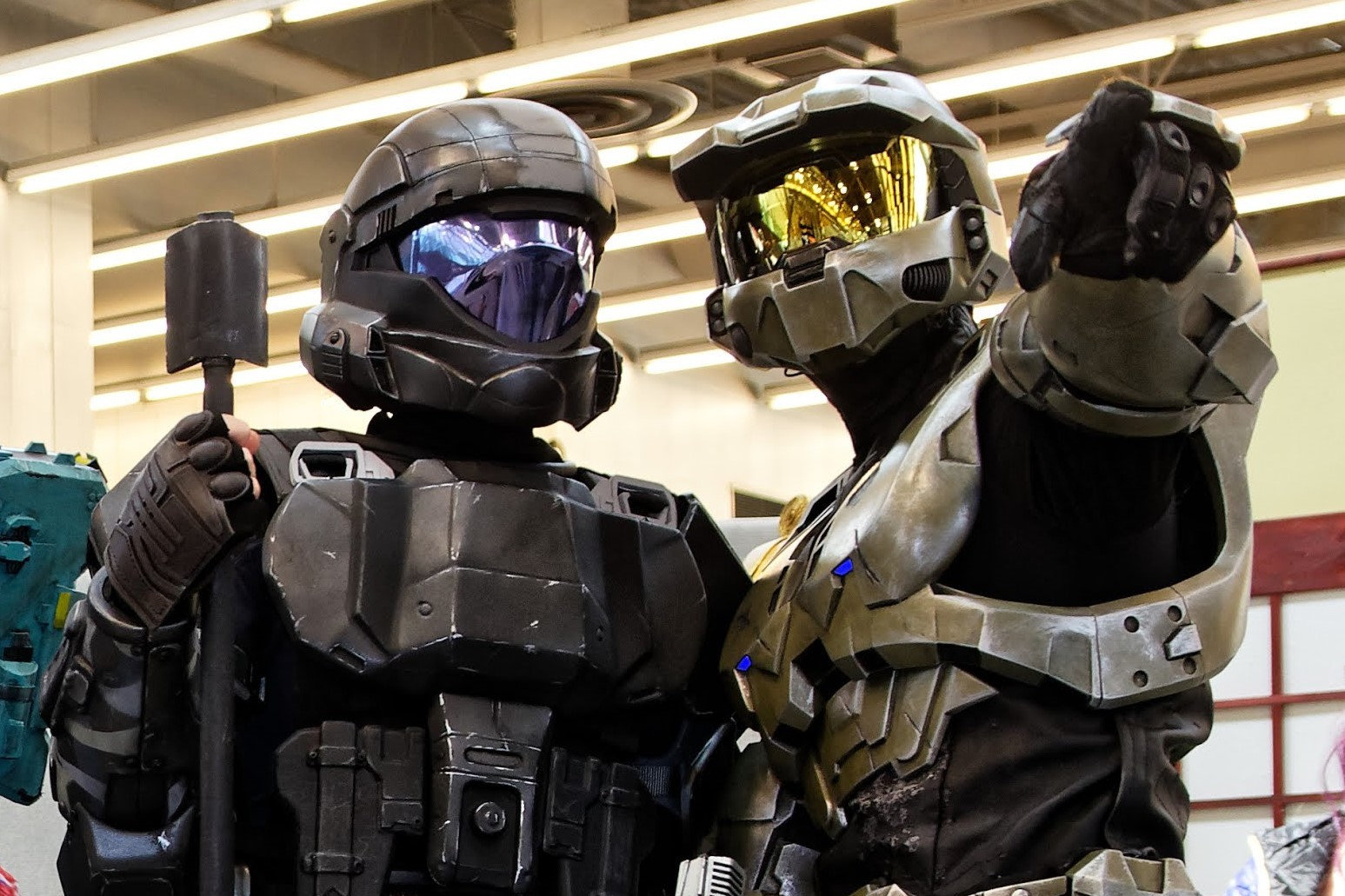 CyberBen pointing toward the future.
Cheers,
Update: Added links to posts.
Last edited: