Well-Known Member
Colonial Regiment
Hello all,
If you've done some 3D Printing of Halo items, chances are you have heard of me.
While I want everyone to stay safe out there amid this global pandemic, I also note that if you have the capability to 3D print, then you can make a difference too.
If you are feeling so inclined and you know someone in the healthcare field, pick up a phone and call them. Tell them that you can make supplies. I have neighbors and friends that are nurses and doctors and they are in need of PPE (Personal Protective Equipment) and I can help them out. You can help out your neighbors too. The 2 things that you can make relatively easily are:
1) Face shields. No support to print.
I found this on thingiverse and I made a few adjustments from the original.
First print until I ran out of elastic.
Design 1
- Requires transparent sheet and elastic.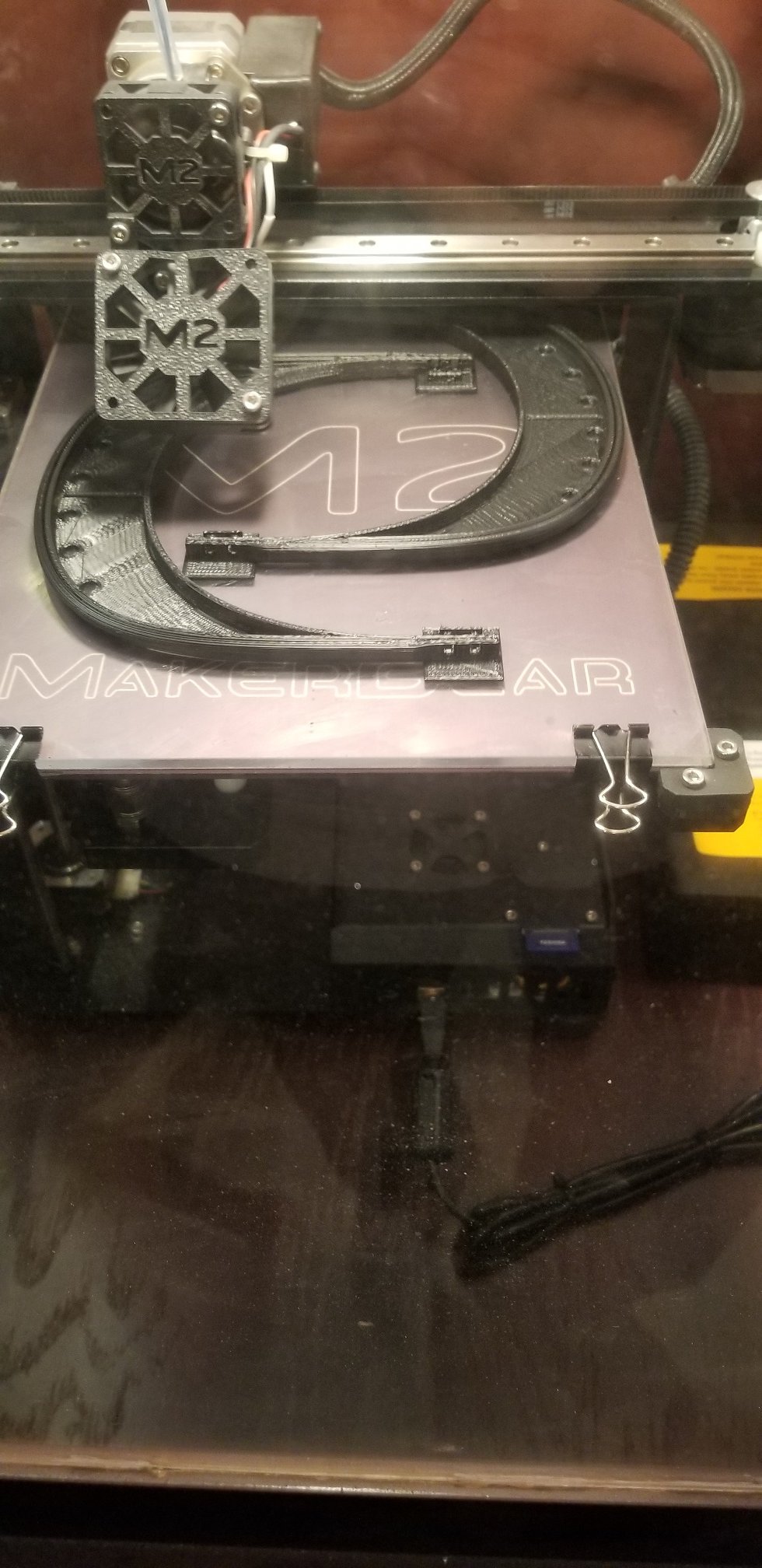 Design 2 -
Requires transparent sheet and rubber band or hair tie:
This is relatively easy to make and I've gotten a few different designs I used and modified. All the STL Files are attached in a .zip. Use them if you need them.
a) Both prints do not need support.
b) Just break off the back square tabs. They are only there to hold down the thin parts while printing.
c) File away any rough edges
d) carefully separate the front of the visor making sure not to break it.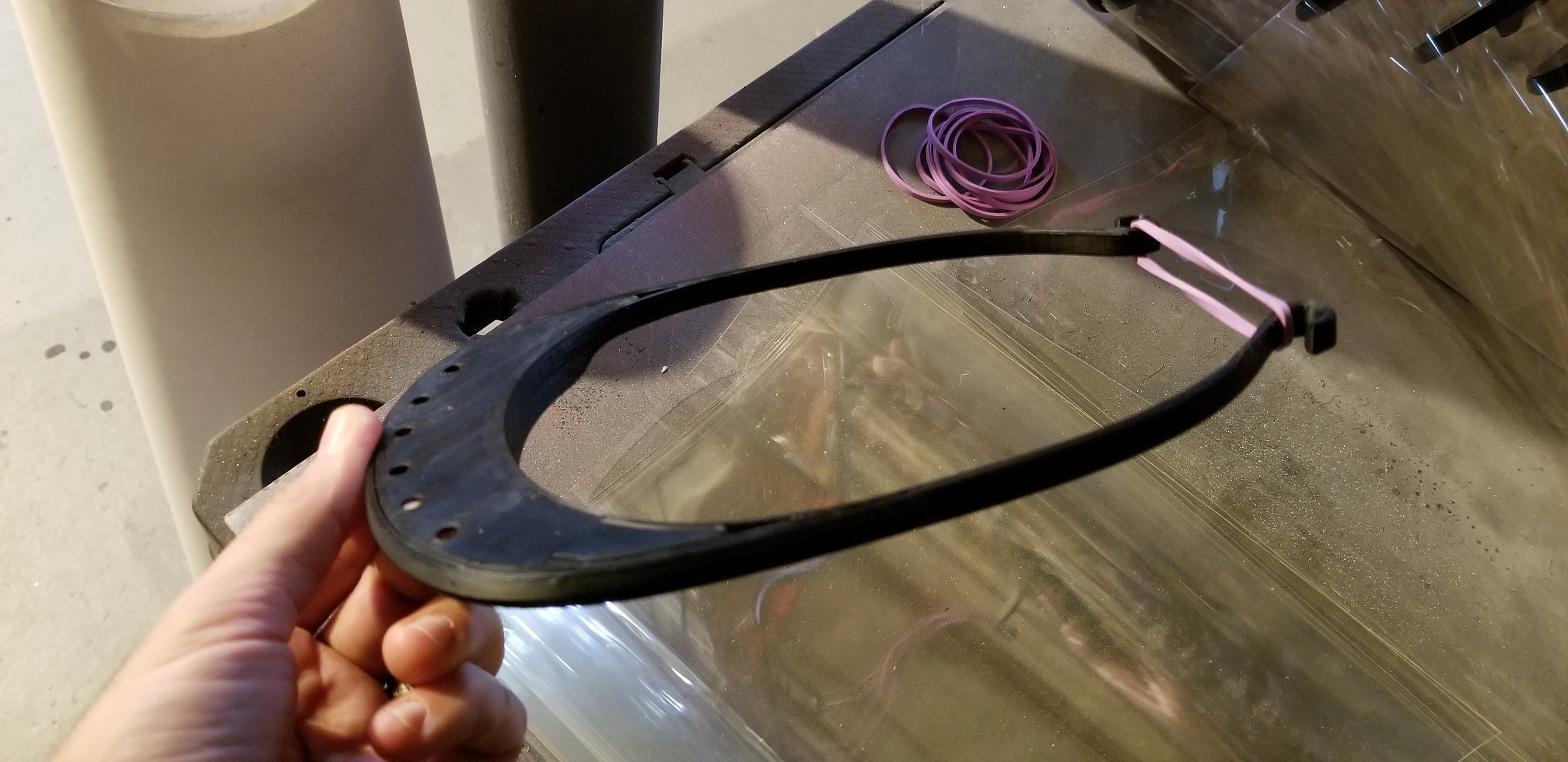 e) use a piece of transparent film (
Apollo Write-On Transparency Film Letter Clear 100/Box WO100CB. Free Shipping 718575091018 | eBay
) and insert it into the front of the visor.
f) Join the two front ends back together
g) use either elastic strap or a rubber band or a hair tie to complete the visor (Depending on which one you made).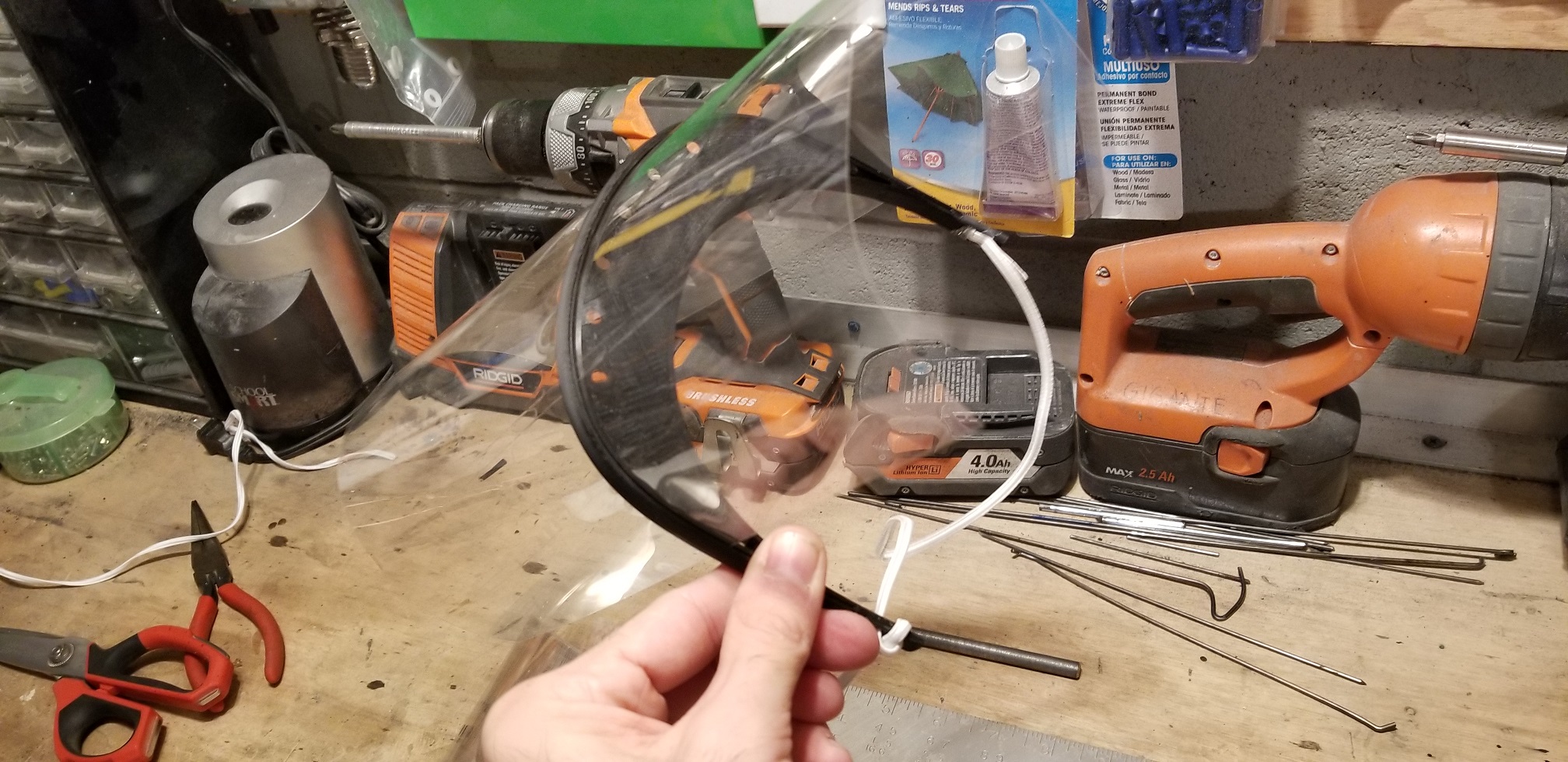 That's it.
2) Face Masks. No support to print.
A family member sent me this link.
Make The Masks
. Basically, this can turn 1 N95 mask into 4 or 6 separate uses. You simply cut up the one mask into squares and pop them into the middle slot one at a time. When you need to change masks, simply wash the 3D printed part and insert another square. Imagine prolonging the use of a single mask to 6 separate uses.
I made mine out of TPU to conform to the face better but they say you can make it out of abs and pla as well.
I've attached 3 files (Small, Medium, and Large) after playing around and scaling. I also changed the design of the filter to have a stop edge.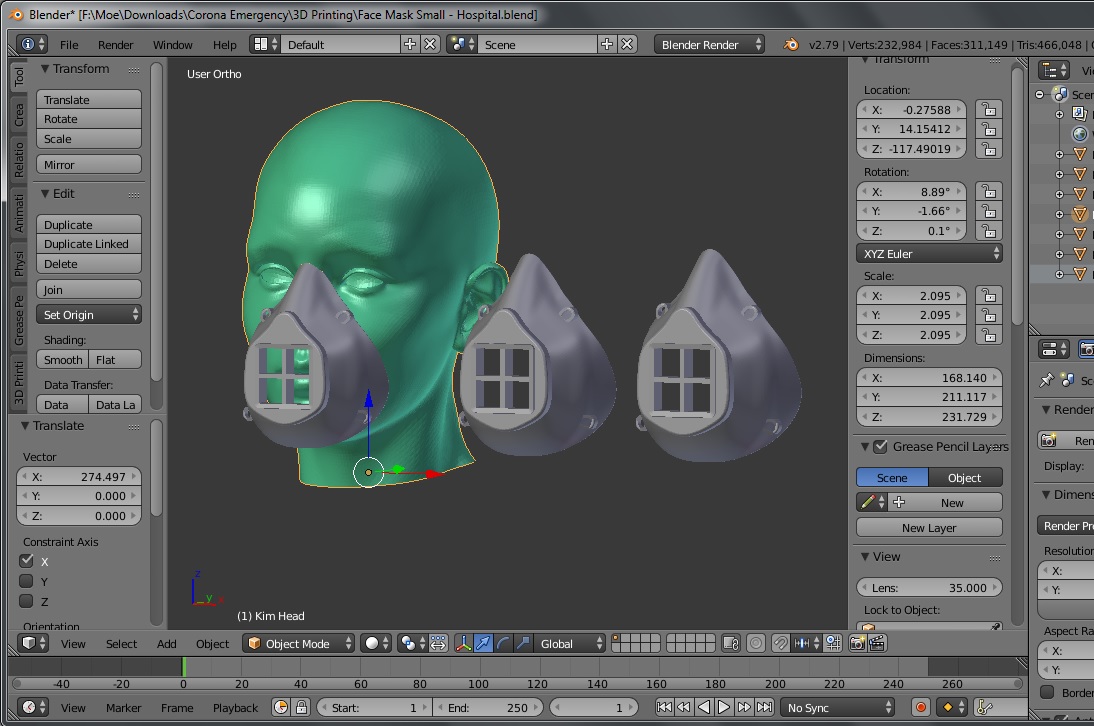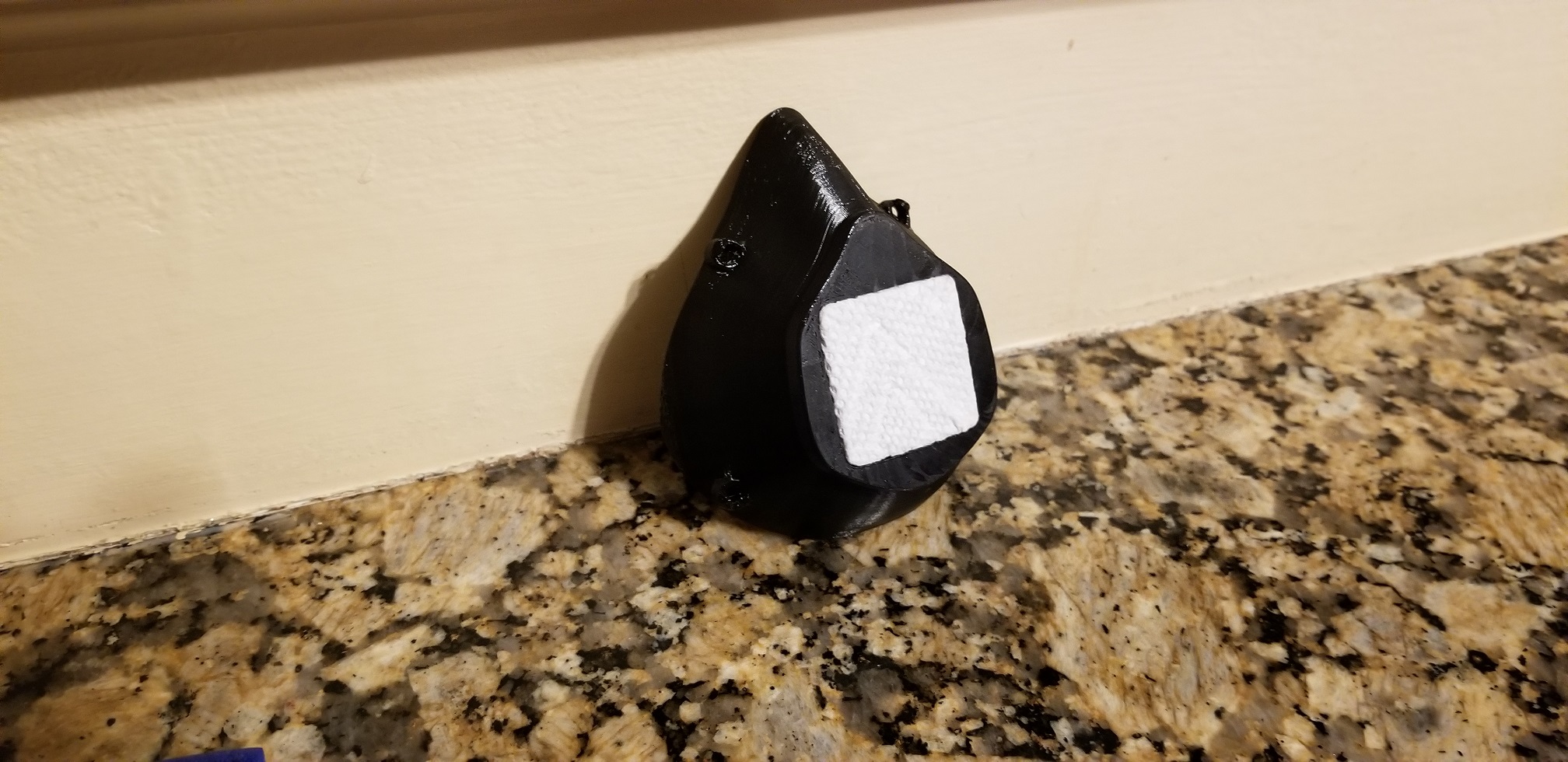 That's all for now. If there is any information I missed, please someone chime in and spread the knowledge.
All the best to everyone!
Moe.
SCIENTIES EST FORTITUDO

Update 3/30/20:
Just read at theRPF from user Dakota
Hey guys,

While the effort to produce some sort of alternative face mask is appreciated, we aren't to that point (yet), at least in the realm of definitive care hospitals.

What we are in desperate need of is N95 masks that prevent viral transmission, which regular facemasks do not. The CDC has gone as far as to loosen what are normally strict guidelines which encourage the limited use of N95 masks by healthcare providers, putting us at risk. They have also included other PPE sparing and conservation measures including reusing of masks, and omission of masks in some cases.

The CDC also recently released crisis level guidance on the improvisation of homemade masks in the most extreme cases, which is what is making the news and all these support groups... we aren't here yet. That is what the whole "flattening the curve" effort is meant to avoid. In these cases, there is no documented benefit that homemade masks would do anything to assist us in the prevention of infection when taking care of these patients. This is solely going off of the idea that something is better than nothing, but when you are involved in an aerosol-generating procedure such as nebulizers, CPAP/BiPAP, intubation, ventilator management, mechanical ventilation, etc, these masks may very well be useless. We need to continue to advocate for healthcare workers to have the appropriate supplies we need to do our jobs safely, meaning access to N95+ masks and air-purifying respirators.

What would be more beneficial would be if you can call/write and encourage/demand your state and federal government representatives support emergency measures to release federal stockpiles of PPE to healthcare workers and mandate the production of more masks by the private sector which the current administration has so far refused to do.

Sincerely,

Dakota C. BSN, RN, CFRN, CCRN, FP-C, Paramedic
Flight Nurse / Paramedic
So masks are kind of off the table till they absolutely need them. Otherwise, I would still ask your fellow healthcare workers about faceshields.
Last edited: