Back in October of 2012 I started sculpting a Dishonored mask replica based off of the one from the game. Well, now it's October of 2013, and I've decided to enter it into the Halloween contest over at the Replica Prop Forum (yes, I am RinzlerTron from over at therpf).
First of all, this was not my first time sculpting... I first started sculpting when I was about 10 years old... that's when I really started having a passion for creating things. I got most of my inspiration from Tim Burton, and my favorite movie to watch when I was younger was The Nightmare Before Christmas (still to this day my favorite movie). It was so fascinating to me to see all of those characters made by hand.
But anyway, back to the point. This was not my first time sculpting, as I said. I actually had sculpted things like a Jack Skellington head, different little figure things, small sculptures, and things like this. But this was the first time I ever planned on molding something like this. And so I created this sculpture to mold using silicone...
View attachment 177622
I poured the silicone mold over it (270 dollars later... I will post a pic of the mold soon) and it ended up working (you can see in my later posts!). I took out the fiberglass/bondo resin mixture cast I had made, and it was such an exciting moment! I then trimmed it up, used some apoxy sculpt on it, drilled holes in it, painted it, put the wires through, put the burlap on, and finally put a plexiglass piece in the eye.
Now, after this, I obviously wanted the rest of Corvo's costume. Well, most of it is already finished. I have no progress pictures of the coat and vest, but I will say, it really helps sell the look.... Soon, when I go have my photoshoot, you will see what I mean.
The Sword was pretty easy... I ordered it from shapeways, put it together, and painted it. YES. The sword is indeed functional! (meaning it does flip out like in the game)
I still have to work on the bone charms, belts, and possible one of the spring razor mine thingies (forgot the name at the moment....)
The hardest part of the entire costume was trying to get the mask close to 100% accurate to the game while keeping it realistic... But, that is also what I am most proud of! The mask really turned out the way I wanted it to, and I would say it's at least a good 90-98% in-game accurate while maintaining the realistic metal/steampunk look.
Here's all my work in progress pictures so far.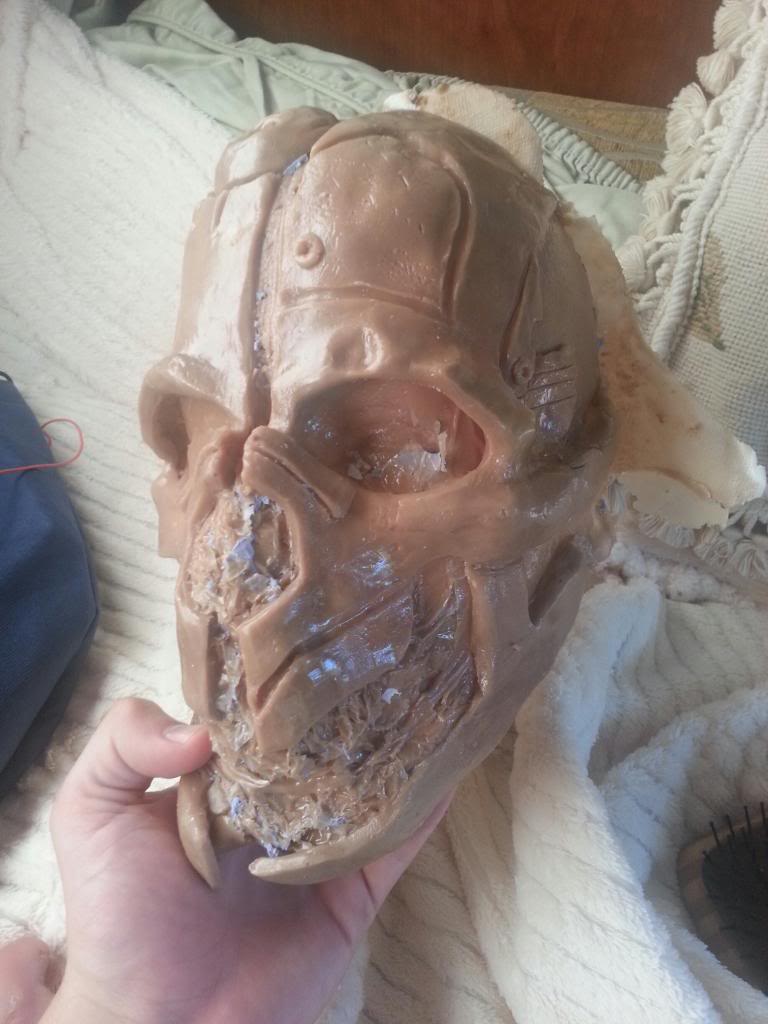 Here is the mask after I trimmed it and added the apoxy sculpt (apoxy sculpt is very sticky btw.... it will literally stick to anything.... so be careful if you decide to use it.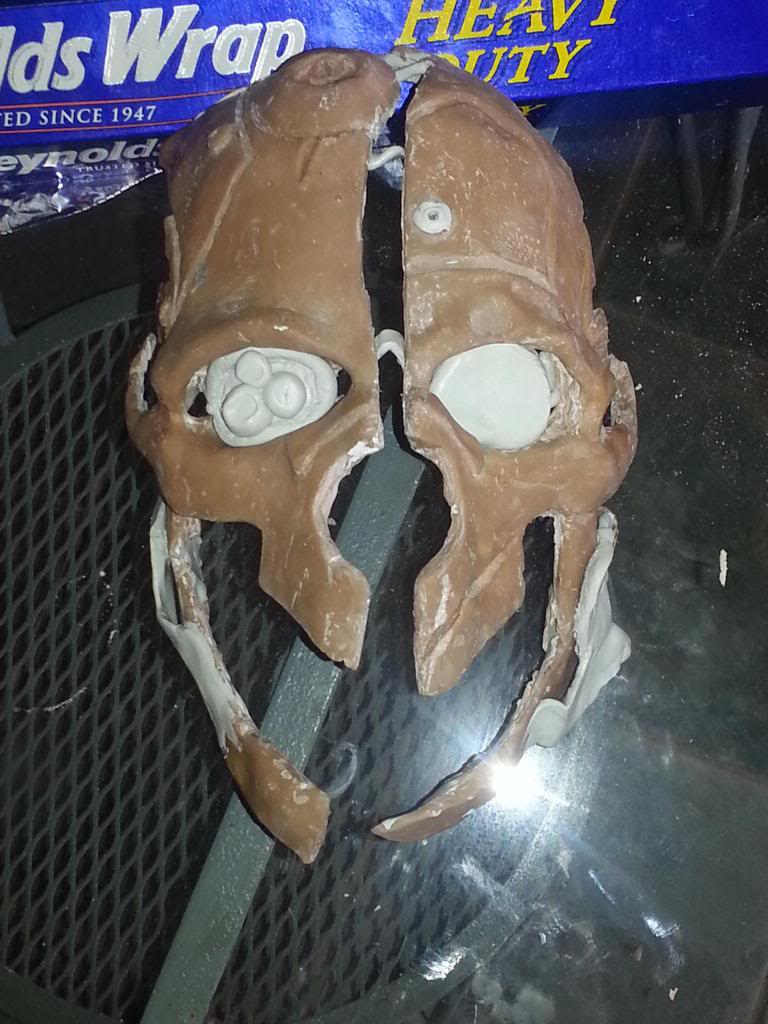 Then, I used a dremmel to drill holes for the eye pieces and for the wires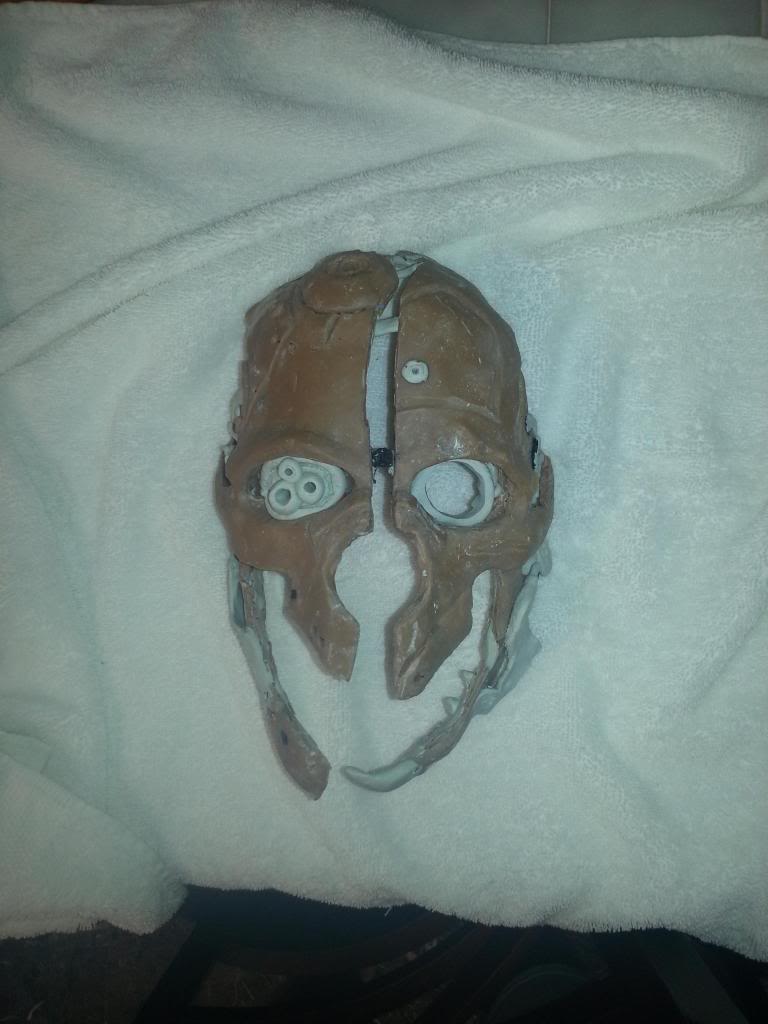 And then I finally finished it by painting it, putting in the wire, putting in the glass piece for the eye, putting in the burlap, and things like that. But, I don't want to show you guys the full mask until tomorrow when I'm wearing it, just so you can appreciate the way it looks with the full thing (it looks much cooler that way in my opinion.) And yes, the weird eye thing that has the three circle pieces in it actually do have a good bit of detail put into them, you just can't see in this picture.
And here's the sword. Yes, it does extend the same way it does in the game (I can also take pictures of that tomorrow)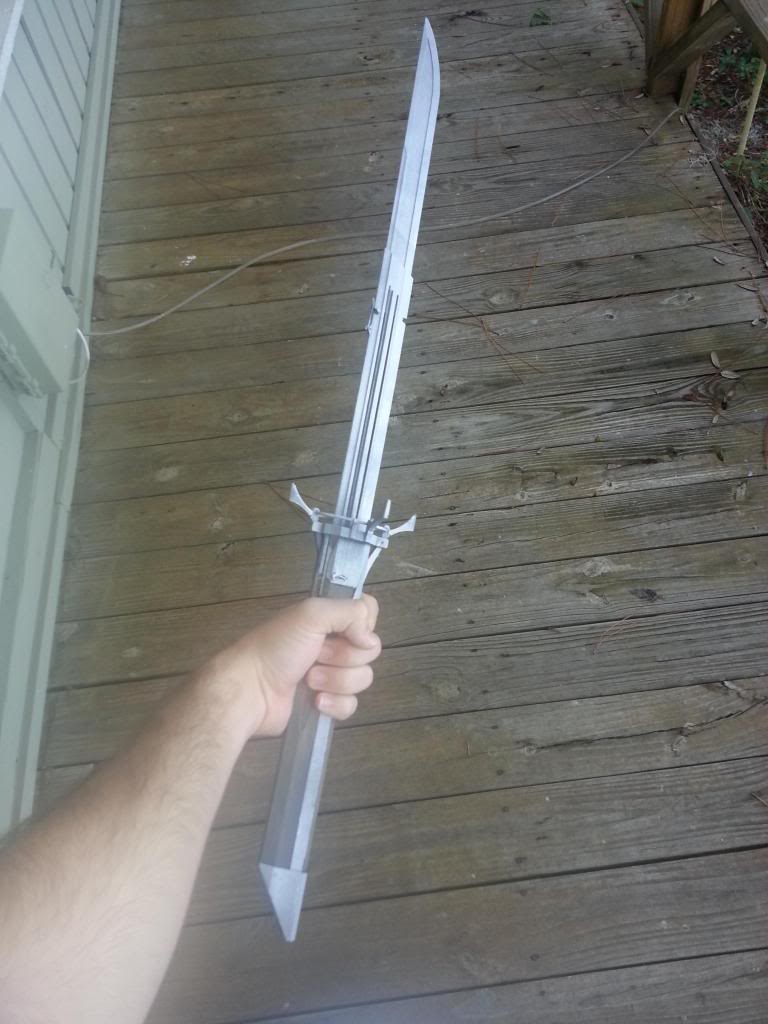 Yes, I can see out of that eye....
Here's how the sword works: